France Luxury Villa Resorts
Find your perfect escape in France with private pool luxury villa resorts. Offering a blend of comfort and elegance, these sanctuaries provide the ideal setting for skiing in the Alps or unwinding in sun-soaked Provence. Experience the pinnacle of French luxury.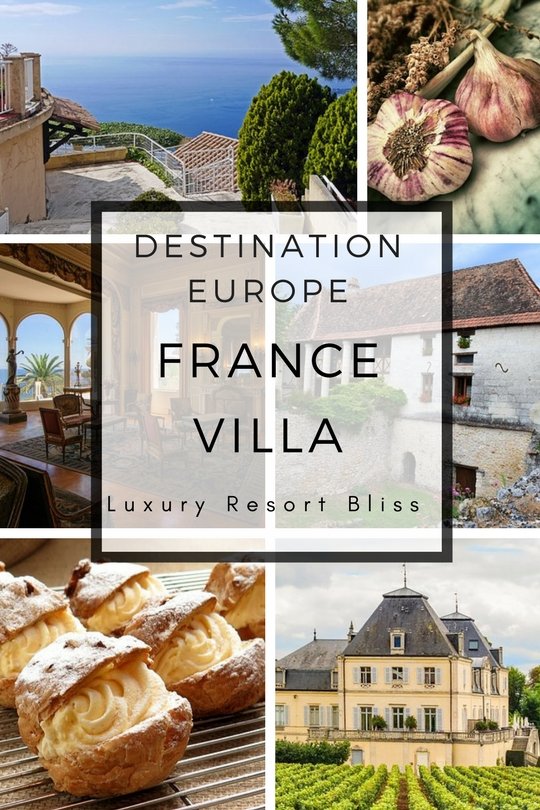 Ah, France! The very name is like the perfume of romance mixed with an intoxicating blend of wine and lavender. As a travel writer who has zigzagged through enough places to fill up a stack of passports, I can say with certainty that if you're looking for a villa, France has the crème de la crème.
Find the best deal, compare prices, and read what other travelers have to say about hotels and villa in France
EZE French Riviera (Côte d'Azur)
French Riviera (Côte d'Azur)
If you've got a penchant for glitz, glamour, and endless seas, there's no place like the French Riviera. I remember sipping rosé on the balcony of a villa overlooking the Mediterranean, feeling like a movie star without the paparazzi. If you're a night owl, places like Cannes and Nice offer a nightlife that's nothing short of electric. Villas here often come with a side of high-class luxury, so get ready to live your best life.
A Week in French Riviera Luxury: Serenity at La Villa Mauresque
Taste of Elysium
After two days cocooned in the tasteful elegance of La Villa Mauresque, the French Riviera's hidden gem, I felt a magnetic pull to venture outside. With St. Tropez to the west and Cannes to the east, the world outside promised a mosaic of experiences—historic, sensory, and unabashedly luxurious.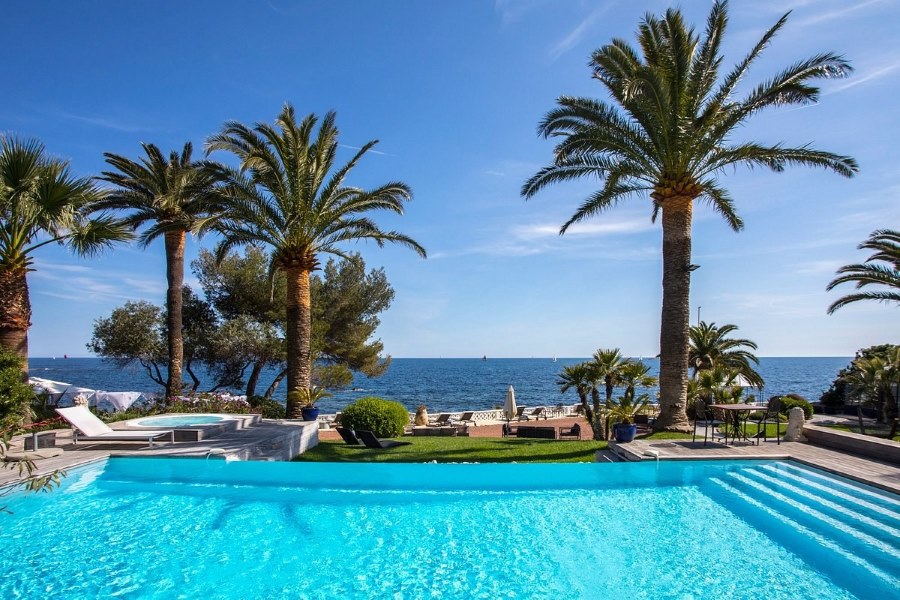 La Villa Mauresque
We started our journey with a visit to the medieval town of St. Paul de Vence. Meandering through cobblestone alleys, we stumbled upon art galleries that seemed to whisper secrets. Marc Chagall's ghost seemed to float beside us, humming a lullaby of colors and shapes. My encounter with a local artist, Isabelle, became the story of the day. She was sculpting a piece from Carrara marble, her chisel coaxing out curves and emotions with every strike.
Afternoon: The Vignettes of Grasse
Grasse awaited us next. Here, the air was a perfumed sonnet, each note a tribute to the town's storied past as the world's perfume capital. At the Fragonard perfumery, we learned that crafting perfume is an alchemy of art and science. I couldn't resist customizing my fragrance—rosemary, lavender, and a touch of sea salt; my very own bottled Riviera.
Evening: The Joys of Provençal Cuisine
Back at La Villa Mauresque, we attended a Provençal cooking class. Chef Laurent guided us through a ballet of flavors, ending in a seafood bouillabaisse so exquisite it felt like a kiss from the Mediterranean itself.
Rating the Experience:
Location: ⭐⭐⭐⭐⭐Perfectly situated for those eager to explore the Riviera's culture and beauty.
Local Encounters: ⭐⭐⭐⭐⭐The resort specializes in authentic experiences, handpicking local experts and guides.
Value for Money: ⭐⭐⭐⭐A costly affair, but the quality and unique experiences justify the expense.
Who's This For?
La Villa Mauresque suits travelers who are looking for an exquisite blend of luxury and culture, with each day offering new horizons to explore.
Alternate:
For a livelier setting and an artsy vibe, consider the bohemian Domaine de Manville in Les Baux-de-Provence.
As the sun set on my third day, lighting up the horizon in fiery shades, I reflected on the layered richness of my French Riviera journey. At La Villa Mauresque, I didn't just stay—I flourished, basking in a tapestry of experiences that were as soul-enriching as they were lavish. This wasn't just travel; it was akin to a love affair with a region so varied and so beautiful that you can't help but surrender your heart.
Find the best deal, compare prices, and read what other travelers have to say at Tripadvisor
---
Exploring the Splendor of Luxury Villas in Provence, France
2. Provence
Provence, darling, is the undisputed Queen of villa destinations. Why? Imagine waking up to the scent of lavender wafting through your window, followed by a morning stroll through your private vineyard. Yep, you heard me—your very own vineyard where grapes destined for wine are ripening. It's not just a landscape; it's a lifestyle. One where the words "rush" and "stress" are lost in translation.
A Week in Provence: Le Domaine des Andéols
Location: 5/5
Nestled amid the rolling hills of Luberon, in the soul of Provence, Le Domaine des Andéols offers a unique blend of nature and artistry. A short drive from the iconic village of Gordes, this resort is surrounded by lavender fields that burst into a palette of purples come summer and olive groves that seem to stretch to the horizon. Accessibility isn't a concern; Avignon's TGV station is under an hour away, and the estate itself can arrange a private car or even a helicopter transfer for you.
Accommodation: 5/5
What made me fall in love with Le Domaine des Andéols were the individual "maisons"—each one a unique canvas designed by world-renowned artists and designers. My residence for the week was Maison des Cascades, named for the small waterfall in its private garden. It came complete with a personal plunge pool and a spacious lounge with an open fireplace, perfect for those chilly Provençal nights.
Amenities: 4.5/5

The resort hosts two swimming pools, a gourmet restaurant that serves a blend of Provençal and international cuisine, and a wellness center that specializes in treatments using the estate's own olive oil and lavender. The only thing that could have been improved is perhaps the inclusion of a full-fledged fitness center, but honestly, with the natural beauty inviting me for walks every day, I hardly noticed its absence.
Service: 5/5
Service at Le Domaine des Andéols is faultless. The staff exude a blend of Provençal hospitality and world-class professionalism, always a step ahead in foreseeing your needs but doing so with a level of discretion that leaves you feeling like you have the estate all to yourself.Value for Money: 4/5
While Le Domaine des Andéols is undoubtedly a splurge, what you're paying for is an unparalleled experience of luxury rooted in the nature and culture of Provence. Whether it's the handpicked art that adorns every maison or the locally-sourced ingredients that make each meal a gastronomic revelation, every Euro spent here is an investment in an experience you won't forget.Who is this villa for?
This villa is best suited for those who appreciate the finer things in life but are also connoisseurs of nature and art. Couples looking for romantic seclusion will find it here, as will art enthusiasts, foodies, and anyone keen to explore the Provençal landscape.Looking for Something Different?
For travelers looking for something more rustic and traditional, I'd recommend Les Mas des Oules. Situated closer to Uzès, it offers a more historic take on Provençal living without compromising on modern comforts.
Inside, the villa was a blend of French elegance and modern luxury; think 16th-century chandeliers hanging from the ceilings and a state-of-the-art kitchen outfitted with the latest culinary gadgets. I was charmed by the immaculate attention to detail: the soft Provencal linens on the beds, the tasteful selection of local wines in the cellar, and the art adorning the walls that could rival any gallery in Paris.
But it wasn't just the luxurious appointments that captivated me; it was also the staff. Margaux, the in-house chef, prepared a sumptuous five-course dinner that took me on a culinary journey through Provence. And when I spoke to the groundskeeper, André, his stories about the local flora and fauna made me feel as if I was part of the landscape.
As I took a dip in the heated infinity pool overlooking the vineyards, I thought about the week ahead. It would be filled with truffle hunting expeditions, private wine tastings, and maybe even a helicopter ride over the Calanques National Park. But most of all, it would be a week where time would stand still, allowing me to fully immerate myself in the luxury and natural beauty that is Provence.For Whom Is This Experience Best Suited?
This is a journey not for the faint of wallet but for those who wish to deeply plunge into the opulence of French culture and the untouched beauty of Provence. If you're seeking a bustling nightlife or budget accommodations, perhaps a villa in a city like Marseille would be more to your liking.Ratings:
Location: 5/5 - Proximity to lavender fields, vineyards, and historical landmarks is unparalleled.
Accommodation: 5/5 - Utmost luxury with a blend of traditional and modern amenities.
Amenities: 5/5 - From a heated infinity pool to a private chef, the villa leaves nothing to be desired.
Service: 5/5 - Staff who don't just serve, but add to the story of your stay.
Value for Money: 5/5 - Although on the pricier side, the experience far surpasses the cost.
Whether you're a lover of nature, an aficionado of art, or simply someone who appreciates the finer things in life, a luxury villa in Provence is an experience worth every Euro.
VIDEO: Luxury Villas Provence France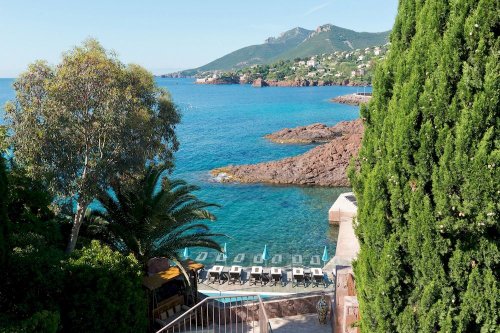 The view from Tiara Miramar Beach Hotel Cannes, France
---
Best France Luxury Villa Resort Options:
If you're planning a getaway to France and a villa stay is on your wish list, the choices can be overwhelming. To make your decision easier, here's a curated list of some of the top-rated villas for 2023, highlighting what makes each special:
Find the best deal, compare prices, and read what other travelers have to say about hotels and villa in France

1. Résidence hôtelière U Frusteru
Location: Bienvenue à Palombaggia
Unique Factor: The perfect choice for those who appreciate the blend of luxury with a touch of local Corsican culture.
2. Résidence Belvédère de Palombaggia
Location: Vue aérienne
Unique Factor: Situated on elevated ground, this villa offers panoramic views that are nothing short of breathtaking.
3. Casa Dina
Unique Factor: A budget-friendly option that doesn't skimp on quality, and includes breakfast.
6. Chalet Bluebell Les Gets
Location: Les Gets in the snow
Unique Factor: This chalet is a winter wonderland retreat, perfect for those looking for a snowy escapade.
36 Hours in Nice, France | The New York Times

Terre Blanche Hotel and Spa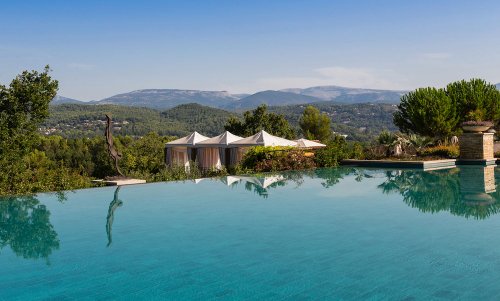 Located in Tourrettes, France. There are 2 year-round golf courses, a golf academy and clubhouse.
The spa has 12 treatment rooms, lots of great treatments and 2 VIP couple's suites. Other activities and amenities are a fitness studio, a zen studio, an outdoor pool, whirlpool, tennis academy and 2 tennis courts, babysitting, hiking, bicycling and more.
The hotel provides special amenities for children. They include a special pool, children's menu, bathrobes and more.
The main restaurant has great views and serves contemporary Mediterranean cuisine. You can dine indoors or al fresco.

There are 115 suites and villas with natural wood and stone finishes. Colours are inspired by sunshine and flowers. All have separate bedrooms and living rooms and private terraces. The spacious bathrooms have deep soaking tubs and some have large picture windows.

Reviewers give this resort excellent ratings! They are happy for a child friendly and 5 star France luxury villa resort (which can be hard to find in Europe), there's excellent service, and the location is great. Some suggest you book a package that includes breakfast as food prices can be expensive.

Get more information and see the latest reviews for Terre Blanche Hotel and Spa.
---
Miramar Beach Hotel, Cannes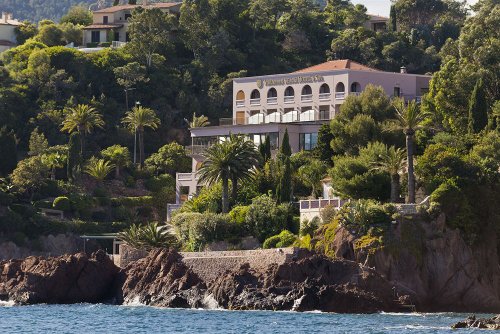 Great France beach resort in Theoule-sur-Mer close to Cannes-Mandelieu Golf Club. The resort is on a private beach, has a full-service spa, outdoor pool, tennis court and more.
Aside from the 59 rooms, there is a 2 story, serviced villa. There are 3 bedrooms, terraces overlooking sea and garden, kitchen and privacy.
Get more information and see the latest reviews for Miramar Beach Hotel.
---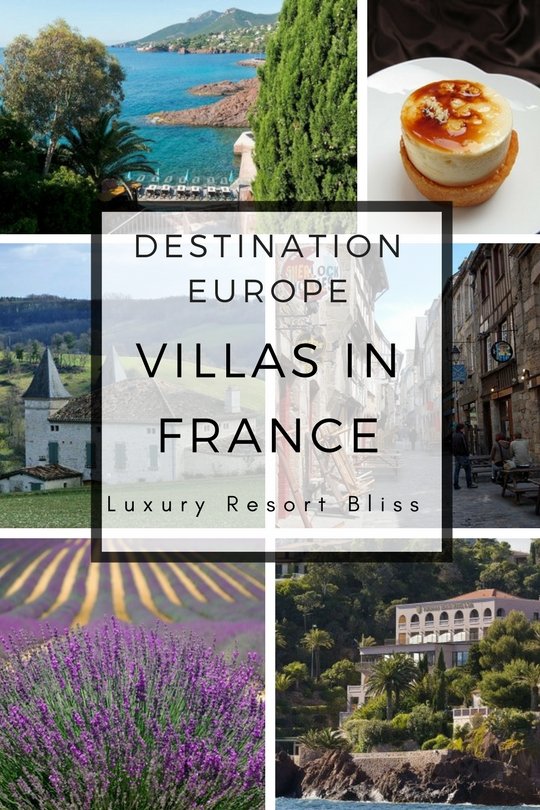 La Reserve De Beaulieu & Spa, Villefranche-Sur-Mer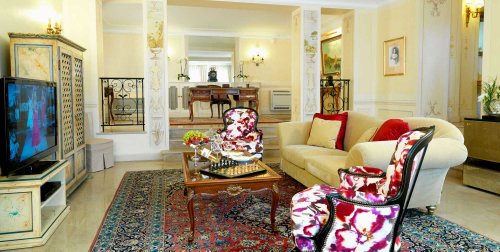 Villa Victoria
Located on the Riviera, La Réserve de Beaulieu is ideal for luxury and natural escape. The hotel has 39 rooms, suites and 2 luxury villas.
Resort amenities include a great spa, restaurants, pool and more. Reviews are excellent.
Get more information and see the latest reviews for La Reserve de Beaulieu.
---
Chateau de la Chevre d'Or

This luxury spot in Eze, is on the small size with just 38 guestrooms. A very special feature is a panoramic suite with terrace, private infinity pool, jacuzzi and modern, sophisticated room amenities. 
There are also 4 restaurants, an outdoor pool, garden and more. It's not far to Monte Carlo.
Get more information and see the latest reviews for Chateau de la Chevre d'Or.
---
---
Marriott's Village d'Ile-de-France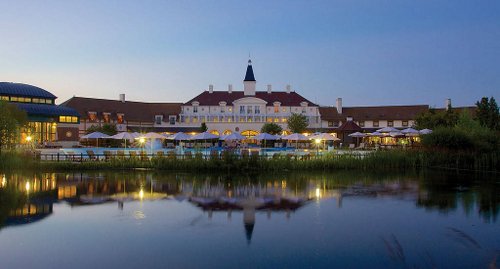 Close to Disneyland Paris but in the French countryside, this resort is made up of 1-3 bedroom townhouses. They have kitchens, living and dining areas, private terraces and more. Great for kids, there are children's activities, pools and a fitness center.
Get more information and see the latest reviews for Marriott's Village d'Ile-de-France.
---
Hi Hotel Eco Spa & Beach

VIDEO: Nice Vacation Travel Guide
Nice Eco-friendly boutique France spa resort only 200 metres from the famous Promenade des Anglais. This is another great France Beach resort designed by Matali Crasset.
Get more information on this spot. I'd recommend taking a look at the reviews for this one.
---
3. The Dordogne
Imagine a place where time takes a nap. The Dordogne region is like stepping into a storybook of medieval castles, enchanting forests, and villages so quaint they'd make your grandmother blush. Villas here are often historic stone houses with modern luxury cleverly stitched in. The food? Oh la la, think foie gras, truffles, and everything you'd want to pair with a bottle of Bergerac wine.
Corsica
Corsica is not just an island; it's an experience. From the mountainous terrain to the sapphire-blue sea, the 'Isle of Beauty' holds up to its name. I once stayed in a cliffside villa that made me feel like I was hovering between the sky and the sea. And the food? Don't get me started on the charcuterie and local cheeses. If you're looking for rugged beauty mixed with French sophistication, Corsica is your jam.
5. The Loire Valley
For the history buffs and the wannabe royalty, Loire Valley is your playground. This is the land of castles, my friends—over 300 of them! Rent a villa here, and you can almost hear the whispers of kings and queens from centuries past. Plus, the Loire River offers a sense of tranquility that even a spa would be jealous of. Oh, and did I mention the wine tours?
Frequently Asked Questions about Luxury Villas in France
A1: Provence, the French Riviera, and the Alps are some of the most popular regions for luxury villas in France. These areas offer stunning landscapes and close proximity to cultural attractions.
A2: Many luxury villas in France feature private pools, often heated and sometimes even with a jacuzzi or other high-end amenities.
A3: Policies on pets can vary widely between villas. It's best to check directly with the property to confirm its pet policy.
A4: Services can include daily housekeeping, private chefs, concierge services, and airport transfers, among others.
A5: Both options have pros and cons. Booking directly often allows more negotiation on price and services, while agencies can provide additional security and professional management.
A6: While most luxury villas offer Wi-Fi, it's a good idea to confirm whether the speed meets your needs, especially if you plan to work remotely.
Many luxury villas cater to families and offer amenities like cribs, high chairs, and sometimes even babysitting services. Answer
Many luxury villas require a minimum stay, especially during the high season. This could range from a few days to a week or more.
Luxury villas can vary significantly in price depending on the location, amenities, and time of year. Expect to pay a premium for highly sought-after locales and during peak seasons.
If you're still looking for a France luxury villa resort or other options, take a look at:
More hotels and Resorts in France
Spain Luxury All Inclusive Resorts
💼 We cherish our independence! ✈️ Our travel recommendations are carefully researched, bias-free, and powered by human expertise by April and Ricky of LRB (we have personally researched and travelled to many of these destinations and researched others thoroughly through first-hand accounts). 🌍✨
We try to keep everything up to date, but please always do your own research and contact us if you know any issues for us to help others as best we can as a small but professionally focused team! 🧐📚⚠️