9 Best Huatulco Mexico All Inclusive Resorts (You Won't Believe Exist)

Find out why everyone is booking their next vacation at a Huatulco, Mexico, All Inclusive Resort.

Huatulco Beach
Have you started planning your next all-inclusive resort vacation? Imagine feeling the sand between your toes and listening to melodic bird songs circle around you. It's time to live a life of luxury at one of the many Huatulco, Mexico all inclusive resorts. 
Jump off the couch and buckle up for your next destination! Mexico is a country that has everything you're looking for to recharge or go full speed ahead in vacation mode. From ancient ruins to ice-cold margaritas, find out what Mexico's region of Huatulco has waiting for you to discover!
What You Need To Know About Huatulco, Mexico
One of the safest regions of Mexico, Huatulco, is located in the state of Oaxaca along the southwest coast of Mexico. Famous landmarks include La Crucecita, Santa Cruz, and Santa Maria, but Huatulco's anonymity is what drives its appeal. 
Discover a personal paradise of nine bays and thirty-plus beaches with five-star accommodation to match. 
Video: Is Oaxaca Better than The Riviera Maya? Exploring Huatulco? While everyone will have their own perspective on what makes a good vacation, we rate Huatulco 8.5 out of 10 whereas we would give Cancun about a high 7. If you have never been to Mexico before and are looking for a specifically developed tourist resort town, but Cancun is much further along that journey and in our opinion that's perhaps gone too far.  
Top
Huatulco Mexico All Inclusive Resorts
Your dreams are waiting to come true in Huatulco, Mexico's all inclusive resorts. These resorts
Binniguenda Huatulco All Inclusive Hotel & Beach Club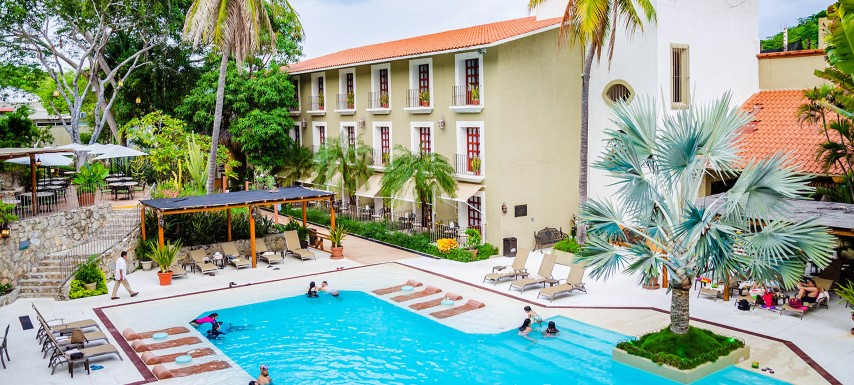 Binniguenda Huatulco All Inclusive Hotel & Beach Club
Nestled in the core of Santa Cruz, Binniguenda Huatulco All-Inclusive Hotel & Beach Club offers something for everyone. With over 100 unique rooms and three restaurants, carving out a private slice of paradise is only a step away. 

Binniguenda Huatulco All-Inclusive Hotel & Beach Club prides itself on exemplary service. Take advantage of their beach club and spend the afternoons on kayaks or paddleboards exploring the crystal blue Pacific Ocean. With personal touches to make friends, family, or solo travelers immersed in a relaxing and authentic Mexican vacation. 
Hotel Castillo Huatulco & Beach Club
Step foot into a world curated for your pleasure. The Hotel Castillo Huatulco Mexico all inclusive resort experience boasts a 24 hours check-in desk and multiple chances to unwind and unclench from everyday concerns. Guests can lounge on the La Entrega Beach a short distance away, referred to as "Huatulco's natural aquarium." 
With each package tailored to your intrinsic needs, the team goes above and beyond, so you'll leave physically and spiritually recharged.
Las Brisas Huatulco

Las Brisas Huatulco is a nature lover's paradise attempts to make each day and unique experience. Focused on family entertainment and unity, The Las Brisas Huatulco Mexico all inclusive resort features a walkway connecting four different beaches and offers snorkeling in a coral reef or sitting next to determined sea turtles. Unlike other all-inclusive locations, guests may find an endless list of destinations to explore within the hotel landscape. 
You'll find this resort flexible to all family sizes; waking up in one of their classically designed suites and melt your cares away. 
Las Brisas Huatulco official website
Video: Las Brisas Huatulco
Barceló Huatulco
Barceló Huatulco
Spend your days on a property focused on giving back to the community. The Barceló Huatulco Mexico all inclusive resort is a travel sustainability property and has over 300 rooms for its guests to retreat in divinity. 
Take a day to rest in your room, receive twenty-four room service, or splash into the exclusive Barcy Water Park! The Barceló Huatulco is the only resort with a private water park for family fun every minute of the day. 
When your stomach grumbles, guests will have five different restaurants offering cuisines ranging from American to traditional Mexican fare. The Barceló guest palette will constantly be cleansed, and believe there should be "Mezcal for the good times, and for the bad times too!"
Secrets Huatulco Resort & Spa
Resort Award: EarthCheck Gold Certification

The secret is out, and the reviews are in for this luxurious and modern adults-only Huatulco Mexico all-inclusive resort and spa. Privacy, luxury, and a worry-free vacation are the main things the adults staying at this property can look forward to. 

Walk the secluded shoreline of Bahía de Conejos beach and absorb the Unlimited-Luxury® ethos tucked into every moment of your time. The Secrets team goes above and beyond to plan theme party nights and offers a schedule of daytime activities ranging from soccer to aqua aerobics. 

 Suites range from junior to presidential two-level accommodation. The first-class demonstration of modern luxury for adults looking to unwind and let loose on a sprawling property focused on catering to each of your individual needs.
Park Royal Beach Huatulco
Resort Award: 2021 Travelers Choice from Tripadvisor

You are emersed in a family-friendly Huatulco Mexico all inclusive resort experience from the minute you step foot in Park Royal, with safety and luxury going hand in hand. 
Park Royal is located within a tropical jungle. Guests will inhale the fragrance of tropical flora and fauna while admiring the countless details considered to ensure your family stays, plays, and relaxes! 
The Park Royal Beach Huatulco offers outdoor pools, tennis courts, a spa, and easily accessible golf courses. A vacation booked through this property will be active, memorable, and divine. Here, you will need to choose an all inclusive booking package.
Sample food from two on-site restaurants with menus packed full of authentic flavor. From the Veranda Restaurant with international cuisine and entertainment to Andiamo a la carte Italian cuisine, even the pickiest tastebuds will leave with a smile on their face!
Park Royal Beach Huatulco on TripAdvisor 4.7
Video: Full walk around review  Park Royal Beach Resort ~ Huatulco 2022
Dreams Huatulco Resort & Spa

Dreams Huatulco Resort
As part of the illustrious World of Hyatt, Dreams® Huatulco Resort & Spa is ready to welcome your family to an unforgettable experience. The team is prepared to make each one of your dreams come true with unlimited dining, drinks, and service for the entirety of your stay. 
The award-winning spa by Pevonia® is the cherry on top of your destination vacation. With services ranging from hydrotherapy and revitalizing skin and hair treatments, plus body scrubs and wraps, every inch of your stress and worries will melt away. 
Lounge at the infinity pool or travel easily to the ocean and soak up the sun while building memories that will last a lifetime. Pinch yourself when you find out the resort has seven family-friendly dining options, featuring five à la carte restaurants, a buffet, a grill, and a café, plus six bars and lounges. 
VIDEO: Will Travel did a full tour of Dreams Huatulco Resort and Spa, Huatulco!

Best Huatulco Resorts
They might not be all inclusive, but they are great options for resorts in Huatulco. Here are some of the Best resorts in Huatulco we have picked out because of their service, beach locations, and professionalism.
Hotel Boutique Eden Costa 

Mediterranean infusion and artistic inspiration melt into a glorious and stunning property at Hotel Boutique Eden Costa. Unlike other Huatulco Mexico all inclusive resort locations, a boutique property provides an intimate and exclusive vacation experience. 

Hotel Boutique Eden Costa is a splash of color from their lobby mural entrance and selected artwork across the property. Rest your head after a long day of travel or exploring three different styles of accommodation to fit a diverse range of budgets. The decorations of each room are bright and stimulating, from furniture to décor. 

This is not a full all inclusive resort experience in Oaxaca but includes breakfast and will leave you speechless from sunrise to sunset. Speak to the team and book a one-day adventure to Cascadas de Llano Grande and Finca Cafetalera, where you can sample coffee or play in natural waterfalls. 

The on-site restaurant, L'Echalote, embraces its slogan "flavors of the world" and has terrace or gallery seating to provide a dining atmosphere perfect for special occasions or blissful self retreats.  
Video: Best Huatulco hotels 
Quinta Real Huatulco Hotel

A unique hybrid of Mexico and Morrocco collide in this breathtaking Huatulco Mexico All Inclusive Resort. The Quinta Real Huatulco Hotel is under the elegant Camino Real Hotel Group and continues to exceed guest expectations in its Tangolunda Bay location. 

With four different suits and intimate dining experiences, raise your standards and expect submerged solace. The Quinta Real Huatulco Hotel will organize transportation to explore Santa Cruz or a private snorkel adventure.