Hawaii All Inclusive Honeymoon
Hawaii All Inclusive Honeymoon
There's a reason why you and so many other soon-to-be-married couples desire a Hawaiian honeymoon. We will also cover Adult Only All-Inclusive Hawaiian honeymoon options.
Not only is it the only U.S. state in the tropics, but this magical archipelago of Pacific Ocean islands is like nowhere else on earth.
These are resorts that have packages if you are specifically looking for inclusions like meals and activities, then you can view them on the Hawaii All Inclusive resorts review. 
Adult Only All-Inclusive Resorts In Hawaii
There are a few resorts in Hawaii that provide adult only all-inclusive packages. These resorts have pools, restaurants, and bars just for adults.  These all-inclusive resorts are spread across the islands of Hawaii.
Prince Waikiki, Honolulu
Ka'anapali Beach Hotel Maui
Halekulani Hotel
Koloa Landing Resort at Poipu, Autograph Collection
Hyatt Regency Maui Resort and Spa
(TripAdvisor filter of romantic all-inclusive resorts) 
Find the best deal, compare prices, and read what other travelers have to say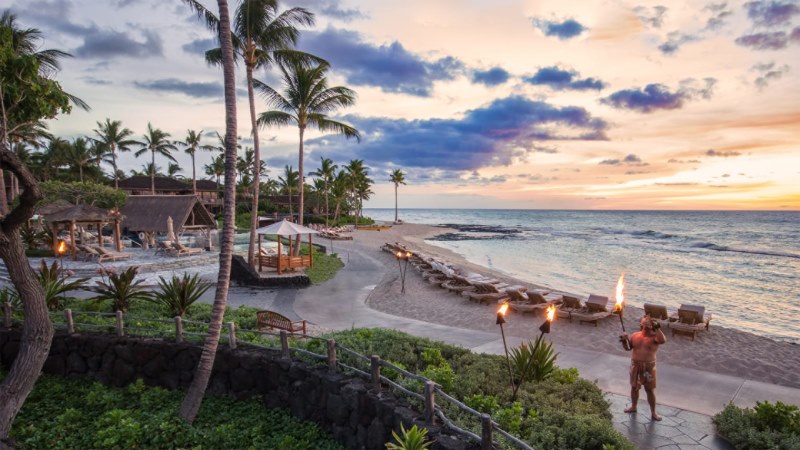 Hualalai Four Seasons
Each of Hawaii's six major islands is desirable for its own unique reasons—having captured the hearts of honeymooners many times over now.
Kona on The Big Island is home to some romantic resorts ideal for a hioneymoon
Whether you want to be in the midst of Honolulu's lively energy at the iconic Waikiki Beach or in a secluded enclave of luxury lushness on Kauai - your wildest dreams have already been realized in each of these premium resorts that air to the side of love.
From the pristine waters of the Pacific Ocean to the tropical rainforests, rare volcanic landscapes, and secret waterfalls, this is Hawaii wrapped up in a luxury all-inclusive package.
Destined to impress you now and forever, there is no better place to honeymoon on earth than Hawaii, and the resorts in this article are here to prove it today and check you in tomorrow. 
Kauai is a wildly beautiful Hawaiian Island, covered, primarily, by tropical rainforest. The unparalleled lushness found on Kauai has rightfully ensured it the nickname of Hawaii's "Garden Island".
Located on Kauai's sunny south shore, the Grand Hyatt is a mesmerizing destination of 5-star oceanfront luxury.
Set on a secluded stretch of coast just a mile down from the world-famous Poipu Beach, oceanside honeymoons don't come any sweeter than here.
Enveloped by well-kept verdant gardens, and tropical hillsides to the north, a stay at the Grand Hyatt is about cutting yourself off from the world and enjoying every second of it.
To really set the luxury honeymoon scene, consider a stay in one of the resort's premier suite rooms that feature oversized soak tubs, private lanais, and the best views in the resort.
Sitting down at the resort's signature Tidepools restaurant will see you dining in a thatched-roof bungalow floating over a Koi-filled lagoon with the gentle sounds of a cascading waterfall putting you in a serene state of mind.
Known for its impeccably-fresh fish and steak dishes that each feature a tantalizing Kauaian twist, the Tidepools menu is as impressive as its surroundings.
For casual bites, and light lunches the resort features a few sea-view and poolside terrace restaurants ready to take your order.
Being in, around and on top of the water is central to how Grand Hyatt outshines its peers, and you are all the better for it.
From its multi-level flowing pools to a quiet nook along the lazy river, the sand-lined saltwater lagoon, and the postcard-worthy beach right out front, there are ample opportunities to take a dip.
The only thing that could make all of this surrounded-by-water business any better would be the ability to retreat to your own private cabana and you better believe they offer them at every waterfront destination in-resort.
An oasis of luxury set amongst the idyllic scenery of Kauai's southside, there is no place like the Grand Hyatt to usher in a marriage in sophisticated Hawaiian style. 
The Four Seasons Hualalai is a stunning 5-star oceanfront resort on the big island of Hawaii, aptly named "Hawai'i".
If you looked up "Hawaiian Honeymoon" in the dictionary, we would be under good instruction that you would feast your eyes upon the Four Seasons Hualalai.
With eight gorgeous in-resort pools to choose from, we don't blame you if you have a hard time figuring out where to lay, dip, drink, and play the day away.
Luckily, Four Seasons have made your honeymoon easier by keeping one of its best pools an adult-only sanctuary.
What's more to the honeymoon dream is that the resort, in its entirety, has been recently renovated, and nowhere is this more noticeable than its rooms.
Whether you decide to stay in the Hawaii Loa Presidential Villa or a standard ocean-view room, each room's contemporary decor, modern amenities, and curated designs are simply stunning.
Just as its staggering number of pools impresses you, so will the resort's nine delightful dining options.
Whether you lean to the barefoot dream down at the uber-chic Beach Tree or Hualalai Grille which overlooks the revered 18th green of its Jack Nicklaus designed golf course, you will know your dining in Hawaii at the Four Seasons.
The Hualalai Spa is a high-end wellness retreat that knows the importance of privacy for its couples' spa treatments.
Surrounded by lush ferns and tropical tree species, an outdoor spa Hale is a perfect place to experience a traditional Hawaiian Lomi-Lomi massage and feel the weight of the world slip straight off your shoulders.
As hard as the resort is to leave, it's totally worth it to take part in one of the resort's many Island Explorations.
From scenic helicopter flights to stargazing at Mauna Kea, sea-kayak tours, and stunning island hikes to suit all levels, the Four Seasons Hualalai is so much more than poolside Pina Coladas (as delicious as they are). 
Aptly named the "Pink Palace on the Pacific" as a result of its iconic pale pink hotel, there is no confusing The Royal Hawaiian from the next resort on the Waikiki stretch.
Waikiki is where the action is so if you're looking for a quiet honeymoon escape, this is not the place for you.
If, however, you want to be in and amongst the nightlife, shopping, and general buzz that Honolulu is known for, then you've stumbled upon your lively paradise.
The Royal Hawaiian is a 5-star resort supremely located adjacent to the super-friendly surfing waves of Waikiki and is a real hotspot for the movers, shakers, and makers of the world.
Blending modern luxuries with indigenous accents and supreme comforts, the resort's Historic Wing features suite rooms fit for the most lavish of honeymoons.
The mighty oceanfront Mailani Tower features a towering expanse of contemporary rooms that, from your private balcony, will give you a bird's eye view of life down below.
Mai Tai Bar is the resort's casual beachside dining option, with nightly live music setting the Waikiki scene and getting you in the mood for whatever lies ahead.
The upscale restaurant Surf Lanai is where breakfast is served every day, with their specialty Pink Palace Pancakes a delicious way to begin your day.
However, if you're looking for a truly world-class culinary experience then all appetites lead to Azure Restaurant & Bar.
Set under the resort's dramatic Spanish-Moorish architecture and overlooking the bright lights and dazzling sights of Honolulu, their four-course dinner menu is something of a phenomenon.
Make sure to let the Royal Hawaiian know that you will be recently married, and they will go above and beyond to give you a royal honeymoon unlike any other.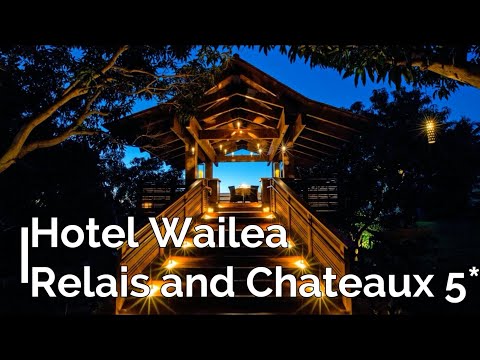 Set up above the sea at 300 feet, Hotel Wailea boasts 180-degree ocean views that encapsulate three Hawaiian Islands.
This is a super-luxe adults-only oasis that features 15 acres of Zen-inspired grounds where waterfalls, winding paths, and tropical gardens encompass all that you do.
Set on the lushest of hillsides above Maui's famed Wailea Beach, this 72-suite resort makes sure to keep the outside world at an arm's length so that your honeymoon is all very lovely and hush-hush.
You might be thinking that all this hillside exclusivity sounds great, but what about my ocean time? Impressively, Hotel Wailea has a mini-fleet of Teslas ready to wind guests down the hillside to where a private stretch of beach is waiting.
The beach valet service will provide you with towels, beach chairs, umbrellas, and watersports equipment to enjoy all day.
If you get a munch on do not fear as the resort's beach concierge can conjure up any snack, drink, or lunch option and have it delivered to your sandy stretch of seclusion, all day long.
Back at the resort and you simply can not pass up the "Couple's Paradise Retreat" that will see your suite turned into an intimate spa setting while you sip a cocktail poolside.
Once your room has been transformed you will be treated to a first-rate Lomi Lomi massage from highly experienced Ho'omana spa therapists.
Leaving you feeling relaxed, rejuvenated, and extra zen in the privacy of your own suite, you'll have a hard time venturing beyond your room's door that afternoon.
Luckily, Hotel Wailea boasts a full, in-room dining service that can see you nestle into your luxurious nook for an evening without a single care, worry, or thought in the world.
An emphasis on showcasing Hawaii's heritage through authentic experiences is instantly noticeable at Hotel Wailea.
From their beautiful outdoor Kiawe dining experience to a couple's treehouse dining evening, a surf safari, and a Hawaiian outrigger canoe trip - this resort knows how special its natural surroundings and Hawaiian culture are, and they showcase it every chance they get.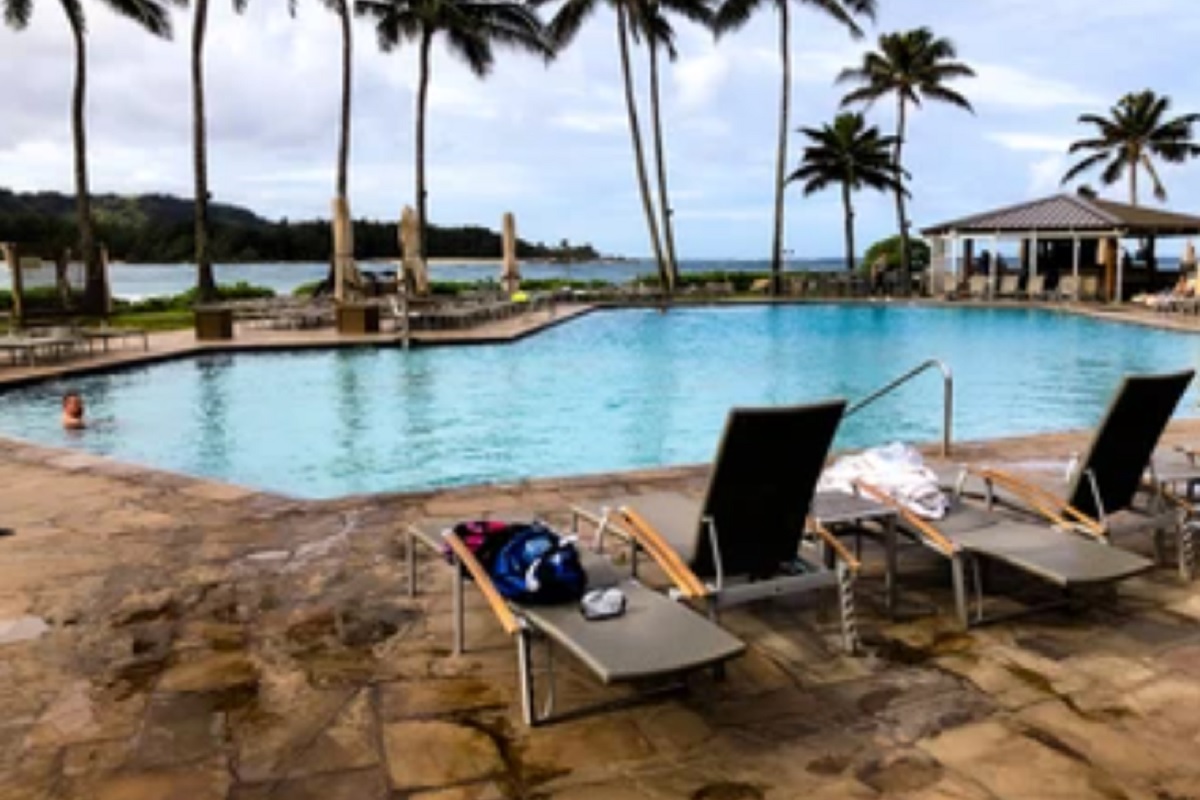 Located at the tip of Turtle Bay on Oahu's famous North Shore proudly sits the 850-acre expanse of Turtle Bay Resort.
This exclusive location is very unique for the North Shore and you won't find a better place to honeymoon on the majestic 7-mile stretch.
Perched above the bay's craggy headland, the resort's palm-tree-lined pool boasts unspoiled views looking out over the majestic Turtle Bay to soak and delight in.
With an unmatched location overlooking both the pool and bay, the resort's Ocean Club is well worth the upgrade and can be purchased on top of any room type.
From its premium oceanfront bungalows to the top floor ocean-view suites and every room in-between, there is no place that does "surf-chic" decor better than Turtle Bay Resort.
Oahu's North Shore is a magical stretch of coast that is deeply rooted in the Hawaiian sport of surfing.
Home to some of the best surf spots on the planet, coming to the North Shore is about connecting to the ocean in ways that you may never have before.
For this reason, Turtle Bay has curated a high-end surf experience for its guests with world-famous pro surfer Jamie O'Brien.
Tailored to all surfing abilities (from beginner to expert), there is no resort surf program on the planet that can match the Turtle Bay/ Jamie O'Brien partnership.
Like to golf? Why not try your luck at one of two pro-designed courses that are just a stone's throw from the resort.
Horseback riding, turtle-spotting tours, paddleboarding lessons, cultural bike tours, helicopter flights, canoe tours, and beach picnics - however, if you would like your honeymoon to be remembered, Turtle Bay is ready to offer it.
In the world of 5-star resorts, location is everything, and we can convincingly say that no Hawaiian resort captures Hawaii's magic quite like Turtle Bay. 
Conclusion

There's a reason why every bride and groom has their sights set on Hawaii and that is because it's Hawaii.
Surrounded by the bluest hues of the Pacific Ocean and with year-round warm tropical weather, it doesn't matter who you are or where you come from, Hawaii hits differently.
Choosing a honeymoon in Hawaii is the best decision you will make after getting married and these resorts only make that decision even more of a home-run and slam-dunk.
We hope the resorts in this article have got you inspired to experience Hawaii from your loved-up newlywed couple bubble.
Whether you prefer the tranquil life on Maui and Kauai or the bright city lights of Honolulu and Waikiki beach, this article has served you the hottest hotels in the Hawaiian archipelago. The only question now is, which one are you booking?
💼 We cherish our independence! ✈️ Our travel recommendations are carefully researched, bias-free, and powered by human expertise by April and Ricky of LRB (we have personally researched and travelled to many of these destinations and researched others thoroughly through first-hand accounts). 🌍✨
We try to keep everything up to date, but please always do your own research and contact us if you know any issues for us to help others as best we can as a small but professionally focused team! 🧐📚⚠️