Maldives Beach Wedding Resorts
Maldives Beach Wedding Resorts
The Maldives, with its pristine white beaches and turquoise waters, is a dream wedding destination. The archipelago offers a plethora of wedding packages that cater to a variety of preferences and budgets. Here's a glimpse into what some resorts have to offer:
1. Baros Maldives
Baros Maldives Weddings
Baros Maldives: This resort offers an enchanting "Eternity Wedding Package" that includes a romantic sandbank wedding ceremony, floral decorations, a wedding cake, a bottle of champagne, and a special wedding dinner. The newlyweds also get a romantic sunset cruise with canapés and champagne.
2. Kurumba Maldives
Kurumba Maldives
Kurumba Maldives: Their "Tropical Wedding Package" includes a decorated ceremonial area on the beach, a traditional Maldivian Bodu Beru procession, a wedding coordinator, a professional photographer, a champagne toast, and a romantic beach dinner.
LUX South Ari Atoll
Their wedding package includes a personalized wedding planner, ceremony decoration, a wedding cake, a special wedding breakfast in your villa, a romantic bath ceremony, and a sunset cocktail.
Four Seasons Resort Maldives at Landaa Giraavaru
This luxury resort offers tailored wedding ceremonies that include a Maldivian blessing ceremony, a private beach barbecue, a romantic Dhoni cruise at sunset, a couples' spa ritual and even an underwater wedding ceremony for diving enthusiasts!

These packages vary in price depending on the inclusions and the time of year. All resorts offer the option to further customize your experience with additional services such as professional photography, live music, hair and makeup services, and more.
It's important to note that while these ceremonies are incredibly romantic and memorable, they are symbolic and not legally binding. If you wish to legally get married in the Maldives, there are additional requirements and paperwork, and it is typically recommended to legally marry in your home country either before or after your Maldivian ceremony.
Remember, each resort has a different take on the dream Maldivian wedding, so take the time to research and choose the one that resonates best with your vision of the perfect day.
Cost of a Maldives Wedding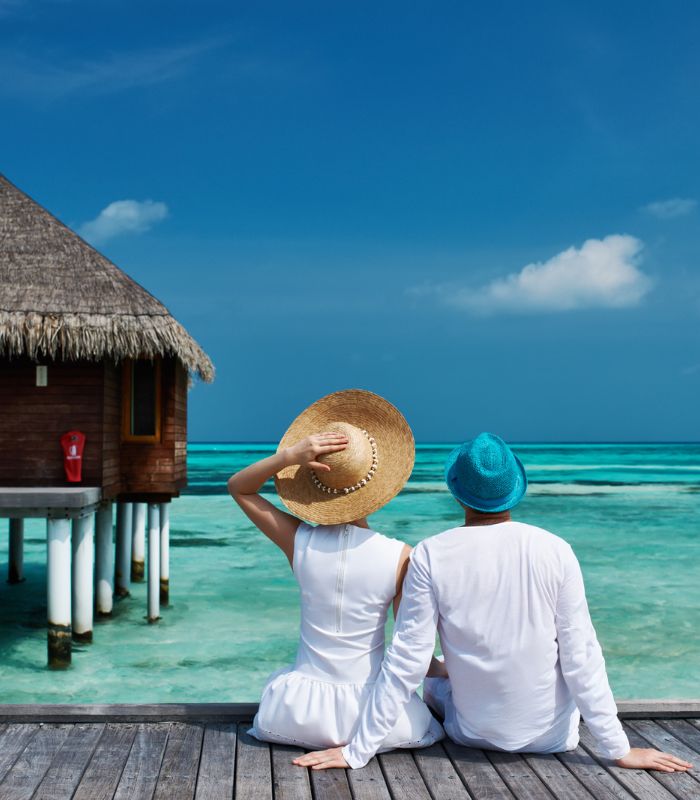 The cost of a wedding package in the Maldives can vary significantly based on the resort, the specific package chosen, and any additional services or features you opt for. Here are some general cost ranges:
Basic Packages: These typically cover the ceremony itself and a few extras like a celebratory meal, photography, and basic decorations. They can start from around $2,000 to $5,000.
Mid-Range Packages: These might include more elaborate decorations, a larger selection of venues, better menus, and possibly some spa services or additional extras. They can range from $5,000 to $10,000.
Luxury Packages: These are usually at high-end resorts like the Four Seasons, and they can include almost anything you could wish for - from extravagant decorations and gourmet dining to private yachts and underwater photography. The cost can start from around $10,000 and go up to $20,000 or more.
Remember, these are rough estimates and prices can change based on a variety of factors. It's also important to note that these costs usually don't include accommodations or travel to the Maldives, which can be a significant part of the total cost.
Also, due to the ongoing COVID-19 pandemic, prices and availability may have changed. Be sure to check with the specific resort for the most accurate and up-to-date information.
Maldives beach weddings are the epitome of a tropical paradise ceremony. With the azure Indian Ocean as a backdrop, the powdery white sand beneath your feet, and the soft rustle of palm trees, getting married in the Maldives is a dream come true for many couples.
Legalities and Customs: While the Maldives is a sought-after wedding destination, at the time of writing, only symbolic ceremonies are offered for foreigners, as the Maldives is a Muslim country and legal weddings are subject to local laws and practices. Many couples choose to conduct the legal formalities in their home country, then hold a symbolic ceremony or vow renewal in the Maldives.
Beach Wedding Venues: Almost all resorts in the Maldives offer beach wedding services. Some of the more popular venues for beach weddings include the Four Seasons Resort at Landaa Giraavaru, Baros Maldives, and COMO Cocoa Island. These resorts offer wedding packages that can be customized to your needs, including floral arrangements, traditional drummers, photography services, and a wedding planner to ensure your day goes smoothly.
What to Expect: A typical Maldivian beach wedding ceremony might include a decorated beach venue, a master of ceremonies (often a resort manager), traditional Bodu Beru drummers, and a Maldivian blessing. Many resorts also offer unique extras, like releasing sky lanterns, a sand ceremony, or even an underwater wedding for diving enthusiasts.
Cost: The cost of a beach wedding in the Maldives can vary widely depending on the specific resort and package chosen. As a general guideline, you might expect to pay anywhere from $2,000 to over $20,000 for a beach wedding package in the Maldives.
Conclusion: A beach wedding in the Maldives is a truly unforgettable experience. With its stunning natural beauty and luxurious resorts, it's the perfect place to start your new life together in style. However, be sure to check the latest regulations and offerings from your chosen resort, as details can change.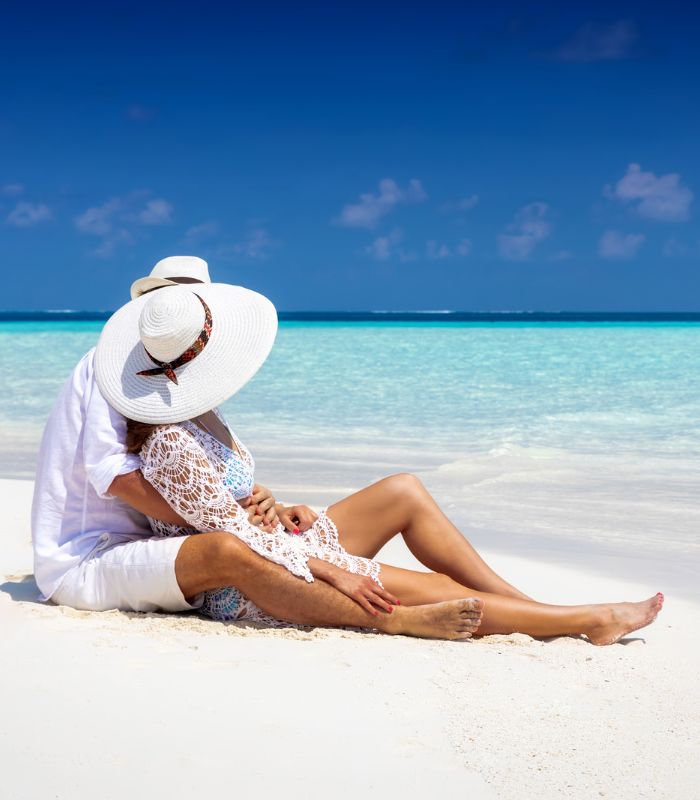 FAQ: Maldives Resort Weddings
A destination wedding in the Maldives typically costs around 50,00,000 INR for 100 guests. The total cost depends on factors such as the level of extravagance, whether you'll cover guests' travel expenses, and the resort you choose.
A: It is not possible to legally marry in the Maldives. However, you can have a symbolic blessing ceremony that creates a picture-perfect experience. This often includes a candlelit dinner for the bride and groom, either on the beach or in a restaurant.
A: A traditional wedding ceremony in the Maldives involves a procession known as Bodu Beru, which consists of about 20 drummers playing traditional music while leading the couple down the aisle. This cultural procession adds a unique touch to the wedding celebration.
A: Public displays of affection, including kissing and hand-holding, are considered offensive and may result in punitive action on non-resort islands such as Malé City. However, private resorts tend to be more lenient in this regard.
A: Yes, unmarried couples are allowed to share a room in the Maldives. Being legally wedded is not a requirement for sharing accommodations or enjoying a vacation in the country.
A: For a beach wedding in the Maldives, it is recommended to wear airy and light clothes due to the humid tropical climate. Beach wedding shoes are often skipped, allowing you to enjoy the sand under your toes.
A: The best time to visit the Maldives is during the months of December to April, which constitutes the dry season and is also the peak tourist season. This period offers dry weather and little to no rain showers, making it ideal for travel.
A: Couples choose the Maldives for their honeymoon or wedding destination due to its many private island resorts, providing peace, tranquility, and breathtaking natural beauty.
A: The cost of a trip to the Maldives for a couple depends on various factors such as the duration of the stay, the type of accommodation, activities, and package inclusions. On average, a 7-day trip to the Maldives may cost between INR 2,70,000 to INR 3,15,000.
A: A Mayu wedding refers to a pre-wedding ritual in which the soon-to-be bride is secluded and not supposed to perform any household chores. This period of seclusion allows the bride to rest and prepare for her wedding day. The bride is often beautified with oil and a yellow paste called 'uptan' during this time.
A: An underwater wedding is a unique ceremony that takes place underwater. It is an option for couples who enjoy snorkeling, diving, or have a love for the ocean. This type of wedding ceremony offers an adventurous and memorable experience.
A: Having a wedding in the Maldives can be expensive, but it can also be more affordable compared to other destinations. The cost of a wedding package in the Maldives can range from $550 to $4,000, excluding flights and additional expenses. It offers a luxurious experience at a relatively lower cost compared to some other wedding destinations.
A: The most expensive aspects of a wedding typically include the ceremony and reception venue. Venue costs vary depending on factors such as location, services provided, and the number of guests. These expenses can often be significant and impact the overall wedding budget.
The information provided in this FAQ is based on general knowledge and may be subject to change. It is always recommended to consult with a wedding planner or relevant sources for the most accurate and up-to-date information.
Share Your All-Inclusive Adventures and Questions! 🌴 Have a memorable experience from a luxury all-inclusive vacation? We'd love to hear it at Luxury Resort Bliss. We're on the lookout for top-quality, insightful tales that'll inspire our community. Dive in and be a part of our sun-soaked stories! 🌊🍹✨
The story is a fictionalized account founded on travel expertise, research, and experience. Always refer to recent guest reviews and perform due diligence before booking.
💼 We cherish our independence! ✈️ Our travel recommendations are carefully researched, bias-free, and powered by human expertise by April and Ricky of LRB (we have personally researched and travelled to many of these destinations and researched others thoroughly through first-hand accounts). We also have put in the hard miles, and Ricky has worked for decades for resort and hotel chains  Hyatt, Hilton, Shangri-La and Radisson before starting Luxury Resort Bliss in 2007. 🌍✨ Unlike some other resort review websites we are concerned on the guest experience rather than mere corporate interest.