Mexico AIl Inclusive Resorts
Best Mexico All-Inclusive Resorts
Mexico all-inclusive resorts are among the best you will find anywhere in the world. Here is a list of the resorts that give Mexico that great reputation.
See also Mexico Adult Only All-Inclusive Resorts
Be sure to keep your eye open for the great deals we've found.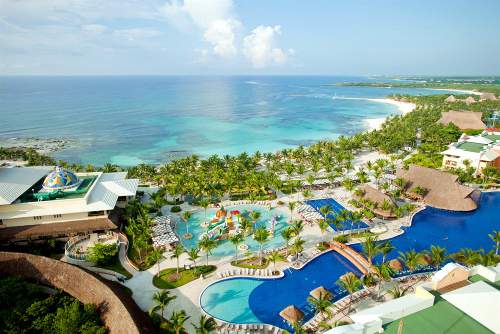 Barcelo Maya Caribe Beach All Inclusive
Each of the following Mexico all inclusive resorts we've reviewed has a video and brief description with a link to a full review. Scroll down or choose from the location list below. We will show you not only the best but also some great safe all inclusive Mexican family resorts at a great price.
Mexico has a wide variety of resorts. Some are all-inclusive, while others have a la carte options. All-inclusive resorts offer a wide range of activities for guests to take part in, along with food and drinks. The following is a list of the best all-inclusive resorts and destinations in Mexico.
---
Mexico's Caribbean Coasts
Mexico's hugely popular Yucatán Peninsula is the favorite playground for a variety of people seeking different types of Mexico all-inclusive vacations. Family adventures, extreme luxury and even cheesy party all-inclusive vacations are all available in scores.

Quintana Roo—Mexico All Inclusive Vacations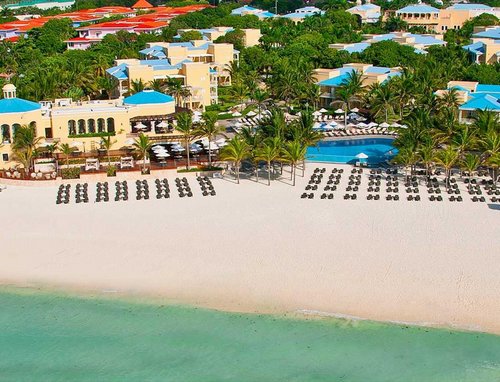 Royal Hideaway Playacar & Occidental Resorts
The Mexican state of Quintana Roo is especially well serviced from Cancun to Riviera Maya and features the best of the calm seas and white sands of the Caribbean Sea. The areas rich history and abundance of activities, natural attractions and cultural activities from the Riviera Maya to Cancun make this an excellent location for some of the worlds best all inclusive vacations.

---
Riviera Maya is the most popular tourist destination in the Yucatan Peninsula. The region has many natural attractions like cenotes and Mayan ruins. It also has some of the best beaches in the Caribbean Sea like Playa del Carmen, Playa Paraiso, Playa Tortugas and Akumal Beach.
Some of Riviera Maya's most popular attractions are Xcaret Park, Xel-Ha Park and Xplor Park. These parks have a wide variety of activities for visitors to enjoy such as snorkeling, swimming with dolphins or exploring an underground river system.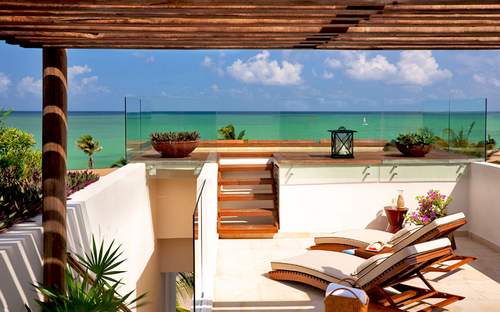 More Playa Del Carmen Riviera Maya Resorts - The Rosewood
Riviera Maya all-inclusive resorts are located on the staggeringly wonderful reef and protected beaches from Cancun to Tulum.
---
Tulum is a small town on the Yucatan Peninsula in Mexico. It is known for its white-sand beaches and clear turquoise waters. Tulum is on the quieter, southern end of the Riviera Maya coast (about 150 km from Cancun). It's well known for it's Mayan cultural assets. The area also attracts some quality all inclusive resorts - especially around the ancient ruins.
The area has been a popular tourist destination since the 1970s, when it was first developed as an all-inclusive beach resort destination. Tulum's popularity with tourists has grown in recent years, due to its seclusion and natural beauty. The town and neighboring areas are home to several all-inclusive resorts and eco-friendly hotels.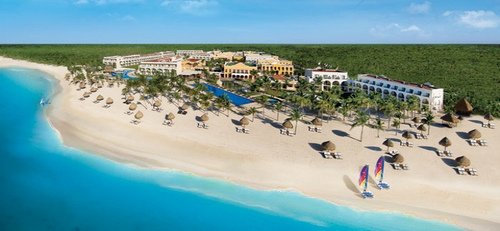 Dreams Tulum All Inclusive Resort
Here is a video Bliss List of the best Tulum all inclusive resorts. 

---
Riviera Maya Vacation Travel Guide

Playa del Carmen is a city in the Mexican state of Quintana Roo on the Yucatan Peninsula. It is located about 25 minutes south of Cancun International Airport and about 60 minutes north of Tulum, with an average temperature range from 20-38 degrees Celsius.
Video: Top 10 Best All Inclusive Resorts in Playa Del Carmen, Mexico
Playa Del Carmen All Inclusive Resorts are more often compared to European Resorts than other Mexican destinations. This reflects the modern vibe of the area which presents a distinct contrast to Cancun which is located only about 30 km down the road buts seems distinctly different.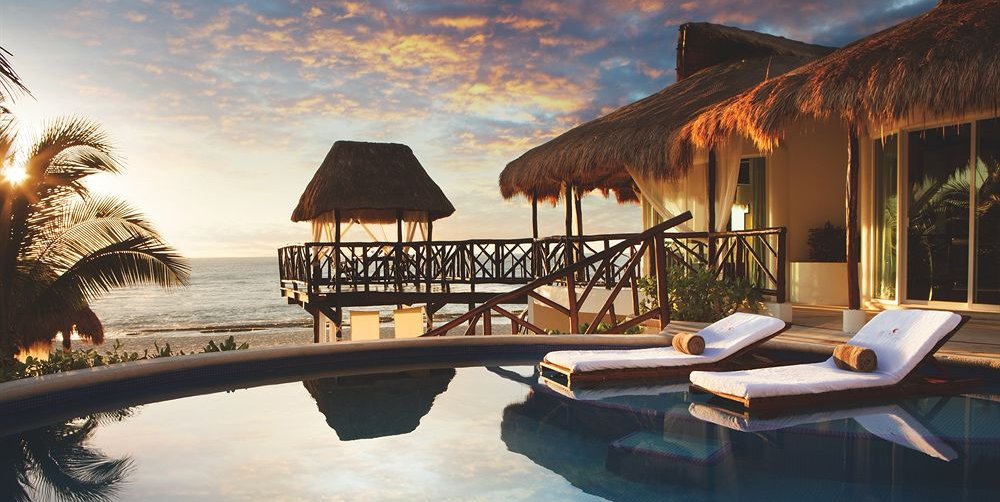 Playa Del Carmen All Inclusive Resorts
Secrets Maroma Beach Riviera -
Playa Del Carmen
Secrets resort is typical of the area and often features near the top of the list of the world's best all-inclusive resorts lists.
It's a very luxurious and romantic resort that has received numerous awards. The hotel has an impeccable white beach, stunning ocean views and elegant suites with 24-hour room service. They also offer smaller pools and the shimmering infinity pool. You'll find options for gourmet dining and chic lounges when you visit.
Video Guest Review: Secrets Maroma Beach | Riviera Maya, Mexico
---
Cozumel is a popular tourist destination, especially for those who like to scuba dive and explore underwater life. The island has become one of the most popular diving destinations in the world because of its clear waters, white sand beaches, and diverse marine life.
The ancient Mayan ruins are also an attraction for visitors to Cozumel. These ruins are not as well-known or as large as Chichen Itza or Tikal but they are worth visiting nonetheless.
Cozumel is a quiet island only minutes away from Cancun on the Riviera Maya coast.
Cozumel All Inclusive resorts are great for families looking to experience snorkeling or diving the clear waters. It's also great for romantics looking to get away from it all.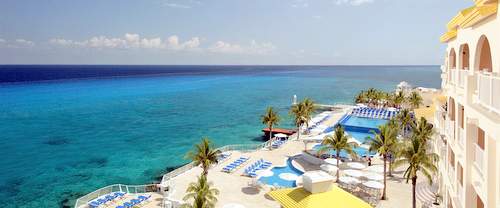 Cozumel palace All Inclusive
---
These resorts are some of the best anywhere and located in an area described as safer than many American states (when the correct precautions are taken). Check with current national advice for recommendations.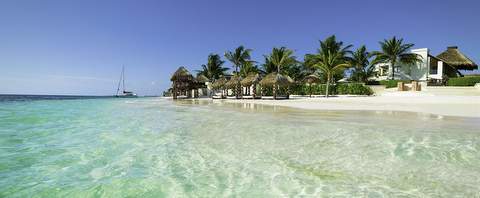 Azul - Cancun Family Resort
See the top Cancun All Inclusive Family Resorts.
Geographically, the attractions are clear calm waters and more all inclusive resorts than possibly anywhere else on earth. Unfortunately or not, these calmer more beautiful conditions will coincide with he high season which is generally between Christmas and Easter vacations.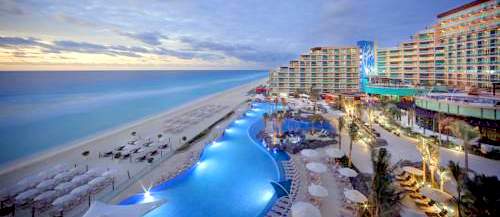 Cancun All Inclusive Resorts
Slightly outside the peak season, you can enjoy good weather and significant savings. Enjoyable all inclusive vacations with good patches of sunshine are usually also available in the wet season as well.

Check out the Le Blanc Cancun All Inclusive Spa Resort for a relaxing, luxurious getaway. The resort is located in the most pristine area of Cancun, just a 5-minute walk from the beach. With its exquisite architecture, lavish surroundings and beautifully decorated rooms, the resort offers a number of amenities and activities to suit every traveler's needs.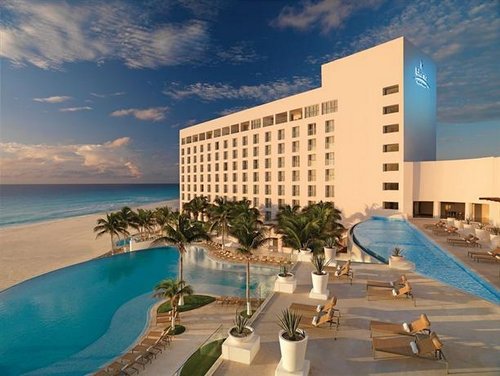 Le Blanc Cancun Mexico All Inclusive Resort
Typical of the quality of all inclusive adult and couples resorts in Cancun, the Le Blanc Spa Resort, is a great choice for a romantic vacation.

---
The Mexican West Coast is a diverse, exciting region that offers a wide range of all-inclusive resorts and hotels. From the Pacific Ocean to the Gulf of Mexico, the Mexican West Coast provides visitors with a plethora of options to choose from.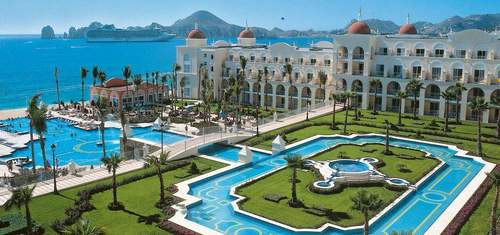 Hotel Riu Palace All Inclusive Cabo San Lucas Vacation Resort
Baja California on the Pacific side of Mexico is a world class tourism destination on it's own. The area seems to bring up the images to mind of a dry Mexican dessert with a rough coastline many of us have. Sure this area is less populated, but there are some great all inclusive and all inclusive family resorts that make for great vacation destinations in their own right.
Cabo San Lucas Top All Inclusive (Adult and Family)
---
The Los Cabos region, located on the coast of the Sea of Cortez, is a popular tourist destination for both North American and European travelers. The region has  hundreds of all-inclusive resorts that are perfect for the adventurous traveler.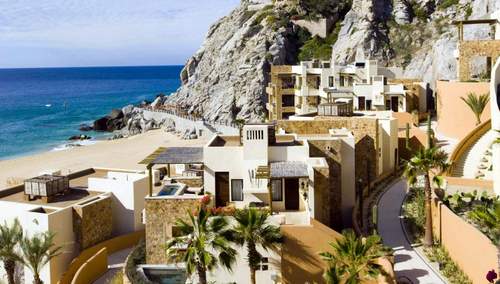 Cabo San Lucas All Inclusive Resorts
The rocky Los Cabos area possibly houses the best of the all inclusive resorts in Baja, California.
Special: Best Los Cabos Beaches for your Budget - Up To 50% Off.
---
For more in Mexico, including deals, take a look at the right hand menu.
---
Top 16 Destination Ideas for an All-Incluisve Vacation in Mexico
💼 We cherish our independence! ✈️ Our travel recommendations are carefully researched, bias-free, and powered by human expertise by April and Ricky of LRB (we have personally researched and travelled to many of these destinations and researched others thoroughly through first-hand accounts). 🌍✨
We try to keep everything up to date, but please always do your own research and contact us if you know any issues for us to help others as best we can as a small but professionally focused team! 🧐📚⚠️