Best Mexico All Inclusive Resorts (2022)
Mexico all inclusive resorts are among the best you will find anywhere in the world. Here is a list of the resorts that give Mexico that great reputation.
Be sure to keep your eye open for the great deals we've found.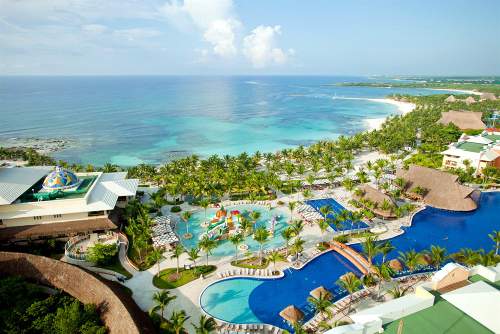 Barcelo Maya Caribe Beach All Inclusive
Each of the following Mexico all inclusive resorts we've reviewed has a video and brief description with a link to a full review. Scroll down or choose from the location list below. We will show you not only the best but also some great safe all inclusive Mexican family resorts at a great price.

---
Mexico's Caribbean Coasts
Mexico's hugely popular Yucatan Peninsula is the favorite playground for a variety of people seeking different types of Mexico all inclusive vacations. Family adventures, extreme luxury and even cheesy party all inclusive vacations are all available in scores.  The 2014 list of the best all inclusive resorts reveals many of these resorts are located on this small stretch of beach.

Quintana Roo - Mexico All Inclusive Vacations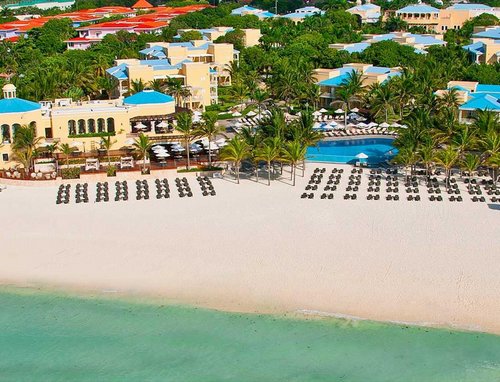 Royal Hideaway Playacar & Occidental Resorts
The Mexican state of Quintana Roo is especially well serviced from Cancun to Riviera Maya and features the best of the calm seas and white sands of the Caribbean Sea. The areas rich history and abundance of activities, natural attractions and cultural activities from the Riviera Maya to Cancun make this an excellent location for some of the worlds best all inclusive vacations.

---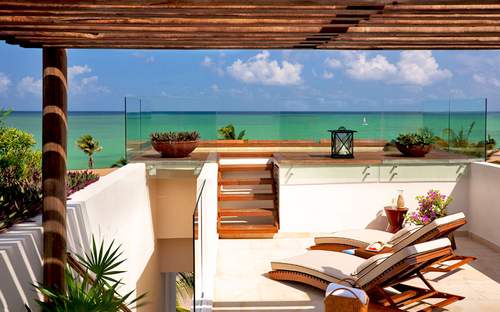 More Playa Del Carmen Riviera Maya Resorts - The Rosewood
Riviera Maya all inclusive resorts are located on the staggeringly wonderful reef and protected beaches from Cancun to Tulum.
Special: See Riviera Maya Vacations - Up to $650 Off 
---
Tulum is on the quieter, southern end of the Riviera Maya coast (about 150 km from Cancun). It's well known for it's Mayan cultural assets. The area also attracts some quality all inclusive resorts - especially around the ancient ruins.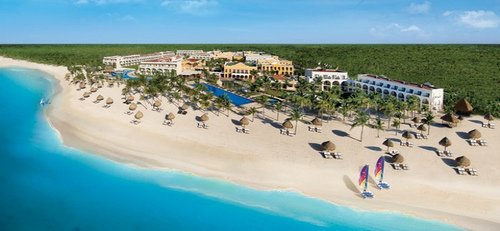 Dreams Tulum All Inclusive Resort
Here is a video Bliss List of the best Tulum all inclusive resorts. 

---
Riviera Maya Vacation Travel Guide

Playa Del Carmen All Inclusive Resorts are more often compared to European Resorts than other Mexican destinations. This reflects the modern vibe of the area which presents a distinct contrast to Cancun which is located only about 30 km down the road buts seems distinctly different.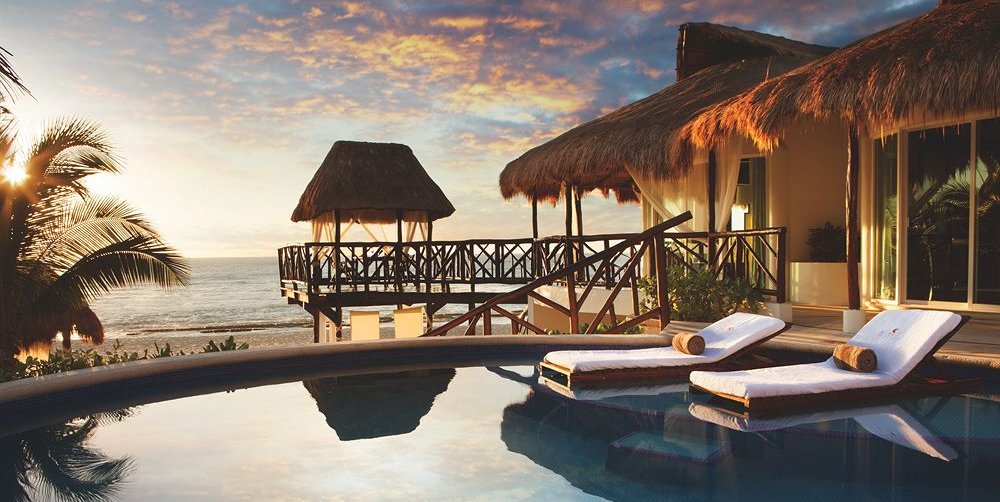 Playa Del Carmen All Inclusive Resorts
Secrets Maroma Beach Riviera -
Playa Del Carmen
Secrets resort is typical of the area and often features near the top of the list of the worlds best all inclusive resorts lists.
It's a very luxurious and romantic resort that has received numerous awards.
---
Cozumel is a quiet island only minutes away from Cancun on the Riviera Maya coast.
Cozumel All Inclusive resorts are great for families looking to experience snorkeling or diving the clear waters. It's also great for romantics looking to get away from it all.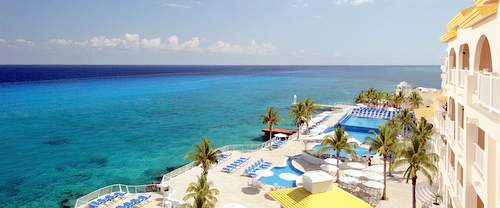 Cozumel palace All Inclusive
---
These resorts are some of the best anywhere and located in an area described as safer than many American states (when the correct precautions are taken). Check with current national advice for recommendations.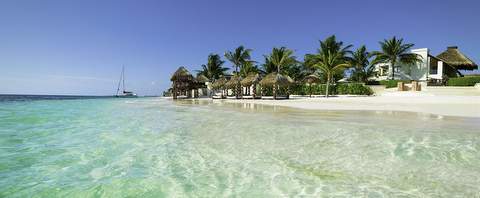 Azul - Cancun Family Resort
See the top Cancun All Inclusive Family Resorts.
Geographically, the attractions are clear calm waters and more all inclusive resorts than possibly anywhere else on earth. Unfortunately or not, these calmer more beautiful conditions will coincide with he high season which is generally between Christmas and Easter vacations.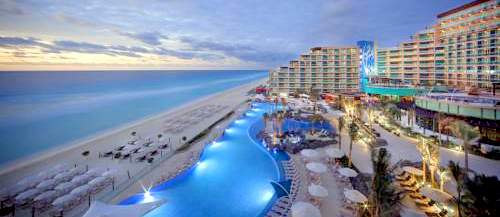 Cancun All Inclusive Resorts
Slightly outside the peak season, you can enjoy good weather and significant savings. Enjoyable all inclusive vacations with good patches of sunshine are usually also available in the wet season as well.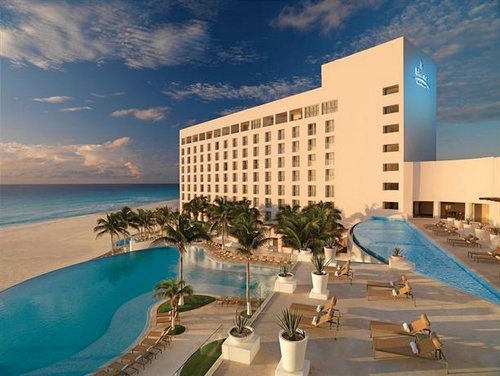 Le Blanc Cancun Mexico All Inclusive Resort
Typical of the quality of all inclusive adult and couples resorts in Cancun, the Le Blanc Spa Resort, is a great choice for a romantic vacation.

---
Baja California: Mexico All Inclusive Resorts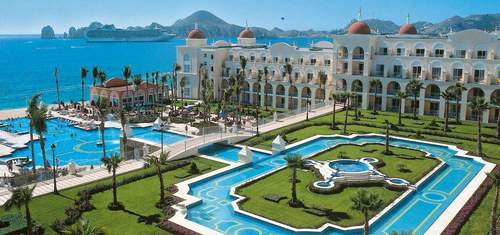 Hotel Riu Palace All Inclusive Cabo San Lucas Vacation Resort
Baja California on the Pacific side of Mexico is a world class tourism destination on it's own. The area seems to bring up the images to mind of a dry Mexican dessert with a rough coastline many of us have. Sure this area is less populated, but there are some great all inclusive and all inclusive family resorts that make for great vacation destinations in their own right.
Cabo San Lucas Top All Inclusive (Adult and Family)
---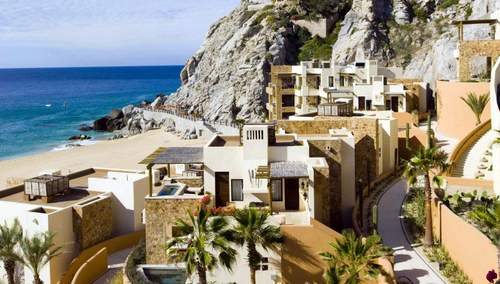 Cabo San Lucas All Inclusive Resorts
The rocky Los Cabos area possibly houses the best of the all inclusive resorts in Baja, California.
Special: Best Los Cabos Beaches for your Budget - Up To 50% Off.
---
For more in Mexico, including deals, take a look at the right hand menu.
---