Best All-Inclusive Resorts in the Caribbean for Families With Teenagers
All-Inclusive Resorts in the Caribbean for Families with Teenagers
So, you've got a teen who thinks family vacations are less appealing than cleaning their room? Cue the Caribbean—a place so groovy even your hard-to-impress teenager will be converted. We're talking Insta-worthy beaches, adventure-filled excursions, and resorts that basically scream "YOLO!" Ready for the deets? Let's dive right in. 🌴🐠🍹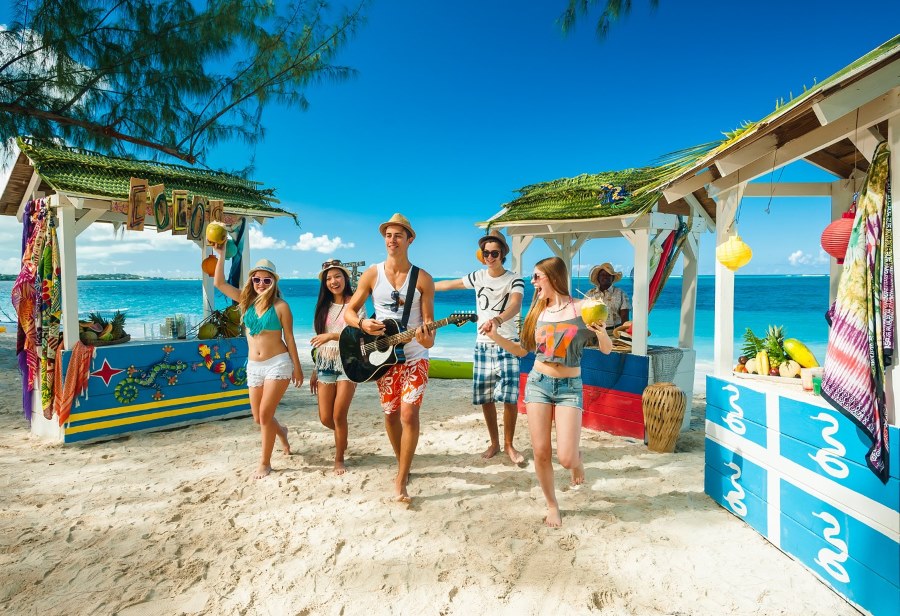 Beaches Turks: Caribbean All Inclusive Resort – teenager friendly
1. Club Med Punta Cana, Dominican Republic
Why It's Basically The Goat:
Circus workshops where teens can learn to trapeze.
An exclusive teens-only lounge, complete with mocktails.
Sailing, archery, and even flying trapeze classes to keep that teen energy in check.
2. Hard Rock Hotel & Casino Punta Cana
Why It's A Complete Showstopper:
Sound of Your Stay® Program where teens can jam on a Fender guitar.
Music Lab for teens to join a pop-up band and rock out.
A teen nightclub that'll make you wish you were young again.
When it comes to all-inclusive resorts in Punta Cana, the options are seemingly endless—but if you're a teenager, let me tell you, the Hard Rock Hotel & Casino is where you want to be. Forget about the usual kiddy pools and lame crafts; this place has upped the game with a dedicated teen club, complete with PS5 gaming stations, interactive dance platforms, and lounges that won't cramp your style. If that's not enough, how about joining in on a "Battle of the Bands" or some "New Wave Water Adventures"? Not your scene? No worries—the resort is also a haven for the Insta-obsessed, featuring pristine beaches and stylish suites that are basically designed to be your backdrop. And hey, you can even ditch the 'rents for a bit—trust me, with an 18-hole golf course, a Vegas-style casino, and a rock spa, they won't even notice you're gone.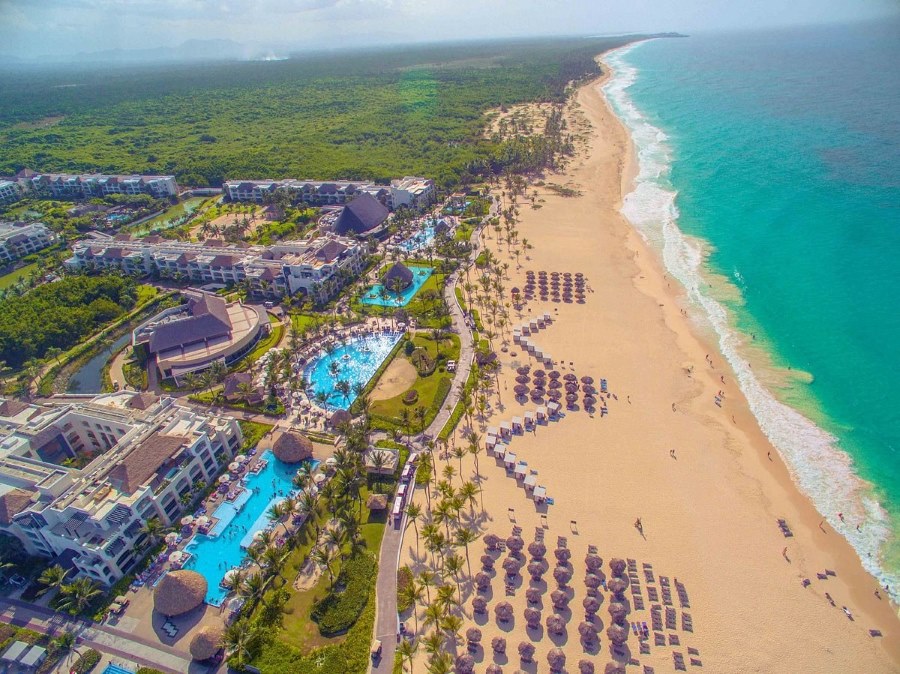 Best All-Inclusive Resorts For Families With Teenagers
Beaches Turks & Caicos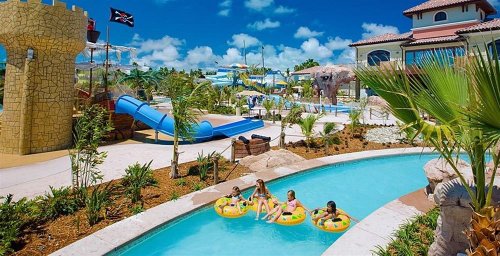 Beaches Turks & Caicos is a quintessential paradise for families seeking an all-inclusive Caribbean escape, and it's no wonder why it tops the list year after year. Located on the world-renowned Grace Bay, this sprawling resort offers five distinct villages, each designed to echo the architectural beauty of Italy, France, the Caribbean, and Key West. With a jaw-dropping 45,000-square-foot waterpark and 21 gourmet restaurants, the resort elevates the all-inclusive experience to new heights. Children will be thrilled by the myriad of activities, from the Sesame Street® characters roaming the resort to the cutting-edge Xbox Play Lounge. Teens aren't left out either; they can groove the night away at a teen-only disco. What's more, the resort proudly serves premium liquors and an exclusive blend of Jamaican Blue Mountain coffee. A 12-mile stretch of pristine beach offers the perfect setting for water sports, lounging, or taking part in a beachfront yoga class. With endless amenities and activities, it's not just a vacation but a comprehensive experience that caters to every age and interest.
Beaches Turks & Caicos
Why It's So Freakin' Fabulous:
Xbox Play Lounge, because duh, video games.
Sesame Street characters for the little ones, giving your teens some much-needed space.
Water park complete with lazy rivers and surf simulators.
Atlantis Waterpark Resort in the Bahamas for teenagers
The top all-inclusive family waterpark resorts in the Caribbean offer an unparalleled experience, particularly for teenagers seeking both adventure and a taste of independence. Far from just kiddie pools and basic slides, these resorts feature expansive, adrenaline-pumping waterparks equipped with towering water slides, lazy rivers, and surf simulators that cater to the thrill-seeking nature of teens. With amenities like teen clubs offering age-appropriate activities and entertainment, these resorts create a perfect balance between family time and personal freedom for teenagers.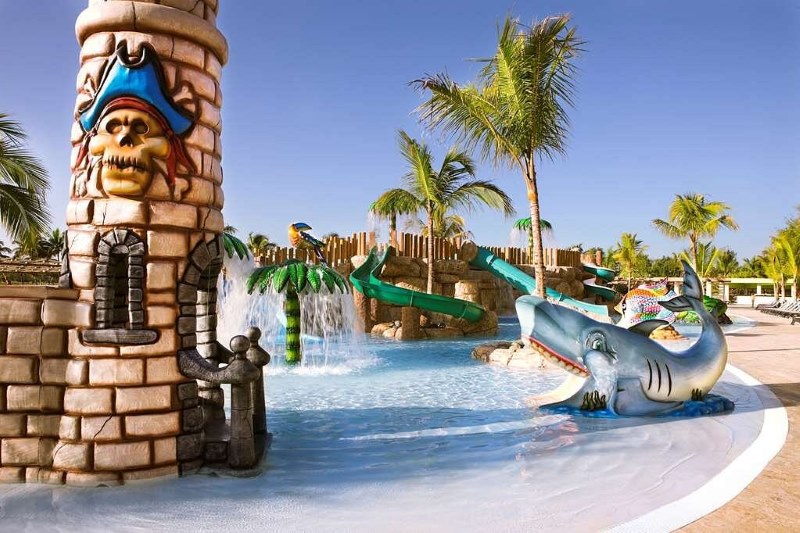 Bavaro waterpark Resort
Moreover, all-inclusive packages often include a wide variety of water sports, gaming lounges, and even teen discos, providing myriad opportunities for socializing and making new friends. It's a win-win situation for parents and teenagers alike, as parents can relax knowing their teens are engaged, entertained, and most importantly, safe.
Sugar Beach All Inclusive Family Resort
Calling all teenagers in search of the perfect mix of luxury and adventure: Sugar Beach, A Viceroy Resort in St. Lucia is your dream destination. Imagine waking up in a beachfront bungalow with views of UNESCO-listed Pitons, then diving into a day filled with activities from the Spice Club Program—think table tennis, billiard tournaments, kayaking, and paddleboarding. Want to relax? Recharge at the Rainforest Spa or sip a mocktail at the chic poolside bar. And when hunger hits, indulge in fine dining that's as exotic as the island itself. This isn't just a resort; it's a teen paradise, validated by accolades like the Forbes Travel Guide Recommended Award and a spot on the 'T+L 500' Best Hotels in the World list. Your ultimate Instagram-worthy vacation awaits.
Let's talk about the V Team Kids Club at Sugar Beach. This haven is perfect for families with kids between 4 and 12. And for those in their teen years, the Spice Club Program has it all—from croquet and billiard tournaments to kayaking and paddleboarding.
While parents enjoy a romantic sunset cruise, the young ones can be baking cookies on Mondays or making graffiti art on Wednesdays. Yes, this is where your child could write their first song, connect with the local community, and even contribute to the environment by planting a tree. Activities run from 9:00 AM to 5:00 PM, meaning there's a full day of adventure ahead for the little explorers.
Alternatives Family All-Inclusive Resorts in St Lucia : St. James's Club Morgan Bay, St. Lucia
Why It's 100% Pure Vibes:
Exclusive teen spa treatments like the "Acne Attack" facial.
Watersports including Hobie Cat sailing and paddleboarding.
Nearby zip-lining and island tours for when poolside gets boring.
Coconut Bay Beach Resort & Spa, St. Lucia
Why It's An Absolute Must:
Paintball and the island's largest waterpark for max adrenaline.
Cocoland Kidz Klub with a separate area for the too-cool-for-school teen crowd.
Weekly teen bonfires on the beach. Smores? Yes, please!
Hyatt Ziva Rose Hall, Jamaica
Hyatt Ziva Rose Hall truly understands the dynamics of a family vacation, providing distinct experiences that cater to guests of all ages, especially teenagers. This resort in Jamaica not only offers luxurious amenities and a stunning Montego Bay backdrop, but it also schedules a wealth of daily activities tailored for every interest. For the active teen, days are packed with engaging competitions, from ping-pong and corn-hole tournaments in the morning to high-energy beach volleyball sessions at 11:30 A.M. and again at 3:30 P.M on writing. Those inclined to learn something new can step into dance lessons or explore the vibrant world of Caribbean culinary arts through chef-led cooking demonstrations.
The KidZ Club is a sanctuary for younger children, offering them an island adventure of their own with arts, crafts, and beach sports. Meanwhile, teens can retreat to their dedicated Teen Club, open from 6:00 P.M. to 9:00 P.M., to engage in foosball, air hockey, or video gaming. They're free to drift in and out of this haven, meeting peers in a relaxed setting. In the evenings, the whole family can come together to be enthralled by a range of captivating performances featuring international artists, from Jamaican street music to awe-inspiring acrobatics. With such a wide array of activities and experiences, Hyatt Ziva Rose Hall effortlessly caters to teenagers, allowing them not just to accompany the family vacation but to truly be a part of it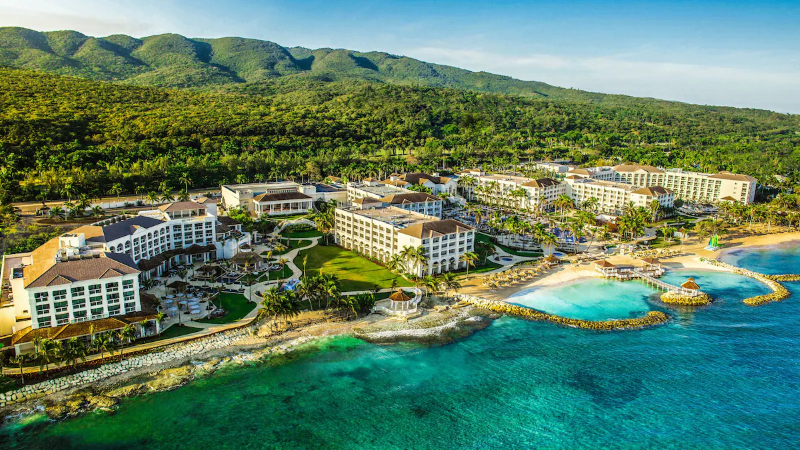 Hyatt Ziva Rose Hall, Jamaica
Why It's Just Too Cool For School:
Teen Zone featuring video games, dance parties, and even cooking classes.
Teens-only booze-free bar, because #MocktailsMatter.
Beach volleyball, snorkeling, and water basketball for sporty fams.
So, are you ready to be the coolest parent ever? Whether your teen is a beach bum, an adventure junkie, or just there for the free WiFi, these all-inclusive Caribbean resorts are the ultimate win-win. Book now, thank me later! 😎🏝🎉
The Ultimate Scorecard: Best All-Inclusive Caribbean Resorts for Teens
Criteria
Activities & Entertainment - Because "I'm bored" is the last thing you want to hear.
Safety Measures - Parents need peace of mind, too!
Teen Socialization Opportunities - Will your teen make a new BFF?
Wi-Fi & Connectivity - Crucial for TikTok uploads and Instagram stories.
Food Options - No one wants to be stuck with buffet food for a week.
Excursions - Let's take this party off the resort!
Teen Spaces & Lounges - Sometimes, they just don't wanna hang with the 'rents.
Educational Value - You know, so you can say they "learned something."
Value for Money - Are you getting the bang for your bucks?
Resorts and Ratings (out of 10)
Beaches Turks & Caicos
Activities: 10
Safety Measures: 9
Social Opportunities: 9
Wi-Fi: 9
Food: 8
Excursions: 8
Teen Spaces: 10
Educational Value: 7
Value for Money: 8
Total Score: 78/80
Hyatt Ziva Rose Hall
Activities: 9
Safety Measures: 8
Social Opportunities: 9
Wi-Fi: 8
Food: 9
Excursions: 9
Teen Spaces: 8
Educational Value: 6
Value for Money: 8
Total Score: 74/80
Hard Rock Hotel & Casino Punta Cana
Activities: 8
Safety Measures: 8
Social Opportunities: 8
Wi-Fi: 8
Food: 7
Excursions: 9
Teen Spaces: 8
Educational Value: 7
Value for Money: 8
Total Score: 71/80
Atlantis, Paradise Island
Activities: 10
Safety Measures: 7
Social Opportunities: 8
Wi-Fi: 7
Food: 6
Excursions: 8
Teen Spaces: 8
Educational Value: 7
Value for Money: 7
Total Score: 68/80
Final Thoughts
Top Pick for Teens: Beaches Turks & Caicos
Look, Beaches in Turks & Caicos just nails it across the board. It's got that perfect blend of freedom for your teens and peace of mind for you.
Best for Adventures: Hyatt Ziva Rose Hall, Jamaica
If your fam is all about those excursions and trying out new activities, Hyatt Ziva Rose Hall in Jamaica is where it's at.
There you have it! Take your pick and let the vacation planning begin!
Frequently Asked Questions: All-Inclusive Resorts for Teenagers in the Caribbean
A: Absolutely, many all-inclusive resorts in the Caribbean offer specialized programs, activities, and spaces tailored just for teens. From gaming lounges to water sports and adventure tours, there's no room for boredom. Answer
A: The activities are as diverse as your teenager's interests! They can participate in water sports like snorkeling and paddleboarding, compete in beach volleyball games, or join dance lessons. Many resorts also offer teen-only clubs with activities ranging from video games to DJ workshops.
A: Safety is a top priority for resorts. Generally, these places are gated and have 24/7 security. However, it's always good for families to set check-in times and meeting points to ensure everyone's well-being.
A: Absolutely! Resorts often organize activities that encourage socialization, like group tours, beach games, and themed parties. It's a fantastic way for your teen to make friends from around the world. Answer
A: Most top-tier all-inclusive resorts offer free, high-speed Wi-Fi. This allows your teen to stay connected with friends, share their adventures on social media, and even catch up on some Netflix in between activities.
A: Many resorts offer guided tours and excursions that are family-friendly and suitable for teenagers. From exploring local landmarks to zip-lining through the jungle, the possibilities are endless.
A: These resorts understand picky eaters and diverse preferences. You'll find everything from classic American fast food to a variety of international cuisines. And yes, there's usually a pizza place open late for those midnight cravings.
A: It's completely understood that teens may need their own space. That's why many resorts offer separate lounges, game rooms, and even secluded beach spots specifically designated for teenagers.
A: Beyond the fun and games, many resorts offer cultural and educational experiences. Your teen could learn about local history, marine biology, or even pick up a few phrases in a new language.
Q: What if my teen doesn't want to participate in any organized activities?
A: Most resorts are pretty casual during the day, but some may require more formal attire for specialty dining in the evenings. A good rule of thumb? Pack a mix of casual and semi-formal so you're covered for any situation. Answer
A: Yes, some activities might have age or height restrictions, especially for things like water sports or extreme adventures. It's best to check in advance so you can manage your teen's expectations.
I trust this FAQ has helped clarify some questions you may have had about all-inclusive Caribbean resorts for teenagers. Trust me, these aren't the 'drop your kid at the playground' sort of vacations. They're built to be engaging, safe, and most of all, ridiculously fun for your teens.
💼 We cherish our independence! ✈️ Our travel recommendations are carefully researched, bias-free, and powered by human expertise by April and Ricky of LRB (we have personally researched and travelled to many of these destinations and researched others thoroughly through first-hand accounts). 🌍✨
We try to keep everything up to date, but please always do your own research and contact us if you know any issues for us to help others as best we can as a small but professionally focused team! 🧐📚⚠️