Beaches Turks & Caicos Review
Beaches Turks & Caicos Review
Beaches Turks & Caicos - An All-Inclusive Paradise Where Family Comes First.
If the term "all-inclusive" makes you think of cramped spaces and limited options,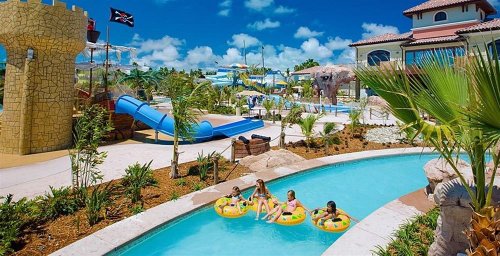 Prepare to have your mind blown by Beaches Turks & Caicos. Nestled in the idyllic setting of Providenciales, this luxurious 4.5-star property offers an expansive getaway with something for everyone—especially for families.
The staggering 45,000 square-foot waterpark is only the beginning. The resort unfolds across five spellbinding villages, each styled with the architecture and ambiance of global paradises like Italy, France, the Caribbean, and Key West. You're not just staying at a resort—you're globe-trotting without leaving the premises.
This video will help you match the right village with your personality: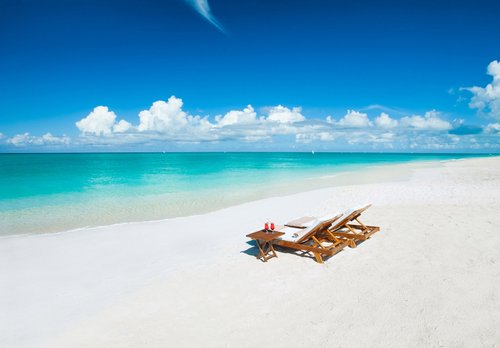 But what sets this resort apart? It's an all-generational, full-family affair. With Sesame Street® characters to engage the tots and a state-of-the-art Xbox® Play Lounge for the teenagers, you'll never hear the dreaded words, "I'm bored." The icing on the cake? The resort is situated on Grace Bay, which has the high honor of being voted the World's #1 Best Beach by TripAdvisor Travelers.
Foodies rejoice! Your culinary journey will include 21 restaurants, offering a smorgasbord of international cuisine that ranges from the Caribbean to Japanese, Italian to French, and Seafood to Sushi. Let's not forget the 15 bars with offerings like premium Robert Mondavi Twin Oaks® wines and the world's finest Jamaican Blue Mountain Coffee blend.
While the kids are at play, adults can indulge in the heavenly Red Lane Spa for a hydrotherapy session or aromatherapy treatment. Stay fit with yoga and aerobics classes, or let loose with beach volleyball and windsurfing.

The property's generous inclusions like free breakfast buffets, free airport shuttles, and free water park access make it a compelling package. Located a short walk from Lucayan Archipelago and Grace Bay Beach, and a quick drive from Providenciales International Airport, you're also well-connected to local attractions like the Regent Village Shopping Mall and Salt Mills Plaza.
So, whether it's the thrill of sliding down a waterslide at Pirates Island or the allure of beachfront dining, Beaches Turks & Caicos leaves no stone unturned in delivering a five-star family vacation experience. With free WiFi, free self-parking, tennis courts, 10 outdoor pools, and even a nightclub to boot, it's no wonder this resort has been voted "World's Leading Family All-Inclusive" for 22 years in a row.
Unlimited, unparalleled, and unforgettable—Beaches Turks & Caicos isn't just a holiday; it's an experience you'll treasure for a lifetime.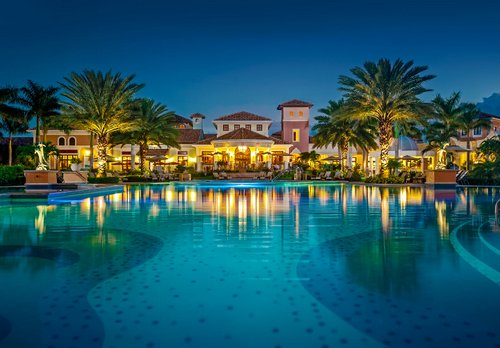 Beaches Turks & Caicos - An All-Inclusive Family Paradise
Pros Cons and Features
Beaches Turks & Caicos - An All-Inclusive Family Paradise
Features:
45,000 square-foot waterpark: A dream come true for kids and adults alike.
Five Themed Villages: Architecture and ambiance from Italy, France, the Caribbean, and Key West provide a world-travel experience.
21 Restaurants and 15 Bars: A culinary journey from Japanese sushi to Italian pastas, and from fine wines to beachside cocktails.
Family Activities: Sesame Street® characters for tots, Xbox® Play Lounge for teens.
Location: Situated on Grace Bay, voted World's #1 Best Beach by TripAdvisor.
Red Lane Spa: A variety of relaxing treatments, from aromatherapy to hydrotherapy.
Sports & Fitness: Yoga classes, aerobics, beach volleyball, windsurfing, and more.
24-hour Service: Full-time desk support, tour/ticket information.
Connectivity: Free WiFi in public areas.
Transport: Free airport shuttle and self-parking.
Pros:Cons:
Variety of Activities: With waterparks, different sports, and a plethora of dining options, you'll never get bored.
Family-Friendly: Specialized activities for children of all ages.
Luxurious Accommodations: High-quality rooms with premium bedding and sound-insulated walls.
Connectivity: Despite being a secluded paradise, the resort offers free WiFi.
Inclusive Packages: Many amenities like airport shuttles, water park access, and breakfasts are included in the package.
Award-Winning: Recognized as "World's Leading Family All-Inclusive" for 22 consecutive years.
Great Location: Close to shopping malls, beaches, and the airport.
Cost: The luxury and breadth of activities come with a price tag.
Overwhelming Choices: With so many activities and dining options, planning your day can get stressful.
Popularity: Given its reputation, the resort can be crowded, especially during peak seasons.
Additional Costs: While it's an all-inclusive resort, certain specialized activities or dining options may incur additional charges.
Room at Beaches Turks
Food and Drink
The Culinary Experience at Beaches Turks & CaicosFeatures:Pros:Cons:
International Variety: With 21 restaurants on-site, the resort provides a culinary tour around the globe—ranging from Italian, French, Japanese, Caribbean, and beyond.
15 Bars: From sophisticated wine lounges to laid-back beach bars, enjoy premium liquors and exclusive blends like the Jamaican Blue Mountain Coffee.
Ocean-View Dining: Several dining options offer stunning ocean views, adding a romantic flair to your meals.
All-Inclusive: The all-inclusive experience means most of your meals and drinks are already covered.
Kid-Friendly Options: The resort offers a range of choices that are kid-approved, ensuring the little ones are just as pleased as the adults.
Special Dietary Needs: Many restaurants accommodate special dietary requirements, offering gluten-free, vegan, and vegetarian options.
Dining Events: Special themed nights or live cooking demonstrations add a layer of excitement to your dining experience.
Culinary Diversity: The extensive variety ensures that even the most discerning foodie will find something to enjoy.
Quality Ingredients: High-quality ingredients, including premium meats and locally-sourced seafood, elevate the dining experience.
Convenience: With so many options right at the resort, there's no need to travel for a good meal.
All-Day Availability: With restaurants open from early morning until late at night, you can satisfy your cravings at any hour.
Wine and Dine: Premium liquors and exclusive coffee blends are a cherry on top of the dining experience.
Overwhelm: With so many options, choosing where to dine can become a daunting task.
Booking: Popular restaurants may require reservations in advance, so spontaneous dining at these spots may not always be possible.
Additional Costs: While most dining is covered under the all-inclusive package, some premium options may incur additional charges.
Whether you're indulging in a five-star Italian meal or grabbing a quick sushi roll, the culinary experience at Beaches Turks & Caicos is designed to delight your taste buds while offering a world of flavors right at your doorstep. With the emphasis on quality, diversity, and convenience, it's a food lover's paradise. Just be prepared to make some tough choices; the only problem you'll have is trying to fit all these fantastic dining options into one vacation.
Frequently Asked Questions about Beaches Turks & Caicos
Beaches Turks & Caicos is located in Providenciales, one of the 40 islands and cays that make up the Turks and Caicos Islands.
The closest airport is Providenciales International Airport (PLS). The resort is about a 15-minute drive from the airport, and transportation can be arranged through the resort or via local taxi services.
The resort offers a variety of accommodation options ranging from standard rooms to luxurious suites across its different 'villages', each mimicking the style and atmosphere of different regions like the Caribbean, France, Italy, and the Key West.
Yes, Beaches Turks & Caicos offers an all-inclusive package that covers accommodations, meals, drinks, water sports, land activities, and airport transfers.
The resort boasts up to 21 restaurants offering a variety of cuisines, from Italian at Giuseppe's to fresh seafood at Schooners.
There are daily activities and nightly entertainment including live shows, beach parties, and themed nights for all age groups.
The resort offers a range of non-motorized water sports, including kayaking, paddleboarding, and snorkeling. Scuba diving is also available for certified divers.
Absolutely. There's a kids' camp, an Xbox Play Lounge, a teen disco, and even a water park specifically designed for children.
While the resort is family-focused, there are several adult-only areas including select pools, bars, and restaurants.
Yes, Beaches Turks & Caicos has wheelchair-accessible rooms and public areas. However, it's recommended to communicate any specific needs when making a reservation.
Unveiling the Layers of Beaches Turks & Caicos
"We're going on a family vacation," my mom declared one night at dinner, her eyes sparkling with anticipation. My 16-year-old brother, Max, barely looked up from his phone. Family vacations, as far as he was concerned, were a bore. As for me, I felt that familiar itch—the call of a new place, a new adventure. But could Beaches Turks & Caicos, a resort famous for family-friendly fun, also be a haven for a travel writer like myself? Only one way to find out.

The plane sliced through wisps of clouds before diving into a sea of turquoise. Even Max's perennial poker face cracked into a smile at the sight. The minute we stepped off the plane, the smell of the sea and hibiscus filled the air. "This is gonna be lit," Max whispered, a rare glint of enthusiasm in his eyes.

Upon arrival, it was clear Beaches wasn't your typical family resort. It didn't pander solely to the tantrum-prone-toddler demographic nor did it funnel all adults into a never-ending spiral of poolside cocktails—although, don't get me wrong, both were readily available.
One evening, Max found his stride at the Xbox Play Lounge. "These aren't just video games," he enthused later, explaining how he'd forged a surprise friendship with a retired chess grandmaster who happened to be excellent at 'Fortnite.'
It was the unlikely subject of food that bridged the gap between my teenager brother and me. At Giuseppe's, an Italian restaurant that defied all my "all-inclusive dining" stereotypes, we dug into wood-fired pizzas topped with local herbs. "You know, this basil is grown on the island," I mentioned.
Max looked up, clearly intrigued. "Really? That's kinda cool."
Cool enough for him to join me the next day at a cooking class offered by the resort, where we both struggled hilariously with the art of pasta-making.
The resort has 'villages,' each designed to mimic the ambiance of different parts of the world. It was at the Caribbean Village that I stumbled upon 'Schooners,' a seafood place that redefined the all-inclusive dining experience for me. I had a conversation with Chef Michael, who took pride in using local produce. The Mahi-Mahi on my plate was caught that very morning, he told me. I believed him; it tasted like the ocean minus the salt—a fresh, pure melody of flavors that resonated with the surroundings.
The trip culminated in a snorkeling adventure. Even Max, our resident cynic, was spellbound by the mesmerizing dance of colors as fish darted in and out of coral crevices. Back on the boat, he met eyes with a girl his age. Turns out, she was a budding marine biologist. As they chatted animatedly, I looked at my mom, her eyes misty with happiness.
As our plane ascended on the last day, I realized that Beaches had given each of us our own unique story. Max found unexpected friendships and maybe a new passion, Mom got her family bonding, and I, well, I unearthed layers in a place I thought would be a straightforward family resort.
If you're a family with a wide age range and varying interests, Beaches Turks & Caicos offers a broad canvas to paint your vacation as you like. But if you're seeking an adults-only tranquil escape, consider The Meridian Club on Pine Cay, a more muted but equally luxurious experience.
So here's my final takeaway: a family vacation doesn't mean you compromise on personal adventures. Sometimes, you end up discovering that the most diverse experiences can happen in the most unexpected places.
Journey Beyond the Gates: Exploring the Hidden Charms of Providenciales
"Come on, let's go! I've heard the local conch fritters are to die for!" My teenage daughter, Alex, tugs at my sleeve with enthusiasm. We've spent days within the luxuriant embrace of Beaches Turks & Caicos, an all-inclusive paradise that almost begs you to forget the world outside. But Alex, much like me at her age, feels the itch of curiosity.
Having spent most of our vacation enjoying the amenities—fine dining, endless pools, and a water park big enough to get lost in—this is our first real venture beyond the resort's gates. A warm breeze tangles my hair as we step into a rental jeep, and I catch Alex's eyes through the rearview mirror. They're alight with the spirit of adventure, a genealogical trait, perhaps.
We arrive at Da Conch Shack, a local eatery a world away from our resort's curated opulence. My sandals squish into the sand floor, and we're greeted by a towering man with a booming laugh named Reggie.
"Ah, tourists!" he jokes, handing us the menu scrawled on a chalkboard. "Try the conch salad; it'll give you the true spirit of the island!"
We oblige, and soon we're crunching into the most divine combination of citrus, spice, and sea. The conch is tender, fresher than any I've ever tasted. Reggie notices our clean plates and insists we try 'Sky Juice,' a potent blend of gin, coconut water, and condensed milk. "Careful, it's got a kick stronger than a mule," he warns with a chuckle.
Eager to walk off our hearty meal, we meander down to Blue Hills Beach. It's different here, less groomed but equally beautiful. The waves kiss the shore lazily, and a couple of kids kick a soccer ball in the fading sunlight. Alex finds a sea-washed piece of coral, pink and delicate, like a memento from the ocean.
Our next stop is the artisanal marketplace near The Bight Park, where we meet Lena, a jeweler whose intricate designs are inspired by the island's natural beauty. She tells us stories of each piece, how this necklace was inspired by the full moon over Grace Bay and that bracelet mirrors the hues of the island's dramatic sunsets. Alex tries on a turquoise anklet, and her eyes say it's not coming off.
As we drive back to Beaches, the sky painted with shades of orange and purple, Alex breaks the comfortable silence. "Mom, I'm glad we did this."
"Me too, darling," I reply, savoring the sentiment. This excursion has given us more than just a break from luxury—it's added new layers to our understanding of this beautiful island, making our stay even more enriching.
Upon our return, I can't help but consider who this kind of experience best suits. For families like ours, hungry for adventure amidst comfort, Beaches Turks & Caicos is ideal. However, if you're a couple seeking an intimate, adults-only experience, perhaps The Meridian Club on Pine Cay would be more your speed.
As Alex and I drift off to sleep, tucked in our plush resort beds, we're both aware that this day, like the piece of coral and the turquoise anklet, will be a memento we'll cherish, a vivid slice of the 'real' Turks and Caicos that adds depth to our vacation canvas.
And lying there, I realize the true beauty of travel. It isn't just about the five-star meals or the Instagram-perfect beaches; it's about the laughter shared over conch salad, the stories behind handmade jewelry, and the way the setting sun paints new shades on familiar faces. It's about stepping beyond comfort zones—even if just for a day—to come back with more than just souvenirs, but with memories layered with genuine connection and warmth.
💼 We cherish our independence! ✈️ Our travel recommendations are carefully researched, bias-free, and powered by human expertise by April and Ricky of LRB (we have personally researched and travelled to many of these destinations and researched others thoroughly through first-hand accounts). 🌍✨
We try to keep everything up to date, but please always do your own research and contact us if you know any issues for us to help others as best we can as a small but professionally focused team! 🧐📚⚠️