Chiang Mai Luxury Resorts

Chiang Mai Luxury Resorts
Looking for some great Chiang Mai luxury resorts? We have found some real gems in this northern Thailand city of Chiang Mai. The resorts here are some of the most unique in the world. They have Burmese and traditional Thai influences, afternoon teas and a real sense of luxury.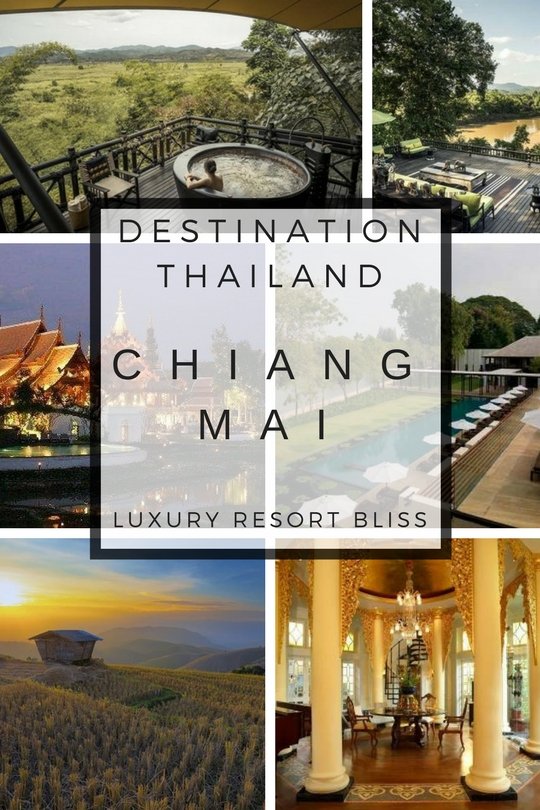 Here you'll find the best resorts that have emerged in recent years as the quality places to stay at the luxury end of the market. You may also like to see the top Thailand resorts if you have not done that already.

---
When to Visit Chiang Mai
The obvious time to visit is from November to March when the hot weather finally gives way to the cooler breezes coming from the north, unless you like the hot dry. 
---
Chiang Mai Tourism Overview
Once an isolated rural area 700 KM north of Bangkok (1 hour flight), Chiang Mai is now home to a booming tourism industry. See more tourist information and an overview of beautiful Chiang Mai on the video below. Attractions are many and varied but often centred on the jungle environment like ziplining. The local culture is also a big attraction and there are always opportunities for cooking classes, dragon boat river rides, night markets, and folk dance evenings and the many ancient temples. 
VIDEO: Chiang Mai: A Guide to Traveling in Thailand
---
The Best Chiang Mai Luxury Resorts:
Our favorite Chiang Mai resorts which have also impressed the guests who stay there.
---
The Dhara Dhevi Chiang Mai Luxury Resort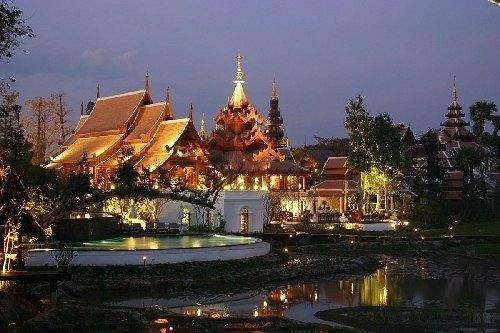 The Dhara Dhevi is a fantastic luxury and resort with perfect reviews from past guests (very rare). It is set in 60 acres of tropical gardens and with buildings that look like ancient Thai temples and colonial mansions. It is a secluded and quiet place while being just 15 minutes from the airport and 10 minutes to the city centre.
Highlight here include a great spa with an extensive range of treatments, jogging paths through the grounds and a fitness centre. There are a number of dining options including French, Chinese and Thai. For families there's the Lanna Kids Club and baby-sitting services. You can also take part in cooking classes and learn more about traditional Thai activities.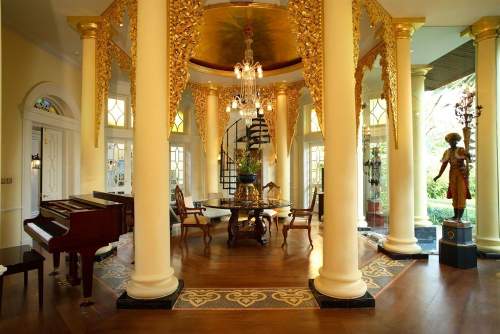 The Dhara Dhevi Resort
Accommodations come in a few different styles. You can choose from suites, villas with private plunge pools and residences.
Reviewers give this spot the very rare perfect score. Many note the attention to detail, dining, grounds and staff all being first rate. Many call it the best resort they've ever been to. High praise and it would be hard to go wrong here.
Get more information and deals from Expedia and see the latest reviews on TA for The Dhara Dhevi here. 
Here's a video of the Dhara Dhevi and let me strongly urge you to take a look. It's just amazing!
---
Anantara Chiang Mai Resort & Spa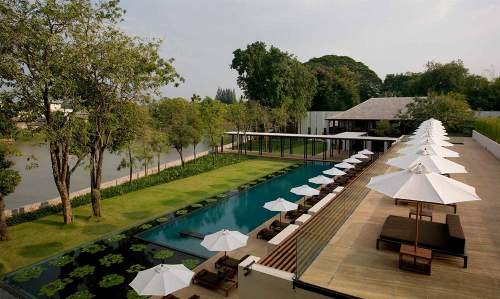 Outdoor pool at Anantara Chiang Mai Resort
Anantara is another of the Chiang Mai luxury resorts that gets near perfect reviews from past guests. It's contemporary but with traditional Thai elements and set along the Mai Ping River.
Highlights of this resorts are it's seclusion, spa, yoga, thai boxing lessons, thai cooking lessons, a pool and a fitness centre. Enjoy their "famous" afternoon tea and high tea rituals as well. 
Reviews are outstanding with the staff being highly regarded (and most speak English), guests like the shuttle that will take you off the bazaar, it's super clean, Thai cooking classes are great and there are the little touches one expects to make it a 5 star resort. 
Get more information and deals from Expedia or see the latest reviews for Anantara Chiang Mai Resort and Spa. 
Here's a video of their afternoon tea:
---
Four Seasons Tented Camp Golden Triangle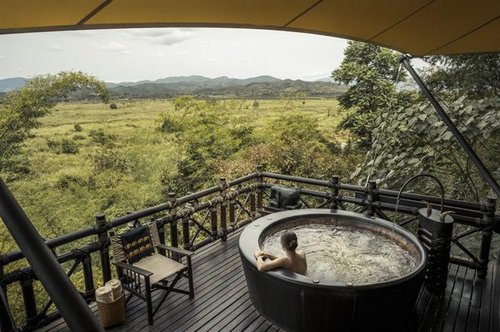 Four Seasons Chiang Mai
This resort is located in the Thailand bamboo jungles and perfect for active adults. You arrive by river boat to this all inclusive 3 or 4 night adventure. There is elephant mahout training (where you'll be trained to drive and trek an elephant through the jungle), hiking mountain trails, free-form pool and whirlpool. The spa is set in the bamboo forest with open-air treatment rooms and spa beds.
Dining take place in varying locations. There's a main restaurant, picnics, snacks by the pool, 5-course formal meals, barbecues and dinner by campfire. There is also a stilt-top bar.
Accommodations are in 15 luxury tents built on elevated ground. They have copper bathtubs, large outdoor decks and furnishings to remind out of 19th-century expeditions.

Reviewers give this resort perfect scores and only speak of it's excellence. They note the great airport transfers, the staff and management being eager to please, and most wish they had stayed 4 days instead of 3.
Get more information and deals from Expedia or see the latests reviews for the Four Seasons Golden Triangle. 
---
Top 25 Chang Mai Resort Deals with Reviews on TripAdvisor

---
---
RatiLanna Riverside Spa Resort, Chiang Mai Luxury Resorts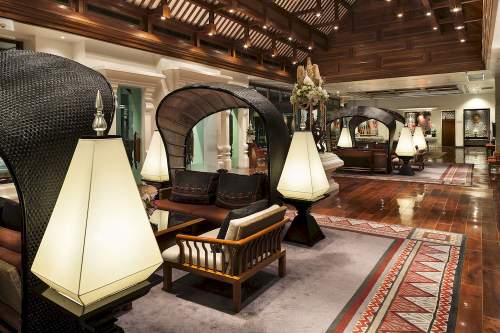 RatiLanna is another fantastic luxury resort on the Mai Ping River. It's not too large with 75 guestrooms and within easy reach to the city centre with it's night bazaar as well as the airport. 
There are two restaurants and bars, including a pool bar. Other highlights include a full-service spa, fitness centre and cooking classes. 
This resort gets excellent reviews with past guests loving the decor and architecture, the garden and river, food and wine are great, and staff are efficient and friendly. Some even say it's the highlight of their trip to Thailand. 
Get more information and deals from Expedia or see the latest reviews for RatiLanna Riverside Resort. 
---
DusitD2 Chiang Mai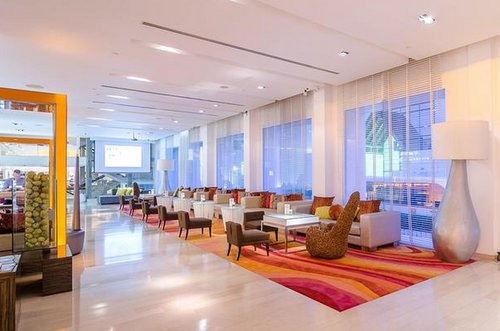 DusitD2 Chiang Mai
Located near ancient temples, the Mae Ping River and the night bazaar DusitD2 another of the great Chiang Mai luxury resorts. 
The lobby has contemporary lounge furniture and glass walls. The hotel's showcase restaurant is Moxie and it serves modern international cuisine. There's an on-site spa providing specialized services.
There's also chauffeur service, childcare and tour assistance. In the hotel's Mix Bar, you can also take in some "Siam Soul" music by Thai musicians.

The guestrooms feature ultra-dark, imported wood surfaces, hand-woven carpets and contemporary furnishings. Feng-shui is practiced at the hotel and in guestrooms. There's high-speed Internet, turndown service and DVD players.

Reviewers love this resort. It gets really great ratings. It's noted as being comfortable, staff are very helpful, the service is better than the price would suggest and the location is excellent. 
Get more information and deals from Expedia or click here for the latest reviews for DusitD2.
---
More Options:
There are a few more quite excellent choices in Chiang Mai. The list below features great resorts and boutique hotels that are just a bit less extravagant or not full resorts. All get excellent reviews from past guests. 
More top Chiang Mai luxury resorts include:

We hope you have found one of the Chiang Mai luxury resorts perfect for your vacation. To see more in Thailand, see Thailand Luxury Resorts or Koh Tao Luxury Resorts for island paradise options. 
---
Share Your All-Inclusive Adventures and Questions! 🌴 Have a memorable experience from a luxury all-inclusive vacation? We'd love to hear it at Luxury Resort Bliss. We're on the lookout for top-quality, insightful tales that'll inspire our community. Dive in and be a part of our sun-soaked stories! 🌊🍹✨
The story is a fictionalized account founded on travel expertise, research, and experience. Always refer to recent guest reviews and perform due diligence before booking.
💼 We cherish our independence! ✈️ Our travel recommendations are carefully researched, bias-free, and powered by human expertise by April and Ricky of LRB (we have personally researched and travelled to many of these destinations and researched others thoroughly through first-hand accounts). We also have put in the hard miles, and Ricky has worked for decades for resort and hotel chains  Hyatt, Hilton, Shangri-La and Radisson before starting Luxury Resort Bliss in 2007. 🌍✨ Unlike some other resort review websites we are concerned on the guest experience rather than mere corporate interest.