Thailand Adventure Travel
Looking to do some Thailand adventure travel?

 We have found some of the best adventure tours and ideas for the land of smiles. Tours and itineraries cover from Bangkok to the rural villages and hills. Your are sure to experience culture and have a rewarding experience along the way with your new found friends.
G Adventures - Up to 25% Off Adventure Travel Deals
---
---
Thailand Reference Map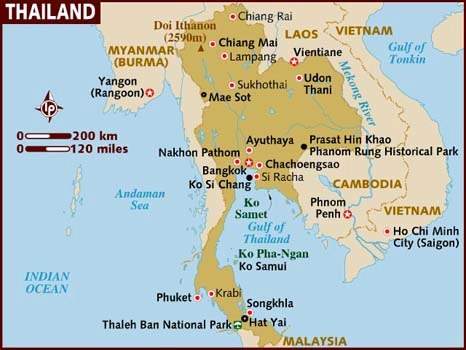 There are a number of Thailand adventure travel tours listed below. Here's a map to give you an idea of where some of the places are.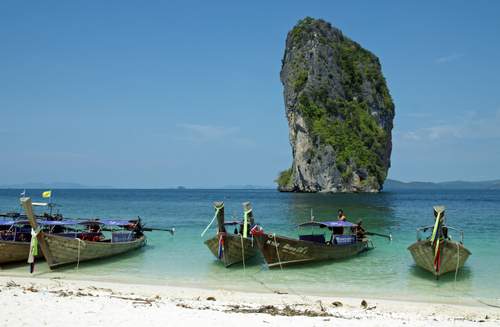 Poda Island Beach by Kallerna
Itinerary Ideas
G Adventures  - Up to 25% Off Adventure Travel Deals
There are two great tour companies that we like in Thailand and use their ideas and itineraries below.They are G Adventures and Intrepid Travel. Both have great reputations, happy customers and great adventure tours. 
You can use the tours listed below as a guide for travelling on your own or tag along on one of the tours.
If you would like to plan your own adventure travel tour to Thailand you can also use Thailand things to do at TripAdvisor as a guide. It's completely based on traveler reviews but can miss some great things at times. So don't completely depend on it but use it to help you plan.
Thailand Discovery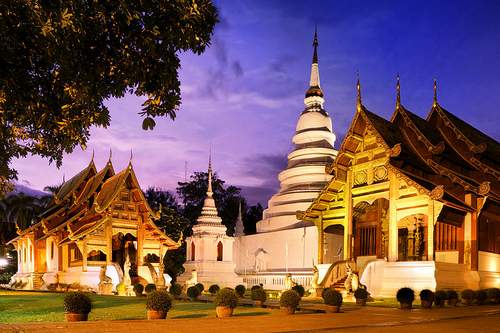 Phra-Singh Temple Chiang Mai
Highlights: Cycling, Snorkeling, Elephants, Beaches, Chiang Mai, Bangkok, Sukhothai, Hill Tribes
G Adventures has a great Discover Thailand Tour. Here's their description: 
"Get the best of Thailand's culture, sacred sites and beaches on this 18-day adventure. Explore the north's Golden Triangle and cycle the streets of ancient Sukhothai before heading south for peaceful island beaches. You'll explore the perfect islands and swim in the incredible waters. This trip offers the classic Thai experience a great combination of must-see highlights and free time to do your own thing.
Intrepid Travel's Thailand Discovery Tour includes these highlights:

    Experience traditional Mon culture
    Pay respects at Hellfire Pass
    Enjoy a refreshing dip in Erawan Falls
    Be captivated by the chaos of Bangkok
    Traverse the historic Three Pagodas Pass
    Take a cruise on Khao Laem Lake
---
Thailand Hike, Bike & Kayak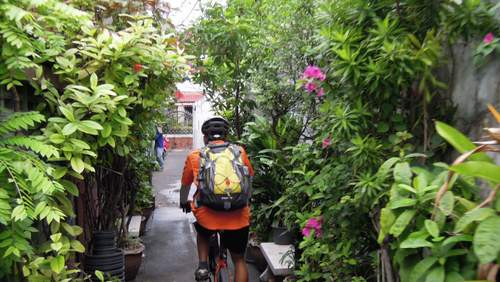 Bangkok Bicycle Tour by David McKelvey, Flikr.com
There are definitely some great active things to do in Thailand and these tours are geared towards those seeking Thailand adventure travel.
These tours generally consist of cycling in Bangkok, kayaking in the Andaman Sea and hiking around Chiang Mai and visiting the Hill tribes.
G Adventures Hike, Bike and Kayak itinerary looks this way:
Bike riding around Bangkok
Hilltribe village trek (Chiang Mai, 3 nts)
Cycling in and around Kanchanaburi and Ayutthaya
Overnight stay in a rafthouse (Kanchanaburi)
Sea kayaking on the Andaman Sea (Krabi)
9 breakfasts, 5 lunches, 5 dinners. (Allow USD265-350 for meals not included.)
Train, walking, minibus, songthaew, local bus, bicycle, raft, plane, longtail boat, kayak.
Chief Experience Officer (CEO) throughout, local guides.
Small group experience; Max 15, avg 10
Hotels/guesthouses (6 nts), hilltribe villages (2 nts, multi-share), sleeper trains (2 nts), camping (2 nts), rafthouse (1 nt, multi-share).
Intrepid's Hike, Bike, and Kayak is similar:
    Bangkok - Cycling day tour
    Chiang Mai - 2 day cycling tour
    Hilltribe - 3-day trek
    Kanchanaburi - 2 day kayaking trip
Camping (with basic facilities) (1 night), Guesthouse (3     nights), Homestay (2 nights), Hotel (3 nights), Overnight sleeper train (2 nights)     
 7 breakfasts, 7 lunches, 4 dinners

---
Sailing: Thailand Adventure Travel
Naga Pelangi sailing in the Phang Ngah Bay by Christoph Swoboda
Sailing is another great way to see Thailand but of course, it's more confined to the coastal area. If you'd like to see the hill, jungle or elephant country, you'll need add that in to your trip.
Sailing generally happens from and around Phuket and you may want to include areas like Koh Phi Phi or Koh Tao. If you want to snorkel or dive, this is a great way to go.
G Adventures has a number of sailing trips. Their most popular goes from Phuket out around a number of islands and returns back to Phuket.
G Adventures Sailing Thailand: Phuket to Phuket
"Go island-hopping in Thailand and experience some of the best snorkeling in the world. Enjoy a week aboard our sailing catamaran and discover what makes Thailand special. With an experienced captain navigating the southern islands, you'll drop anchor at highlights and secret spots perfect for a swim. Work up an appetite snorkelling, dine on Thai cuisine and sleep moored under the stars. This trip is perfect on its own or as an add-on with our other Thai adventures."
There are quite a few sailing options and the link above will lead you on to the others like the Northern Thailand & Phuket Sailing Adventure.
Intrepid has a great Family Sailing trip. Their description:
"What better place to have some quality family time than in one of the world's most beautiful archipelagos. Join an Intrepid Family Adventure and hit the seas of Thailand's coast. Set sail around paradise, island-hopping, snorkelling and exploring warm, aqua-blue waters along the way. Thailand's coast has something for everyone in the family, regardless of age. Kayak, swim, snorkel, hike or just kick back with a good book. In the evening, have a family dinner on a secluded beach or chow down on some authentic Thai cuisine aboard the vessel."
---
G Adventures has much more to offer in terms of Thailand adventure travel. Follow this link to get the discounts and see the full range of tours that they offer:  
Up to 25% Off Adventure Travel Deals
---
---
Luxury Adventure:
For something a bit different, you may want to take a look at the Four Seasons Golden Triangle. They are situated in the jungle around Chiang Mai and their main attraction is the elephant treks. 
---
For more ideas in Thailand, visit our Thailand Luxury Resorts page. We hope this has inspired some great Thailand adventure travel ideas for you!