Thailand Adventure Travel
Thailand Adventure Travel
Looking to do some Thailand adventure travel?  Beyond the stunning beaches and bustling cities of Thailand, there's a whole world of adventure waiting to be explored. From trekking through the jungle to rock climbing, Thailand offers a wide range of activities for adrenaline junkies and outdoor enthusiasts.

Trekking and Hiking
One of the best ways to experience the natural beauty of Thailand is on foot. Trekking through the lush jungles and misty mountains of northern Thailand is an unforgettable experience. The hills around Chiang Mai and Chiang Rai offer some of the best trekking opportunities in the country, with trails that lead through remote hill tribe villages and breathtaking landscapes.
 We have found some of the best adventure tours and ideas for the land of smiles. Tours and itineraries cover from Bangkok to the rural villages and hills. Your are sure to experience culture and have a rewarding experience along the way with your new found friends.
G Adventures - Up to 25% Off Adventure Travel Deals
Thailand Reference Map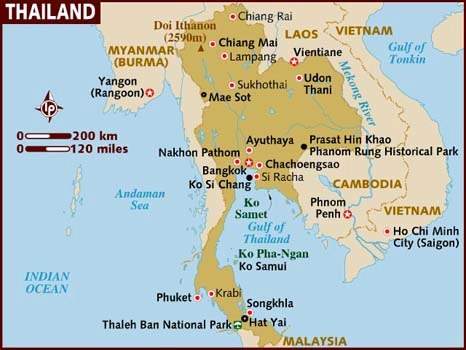 There are a number of Thailand adventure travel tours listed below. Here's a map to give you an idea of where some of the places are.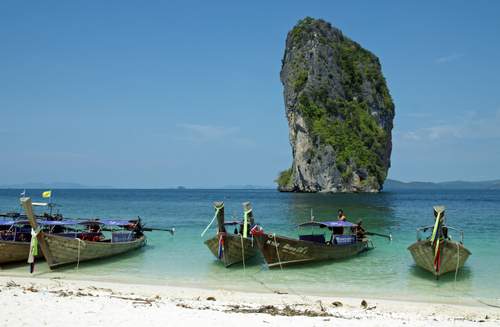 Poda Island Beach by Kallerna
Itinerary Ideas
Thailand is a destination that offers a wealth of adventure travel opportunities, from trekking through lush jungles to exploring ancient temples to island hopping in the turquoise waters of the Andaman Sea. Here are some itinerary ideas for a thrilling adventure travel experience in Thailand:
Chiang Mai and Chiang Rai: Start your adventure in the north of Thailand with a visit to Chiang Mai and Chiang Rai. These cities are known for their rich culture, beautiful temples, and stunning landscapes. Take a trek through the jungle to visit hill tribes and explore waterfalls. Then, head to Chiang Rai to see the famous White Temple, also known as Wat Rong Khun.
Bangkok: After exploring the north, head south to Bangkok, the vibrant and bustling capital city of Thailand. Take a tuk-tuk ride through the chaotic streets, visit the Grand Palace and Wat Pho, and sample the city's delicious street food.
Khao Sok National Park: Khao Sok National Park is one of Thailand's hidden gems, featuring dense rainforests, towering limestone cliffs, and stunning lakes. Explore the park by hiking through the jungle, kayaking down the river, and spotting wildlife like monkeys and exotic birds.
Koh Phi Phi: From Khao Sok, head to the beautiful island of Koh Phi Phi, where you can go snorkeling or diving in the crystal-clear waters, hike to stunning viewpoints, and relax on pristine beaches.
Phuket: Finally, end your adventure in Phuket, the largest island in Thailand. Here, you can go ziplining through the jungle, try your hand at surfing, and explore the island's beautiful temples and beaches.
G Adventures  - Up to 25% Off Adventure Travel Deals
Trekking and Hiking
Thailand is a popular destination for travelers seeking sun, sand, and sea. But beyond the stunning beaches and bustling cities, there's a whole world of adventure waiting to be explored. From trekking through the jungle to rock climbing, Thailand offers a wide range of activities for adrenaline junkies and outdoor enthusiasts.
Rock Climbing
Thailand is a world-renowned destination for rock climbers, with limestone cliffs and karst formations that offer some of the best climbing in the world. Krabi and Railay Beach, located on the southern coast, are home to some of the most popular climbing spots in the country. Whether you're a seasoned pro or a beginner, there are climbs for every level of experience.
White-Water Rafting
Thailand's rivers offer some of the best white-water rafting in Southeast Asia. The Mae Taeng River near Chiang Mai is a popular spot for rafting trips, with rapids ranging from class II to class IV. For a more adrenaline-fueled experience, head to the Pai River in the northwest, where you'll find class III and IV rapids that will challenge even the most experienced rafters.
Ziplining
Ziplining through the jungle is a fun and exhilarating way to experience the natural beauty of Thailand. There are several zipline companies located throughout the country, including in Chiang Mai and Pattaya. Flying through the treetops and taking in the stunning scenery from above is an experience you won't soon forget.
Scuba Diving and Snorkeling
Thailand's turquoise waters are home to some of the world's most stunning coral reefs and marine life. The southern islands of Koh Tao, Koh Phi Phi, and Koh Lanta are popular spots for scuba diving and snorkeling. Whether you're a seasoned diver or a beginner, there are dive sites for every level of experience, with a chance to see whale sharks, manta rays, and colorful coral reefs.
There are two great tour companies that we like in Thailand and use their ideas and itineraries below.They are G Adventures and Intrepid Travel. Both have great reputations, happy customers and great adventure tours. 
You can use the tours listed below as a guide for travelling on your own or tag along on one of the tours.
If you would like to plan your own adventure travel tour to Thailand you can also use Thailand things to do at TripAdvisor as a guide. It's completely based on traveler reviews but can miss some great things at times. So don't completely depend on it but use it to help you plan.
Thailand Discovery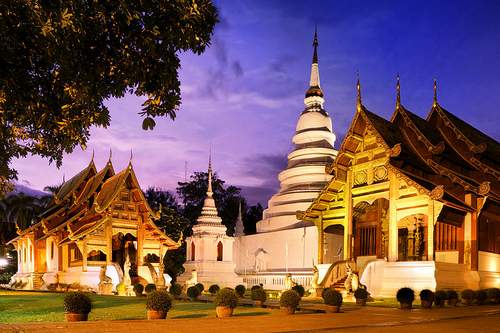 Phra-Singh Temple Chiang Mai
Highlights: Cycling, Snorkeling, Elephants, Beaches, Chiang Mai, Bangkok, Sukhothai, Hill Tribes
G Adventures has a great Discover Thailand Tour. Here's their description: 
"Get the best of Thailand's culture, sacred sites and beaches on this 18-day adventure. Explore the north's Golden Triangle and cycle the streets of ancient Sukhothai before heading south for peaceful island beaches. You'll explore the perfect islands and swim in the incredible waters. This trip offers the classic Thai experience a great combination of must-see highlights and free time to do your own thing.
Intrepid Travel's Thailand Discovery Tour includes these highlights:

    Experience traditional Mon culture
    Pay respects at Hellfire Pass
    Enjoy a refreshing dip in Erawan Falls
    Be captivated by the chaos of Bangkok
    Traverse the historic Three Pagodas Pass
    Take a cruise on Khao Laem Lake
---
Thailand Hike, Bike & Kayak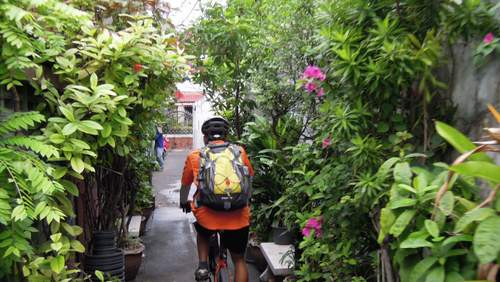 Bangkok Bicycle Tour by David McKelvey, Flikr.com
There are definitely some great active things to do in Thailand and these tours are geared towards those seeking Thailand adventure travel.
These tours generally consist of cycling in Bangkok, kayaking in the Andaman Sea and hiking around Chiang Mai and visiting the Hill tribes.
G Adventures Hike, Bike and Kayak itinerary looks this way:
Bike riding around Bangkok
Hilltribe village trek (Chiang Mai, 3 nts)
Cycling in and around Kanchanaburi and Ayutthaya
Overnight stay in a rafthouse (Kanchanaburi)
Sea kayaking on the Andaman Sea (Krabi)
9 breakfasts, 5 lunches, 5 dinners. (Allow USD265-350 for meals not included.)
Train, walking, minibus, songthaew, local bus, bicycle, raft, plane, longtail boat, kayak.
Chief Experience Officer (CEO) throughout, local guides.
Small group experience; Max 15, avg 10
Hotels/guesthouses (6 nts), hilltribe villages (2 nts, multi-share), sleeper trains (2 nts), camping (2 nts), rafthouse (1 nt, multi-share).
Intrepid's Hike, Bike, and Kayak is similar:
    Bangkok - Cycling day tour
    Chiang Mai - 2 day cycling tour
    Hilltribe - 3-day trek
    Kanchanaburi - 2 day kayaking trip
Camping (with basic facilities) (1 night), Guesthouse (3     nights), Homestay (2 nights), Hotel (3 nights), Overnight sleeper train (2 nights)     
 7 breakfasts, 7 lunches, 4 dinners

---
Sailing: Thailand Adventure Travel
Naga Pelangi sailing in the Phang Ngah Bay by Christoph Swoboda
Sailing is another great way to see Thailand but of course, it's more confined to the coastal area. If you'd like to see the hill, jungle or elephant country, you'll need add that in to your trip.
Sailing generally happens from and around Phuket and you may want to include areas like Koh Phi Phi or Koh Tao. If you want to snorkel or dive, this is a great way to go.
G Adventures has a number of sailing trips. Their most popular goes from Phuket out around a number of islands and returns back to Phuket.
G Adventures Sailing Thailand: Phuket to Phuket
"Go island-hopping in Thailand and experience some of the best snorkeling in the world. Enjoy a week aboard our sailing catamaran and discover what makes Thailand special. With an experienced captain navigating the southern islands, you'll drop anchor at highlights and secret spots perfect for a swim. Work up an appetite snorkelling, dine on Thai cuisine and sleep moored under the stars. This trip is perfect on its own or as an add-on with our other Thai adventures."
There are quite a few sailing options and the link above will lead you on to the others like the Northern Thailand & Phuket Sailing Adventure.
Intrepid has a great Family Sailing trip. Their description:
"What better place to have some quality family time than in one of the world's most beautiful archipelagos. Join an Intrepid Family Adventure and hit the seas of Thailand's coast. Set sail around paradise, island-hopping, snorkelling and exploring warm, aqua-blue waters along the way. Thailand's coast has something for everyone in the family, regardless of age. Kayak, swim, snorkel, hike or just kick back with a good book. In the evening, have a family dinner on a secluded beach or chow down on some authentic Thai cuisine aboard the vessel."
---
G Adventures has much more to offer in terms of Thailand adventure travel. Follow this link to get the discounts and see the full range of tours that they offer:  
Up to 25% Off Adventure Travel Deals
---
---
Luxury Adventure:
For something a bit different, you may want to take a look at the Four Seasons Golden Triangle. They are situated in the jungle around Chiang Mai and their main attraction is the elephant treks. 
Adventure at Four Seasons Tented Camp Golden Triangle
Nestled in the heart of Southeast Asia's lush jungle, the Four Seasons Tented Camp Golden Triangle offers a unique and thrilling experience for travelers seeking an adventure in the great outdoors. Set in the rugged and breathtaking region where Thailand, Myanmar, and Laos converge, the camp is a haven for those looking to explore the region's natural beauty and cultural heritage.
The camp's luxurious tents offer unparalleled views of the jungle and the mighty Mekong River, providing a tranquil retreat from the hustle and bustle of everyday life. But for those seeking an adrenaline rush, there are a multitude of activities available, from elephant treks and zip lining to river cruises and mountain biking. Here are just a few of the many adventures awaiting you at the Four Seasons Tented Camp Golden Triangle:

Elephant Trekking: For many visitors, the highlight of their stay at the Four Seasons Tented Camp Golden Triangle is the opportunity to explore the jungle on elephant back. Accompanied by a mahout, or elephant driver, guests can ride through the forest, learn about the elephants' behavior and habitat, and even bathe them in the river.
Zip Lining: If you're looking for a thrilling way to experience the jungle canopy, the Four Seasons Tented Camp Golden Triangle offers a zip lining adventure that will take your breath away. Soar through the trees on a series of zip lines, suspended high above the ground, and take in the stunning views of the surrounding landscape.
River Cruises: The mighty Mekong River is a constant presence at the Four Seasons Tented Camp Golden Triangle, and there's no better way to experience it than on a river cruise. Take a traditional long-tail boat down the river, explore the local villages and markets, and watch the sun set over the water.
Mountain Biking: If you're looking to get your heart racing, the mountain biking trails around the Four Seasons Tented Camp Golden Triangle will not disappoint. From steep inclines to hair-raising descents, there's a trail for every level of rider.
In addition to these adventures, the Four Seasons Tented Camp Golden Triangle also offers a wide range of cultural experiences, from traditional Thai cooking classes to visits to local hill tribe communities. And when you're ready to unwind, the camp's beautiful spa offers a range of indulgent treatments, using locally sourced herbs and oils.
The Four Seasons Tented Camp Golden Triangle truly offers an adventure like no other, combining the beauty of Southeast Asia's natural environment with the luxurious amenities of a world-class resor
---
For more ideas in Thailand, visit our Thailand Luxury Resorts page. We hope this has inspired some great Thailand adventure travel ideas for you!
Q and A Session with Sarah the travel writer
In this Q and A seassion, we will explore some of the most commonly asked questions about traveling to Thailand.
What is the best itinerary for Thailand?
There is no one-size-fits-all itinerary for Thailand, as it depends on your interests and time. However, a popular itinerary is to spend a few days in Bangkok, explore the temples and markets, and then head to the north for trekking and cultural experiences in Chiang Mai. From there, you can make your way to the southern beaches and islands for some sun, sand, and adventure.
What is so unique about Thailand?
Thailand is a unique destination with a rich history, culture, and natural beauty. From its bustling cities to its serene temples and pristine beaches, Thailand has something to offer every traveler. The food in Thailand is world-famous, with a mix of spicy, sour, sweet, and savory flavors. Thai culture is deeply rooted in Buddhism, with beautiful temples and traditions that can be experienced throughout the country.
Why is Thailand the best place to travel?
Thailand is a great destination for travel because of its affordability, beauty, and welcoming people. It offers a mix of urban and rural experiences, from the bustling streets of Bangkok to the tranquil mountains of the north and the idyllic islands of the south. The food is amazing, the culture is rich, and there are endless opportunities for adventure and relaxation. Plus, the Thai people are known for their hospitality, making travelers feel at home in this beautiful country.
What is the No 1 best tourist attraction in Thailand?
The Grand Palace in Bangkok is often considered the number one tourist attraction in Thailand. The palace complex includes the Wat Phra Kaew temple, which houses the Emerald Buddha, a sacred and iconic image in Thai culture. The palace itself is a stunning example of traditional Thai architecture, with intricate details and beautiful colors.
Where is the prettiest place in Thailand?
Thailand is known for its beautiful beaches and islands, with some of the most stunning destinations including Phuket, Krabi, and Koh Samui. Railay Beach in Krabi is often considered one of the prettiest beaches in Thailand, with crystal-clear waters, towering limestone cliffs, and white sand beaches. Chiang Mai, in the north of Thailand, is also known for its natural beauty, with stunning mountain scenery and beautiful waterfalls.
Where is the most adventurous place to travel?
Thailand has plenty of options for adventure travel, from trekking in the mountains to exploring the islands by kayak or scuba diving. Chiang Mai is often considered one of the most adventurous destinations in Thailand, with opportunities for trekking, rafting, and cultural experiences with local hill tribes. The islands of Koh Tao and Koh Phi Phi are also popular destinations for adventure activities, including snorkeling, diving, and rock climbing.
What time of year is best in Thailand?
The best time to visit Thailand depends on your itinerary and interests. The dry season, from November to February, is a popular time to visit, with cooler temperatures and plenty of sunshine. The shoulder season, from March to May, can be hot and dry but less crowded, making it a good time for exploring the islands. The rainy season, from June to October, can bring heavy downpours but also offers lush scenery and smaller crowds.
How much does it cost to spend 10 days in Thailand?
The cost of a 10-day trip to Thailand will depend on your itinerary and travel style. On average, a mid-range budget would be around $100-150 per day, including accommodations, food, transportation, and activities. This can vary depending on the season and location, so it's important to do your research.
Authors Unleashed: Unveiling the Ultimate Travel Experience through Expert Reviews, Ratings, and Research
💼 We cherish our independence! ✈️ Our travel recommendations are carefully researched, bias-free, and powered by human expertise. We use AI sparingly for editing purposes, ensuring an authentic and reliable experience. Join us on our unbiased journey! 🌍✨
Always do your own research! 🧐📚⚠️