Top Bali luxury resorts (2022) 
It's almost hard to choose the top 10 Bali luxury resorts we've listed below.
There are many that are truly fantastic, but we have managed to pick 10 that stand out as the best of the best on this 150 km long mystical cultural feast of an island on the  Indonesian peninsula. One could hardly image a more exotic location to house these impeccable Bali luxury resorts that stand out as the best of the best.
Awards for the Best Bali Resorts:
Set among the rice paddies and beaches, Bali is culturally, environmentally, and spiritually rich. You can visit an active volcano or enjoy getting to know the local culture through dance, food and art, dive, golf, bungee or even learn to surf.

Best Resorts in Bali
---
---
Ubud Hanging Gardens
The Hanging Gardens of Ubud are established as one of the unique experience hotels in all of the Orient, and one of Asia's top destination spa resorts.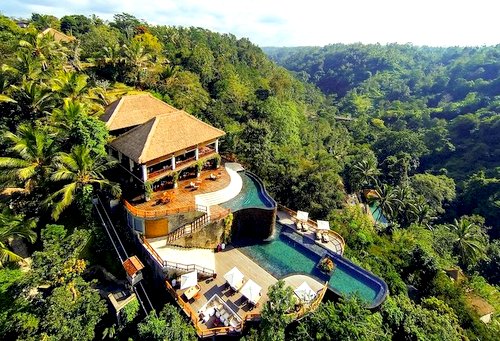 Ubud Hanging Gardens
Location: 1.5 hours (or 50 kilometers) by taxi from the airport. Set on impossible looking terraces overlooking a spectacular river gorge.
Amenities: Spa, complimentary shuttle service to Ubud centre, cooking traditional Balinese dishes, infinity swimming pool, grand gardens with exotic trees and essences of the tropics including cocoa, coffee, durian and a variety of bamboos, flame trees and orchids. There's also a bar, lounge boutique, painting, golf and more.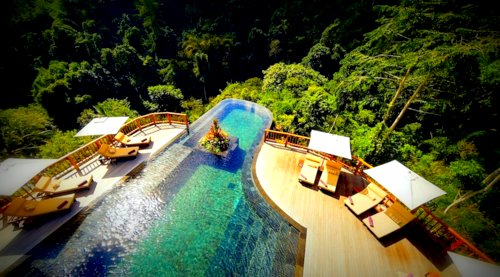 Ubud Hanging Gardens
For Kids: Bali dancing and kite making classes.
Rooms: There are 38 luxury private pool villas. Each have a heated private infinity plunge pool.

Reviews: Guests don't forget the private plunge pool experience quickly. Also, they appreciated the complimentary computer/ Internet access. Outdoor showers were enjoyed. Take a look at the video to see some of the most outstanding rooms available anywhere. 
Some of the dining experiences you can have here set it apart from a lot of other Bali resorts. And then there is the breathtaking location on the cliffs of Ubud.

More on Ubud Hanging Gardens Bali Luxury Resort.
See more of the great Ubud Bali Villa Resorts
Video by property: Hanging Gardens of Bali | the Emotion of Luxury
---
Amankila Bali Luxury Resort
Amankila's gets it design from the Karangasem palaces with a three-tiered pool which looks like a rice paddie.

Amankila Bali Luxury Resort
A truly outstanding resort. Words don't do this one justice. 
Location: On a cliff side overlooking the Lombok Straits on the east coast of Bali.
Amenities: Surreal three tiered pool overlooks the ocean, and private beach club with windsurfers, boogie boards, kayaks and hobby cats, open-air buggies, bar, in-room dining, two restaurants, library, yoga, spa and a coconut grove.
Rooms: Check out the video of the private suite. There are 34 free-standing suites with alang alang roof thatching.
Reviews: Could not find a single piece of dirt on this place. All outstanding reviews. Many world travelers, who stay at many outstanding hotels rate this at the top. Guests who have stayed at all the Aman hotels rate this as the best. They liked the first rate service and Balinese afternoon pastries served poolside by the expertly trained staff. Boutique resorting at it's best. 
Video: Amankila – Luxury Resort & Hotel in Bali - Aman
---
Best 5-star Bali Resorts
Award for best 5-star Bali Resort: Four Seasons Resort Bali At Jimbaran Bay
The Four Seasons Resort Bali at Jimbaran Bay is definitely quality 5-star luxury from the spa, the kids club, activities and facilities down to down to the idyllic tropical garden setting which houses bars, restaurants and cafes.  Each of the rooms here has a private plunge pool and easy access to the golden beach. And you don't have to stray too far from the resort either with regular Balinese performances and activities. 
This is also a bit of a foodie utopia with daily cooking classes, in the local style and a similarly delightful restaurant.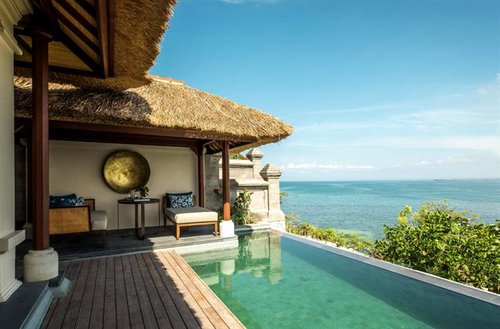 Four Seasons Resort Bali at Jimbaran Bay
If you are simply looking for a bit of a cliff beach resort in Bali in total luxury then the  Four Seasons Resort Bali at Jimbaran Bay may spike your interest. Tee location is pretty exotic and little temples on the terraces that lead down to the beach keep with the traditional Balinese theme.
Overall this top quality Bali resort has a good mix of  spectacular views, a world class spa, and food out of this world. 
Four Seasons Resort Bali At Jimbaran Bay.
Promotional Video: Imperial Villa at Four Seasons Resort Bali at Jimbaran Bay
Official website for Four Seasons Resort Bali At Jimbaran Bay.
Also see the reviews of the best 5-star Bali resorts and hotels on TripAdvisor
---
Best Overwater Bungalow in Bali
Bali does not have the standard overwater bungalows as the ocean conditions are a little too intense. However, this is more than made up for in the large number of man-made lagoons, and water villas with swim-up bars and rooms.
Our award for the Best Overwater Bungalow In Bali goes to The St. Regis Bali Resort At Nusa Dua. The resort merits this award because of the sheer commitment to creating a tropical oasis that exceeds guests expectation of the type of overwater bungalows you might expect to find in locations like Bora Bora even. 
The St. Regis Bali Resort at Nusa Dua
Overwater Bungalow In Bali
The St. Regis Bali Resort is influenced by traditional architecture and is a good example of why we love Bali the way we do. The 120ish rooms on one of Bali's best beaches is an inspiration. The over water bungalows here are also quite stunning. 
Video: Luxury Bali Resort - The St. Regis Bali Resort - Official Video
Best Beach Resort in Bali
There are more than a few contenders for the best beach resort in Bali.
Some of these include The Apurva Kempinski Bali, the Hilton Bali Resort, The St. Regis Bali Resort, The Oberoi Beach Resort Bali and Legian Bali. All of these resorts appear in various lists of the best beach resorts in Bali.
But because of the sheer spectacular location our vote is with Bvlgari Bali Spa Resort
Bulgari Bali Spa Resort
Bulgari Bali resort is one of their best and in a pretty extraordinary position sitting on top of a 150-metre cliff by the beach.  The ideas of the resort are to fuse high Italian and Balinese style into a world-class, and especially exotic resort.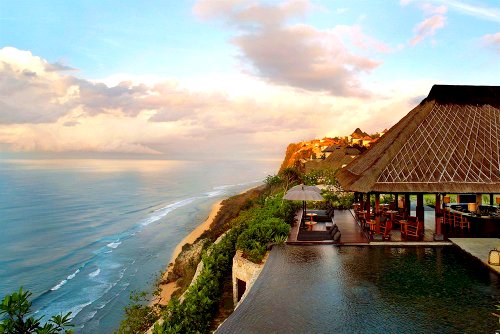 Bvlgari Bali Spa Resort Djimbaran
Listed among the worlds best resorts according to Luxury Resort Bliss and nearly anyone who has stayed here.
Location: This mega luxury secluded cliffside retreat is on the Indian Ocean, Jimbaran Peninsula, in Pecatu village, Bali.
Amenities: A restaurant with contemporary Indonesian and Asian cuisine, clifftop bar (serves a selection of cocktails, wines and beers), wired and wireless Internet access, international newspaper delivery.
There's also a fully equipped fitness center, private beach with beach butler service, and an outdoor pool with a waterfall and hydrotherapy jets, spa with 8 treatment rooms, a Balinese arts and crafts store, beauty salon, library with board games, compact discs and movies, and valet laundry service, Jewelry available.

Rooms: Check out the video below. They have private baths and Italian bedding. Cribs and MP3 docking stations are complimentary and often available.

Reviews: Guests loved the plunge pools outside their rooms, the great food and the amazing views. People did not seem too concerned that the waves prevent swimming at times. Definitely one of the best Bali luxury resorts.

More on Bulgari Resort And Spa Bali, Djimbaran
Official website for Bulgari Bali 
Video Review: Bulgari Resort Bali [Resort Overview]
---
Best Bali Honeymoon Resort
There are a number of resorts reviewed on this page that are good competition for the eventual winner listed for Best Bali Honeymoon Resort. The private plunge pool resorts and wellness spas of Ubud would all make excellent honeymoon destinations in their own right. They all offer luxury and off the beaten track privacy. These are the essential ingredients most of us would agree make for an ideal honeymoon.  
Four Seasons Ubud Bali Resort at Sayan
Award: for best Bali Honeymoon Resort
The Four Seasons Ubud Bali Resort At Sayan has all the ingredients of the perfect honeymoon destination. It's out of the way and has private pools, the perfect setting for extended dinners and the like. But it does all this with a level of excellence that exceeds the other resorts as evidence across as recognised in the 1 World's Top Hotel in the travel industry's most prestigious awards T & L in which it scored top place in 2018.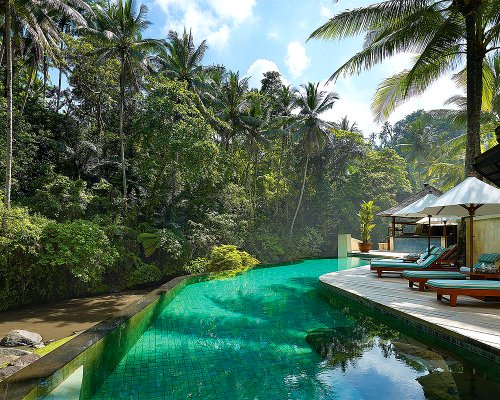 Four Seasons Bali Resort at Sayan
Location: On the white sand beaches between Mission Bay and La Jolla. The resort overlooks the Ayung River which flows through the central highlands of Bali. It's on 17 acres of lush green terraced rice slopes. 
Amenities: Spa, plunge pools, bars overlooking the jungle and river valley, and luxury define this resort.
For Kids: Children sized robes, complimentary on-site activities such as Balinese dance performances, resort garden tours and off site Puri Lukisan museum visits. Cribs and babysitting make life easy.

Rooms: 18 suites and 42 villas offer  privacy and comfort.

Reviews: Guests liked the small touches like a welcome drink and flowers after an interesting arrival though quaint villages. Guests loved walking and enjoying the immaculate grounds. An outstanding resort in anybody's terms.
More on Four Seasons Bali at Sayan
Video: Four Seasons Bali at Sayan - A Luxury Resort In Paradise
---
Legian Bali Luxury Resort Hotel
Set on Seminyak Beach, this stylish resort is close to all the nightlife and shopping action yet retains privacy, and over the top excellence in service - especially from a butler service second to none in the pool suites. While there are only 67 rooms in a modern minimalist style the resort has all the facilities you need this close to town. 
An exclusive all suites boutique hotel built in 1996. 
Location: 20 minutes from the airport and close to championship golf (30 min).
Rooms: 99 - 364 sq meter suits. Ipods' in each room. Bose Hifi.

Amenities: Plentiful staff, collection of fine wines, Havana cigars to "smoke your head off with". If you stay at the Club you have private and return limousine transfers.
Reviews: Guests adored the attention given by the butlers who made this hotel stand out from many others in this regard. An easy cab ride to a whole host of good restaurants as well as the stylish restaurants on site. 

More information and offers for Legian Resort
Video Review by property: The Legian Seminyak, Bali
---
Como Shambhala Bali Luxury Resort
COMO Shambhala is one of the better resorts into holistic wellness, by combining modern science and traditional healing customs. Awell qualified team of experts in their fields take you through, spa therapies,yoga centres, and healthy delicious meals designed to maximise your wellness.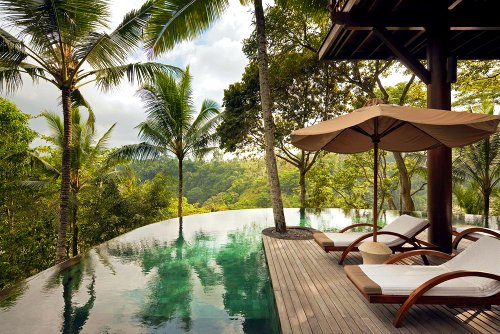 Como Shambhala Bali Luxury Resort
Location: Yoga hotel on the outskirts of Ubud, overlooking the Tjampuhan Valley with the river Oos below.
Rooms: A selection of rooms and suites, including some with private plunge pools in the jungle.

Amenities: treatment rooms, a reflexology area, meditation bale, steam room, sauna and 25 meter pool, a gym, guided walk through the rice paddies, temple visits, meet the artists and visit villages and that type of thing.
Reviews: Breathtaking quiet solitude. Really does receive outstanding reviews from those who enjoy the magnificent location. Some call for the introduction of a six-star system of rating to provide some appreciation of the level of service here. Appears to have had some peace after a noisy land dispute with a neighbor.
More on Como Shambhala
Video: COMO Shambhala Estate: True Wellness Sanctuary
---
Kupu Kupu Barong Villas & Tree Spa Hotel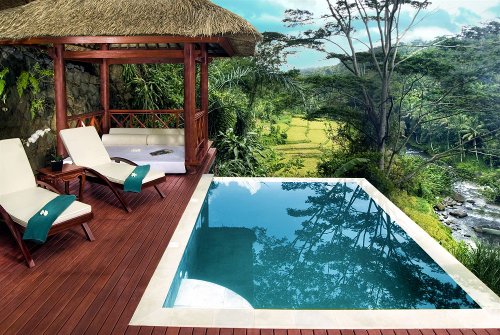 Kupu Kupu Barong Villas & Tree Spa Hotel
The Kupu Kupu Barong Villas and Tree Spa Hotel is also an amazing resort worth considering.

---
There's one more resort you may want to check out close to Bali. It's called Ibah. It has great views of the jungle and in a peaceful location but still close to the city