Seminyak Villas with Private Pools
Seminyak Villas With Private Pools
A Balinese Reverie: Dipping Toes and Souls in Seminyak's Private Pools
The sun hung low over Seminyak, casting a gilded hue that painted the Balinese sky with hues of amber and blush. As I approached my villa, hidden discreetly among lush foliage, the distant hum of Seminyak's bustling streets felt miles away, replaced by the soft symphony of rustling leaves and chirping geckos.
The Samaya Villas, Seminyak
Pushing open the intricately carved wooden door, I was welcomed into a secluded paradise. Before me stretched a shimmering private pool, its clear waters reflecting the fiery Balinese sky. Frangipani trees, with their sweet-scented blossoms, whispered secrets to the gentle winds, while the soft murmur of a nearby waterfall serenaded the senses. I felt like I had stumbled upon a secret corner of Eden.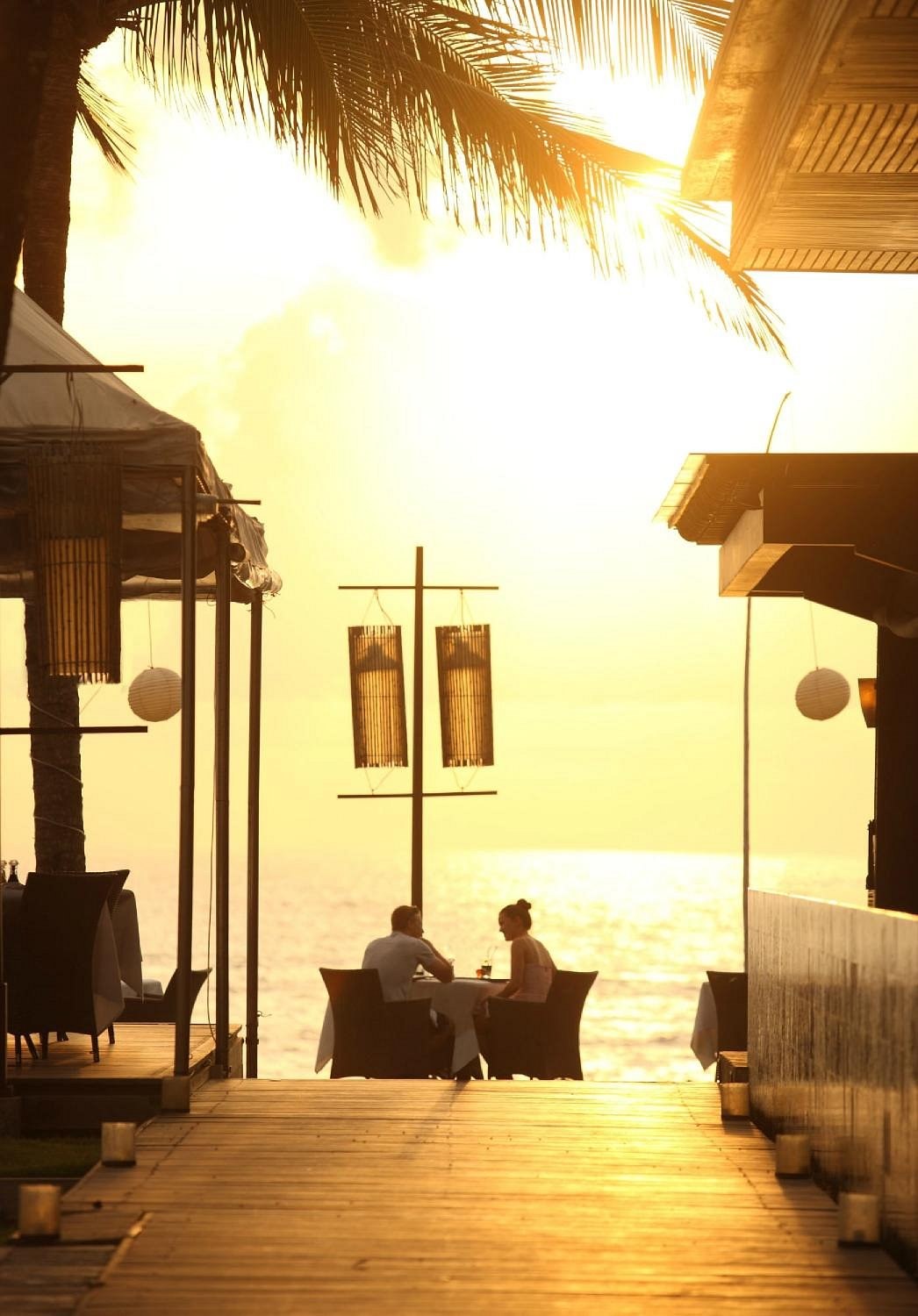 The Samaya Seminyak Resort Review:
Location: 4.5/5 The Samaya Seminyak boasts an enviable location right on the renowned Seminyak beachfront. Travelers will be delighted to find themselves nestled amidst trendy cafes and lively nightspots, with direct access to the famous beach. A short five-minute stroll leads guests to cultural sites such as the TAKSU Bali Gallery and Petitenget Temple, while shopping aficionados will appreciate the proximity to Seminyak Square. The bustling street could be a bit busy for those seeking tranquility, but the convenience factor is undeniable.
The Samaya Villas, Seminyak
Accommodation: 5/5 The Samaya Seminyak offers an array of luxurious villas designed with a chic, modern flair, allowing guests to indulge in utmost comfort. Notable features include full-size private lap pools, an inviting gazebo, and spacious outdoor areas. The use of natural lighting, combined with sophisticated furnishings, ensures a lavish stay. The highlight, undeniably, is the privacy each villa affords, making it perfect for intimate getaways or family retreats.

Amenities: 4.5/5 Guests are treated to a comprehensive list of amenities. The Breeze Restaurant & Bar not only offers delectable cuisines but also mesmerizing ocean views, adding a delightful sensory experience to each meal. The 'Megibung' menu is a standout, allowing guests to indulge in an array of seafood delights. The spa's picturesque setting with some treatment areas overlooking the ocean ensures a serene environment for rejuvenation. However, a wider variety of activities or recreational facilities would elevate the resort experience even further.
Service: 5/5 The resort excels in delivering impeccable service. Personalized in-villa check-ins, a dedicated 24-hour butler service, and special touches like complimentary drinks upon arrival and afternoon tea reflect the resort's commitment to guest satisfaction. The on-site staff's responsiveness and attention to detail further underscore this dedication to exceptional service.
Value for Money: 4.5/5 Given the luxurious villas, range of amenities, and high-quality service, The Samaya Seminyak offers substantial value for its price point. The inclusive packages, such as barbecue meals, discounts on food and beverages, and daily breakfast (which can be enjoyed at any time, adding a touch of flexibility for guests), further enhance the value proposition.
Recommendation: The Samaya Seminyak is best suited for travelers seeking a mix of luxury, cultural immersion, and beachfront bliss. Whether you're honeymooners looking for a romantic escape, families wanting a secure yet opulent stay, or solo travelers in search of a serene sanctuary amidst a lively locale, this resort caters to a broad spectrum of vacation desires.
Overall Rating: 4.7/5
Find the best deal, compare prices, and read what other travelers have to say at Tripadvisor
With a sigh of pure contentment, I toed off my sandals and approached the pool's edge. Dipping a foot in, the cool water sent tingles of delight up my spine. With a carefree splash, I was enveloped in a cocoon of refreshing serenity. Floating on my back, the worries of the world seemed trivial, replaced by the vastness of the sky above and the embrace of the water below.
Every so often, a gentle breeze carried wafts of aromatic delicacies being prepared nearby – perhaps a sizzling rendang or a rich bebek betutu. Bali, with its culinary wizardry, was beckoning, but for that ethereal moment, the world outside could wait.
Emerging from the pool, I wrapped myself in a plush towel, its warmth a comforting embrace against the cooling evening air. Settling into a sun lounger, I was served a glass of chilled Arak Madu – a local cocktail with honey, lime, and the potent Arak. As the concoction's sweet and sharp notes danced on my palate, I realized how Seminyak's villas weren't just about luxury. They were soul retreats, a delicate blend of Balinese tradition and modern comforts.
As twilight descended, the pool lit up with a constellation of submerged lights. With a book in hand and the serenade of nocturnal Bali around, it felt as if time had graciously decided to stand still.
Nights in these private havens had their own magic. The symphony of cicadas, the distant hum of temple ceremonies, and the tantalizing aroma of incense wafting through the night. Drifting off to sleep, cocooned in sheer opulence, it was easy to believe in the island's tales of gods and spirits.
Seminyak Villas With Private Pools
Diving Into Bali's Plunge Pools: A Luxurious Review of Uma Sapna, Seminyak
A Tale of Two Resorts: Uma Sapna vs. The Oberoi Beach Resort
Let's get right into it. Today we're talking about the exceptional Uma Sapna resort in Seminyak, Bali—a place that takes private plunge pools to a whole new level.
Seminyak with plunge pools: find the best deal, compare prices, and read what other travelers have to say at Tripadvisor
The Oberoi Beach Resort
The Oberoi Beach Resort
The Private Plunge Pools at Uma Sapna: A Dip in Privacy
Visit hotel website for specific rates
Ranked #4 of 105 hotels in Seminyak (1,249 reviews)
Let's talk plunge pools. These are not just holes filled with water; they're oases within your private villa. At Uma Sapna, the pools come with a modern design aesthetic and a level of privacy that seems miles removed from the bustling streets of Seminyak. So if your idea of vacation nirvana includes a private water sanctuary, you'll find your Zen here.The Pros:The Cons:Competing Waves: How Uma Sapna Stacks Up
Depth of Design: From pebble-lined pools to softly cascading water features, each pool is uniquely designed.
Temperature Control: Pool too cold? Too hot? Adjust to your heart's content.
Privacy: With high walls surrounding each villa, your dips will remain your own secret affair.
Space: While charming, the pools are not Olympic-sized. Don't plan on swimming laps.
Accessibility: Some villas require navigating steps, which may not suit all guests.
If Uma Sapna is the indie film of Bali resorts, think of The Oberoi Beach Resort as the blockbuster with a big budget. The Oberoi also offers private pools, but they're set within larger spaces, often losing that intimate atmosphere. What The Oberoi gains in lavishness, it sacrifices in seclusion. The choice between the two ultimately boils down to your preference for intimacy over grandiosity.Unique Features That Set Uma Sapna Apart:Concluding Remarks and Scores
Personalized Breakfast: Breakfast in your villa, by your pool. Need I say more?
Artistic Flair: Each villa boasts tasteful local art.
The Spa: A spa menu that promises—and delivers—rejuvenation.
Seminyak with plunge pools: find the best deal, compare prices, and read what other travelers have to say at Tripadvisor
Uma Sapna
Ambience: 9.5/10
Private Pools: 9/10
Dining: 8/10
The Oberoi Beach Resort
Alternate Recommendation: Blue Karma Dijiwa Seminyak
Ambience: 9/10
Private Pools: 7.5/10
Dining: 9/10
For those who relish an eco-conscious ethos and a more communal atmosphere.

So if you've been endlessly scrolling through travel websites, wondering whether to hit the "book now" button on Uma Sapna, here's my advice: Just take the plunge
Seminyak with plunge pools: find the best deal, compare prices, and read what other travelers have to say at Tripadvisor
Sahana 3 Bedroom Villas in Seminyak village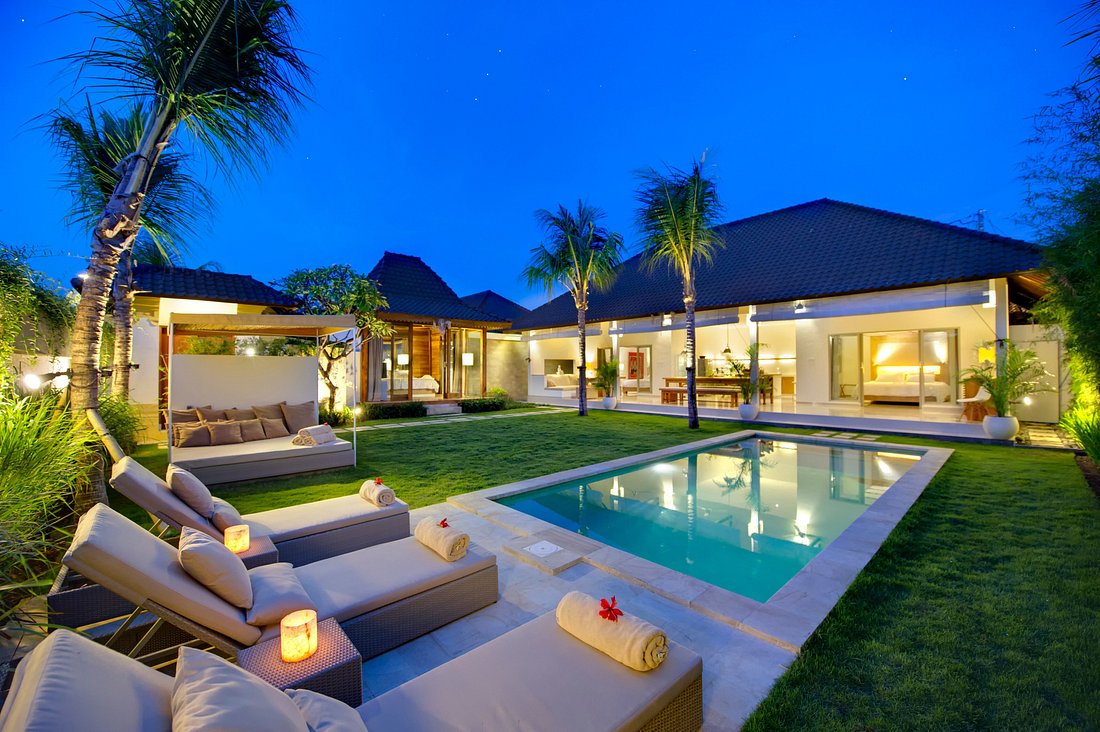 Sahana 3 Bedroom Villas In Seminyak Village
The location is undoubtedly a standout feature. Situated in the prestigious Seminyak village, Sahana Villas offer easy accessibility to some of the most chic restaurants, happening nightlife, and exclusive shopping areas. Not to mention, the picturesque white-sand beaches that are just a stone's throw away, adding to the quintessential Balinese experience.
The design and ambiance of the villas resonate deeply with Bali's rich culture, art, and design. The contemporary minimalist architecture, juxtaposed with the lush greenery and intricate designs, exudes a soothing vibe, making it a perfect sanctuary for the mind, body, and soul.
The private, self-contained villas are a dream come true for honeymooners or discerning travelers. Every villa radiates privacy, ensuring that guests can revel in their very own secluded paradise. Additionally, with Sahana Villas situated right in the heart of Seminyak's "restaurant-street", the culinary delights are endless and just a short walk away.
Speaking of culinary experiences, the in-house restaurant, Kilo Bali, deserves a special mention. The menu is a delightful mix of Kilo's signature dishes, curated with a special focus on local ingredients. The modern design of the restaurant, combined with its relaxing ambiance, makes for a memorable dining experience.
One of the highlights of my stay was undoubtedly the mornings. Waking up on an Orthopedic Latex Foam mattress, enveloped in fine cotton linen, is luxury redefined. The rooms, with their state-of-the-art air conditioning units, promise a good night's sleep, ensuring you wake up refreshed and rejuvenated.
The vast expanse of the villa, with its sprawling lawns and tropical gardens, is a sight to behold. Each corner has been meticulously designed to ensure guests have ample space while preserving the aura of intimate luxury.
Coffee enthusiasts are in for a treat at Sahana Villas. Their home-grown organic coffee, produced in the cool mountains of Bedugul, is nothing short of aromatic perfection. Every sip carried a strong hint of Arabica beans complemented by a subtle chocolate undertone.
Families with children can also breathe easy knowing that Sahana Villas is not just luxurious but also incredibly child-friendly. From pool fences to baby cots, every minute detail has been taken care of. Moreover, the presence of the owner on-site adds a personal touch, ensuring that any issues are promptly addressed and guests can seek advice for a wholesome Balinese experience.
Exploring Seminyak
Meandering Beyond My Private Oasis: A Day Out from Uma Sapna, Seminyak
See the best places to stay in Bali
The Cozy Dawn in Uma Sapna
As the first rays of sunlight filter through the leafy canopy overhead, I make my exit from the villa — reluctantly, I might add. Don't get me wrong, Uma Sapna's private plunge pool has been nothing short of a serene dream. But today, my itinerary is bursting at the seams. I quickly devour a breakfast of Balinese fruits and freshly baked pastries, bid my private pool a temporary farewell, and step outside to soak up the world beyond my door.
Seminyak's Stroll-Worthy Streets
It's not long before I'm swallowed whole by Seminyak's intriguing blend of chic boutiques and traditional market stalls. First stop? Seminyak Square. The open-air shopping complex isn't just a hub for brands and boutiques; it's a nod to the island's evolving landscape. From handcrafted Balinese textiles to high-end designer threads, the choices are as varied as they are enticing.
Café Hopping: A Sip Here, A Sip There
Ah, the coffee culture of Seminyak, a quagmire for caffeine aficionados. Revolver Espresso wins my heart today. Nestled in a secluded alley, it's a place where lattes are considered art, and Wi-Fi is the equivalent of table salt—always available but seldom needed.From Day to Night: La Plancha's Sunset and Beyond
Beach, please. La Plancha, a beachfront café offering vibrant bean bags and a daily sunset spectacle, is the next pit stop. This is where you toast to the setting sun and transition gracefully into the neon embrace of Seminyak's nightlife. Think live music, a dance floor made of sand, and cocktails served in anything but ordinary glassware.The Food Scene: Mama San for the Culinary Adventurer
Dinner is a theatrical affair at Mama San, an Asian fusion restaurant that doubles as a cocktail bar. It's like walking into a 1920s Shanghai movie set—opulent and decadent. My palate jumps from Thai to Chinese, and then to Indonesian, within the span of an hour. The star? The Mekong Whiskey Sour, an odd but brilliant marriage of Thai whiskey and lime juice.
Heading Back to Paradise: Uma Sapna Awaits
I return to my sanctuary, my feet a little worn but my heart incredibly full. As I dip back into my private plunge pool, I marvel at how seamlessly Uma Sapna fits into Seminyak's spectrum. It's a resort that offers you the world while also giving you the space to retreat from it—a rare feat indeed.Final Musings: The Balance of In and Out
My plunge pool remains a comforting constant in a day filled with endless new experiences. It's in this unique equilibrium that Uma Sapna finds its charm—a private retreat that simultaneously encourages you to explore the world beyond its walls.
So, if Uma Sapna is the crown jewel of Seminyak resorts, then consider Seminyak the expansive kingdom it rests within—a kingdom you won't want to miss.
Share Your All-Inclusive Adventures and Questions! 🌴 Have a memorable experience from a luxury all-inclusive vacation? We'd love to hear it at Luxury Resort Bliss. We're on the lookout for top-quality, insightful tales that'll inspire our community. Dive in and be a part of our sun-soaked stories! 🌊🍹✨
The story is a fictionalized account founded on travel expertise, research, and experience. Always refer to recent guest reviews and perform due diligence before booking.
💼 We cherish our independence! ✈️ Our travel recommendations are carefully researched, bias-free, and powered by human expertise by April and Ricky of LRB (we have personally researched and travelled to many of these destinations and researched others thoroughly through first-hand accounts). We also have put in the hard miles, and Ricky has worked for decades for resort and hotel chains  Hyatt, Hilton, Shangri-La and Radisson before starting Luxury Resort Bliss in 2007. 🌍✨ Unlike some other resort review websites we are concerned on the guest experience rather than mere corporate interest.