Hanging Gardens of Bali Villas With Private Pool
Hanging Gardens of Bali Villas with Private Pool
Looking for a review of the Hanging Gardens of Bali Villas with Private Pool?  Amidst the lush terrains of Ubud's tropical rainforests, the Hanging Gardens of Bali offers a luxury  experience. Here, serenity meets splendor as each villa, poised delicately above the verdant canopy, boasts its very own private pool, offering guests a secluded haven and a breathtaking panorama of nature's finest views.
Hanging Gardens of Bali: An Epitome of Jungle Luxury with Private Plunge Pools
Perched discreetly amidst the lush green jungles of Ubud, the Hanging Gardens of Bali, whispers tales of luxury, romance, and nature, all rolled into one. With the rhythm of the Ayung River playing in the background, this resort offers an experience so transformative that one might find it difficult to differentiate between dream and reality.
Exploring The Enchanting Hanging Gardens of Bali: A Summary
Video: 7 Star Resort - Luxury Resort Villas with Private Pools, The Hanging Gardens of Bali
Tucked amidst the lush, misty jungles of Ubud, the Hanging Gardens resort promises more than just luxury – it offers an experience of serenity, seclusion, and nature. Here are the highlights from a visit captured in a vlog:

The Entrance: The moment of arrival is a prelude to the adventure. As you enter, a quaint funicular takes you on a descent into the magic of the resort.
The Crown Jewel - The Pool: At the heart of the property lies a magnificent two-tiered infinity pool, suspended as if in thin air. This extraordinary pool boasts panoramic views of the valley and was honored as the world's most unique pool by the Architecture and Design Awards 2015. Floating on its edge, you feel as if you're swimming amongst the treetops.
Stay & Luxury: The resort houses 44 lavish suites and villas, each offering private pools, sun lounge terraces, grand bathrooms with jacuzzis, and breathtaking views. Playful monkeys roam the gardens, giving visitors an exciting encounter with nature.
Guest Experience: A couple shares their story, expressing excitement over seeing monkeys up close. Their decision to spend their honeymoon at the resort three years after initially considering it was met with joy, culture, and friendly local interactions.
Dining & Cuisine: Begin your day with a gourmet breakfast offering freshly baked croissants, juices, and more. With a nomination in the World Luxury Restaurant Awards, the resort guarantees divine culinary experiences for lunch and dinner. And for a special touch, romantic private dinners by the poolside are available.
The Spa: Nestled deeper in the valley is a serene spa. From massages to facials, it promises rejuvenation and relaxation. A private picnic by the Ayung River and bicycle rides through surrounding rice fields further enhance the experience.
Local Exploration: Just opposite the resort lies a captivating mountaintop temple. It offers a spiritual glimpse into Balinese life. A priest provides blessings, and it's a great spot to capture photos, especially of the monkeys. Additionally, the heart of Ubud town with its artsy outlets, bars, and cafes is within reach.
The Pool's Marvel: The dual-level infinity pool, constructed over an 18-month period with over 2,000 builders, cost $10 million. Mimicking the contours of terraced rice paddies, it integrates seamlessly into the landscape. Special stone from Mount Batur volcano gives the pool its distinctive hue. The decking is crafted from locally sourced Yulin wood, and steps lead gracefully into the pool, giving an illusion of merging with the jungle.
In essence, the Hanging Gardens of Bali isn't just a place – it's an emotion, a journey into nature's embrace, wrapped in luxury.
Location: 4.5/5

Hidden away in the rural expanse of Payangan, the resort offers a mesmerizing riverwalk view, making it an enchanting escape from the buzzing city life. Its proximity to local landmarks like Lempad House and Pura Desa adds a touch of cultural immersion to your stay. While its seclusion ensures tranquility, it may be a tad remote for those seeking bustling nightlife or easy access to central Ubud.
Accommodation: 5/5
A stay at one of the 44 rooms is akin to embracing nature without compromising on luxury. Each villa, with its private plunge pool and premium bedding, paints a picture of serenity. The spacious sitting areas and modern conveniences blend seamlessly with the natural decor, offering a harmonious blend of modernity and tradition.
Amenities: 5/5
The pièce de résistance of the resort has to be "The World's Best Swimming Pool," as crowned by Conde Nast Traveler. Imagine floating in an infinity pool, overlooking the dense jungle canopy, feeling the weight of the world lift off your shoulders.
Indulge your senses at the Spa Collection, where treatments range from soothing hot stone massages to invigorating body wraps. For the gourmands, the award-winning Three Elements Restaurant promises a gastronomic journey, harmonizing Western and Indonesian flavors. Activities like morning walks across the rice paddies and the Ultimate Day Pass add cherries atop this luxurious sundae.
Service: 4.5/5
Expect to be pampered with legendary Balinese hospitality. The staff is adept at striking a balance between being attentive without being intrusive. Minor hiccups may occasionally arise, as in any establishment, but they're swiftly addressed, ensuring your stay is as seamless as possible.
Value for Money: 4.5/5
While the Hanging Gardens of Bali comes with a price tag that might make some gulp, the experience it offers is truly unparalleled. Every penny spent here is an investment in memories that will be cherished for a lifetime.
Recommendation: Best Suited For: Honeymooners or couples seeking a romantic escape. The intimate jungle dining and the bespoke water bale experience under the stars is the epitome of romance. Alternate Choice: For travelers seeking a more active vacation, closer to Ubud's cultural attractions, consider a stay in the heart of Ubud to ensure easier access to local activities.
In conclusion, the Hanging Gardens of Bali - CHSE Certified, is not just a resort; it's an experience. It transports you to a world where luxury meets nature, ensuring every moment is etched in your memory forever.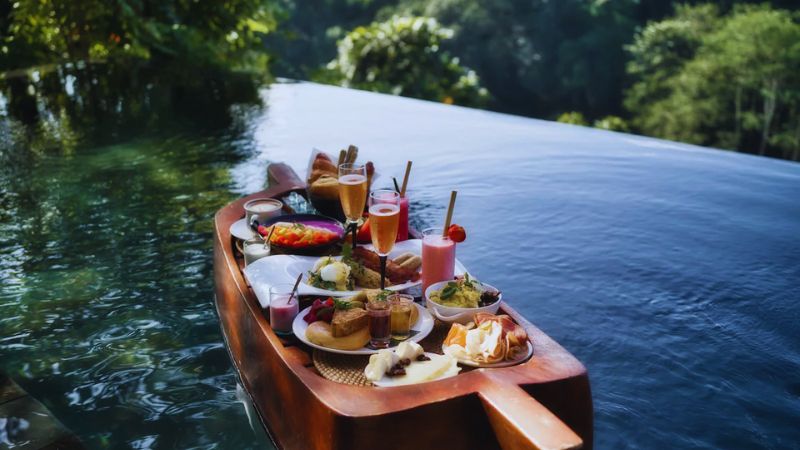 Review
Bali: Between Jungles and Stars
Sarah's worn-out sneakers crunched against the gravel as she wandered deeper into the depths of Payangan's verdant jungles. Far from the concrete streets of New York, the sudden rush of the Ayung River seemed to pull her deeper into a world of green mysteries.
She paused, wiping the sweat from her brow. The dense foliage had whispered of countless adventures, and her writer's spirit hungered for tales untold. What she didn't expect, however, was the sight that greeted her as she stepped out of the woods.
Perched on the edge of the jungle, overlooking the serene river, was the Hanging Gardens of Bali. A seemingly floating paradise, with multi-layered infinity pools, mimicking the terraced rice fields she'd seen earlier. But more than the architecture, it was the soft murmur of laughter and clinking glasses that beckoned her closer.
"Miss, welcome to Hanging Gardens! Would you care for a refreshing drink? Perhaps some traditional jamu?" A smiling staff member greeted her with a mixture that tasted like sunshine and local herbs.
As evening descended, Sarah found herself dining at Three Elements Restaurant. A gentle waiter named Wayan shared tales of old, speaking of Balinese spirits and gods. Between mouthfuls of modern Western and traditional Indonesian dishes, she scribbled down his stories, her heart dancing with every flavor, every word.
While she feasted on tales and tantalizing cuisine, a couple nearby celebrated an anniversary, their laughter echoing her joy. The woman leaned in, whispering, "If you love this, you should try the intimate jungle dining. It's as if the stars descend just for you."
And so, Sarah did. Floating above the iconic pool, surrounded by frangipani candles, she felt the night envelope her. With every dish, she traveled further into Bali's soul, tasting its history, its joys, and its dreams.
The next day, she explored the resort's spa, letting traditional Balinese treatments melt away the remnants of her urban fatigue. Her therapist, Made, spoke of her village traditions while kneading away Sarah's stress. The personal anecdotes made Sarah's experience richer, a blend of relaxation and cultural immersion.
But as a traveler, Sarah knew one resort might not suit all. For those seeking more urban luxury, she'd recommend Seminyak's bustling beach clubs and chic hotels. But for souls like hers, yearning for a blend of nature, luxury, and stories, Hanging Gardens was a jungle dream.
By her last day, Sarah realized this wasn't just a luxury resort. It was a gateway, a cultural embrace, and a reminder of the world's hidden wonders. As she left, Wayan's voice echoed, "Come back soon. Bali always has more stories to share."
Packing her bags, with a heart full of memories, Sarah knew she'd return. For now, though, it was back to New York, back to skyscrapers. But with a journal filled with jungle tales, river songs, and starlit dinners.
To the solo traveler seeking peace, love stories, and a touch of luxury, Hanging Gardens of Bali awaits. But for those desiring beach parties and city lights, Seminyak's modern beat might just be your rhythm.
Hanging Gardens Of Bali Villas With Private Plunge Pool
Activities Around the Resort
Ubud's Secrets: A Journey Beyond the Resort Gates
Sarah, having always been a woman led by her curiosity, couldn't stay confined to the lush walls of the Hanging Gardens for too long. The allure of Ubud's streets, its tales hidden in nooks and crannies, beckoned her out. With her trusty notepad and a promise from Wayan to explore "beyond the obvious," she set out.
Her first stop was the Ubud Traditional Market. The heady mix of colors and scents overwhelmed her senses - from the fragrant strands of jasmine to the robust aroma of freshly ground coffee beans. A toothless old lady, selling handmade batik scarves, regaled Sarah with stories of how every pattern tells a different tale, some of celebration, others of heartbreak.
Venturing further, she came across the serene lotus ponds of Saraswati Temple. She was struck by the contrast - the peaceful, silent temple grounds juxtaposed against the bustling market streets. There, a local artist was sketching the temple's intricate architecture. Over a shared plate of klepon (sweet rice cake balls), he told her about how the temple, dedicated to the goddess of knowledge, inspired his artworks.
Sarah's journey led her next to the Tegallalang Rice Terraces. She'd seen photographs, but standing there, amidst the cascading greens, the world seemed to pause. A farmer, noticing her awe, invited her for a walk through the terraces. Their bare feet squelched in the mud as he explained the age-old Subak system of irrigation. Sarah couldn't help but chuckle when he jokingly called it the "ancient Balinese Wi-Fi", connecting all farmers in spirit and practice.
Later that evening, she found herself in a cozy café, sipping on luwak coffee, reputed to be the most expensive coffee in the world. But more than the coffee, it was the café owner's anecdotes that had her hooked. Tales of how civet cats, responsible for this unique brew, were considered both a blessing and mischief-maker in local tales.
On her way back to the resort, the path illuminated by fireflies, Sarah felt a deep connection to Ubud. The resort had been her sanctuary, but the town and its people had become her muse.
She realized that while the Hanging Gardens of Bali was perfect for those seeking a tranquil, luxurious hideaway amidst nature, the true essence of Bali lay in its streets, its people, and its tales waiting to be discovered.
For travelers who love the blend of relaxation with adventure, Ubud is your canvas. But if a more beach-centric, party vibe is what you're after, perhaps the coasts of Bali will sing to your soul.
FAQ for the Hanging Gardens of Bali
The Hanging Gardens of Bali is located in Desa Buahan, Payangan, Ubud, Bali, Indonesia.
The resort is approximately a 90-minute drive from Ngurah Rai International Airport. You can either book a transfer directly with the resort, or take a taxi or private car hire.
The resort is renowned for its iconic twin-tiered cascading pool, which is frequently ranked among the best in the world. Moreover, its location amidst the verdant jungles of Ubud offers a serene and luxurious escape.
Yes, the resort offers multiple dining options including a gourmet restaurant with panoramic views and a pool cafe. The culinary offerings focus on local Balinese flavors as well as international cuisines.
Absolutely! The resort boasts a world-class spa offering a range of treatments, including those that incorporate traditional Balinese healing techniques.
Yes, while the Hanging Gardens of Bali is popular among couples, especially honeymooners, they also accommodate families. However, due to its tranquil environment, it may be more suitable for older children and teens.
The resort offers a variety of activities, from yoga classes and Balinese cooking lessons to guided village walks and temple tours.
The Hanging Gardens of Bali is deeply committed to sustainability. They've undertaken numerous eco-friendly initiatives, from water preservation to supporting local communities.
Bali is a year-round destination. However, the dry season, from April to September, is often recommended for the best experience.
Yes, complimentary Wi-Fi is available throughout the resort.
Yes, the resort's chefs are well-equipped to handle a range of dietary needs. It's best to inform them in advance. Answer
Given its jungle location, light, breathable clothing is recommended. Don't forget your swimwear, a good book, sunscreen, and a camera to capture the stunning surroundings.
The Hanging Gardens is about a 20-30 minute drive from the center of Ubud. The resort can assist with transport arrangements if you wish to explore the town.
This can vary depending on the season and ongoing promotions. It's recommended to check directly with the resort or on their website.
💼 We cherish our independence! ✈️ Our travel recommendations are carefully researched, bias-free, and powered by human expertise by April and Ricky of LRB (we have personally researched and travelled to many of these destinations and researched others thoroughly through first-hand accounts). 🌍✨
We try to keep everything up to date, but please always do your own research and contact us if you know any issues for us to help others as best we can as a small but professionally focused team! 🧐📚⚠️