West Palm Beach Resorts -Florida
Looking for West Palm Beach resorts?
The first time my toes touched the sand at Palm Beach, it felt like a heartfelt welcome. The Atlantic's crisp salty air mixed with the scent of suntan lotion and a hint of citrus from the nearby palm groves. I was a Midwestern gal used to prairies and clear skies, and the roaring oceanfront was as awe-inspiring as it was soothing.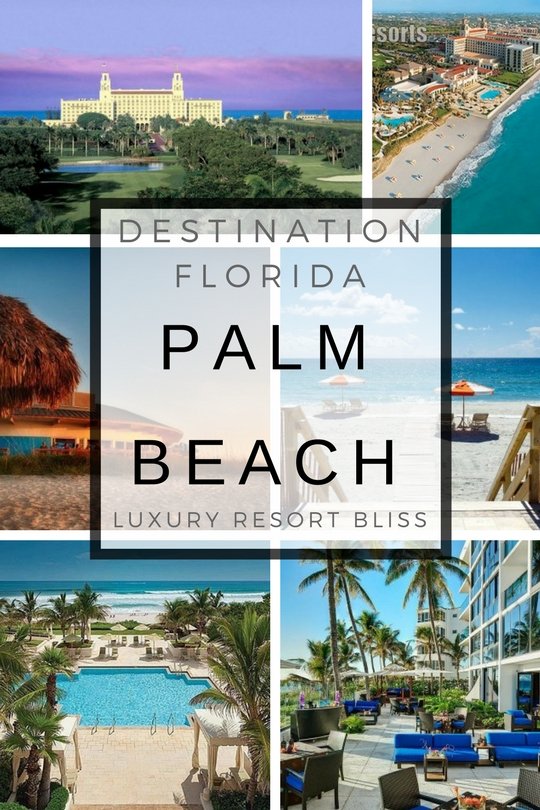 While the beaches of America's first resort destination have given over to private residences these resorts offer the opportunity to enjoy them. While in Palm Beach visit the Norton Museum of Art, or do some birding and the sparkling Intracoastal Waterway. Palm Beach also offers its share of great meal experiences for foodies. 
VIDEO: What to Do in Palm Beach, Florida 
Hotel Special Deals in Palm Beach

Hotel Last Minute Deals in Palm Beach
Find the best deal, compare prices, and read what other travelers have to say about Hotels in Palm Beach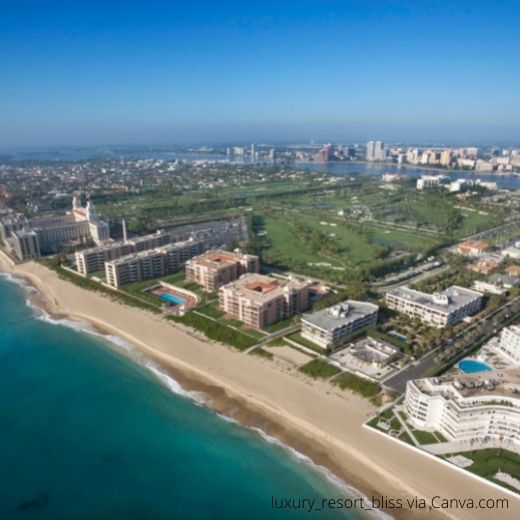 Roundtrip Fares Under $199
Four Seasons Palm Beach Resort
The moment my wheels crunched onto the pebbled driveway of the Four Seasons Resort in Palm Beach, I felt like I'd entered a private island escape. Strikingly elegant, yet carrying an air of unpretentious sophistication, the resort was a well-curated blend of luxury and Palm Beach charm.
Right from the entrance, the establishment exuded a friendly warmth that made my Midwestern heart feel at home. The staff greeted me by name, their smiles genuine, as they ushered me into the resort that was to be my coastal sanctuary for the coming days.
Four Seasons Palm Beach Resort
This luxury Palm Beach resort is the pacesetter in a location that has a few of the original classic hotels in Florida. Four Seasons are also catering well for families looking to have luxury as well as outstanding kids amenities and clubs

I was swept into a world where modern elegance met beachside casual, the interiors a celebration of sand and sea tones. My room was a haven, the gentle hues reminiscent of the ocean outside. The furnished balcony became my favorite retreat, where I watched the sun painting masterpieces on the evening sky over a glass of Chardonnay.
The resort was nestled against a seemingly endless strip of pristine beach, a sight that could rival any postcard image. Two oceanfront pools mirrored the azure sky, the gentle rippling of the water harmonizing with the distant lullaby of ocean waves.
Stepping out onto the beach, the sand was like warm sugar beneath my feet, the Atlantic a shimmering jewel under the Floridian sun. I relished the invigorating sensation of diving into the clear waves, the ocean enveloping me in its saline embrace.
The dining scene was something to write sonnets about. Florie's, a restaurant and bar collaboration with three Michelin-starred chef Mauro Colagreco, was a revelation. Every dish was an artwork of flavours, where locally sourced ingredients danced with international flair. The seafood ceviche was an explosion of freshness, the citrus and the ocean melding into a symphony in my mouth. Each meal felt as if I were a guest at Chef Colagreco's home, a sentiment echoed in his words, "I want to capture a feeling as much as I do flavour, where everyone who visits Florie's feels like they have been welcomed into my own home."
But the real charm of the Four Seasons Resort Palm Beach was not just in its top-tier amenities or its enviable location. It was in the way it became a canvas for unforgettable memories. From snorkeling in the Atlantic and sunset cruises on the Intracoastal Waterway, to culinary tastings and beach sports, each day unfurled a new adventure. The dedicated concierge team was instrumental in curating these experiences, each one a slice of the authentic Palm Beach lifestyle.
I left the resort not just with a tan, but with a sense of peace that comes from connecting with a place and its people. From the Five Star Spa to the weekly pop-ups, each element of the resort contributed to this connection, creating a symphony of experiences that was far greater than the sum of its parts.
The Four Seasons Resort Palm Beach, in essence, is a haven for those seeking luxury without pretension, excitement without chaos, and a connection with the vibrant Palm Beach culture. For those desiring an urban pulse or a more budget-friendly escape, Miami's bustling beaches or the quaint inns of the Florida Keys might be a better fit. But for those who seek to bask in easygoing sophistication on a pristine beach, this resort is a slice of paradise.
This resort is not any exception to this rule. As well as the great kids club there are courts, bicycle tracks and a magnificent beach front setting. For Adults there is a 11,000-square-foot Spa and fresh local delacicies in th erestaurants daily.

"close to golf and endless land or sea diversions"
Reviews and special offers - Current offer includes $150 spa credit

---
Palm Beach Map
The Ocean Palm Beach Resort
The Florida sun was high in the sky when I first pulled up to the Tideline Ocean Resort & Spa in Palm Beach. With its private white-sand beach and panoramic Atlantic Ocean views, it was the kind of place that could easily grace the cover of a glossy travel magazine.
Check-in was a breeze, with friendly staff ushering me into the cool, shaded lobby. The decor was decidedly beach chic, marrying modern design with natural elements. I could already feel the promise of a laid-back, luxury retreat.
My room was well appointed, with a king-size bed promising restful slumber and a private balcony promising serene ocean views. The bath was stocked with plush Frette terry bathrobes and Mistral bath amenities, which felt indulgent, but not out of the ordinary for a hotel of this class.
I decided to explore the property, starting with the beach. Tideline's private slice of sand was immaculate and inviting. The ocean was a stunning shade of turquoise, almost impossibly clear. However, it was noticeable that the beach was narrower than those of neighboring resorts, possibly a victim of the relentless ocean tides.
The resort housed two on-site restaurants, offering a variety of cuisines. I tried both during my stay, and while the food was good, it wasn't exceptional. The dishes were competently prepared but lacked that extra flair that could elevate a meal from good to unforgettable. However, the staff were attentive and the ambiance was relaxed, which made for enjoyable dining experiences.
The Tideline Spa was a soothing retreat, and I could see why it was named one of Florida's best places to pamper yourself. My massage was skillfully administered, leaving me in a state of relaxed bliss. Yet, the spa lacked some of the more innovative treatments that I had experienced at other luxury resorts.
What struck me the most about Tideline was its air of quiet sophistication. It was a place that took pride in offering an exclusive setting without an ounce of pretentiousness. It was charming and low-key, a place to unwind rather than to party.
Despite its allure, Tideline Ocean Resort & Spa fell just short of my expectations. The offerings were solid, yet they lacked the wow factor that could set the resort apart from its competitors. For a resort that was voted as one of Florida's top resorts by Condé Nast Traveler Readers, I felt there was room for improvement.
This resort could be ideal for those seeking a tranquil escape in a beautiful setting, with all the trappings of luxury at their fingertips. For those seeking more exhilarating experiences, diverse culinary delights, or a more expansive beachfront, other Florida resorts might prove more satisfying. My visit to Tideline was pleasant, but it left me dreaming not of my next visit, but of discovering what other gems Florida might be hiding. #TidelineOceanResort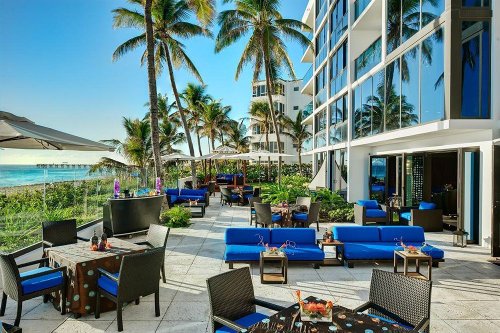 The Ocean Beach Resort
"private beach front location .... an unpretentious air"
This four star Palm Beach family resort has an outdoor pool, a health club, a spa tub, a sauna, and a fitness facility. There are 134 guest rooms and suites, with a balcony, and large windows with views of the Atlantic Ocean or Intracoastal Waterway.
Tideline Ocean Resort and Spa, a Kimpton Hotel, Palm Beach

---
The Brazilian Court Hotel & Beach Club
I'd heard tales of Palm Beach's exclusive Brazilian Court Hotel, with its Spanish Colonial architecture, intimate 80-room setting, and a storied history of celebrity guests. The promises of warm ocean breezes and Roaring 1920s glamour had me eager to experience the charm of this Floridian haven firsthand.
Upon arriving, I was greeted by the sound of gentle fountains and the sight of lush courtyards. The air was tinged with the scent of blooming tropical flowers, mingling with the subtle hint of the nearby ocean. The building's facade exuded a quiet elegance, its creamy stucco walls and terracotta roof tiles seemed to glow in the warm sunlight. The hotel was tucked away from the usual bustle, granting a rare sense of tranquility and seclusion amidst the opulence of Palm Beach.
My room was adorned with tasteful, understated furnishings and blessed with ample natural light. However, the interiors, while pleasant, felt somewhat dated. The grandeur that was promised felt diluted in the reality of my room – a whisper of the 1920s glamour rather than a roar.
But the real jewel of the Brazilian Court Hotel was its world-class restaurant, Café Boulud, helmed by the award-winning Chef Daniel Boulud. The dining room was a beautiful blend of the old and the new, with its pecky cypress ceilings studded with sea shells and modern touches of leather and velvet. The food, however, was where Café Boulud truly shined. Every bite was an adventure, a love letter to modern French cuisine, impeccably presented and bursting with flavor.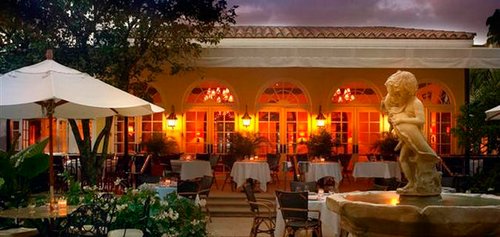 The Brazilian Court
The dining terrace was another highlight. Dining under the South Florida sky, amidst the soft rustle of palm leaves and the soothing sounds of the courtyard fountains, was an unforgettable experience.
The bar, Boulud Bar, had its own allure. With its dramatic backlighting and resplendent glow, it was the perfect spot for pre or post-dinner cocktails. However, for all its charm, the bar's ambiance felt more impersonal and less intimate than I'd expected from such a famed venue.
In summary, the Brazilian Court Hotel was an exercise in moderate grandeur. Its lush courtyards and renowned restaurant stood out as memorable highlights. However, the guest rooms and bar didn't quite live up to the hype, falling a bit short of the dazzling experience I had envisioned.
For someone seeking an upscale retreat with a tranquil atmosphere and exquisite dining, this hotel could be a perfect match. For those expecting a more opulent and up-to-date luxury experience or seeking vibrant nightlife, you might find the Brazilian Court Hotel doesn't quite hit the mark. Despite its imperfections, my visit was a pleasant journey back in time, into the quieter, more understated side of Palm Beach luxury.
This historic but fully restored  four-star West Palm Beach hotel. Although boutique, this beachfront special  and home to celebrity vacations and was listed on the 2012 Conde Nast Traveler Gold List.
Definitely the luxurious property  is one of our top recommendations for a West Palm beach oceanfront resort.
More information on the The Brazilian Court Hotel & Beach Club

---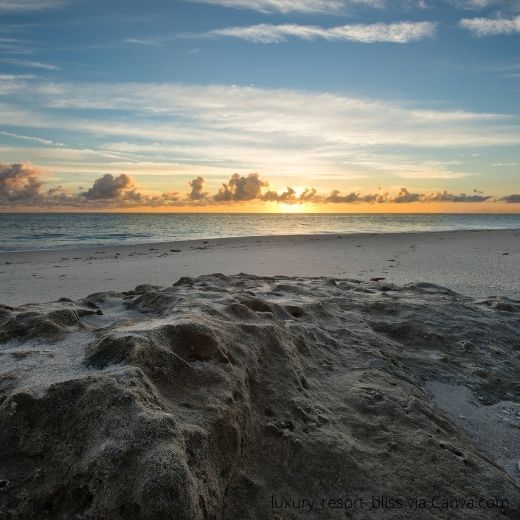 Colony Hotel Palm Beach FL
The pink façade of the Colony Hotel stands tall amidst the leafy Palm Beach streets. It's not just another hotel, it's an icon. A landmark that represents decades of Palm Beach history, where memories have been made since 1947. My adventure here was an intriguing mix of old-world charm and contemporary comforts.
I arrived on a sunny afternoon, the Florida heat softened by a cool ocean breeze. The moment I stepped inside the Colony, I was greeted with a bold, geometric patterned carpet, hinting at the unique personality of the hotel. The  lobby was a blend of classic elegance and modern design, an homage to both the past and the present.
Colony Hotel Palm Beach
The room I stayed in was a delightful continuation of the hotel's pink-and-white theme, reminiscent of a scene from a vintage movie. It was undeniably quaint, but well-equipped with all the modern conveniences I needed. The bed was invitingly plush, and the view from the balcony was a charming sight of Palm Beach's tranquil streets. The room, however, was not without its flaws. The air conditioning was temperamental, oscillating between Arctic chill and lukewarm breeze, and the charming vintage bathroom could have benefited from an update.
The hotel's main restaurant, CPB, was an absolute delight. From the plush velvet chairs to the chic table settings, it was clear that the restaurant was designed with an eye for detail. The food was a gastronomic journey that married local flavors with international flair. I still dream about the citrus-infused grouper - a dish that managed to capture the essence of Florida on a plate.
For all its charm, the Colony Hotel may not be everyone's cup of tea. It's a place that wears its history and eccentricities on its sleeve. If you're a fan of sleek, ultra-modern design, or if you crave the anonymity provided by larger resort chains, the Colony might not be for you.
But if, like me, you appreciate a place with personality, and if you can embrace its quirks as part of its charm, then the Colony Hotel is an unforgettable destination. It's a place where you can step back in time without forgoing the comforts of the present. For me, the Colony Hotel wasn't just a place to stay; it was a part of my Palm Beach story, a character in my Florida adventure.
The family friendly four-star Colony Hotel at Palm Beach Florida with 2 outdoor swimming pools, 24 hour business center, complimentary wireless Internet access, a restaurant, and a poolside bar Is a top choice for this location.
There is also a nightclub and a concierge desk to help you on your way. Don't bring your cigarettes.

More on Colony Hotel Palm Beach, Palm Beach,FL
---
The Breakers West Palm Beach
I stayed at The Breakers, a resort that sat like an elegant crown jewel on Palm Beach. With its Italian Renaissance design, it wasn't just a resort; it was a grand monument of Florida's opulent past. From the moment I walked into the magnificent lobby, with frescoed ceilings and glittering chandeliers, I felt enveloped in luxury.
The suite was a dream, a fusion of timeless elegance and modern comforts. The sea-facing balcony was my personal oasis, where I sat sipping morning coffee as seagulls performed their playful aerial dance.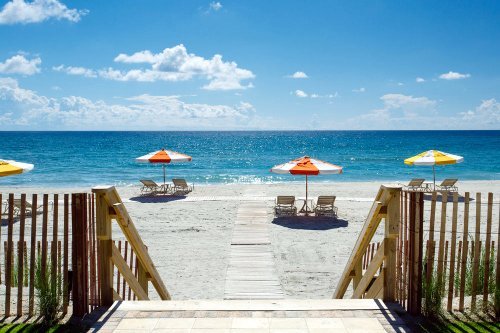 The resort's private beach was immaculate, a carpet of white sand bordering the Atlantic's turquoise expanse. With the resort's service, a chilled cocktail or a fluffy beach towel was only a wave away. At times, I ventured into the warm waves, feeling the pull of the tides, hearing the ocean's hushed whispers.
The dining scene at The Breakers was a culinary journey. From the exquisite seafood at the Seafood Bar, where the counter was a fascinating aquarium, to the unforgettable brunch at The Circle, where the panoramic ocean views rivaled the opulent buffet spread. Each bite I took, whether it was the Key Lime Pie or the locally caught Mahi Mahi, tasted of Florida - fresh, vibrant, a bit playful.
This famous beachfront location and iconic birthplace of Florida tourism. 
The Breakers Palm Beach
The Breakers Palm Beach, and it's Italian-Renaissance charm has long been regarded as one of the best beachfront resorts in North America.
---
West Palm Beach Vacations
For discounts on West Palm Beach vacations try this Expedia widget below. You will save hundreds why you book a Palm Beach resort and flight together.
See all the Hotels in Palm Beach reviewed. you may also like to check out more of the best South Florida resorts. Also see West palm beach Florida vacation home rentals as well as the best Florida inclusive vacation packages.

---
💼 We cherish our independence! ✈️ Our travel recommendations are carefully researched, bias-free, and powered by human expertise by April and Ricky of LRB (we have personally researched and travelled to many of these destinations and researched others thoroughly through first-hand accounts). 🌍✨
We try to keep everything up to date, but please always do your own research and contact us if you know any issues for us to help others as best we can as a small but professionally focused team! 🧐📚⚠️