Luxury All-Inclusive Napa Valley Resorts Compared

Luxury All-Inclusive Napa Valley Resorts Compared: great getting away from it all, great food and great wine. There are some really great luxury options here and as well as some beautiful spas to visit. Our hand-picked list of the best resorts in Napa is just below.
Best Five-Star Resorts in the Napa Valley: 
Auberge du Soleil (St. Helena)
Meadowood Napa Valley
Best All inclusive Resorts in the Napa Valley
Roman Spa Hot Springs Resort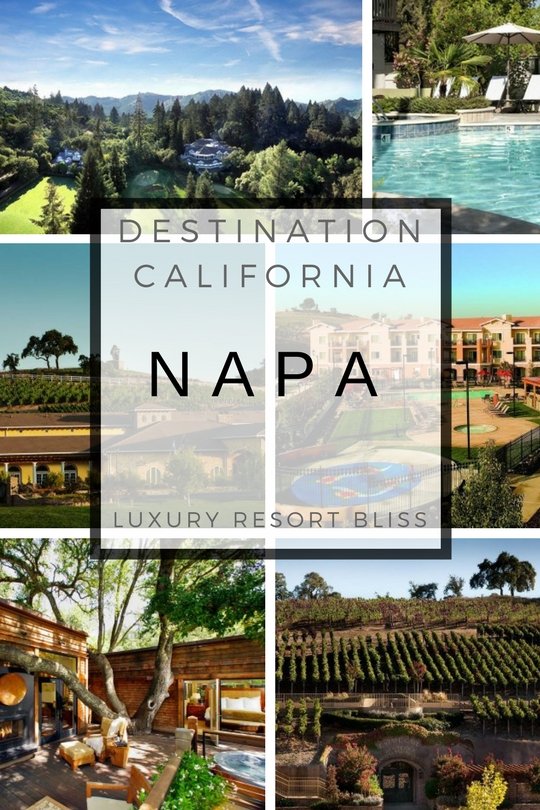 Napa Valley Travel
The Napa Valley is a wine region located in Northern California. It is home to more than hundreds of wineries, and has been producing wines for hundreds of years. It is known for its signature grape varietals, such as Cabernet Sauvignon, Chardonnay, and Sauvignon Blanc, but also known for some great resorts.
---
Top Luxury Resort Napa Valley:
Napa Valley is an agricultural region in the heart of California's wine country north of San Francisco. The valley runs through some of the best getaway attractions in the country, which form a natural amphitheater for many visitors.
Top 10 Napa Luxury Resorts by TA
Calistoga, California Hotel Deals Finder
---
Bardessono, Yountville
One of the great spa resorts in the area, Bardessono, is a resort with excellent, excellent ratings from past guests.
It's on the small side with only around 60 rooms, has a full-service spa, pool, restaurant and pets are welcome. There are some great packages here including one that has special extras for your pet. 
Reviewers say this resort has impeccable service, great location and that it's a fantastic place in general.  
Get more information and see the latest on Bardessono. 
---
Calistoga Ranch
Calistoga Ranch is an intimate 5 star resort in Upper Napa Valley in a private canyon outside of Calistoga.

There's a private restaurant with great wines and food, The Bathhouse Spa, a pool overlooking the vineyards, a fitness center and a yoga deck.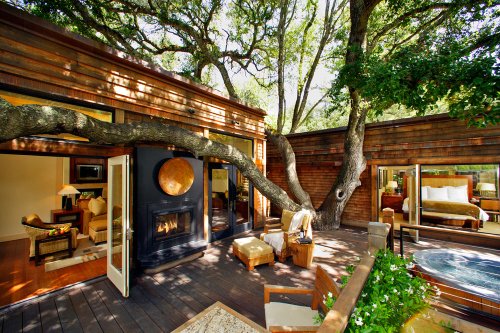 Luxury Resort Napa Valley
This small resort has 46 guest rooms. They are free-standing rooms, have fireplaces (lodge), relaxed decor and down duvets.
Reviewers say: top notch, superior food and service, best service ever experienced at a hotel, beautiful property, pet friendly, expensive but worth it, remote - great getaway. (This resort also gets excellent reviews.)

More on Calistoga Ranch and special offers.

---
Meadowood Napa Valley
Top five-star property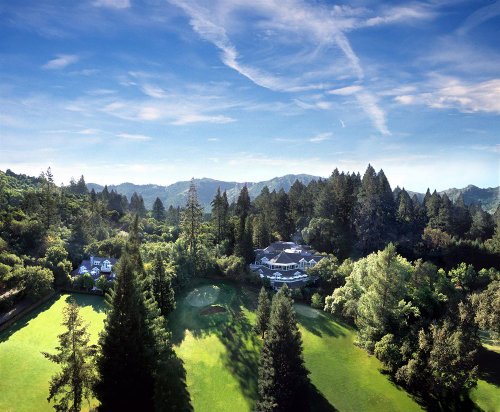 Meadowood is in St. Helena, Napa Valley on 250 acres. You'll find championship croquet lawns, a 9-hole golf course, a full-service spa, hiking and a wine educator.
There are 85 guestrooms, suites and cottages. They have terraces, some rooms feature fireplaces and kitchens.
Reviewers say: staff are gracious and accommodating, concierge is helpful, lots of privacy, lots of solitude - must make your own entertainment. This resort gets excellent reviews. Most people rate it a 5/5.

More on Meadowood Napa Valley

---
All Inclusive Napa Valley Resorts
The Napa Valley region is famous for its vineyards and wineries but also has several resorts that offer all-inclusive packages.
The Carneros Inn
The Carneros Inn: All Inclusive Napa Valey Resort

Located in the wine growing region of Carneros and one hour from San Francisco, Carneros Inn is known as a top romantic getaway. This 4 star resort has 3 restaurants, a Spa, adults only pool and hot tub, family and fitness pools, fitness barn, weekend fitness classes, and a market.
Accommodations are 86 individual cottages (including 10 suites). They have a modern design, fireplaces and Italian bedding.
Reviewers say: great location, cozy cottages, not traditional - new and fresh, looks a little like a working farm, some think it's a little out of the way, attentive service.

More on The Carneros Inn and special offers.

---
---
Best All Inclusive Resort in Napa Valey: Roman Spa Hot Springs Resort
This is one of only tree resorts that appears with all-inclusive filters on TripAdvisor.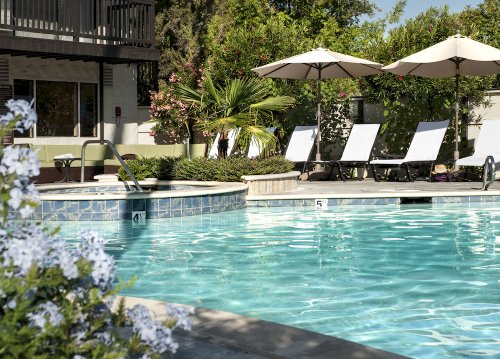 If you are looking for a great resort that is a bit easier on the budget, Roman Spa Hot Springs is a great choice. Find out more about the packages available:
Roman Spa Hot Springs Resort, Calistoga

---
Vino Bello Resort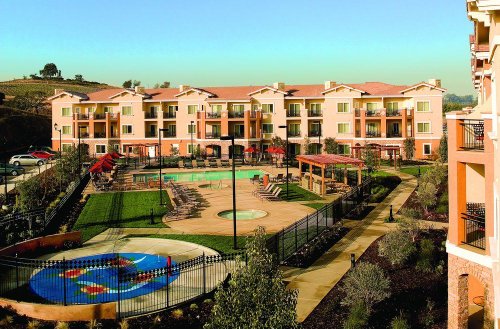 Luxury Resort Napa Valley
Vino Bello Resort is Tuscan decor surrounded by picturesque vineyards in the heart of wine country. It has an on-site concierge to arrange wine tours and some of the great vineyards are close by. There are also 2 heated pools and a fitness centre.
Accommodations are studio, one and two bedroom suites. Most have kitchenettes and the larger ones have whirlpools and fireplaces. 
Get more information and see the latest reviews for Vino Bello Resort. 
---
Top 25 Napa Valley Resort Deals with Reviews on TripAdvisor

---
The Meritage Resort and Spa

The Meritage Resort And Spa: All-Inclusive Napa Valley Resort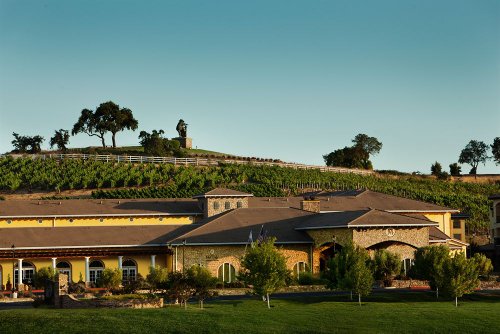 The Meritage Resort is a luxury resort is on the larger side for Napa Valley. It has 322 luxury guestrooms and suites as well as vacation rentals. Many have balconies with views of the vineyards. 
There are 2 pools (one is adults only), 3 whirlpools, outdoor fireplaces, hiking through the vineyards, Spa Terra, wine tastings and an entertainment lounge with bowling, pool table and more. If you're looking to hold a meeting, event or wedding, this spot is a good choice. 
Reviews are quite good here with many pointing out that it is a great spot for a meeting. 
This resort is one of only three resorts to use the all-inclusive filter on TripAdvisor:
Get more information and see the latest reviews for The Meritage. 
---
Silverado Resort and Spa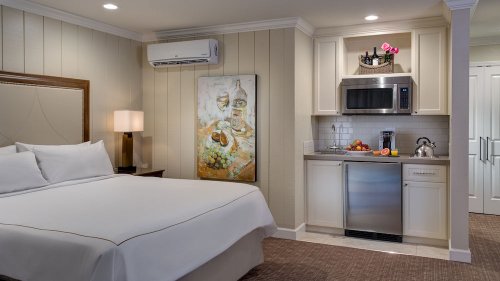 Luxury Resort Napa Valley.
Silverado is right at the center of wine country in Napa and another great luxury resort. It has a full-service spa, 2 PGA championship golf courses, 13 tennis courts, biking and hiking trails, and both fine and casual dining.
There are a number of different rooms options like The Cottages, secluded gated accommodations on the golf course and vacation rentals. 
Reviews are great here with past guests praising the staff, resort and saying it's a great venue for a wedding or event. 
Get more information and see the latest reviews for Silverado Resort and Spa. 
---
Auberge du Soleil
Best Five Star Resort in the Napa Valley: Auberge du Soleil
There is another 5 star hotel that receives great reviews all around. It may be worth checking out. Just note that it's not really a resort. It's Auberge du Soleil in Rutherford and also a great eco-friendly choice.
For more luxury resorts, visit California Luxury Resorts to see what else is around. We hope you found a great luxury resort Napa Valley. 
Best time to visit Napa Valley, California
The best time to visit Napa Valley is during the harvest season which usually starts in late September and goes on until early October. This is when the grapes are harvested and processed into wines. There are many events happening around this time that you can participate in such as grape stomping, wine tasting, cooking classes, etc.
It's the perfect destination for wine lovers, as well as people who enjoy outdoor activities and hiking.
Also, anytime is a great time for an all-inclusive girlfriend getaway. Really it's perfect for that. 
Video: Girl's Trip: Best Wineries in Napa Valley!
Some of the best towns to visit are: 
St. Helena: St. Helena is a small town with a population of about 10,000 people located in Napa County, California. Despite its size, it's one of Napa Valley's most popular towns because it has so many great shops and restaurants that are worth checking out while you're there as well as plenty of wine tasting opportunities for tourists to enjoy!
Napa - Napa City is considered one of the finest places to live in America according to CNN Money Magazine because it offers its.
Video: Plan a trip to Napa - "Planning your first trip to Napa Valley"
---
---
Sarah loves to check out all-inclusive resorts and find great packages and report about what real travelers are saying, Sarah is an indicative character created for the purpose of providing insights uncovered during our research.  These reviews are indicative of others first-hand experiences using our research methodology designed to uncover the best  (as opposed to those that are simply marketed as the best).

While our reviews are founded on real accounts and stories and thoroughly researched do your own research and exercise your best judgment when making travel decisions. And keep in mind all-inclusive packages are always changing.