Best Beach in San Diego

Here is our take on the best beach in San Diego. Pacific Beach, Ocean Beach and Mission Beach complete the coastline around San Diego. Often however the locals will tell you to go further north to Carlsbad.
VIDEO: Best Beaches in San Diego, California

| | |
| --- | --- |
| Coronado Island and Torrey Pines State Beach to escape the college students. Also try Imperial and Black's Beaches. | Roundtrip Fares Under $199 |
Imperial Beach, CA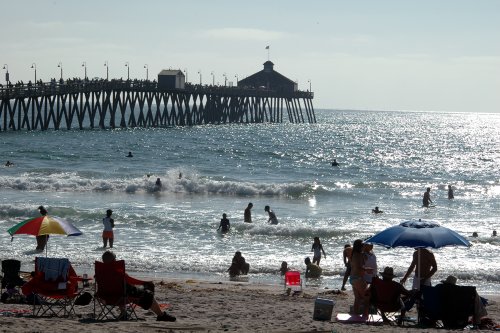 The pier of Imperial Beach by Kotoviski
The pier in Imperial Beach, Southern California. South of San Diego, very close to the Mexican border.

Black's Beach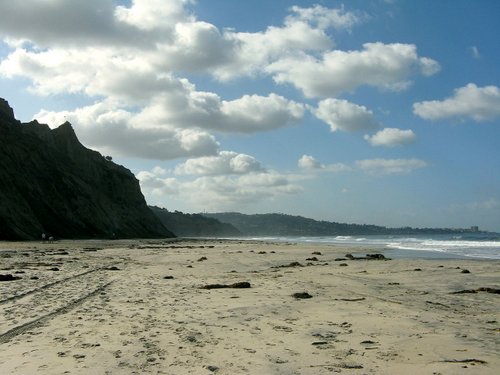 Black's Beach, view south toward La Jolla by Abeach4u
This is one of the top beaches with locals. Always almost deserted apart from a few naturalists. You can access from La Jolla and Del Mar (Torrey Pines) from the beach. You can explore the cliffs but there is not any obligation to nude surf.

Video below: Silhouette of a Person Paragliding over the Sea, Blacks Beach, San Diego, California, USA:

---
Mission Beach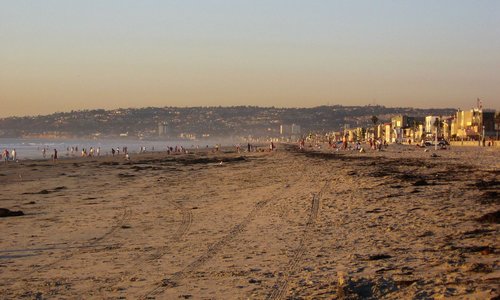 Mission Beach in early October by Vlastula
You can access the pier and there are activities for children with a big old wooden roller coaster, restaurants and shops. However the beach does sometimes have an atmosphere of college student rivalry and a nightlife scene. You can pick up shells and enjoy the scenery. You may even spot a baby seal. Even said, possibly the best beach in San Diego.
VIDEO: Walking around Mission Beach and Pacific Beach Boardwalk in San Diego, California
---
Torrey Pines State Beach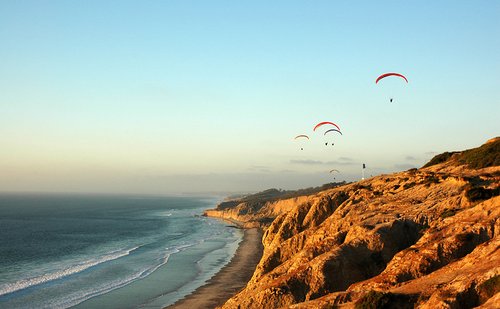 Torrey Pines Beach, San Diego by Phier
There is a trail the traverses the 1,7 km of Torrey Pines State Beach. The cliffs, lighthouse and walks make this one of the best day trips in the area. This is a family activity and has a number of beautiful spots to stop off and enjoy. Lots of people doing adventure sports like hand gliding and para sailing.
Torrey Pines Lodge Resort

The Beach Trail at Torrey Pines State Beach

Video of Torrey Pines State Beach:

---
Pacific Beach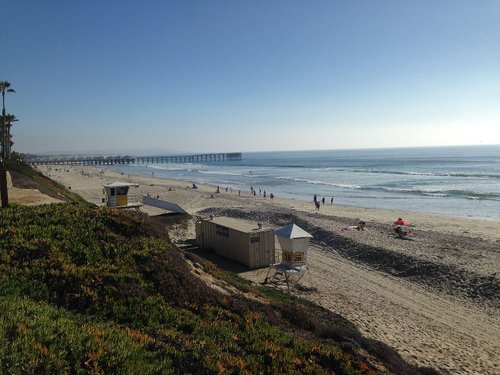 Pacific Beach north of Crystal Pier by Fastily
Pacific Beach has great sunsets and the tide goes a way out there. Enjoy Crystal Pier and the great beach town atmosphere.

---
Ocean Beach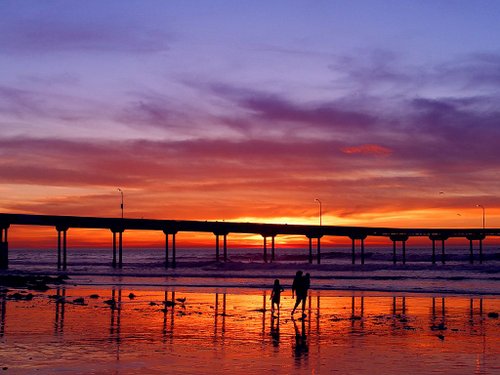 The Ocean Beach Pier at sunset by Abdominator
Here there are set apart areas for swimming and surfing on this one mile beach. Perhaps not the best place for a family on a week end night but does offer great strolls along the beach of a day.

---
For more in San Diego see:
San Diego Family Vacation options
---
Authors Unleashed: Unveiling the Ultimate Travel Experience through Expert Reviews, Ratings, and Research
💼 We cherish our independence! ✈️ Our travel recommendations are carefully researched, bias-free, and powered by human expertise. We use AI sparingly for editing purposes, ensuring an authentic and reliable experience. Join us on our unbiased journey! 🌍✨
Always do your own research! 🧐📚⚠️