Disneyland Resort Anaheim California & Packages
Disneyland! All the kids scream "yay"! For you, Disneyland Resort Anaheim California has 3 main (Disney) choices.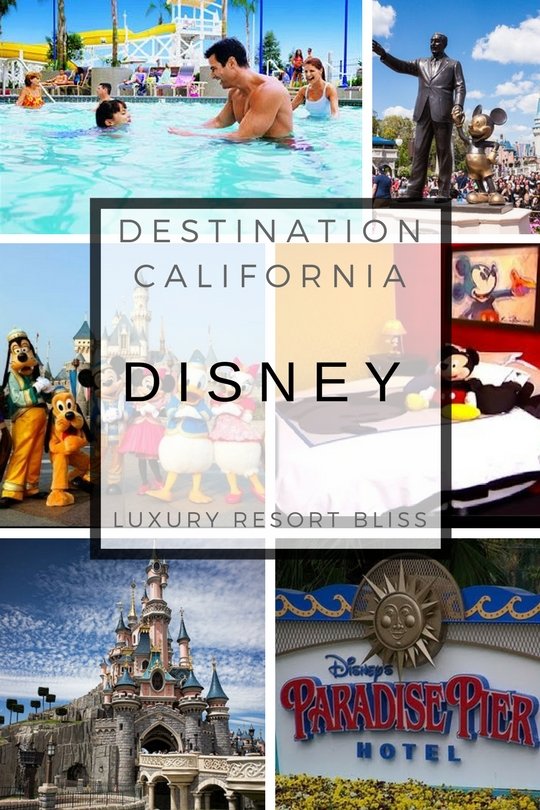 VIDEO: Summer Dazzles at Disneyland Resort

| | |
| --- | --- |
| Roundtrip Fares Under $199 | There are 3 Disney resorts or hotels and below we'll compare them with others close by to the park. Below you'll also find information to help you choose Disney or non-Disney accommodation as well as where to go for a great deal. |
When to Go to Disney California?
A few factors you are likely trying to plan around are the weather and the crowds.
Weatherwise July and August are the wettest months but the rainfall is fairly well spread across the year. Temperatures are also reasonably mild across the year. Then generally speaking the weather should not play a huge role in determining the time of your visit unless you are planning to do a bit of pool swimming or enjoying the waterparks.
 As far as the crowds go this is the harder of the two factors to get right. A few times of the year do however offer some respite from the long queues and lack of elbow room. 
The general idea is to avoid the weekends and even Mondays and Fridays are often busy from people waiting until Monday to avoid the weekend. The second week of January through to  Spring Break often works well. Then from the middle of April to late May. Then there are small patches in late September, and November which can work too. 
Planning a Disney Resort Trip
The Disney Resorts: Quick Overview
VIDEO: Hotels of the Disneyland Resort
| | |
| --- | --- |
| The Disneyland resorts in Anaheim offer the advantages of a great Disney environment including character breakfasts, meal plans, convenient access to Disney theme parks, one hour early entry, and a whole host of other discounts. | |
And let's not overestimate the advantage of having your accommodation right there after you have taken advantage of early entry and a full day exploring the Disney Parks. Time not spent in the car is valuable when you're on vacation!

Disney Resort or Resort Close By?
VIDEO: Orange County Vacation Travel Guide
If it's your first time to the Disney Anaheim area, it is definitely worth your while to first take a look at Tripadvisor's Anaheim page to see what past guests have said. You can look at accommodations or attractions depending on what you'd like to research.
Depending on your circumstance, the advice of past guests and what we've got below will help direct you onto the Disney Resort path or the "close by" path. 
A non-Disney resort is about 1/3 the cost of the Disney one. 
Special Offers on Hotels and Packages Nearby Disneyland 
Before you do book a Disneyland resort, you may also like to check out the list of special offers at nearby resorts and hotels that are family friendly. Most are heavily discounted and offer breakfast and other incentives to encourage you to book with them. You can the Disneyland hotels to the nearby Anaheim family friendly hotels here.
Southwest Vacations often has great specials for Disneyland Resorts in Anaheim.

---
The Three Disney Resorts:
Disneyland Hotel
VIDEO: Disneyland Hotel Signature Suites | Disneyland Resort

Thanks to recent upgrades to the 990 rooms in this 11 story hotel and a transformation of the pool area in 2011, the Disneyland resort is at the top of it's game.
Goofy's Kitchen is where you can expect to find a regular character breakfast.

---
Disney's Paradise Pier Hotel - Disneyland Resort 
With 489 guestrooms this 19 story resort is perhaps the best choice for those looking to stay at Disney but enjoy a (relatively) quieter experience. 

Disney's Paradise Pier Hotel, which is obviously in located in Anaheim, greets guests with a beach front theme.


Like other Disney resorts, it also features a convenient entrance to Disney's California Adventure park. 

Latest Reviews for Disneyland Paradise Pier Hotel as well as information, prices and pictures.


Disneyland Resort Anaheim California: rooftop pool and slide
Video overview of this resort:
---
---
Disney's Grand Californian Hotel and Spa
The well crafted, 745 room, Grand Californian Hotel in the grounds of  Disney's California Adventure park where you can see the Chip 'n' Dale characters "pup up" for breakfast.

The craftsmanship theme runs throughout the resort with a giant redwood waterslide.
There are also extensive spa facilities available at the Mandara Spa.
More information and the latest reviews on Disney's Grand Californian Hotel and Spa.
Video overview:
---
Disneyland Family Vacation Packages
This video features some of the Disneyland family vacation packages.

Our Discount Disney Resort Packages page (which includes Disney Deals around the USA and world).
---
The Best Non-Disney Hotels
The following list of hotels all include a pool and are family-friendly. Some have a breakfast included.
Ayres Hotel is just 2 miles from Disneyland and is the top-rated hotel in the area (that includes the Disney hotels and resorts). This hotel has a great breakfast buffet.
Hotel Indigo Anaheim is another highly rated and very good choice. It has free internet and very close to Disneyland. It's highly regarded for it's great hospitality. 
Park Vue Inn across the street from Disneyland. Close enough for the kids can go have a nap during the day. It's a family friendly boutique hotel and very popular with past guests.
All three hotels are really great choices and very popular among Disneyland goers.
---
💼 We cherish our independence! ✈️ Our travel recommendations are carefully researched, bias-free, and powered by human expertise by April and Ricky of LRB (we have personally researched and travelled to many of these destinations and researched others thoroughly through first-hand accounts). 🌍✨
We try to keep everything up to date, but please always do your own research and contact us if you know any issues for us to help others as best we can as a small but professionally focused team! 🧐📚⚠️