All-Inclusive Lake Tahoe Getaways

Lake Tahoe getaways are a great way to spend vacation time. There's something to do in all seasons. Below we've listed some great ideas for both summer and winter holidays and our favorite resorts for each.
All Inclusive Resorts on Lake Tahoe
Lake Tahoe is a popular tourist spot for those looking for relaxation and outdoor activities.
There are many resorts that offer all-inclusive packages, which include food and drinks, as well as other amenities.
These list includes some of the most popular Lake Tahoe resorts that offer all-inclusive packages and resorts that are listed as all-inclusive on TripAdvisor (filters)
You can also check out :
All-inclusive Resorts in Tahoe City, CA on Expedia
Why visit Lake Tahoe, California for a romantic getaway?
Lake Tahoe is a popular destination for couples. It is the perfect place to get away from it all and enjoy nature.
The lake is surrounded by mountains, forests, and streams, which provide a scenic backdrop for an unforgettable vacation. The area has many hiking trails and beautiful waterfalls that are perfect for romantic walks.
The romantic all-inclusive adult option at Lake Tahoe is the Ritz-Carlton, Lake Tahoe, and we choose this mainly because it has an adult only pool. You can read more on our Lake Tahoe All-Inclusive resorts review. 
Here are the top 40 most romantic places to stay at Lake Tahoe: Find the best deal, compare prices, and read what other travelers have to say
Weekend in Lake Tahoe || Tahoe Travel Vlog
When to Go to Lake Tahoe?
The lake is open for visitors all year round, so you can go there anytime. But if you don't like to ski, the best time to visit Lake Tahoe is in the summer, when the weather is hot and dry and the lake has a blue-green color.
Whatever time of the year Lake Tahoe has some great getaway options.  While there are great ski vacation options in winter it is in summer that Lake Tahoe really attracts the crowds looking to escape the cooler temperatures below.  Summer is also a great time to see many of the best tourist attractions which are only open this time of the year.  The Shakespeare Festival is in July.
If you want to escape the heat and humidity of summer in California and Nevada, then it's best to visit during the Fall months of September through November.
If you want an outdoor experience with less crowds and lower prices, then it's best to visit during the Spring months of March through May or Fall months of September through November.
If you want a more active experience with lots of activities happening all around you year-round (including skiing in winter), then it's best if you visit during any time other than those mentioned above.
As the seasons roll on and the leaves start to fall the crowds exit and the prices drop until the winter when the skiers arrive.
Girl's weekend getaway in Lake Tahoe
A girls' weekend getaway in Lake Tahoe could be just what you need to recharge and reconnect with your friends. You'll enjoy activities like skiing, hiking, or even just relaxing by the lake.
Tahoe has hundreds of miles of shoreline and thousands of acres of forest. The area is home to such well-known ski resorts as Squaw Valley. If you're looking for a fun adventure on the slopes, try riding the chairlift or driving up to the summit and enjoying some fresh powder. You'll have plenty of time to sunbathe or catch some rays too. There are numerous pools with both adult and kids water activities.
For more ideas see our All-Inclusive Girlfriend Getaways Review
---
Summer (or no snow) Lake Tahoe Getaways
From late spring to the beginning of fall, you can take part in water sports in Lake Tahoe. There are a number of places to rent water sport gear or you can choose a resort that provides those. 
You may also want to see:
Top 25 Lake Tahoe Resort Deals
Lake Tahoe All Inclusive Ski Resorts
Lake Tahoe Official Tourism Site
Best Boating and Water Sports Options on Lake Tahoe:
Lake Tahoe has become a popular destination for boating and water sports enthusiasts. In this section, we will take a look at some of the best boating and water sports options on Lake Tahoe.
The Hyatt Regency Lake Tahoe Resort, Spa and Casino is a luxury hotel resort located in Incline Village, Nevada. The hotel resort is located on the shores of Lake Tahoe and has a casino on site.
The Hyatt Regency is a one of the great resorts in this area and if you would like to make boating part of your getaway, they've got private boats, beach access, pools and more.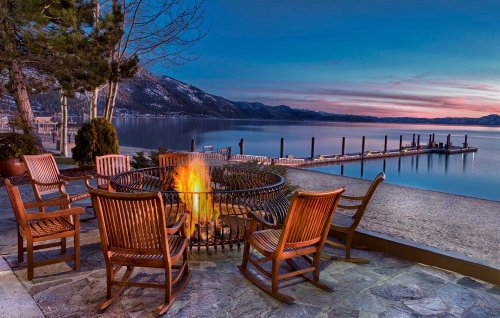 ---
Nature Activities: Hiking and Biking on Lake Tahoe
Hiking and biking is another great option for outdoor activities. There are many trails with a range of lengths and difficulty levels. You may also want to choose a resort with these right there. 
Lake Tahoe is a large freshwater lake that straddles the border between California and Nevada. It is one of the largest lakes in North America, at an elevation of 6,225 feet (1,897 meters).
The Lake Tahoe region offers residents and visitors alike an incredible variety of outdoor activities for all seasons. From hiking to biking on the many trails in town or exploring the rugged backcountry from your own vehicle, there's something for everyone to enjoy.
13 BEST Hikes in Lake Tahoe (From someone who lives here)
Lake Tahoe is the largest alpine lake in North America, and the second largest in the United States. It is located in the Sierra Nevada mountains, straddling the border between California and Nevada.
The lake was formed by glaciers during the ice age and is approximately 6,000 feet deep. The depth of the water and clarity of the water makes Lake Tahoe one of the most popular locations for scuba diving in North America.
See more great Lake Tahoe resorts here. 
---
---
There are a number of great ski resorts around Lake Tahoe. Heavenly Ski Resort is the largest and there are some wonderful places to stay in that area. 
Lake Tahoe is a popular skiing destination. It is a place where you can enjoy the scenic beauty of the snow-capped mountains and crystal clear blue water.
Lake Tahoe is one of the most beautiful destinations for skiing in California. The best time to visit Lake Tahoe is during winter when you can enjoy the snowy mountains and crystal clear blue water.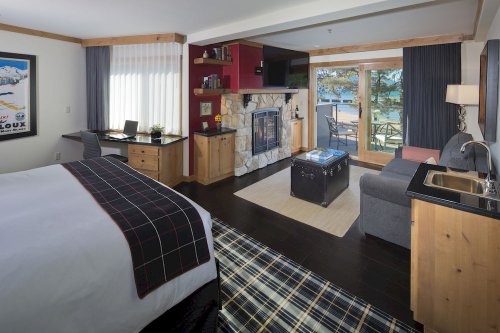 The Landing Ski Resort and Spa is the best ski resort around the Heavenly Ski Resort according to our research. It's a luxury resort and has a shuttle to the Heavenly gondola's. Click above for more information.
---
Northstar Ski Resort is another favorite and on the north shore. It's a great spot for expert skiers and families alike.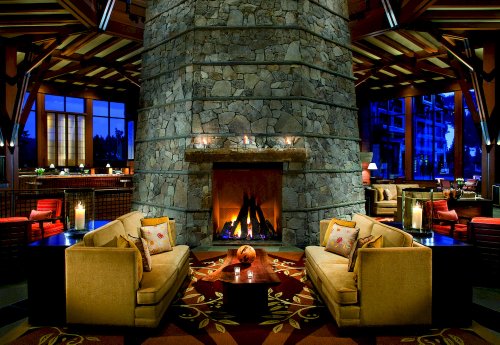 The Ritz in Lake Tahoe is a ski-in / ski-out resort at Northstar Ski Resort with a great children's program. It's a luxury resort. Click above to learn more. 
VIDEO: The Ritz-Carlton, Lake Tahoe - Experience a California Mountain Retreat
Video - Skiing around Lake Tahoe:

For more on Lake Tahoe in winter, take a look at all of the great Ski Resorts in Lake Tahoe.
---
For more vacation ideas, see:
---
---
💼 We cherish our independence! ✈️ Our travel recommendations are carefully researched, bias-free, and powered by human expertise by April and Ricky of LRB (we have personally researched and travelled to many of these destinations and researched others thoroughly through first-hand accounts). 🌍✨
We try to keep everything up to date, but please always do your own research and contact us if you know any issues for us to help others as best we can as a small but professionally focused team! 🧐📚⚠️