Best All-inclusive Resorts & Hotels in Los Angeles 
All-Inclusive Resorts In Los Angeles
Looking for best all-inclusive resorts in Los Angeles, a hotel by Universal Studios or perhaps a beach hotel? There are some great places to stay, but our LA resort awards help you sort out the chuff. These are the best of the best hotels we have found in LA to date.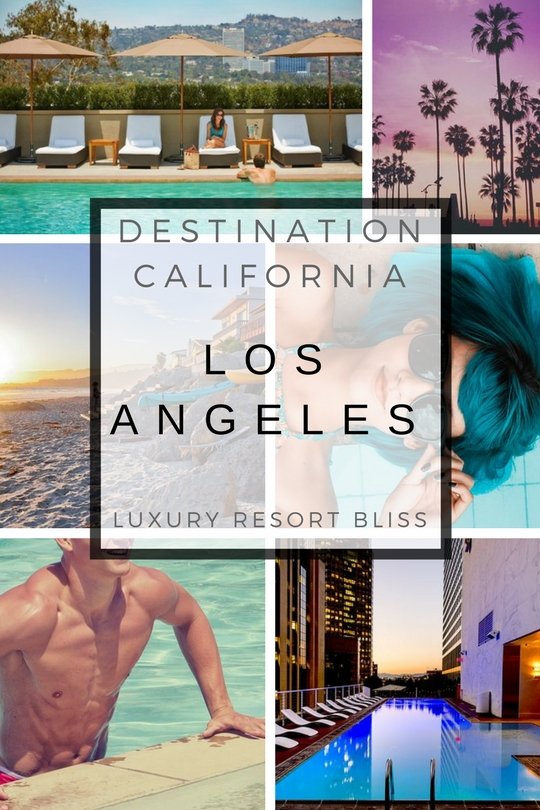 ---
---
You may also want to take a look at:
---
All Inclusive Resorts Los Angeles
Los Angeles is not a city with a lot of all-inclusive resorts to choose from. The beaches in Los Angeles are some of the best in the world, and you can enjoy them for free.
There are many reasons why people decide to go on vacations. Some people go on vacation because they want to relax, while others want to experience new things or spend time with family. Whatever your reason for going on vacation may be, an all-inclusive resort in Los Angeles may not suit your needs! 
In fact using the TripAdvisor feature reveals that the only property listed in Los Angeles as all-inclusive is the Embassy Suites by Hilton Los Angeles International Airport North. This is a good hotel which puts on a great breakfast and well rated but perhaps not what you were expecting from your search. 
You can also check out the best all-inclusive resorts in California. The Palm Springs all-inclusive resorts or the San Diego All Inclusive Resorts may make better options ofr you. 
---
Hotels near Universal Studios Hollywood
The hotels near Universal Studios Los Angeles offer great amenities such as free breakfast, WiFi, and shuttle service. If you are looking for hotels in the area, here are a few of our favorites.
There are a number of hotels near Universal Studios Los Angeles. The top five Hotels Near Universal Studios LA are:
Sheraton Universal Hotel
Dream Hollywood
Hilton Los Angeles / Universal City
Holiday Inn Express & Suites Hollywood Walk of Fame, an IHG Hotel
Hollywood Hotel
Travelocity as well as others have lists of the best Hotels near Universal Studios Los Angeles. 
Video: Universal Hilton - Universal Studios Hollywood
hotel loews hollywood
The Hotel Loews Hollywood is located at the intersection of everything including Hollywood Boulevard and Vine Street. It is a favorite location for celebrities to stay due to its proximity to celebrity hotspots such as the Dolby Theatre and El Capitan Theatre.
Jimmy Kimmel is a well-known comedian, who's been hosting "Jimmy Kimmel Live!" on TV for 18 years this is the place to stay to check out his show. There's also the Hollywood Walk of Fame, nearby. 
With a massive 628 guestrooms and suites and situated right by the Hollywood & Highland Center there is always something to do nearby
Hotel Bel Air - Best LA Hotels & Resorts
This is one of the best luxury hotels in Los Angeles.  
This is the classic LA, iconic hotel. Resting in the midst of an unspoiled green landscape and free from the pressures of daily life, Bel-Air is a location where you can indulge in nature's splendours. A wonderful place with a lush, green cover and a whole 12 acres where many Hollywood movies were filmed. Now you can enjoy the whole property and make all of your own memories.
The hotel's elegance is genuine and sophistication isn't just an empty promise, as the rooms and suites open up onto the glamorous gardens. Signature suites stand out, embodying The Inn's legacy and timeless beauty.
Wolfgang Puck, chef of the prestigious Hotel Bel-Air, specializes in a fusion cuisine with an oriental touch. His shady terrace provides the perfect alfresco setting for an LA meal.
If you're into relaxation, take some time exploring all the natural ingredients, technology and international wellness rituals we've got on offer. The quality is unmatched and will keep you coming back for more. I can't wait for you to try it out for yourself!
Close to Beverly Hills on 12 acres of gardens. There are 91 guestrooms (and suites) with private entrances and 440-count Italian linens.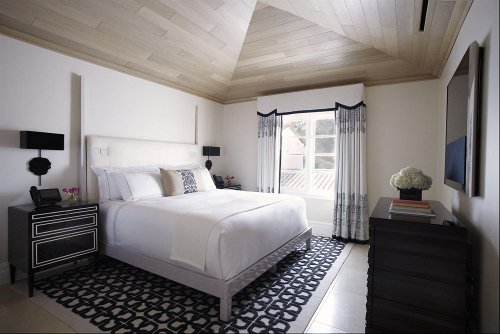 "Bel-Air Estates of Los Angeles ... the most beautiful, romantic, and exclusive hotels in the world."
It has excellent service, luxurious rooms, specialty suites, Wolfgang Puck restaurant, Hotel Bel-Air Spa, beautiful pool and more. 

Reviews are excellent with past guests stating it's in a league of it's own, impeccable and discreet service, food is amazing, and many more wonderful things. See the latest reviews.
Get more information on Hotel Bel Air.
---
Top Beverly Hills Resorts
Beverly Hills is located on the eastern slope of the Santa Monica Mountains, within Los Angeles County, and is one of the world's most well-known tourist destinations.
Beverly Hills has been a popular tourist destination since at least 1890, when it was advertised as "the American Switzerland" and "the healthiest spot on Earth." The city's famous pink limestone buildings are known around the world as symbols of Hollywood glamour.
It is one of the wealthiest cities in the United States and has some of the most expensive real estate in the world -  popular with celebrities and people who have lots of money. They are also popular with tourists because they can see how rich and famous people live.

The Beverly Hills Hotel- Best La Hotels & Resorts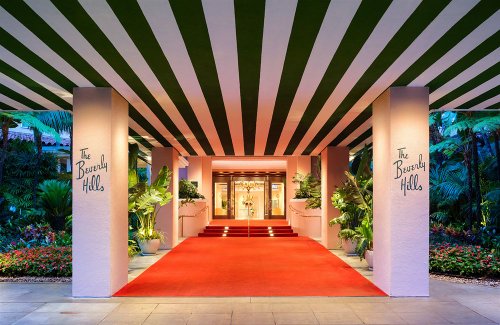 Beverly Hills Hotel is located close to many Hollywood studios, Rodeo drive and on Sunset Boulevard. It offers a free area shuttle. There are a number of restaurants, an outdoor pool, full-service spa, breakfast, tennis courts and a jacuzzi. 
Gets excellent reviews and many repeat visitors. Recent comments include "magical", "World class", and more of that sort. 
Get more information and see the latest reviews here for The Beverly Hills Hotel. 
---
The Ritz-Carlton, Los Angeles
The Ritz-Carlton is a pure luxury destination and on the smaller side with 123 guestrooms. It is near Microsoft Theater in downtown LA. There are 3 restaurants, 2 bars, a full-service spa, and rooftop pool. It's definitely one of the more sparkly luxury resort-hotels here.

Reviews are excellent with past guests saying it has fantastic customer service, there's nothing better in the downtown area, and the suites are huge.

Get more information and see the latest reviews here for The Ritz LA.

---
---
The Langham Huntington, Pasadena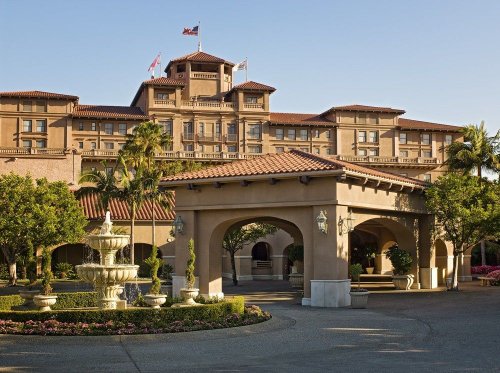 This resort-hotel is in Pasadena and was the Ritz at one point in it's history. It is one of the most popular hotels in Pasadena and has 3 restaurants, a full-service spa, outdoor pool, free area shuttle, and pets are allowed here.
Langham Huntington gets fantastic scores from past guests. 
Get more information and see the latest reviews here for Langham Huntington.

---
L'Ermitage Beverly Hills, Luxury Resort Hotels Los Angeles
In Beverly Hills, it's close to Dreamworks, Virgin Records and Rodeo Drive. This hotel has spacious guest rooms and state-of-the-art technology, a spa and rooftop pool. If you'd like to be in the center of Beverly Hills, this is an excellent choice. 
Reviewers say it's great in general. Some report a few minor problems but most say service is impeccable and it's a lovely hotel.
Get more information and see the latest reviews here for L'Ermitage Beverly Hills.

---
VIDEO: Los Angeles Vacation Travel Guide
More about Los Angeles on TripAdvisor.

---
Four Seasons Los Angeles At Beverly Hills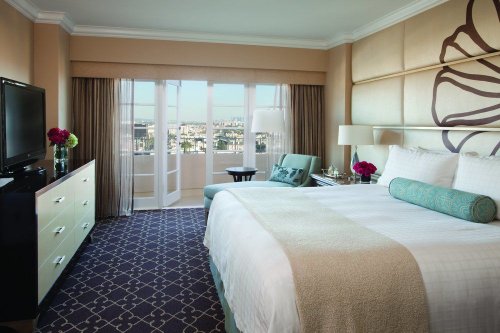 Located in Beverly Hills close to Rodeo Drive in a residential area. There's a pool and full-service spa. The 285 guestrooms are decorated in warm tones. There is an area shuttle to help get you around.
Reviews are excellent here as well with many noting service and location as being great.
Get more information and see the latest reviews here for The Four Seasons Beverly Hills.
Video: The Legendary Doors of Beverly Wilshire, Beverly Hills (A Four Seasons Hotel) have Reopened
---
The Peninsula Beverly Hills -  Best LA Hotels & Resorts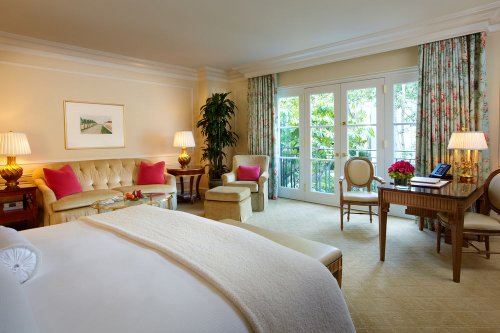 Located in the center of Beverly Hills, it's designed to look like a private residence. There's a spa, fitness center, a lap pool with private cabanas, 4 restaurants, free area shuttle and train station pick-up. It's one of the great luxury resort hotels Los Angeles area. 
Get more information and see the latest reviews here for The Peninsula Beverly Hills.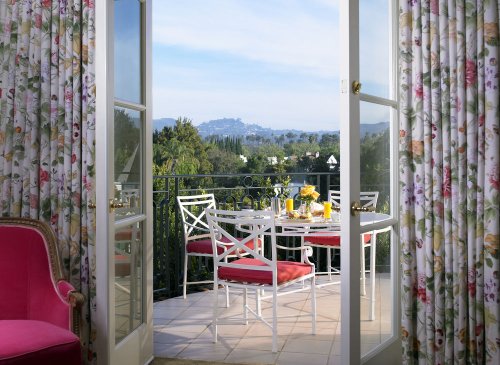 Balcony view at The Peninsula Beverly Hills
---
Would you like to see some more? These luxury resort hotels Los Angeles are rated 4.5 stars. Here they are for your convenience.

Sofitel Los Angeles: Fashion and elegance with the intimate spaces of Simon LA.
Shutters On The Beach, Santa Monica: The Hotel evokes a sense of comfortable elegance that one would find in a grand, yet unpretentious, beach home.
The Ritz-Carlton Marina Del Rey: Guests are treated to the added indulgence of a casual-chic, marina-front setting. 
Beverly Wilshire - A Four Seasons Hotel: Oasis of elegance, warmth and impeccable service at one of the world's most famous intersections - Rodeo Drive and Wilshire Boulevard.
If you'd like to keep looking around California, visit:
Los Angeles Beach Hotels
Venice Beach is a popular tourist destination in sunny Los Angeles, The beach stretches for miles and is home to an array of hotels, restaurants and other attractions. Many of the Los Angeles Beach Hotels are on Venice Beach.
Venice Beach is a great place to visit if you want to feel like a true Californian. The wide, sandy beach offers world-class surfing and is one of the only places in California where you can see wild dolphins. If you are lucky, you might even see a massive blue whale!
Some of the best beach hotels are: 
Hotel Erwin
Venice Suites
Venice On The Beach Hotel
Samesun Venice Beach
Su Casa at Venice Beach
Venice Beach Waldorf
Los Angeles Beach Hotels: find the best deal, compare prices, and read what other travelers have to say
Top 7 LA Beach Hotels - Travel Channel
---
---
Share Your All-Inclusive Adventures and Questions! 🌴 Have a memorable experience from a luxury all-inclusive vacation? We'd love to hear it at Luxury Resort Bliss. We're on the lookout for top-quality, insightful tales that'll inspire our community. Dive in and be a part of our sun-soaked stories! 🌊🍹✨
The story is a fictionalized account founded on travel expertise, research, and experience. Always refer to recent guest reviews and perform due diligence before booking.
💼 We cherish our independence! ✈️ Our travel recommendations are carefully researched, bias-free, and powered by human expertise by April and Ricky of LRB (we have personally researched and travelled to many of these destinations and researched others thoroughly through first-hand accounts). We also have put in the hard miles, and Ricky has worked for decades for resort and hotel chains  Hyatt, Hilton, Shangri-La and Radisson before starting Luxury Resort Bliss in 2007. 🌍✨ Unlike some other resort review websites we are concerned on the guest experience rather than mere corporate interest.