All Inclusive Resorts in Northern California
All-Inclusive Resorts in Northern California
As a freelance travel writer, I've been to many places, but there's one destination that still takes my breath away every time I visit - Northern California. The rugged coastline, towering redwoods, and vibrant cities make this region a perfect vacation spot. And what better way to experience all that Northern California has to offer than by staying at an all-inclusive resort?
All-inclusive resorts in Northern California
While Northern California may be best known for its wine country, the region also offers a variety of all-inclusive resorts that are perfect for those seeking a luxurious and relaxing getaway. From the rugged coastline of Mendocino to the rolling hills of Sonoma, Northern California's all-inclusive resorts offer stunning natural beauty, world-class dining, and a range of activities and amenities. Whether you're looking for a romantic escape or a weekend away with friends, these resorts provide the perfect blend of relaxation and adventure. So, pack your bags and get ready to experience the best of Northern California's all-inclusive resorts.
Looking for All-Inclusive Hotel Packages in Northern California? The Clement Palo Alto has you covered with packages that include everything from football games to Silicon Valley trips. 
This is one of the few resorts that brands itself as an all-inclusive resort. 
Our review of the Napa Valley all-inclusive resorts is of course a little tongue in cheek. The vineyards and the luxury spa destinations might include lots, but they are a long way from what we generally conceptualize as an all-inclusive resort. That is not to say you won't get some pretty awesome package deals, though.
Calistoga Ranch Bathhouse Spa - Napa Valley

Napa Valley is one of the great resort destinations in California. It's a beautiful spot with many many quality wineries. There are a number of great luxury resorts (click link above).
One of the resorts that gets excellent reviews:
Roman Spa Hot Springs Resort
Napa Valley is known for its stunning wineries, but there's more to this region than just wine. The Roman Spa Hot Springs Resort is the perfect place for those looking to relax and rejuvenate in the heart of wine country. This all-inclusive resort (with packages only) offers access to natural hot springs, mud baths, and mineral pools, all while surrounded by lush gardens and a tranquil setting. Guests can also enjoy fitness classes, tennis courts, and complimentary bicycles to explore the nearby vineyards. With cozy rooms featuring private patios and fireplaces, the Roman Spa Hot Springs Resort is the perfect escape for those seeking a peaceful and restorative retreat.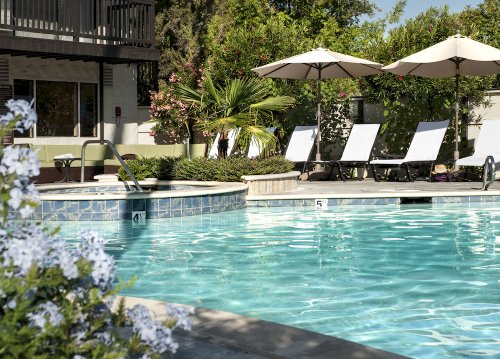 If you are looking for a great resort that is a bit easier on the budget, Roman Spa Hot Springs is a great choice. It's hot springs are set among gardens, private patios and fountains. It's set in the Calistoga wine country. There is a great full-service spa, much to see in the area, outdoor pool, saunas and more.
Reviews are excellent here. Past guests report that the beds are very comfy, it's a great place to pamper yourself and there are many many returns visitors - which is a very good sign. 
Get more information and see the latest reviews for Roman Spa Hot Springs. 
See more of the best resorts in Napa Valley.
Roman Spa Hot Springs Resort - Calistoga Mud Bath

---
California All Inclusive Spa Resorts
Post Ranch Inn, located in the breathtaking Big Sur region of California, offers guests a unique and luxurious all-inclusive experience. With a focus on sustainability and eco-friendly practices, this resort blends into the surrounding landscape, offering stunning ocean views and an immersive connection to nature. The award-winning restaurant, Sierra Mar, offers a farm-to-table dining experience with an exceptional wine list. Guests can indulge in spa treatments, daily yoga, and other wellness activities, or simply relax in their private accommodations featuring radiant heating, private decks, and sweeping views. Post Ranch Inn is an ideal destination for those seeking a luxurious and eco-friendly retreat in Northern California.
California is home to some of the most luxurious all-inclusive spa resorts in the world. From the breathtaking Pacific coastline to the stunning mountain vistas of the Sierra Nevada and beyond, California boasts a wealth of natural beauty and relaxation opportunities. Whether you are looking for a romantic getaway or a wellness retreat, California's all-inclusive spa resorts offer a chance to rejuvenate and refresh the mind, body, and soul. With top-notch amenities and endless activities, these resorts are the perfect place to indulge in self-care and enjoy the ultimate vacation experience.
Alternatives
If you're looking for alternatives to Northern California, Palm Springs and Lake Tahoe are both great options to consider. In Palm Springs, you can enjoy the sunny desert climate and stay at adult-only all-inclusive resorts like the Hyatt Zilara or the La Quinta Resort & Club. Alternatively, if you prefer a mountain retreat, Lake Tahoe offers stunning natural scenery and all-inclusive options like the Granlibakken Tahoe resort, which offers year-round outdoor activities and wellness services. Whichever you choose, both Palm Springs and Lake Tahoe have plenty to offer for a relaxing and rejuvenating all-inclusive vacation.
California has plenty of all-inclusive destinations to offer. From beachfront resorts in San Diego to luxurious spas in Palm Springs, there is no shortage of options for travelers seeking a stress-free vacation. If you're looking for something more secluded, Lake Tahoe offers breathtaking views and endless outdoor activities. Whatever your preference, California has something for everyone. So pack your bags and get ready to unwind in one of the state's many all-inclusive destinations.
💼 We cherish our independence! ✈️ Our travel recommendations are carefully researched, bias-free, and powered by human expertise by April and Ricky of LRB (we have personally researched and travelled to many of these destinations and researched others thoroughly through first-hand accounts). 🌍✨
We try to keep everything up to date, but please always do your own research and contact us if you know any issues for us to help others as best we can as a small but professionally focused team! 🧐📚⚠️