Best Family Ski Resorts
We've got a list of the best family ski resorts here and there are some really great places to ski with your family. Most of the best family ski resorts in the world are in Europe and North America, but we will also try to cover a few more locations too. Europe has much bigger slopes and often the resorts are connected to each other through ski lifts, while the Rocky Mountains receive a lot more snow.
They have all been reviewed by families and given very high marks. There is a lot of variety and we've listed all of the most popular areas to ski.
Here are all the the ski resort areas that we've reviewed. Our individual family ski resort listings are just below. 
The cost comparison of the two are about the same with Europe winning out on ski ticket prices and it is also relatively easy to fly there from a lot of East Coast locations and may end up costing similar to a West Coast ski trip (if you live in the east). You are likely to pay about the same for food and accommodation in each.
A look at the best family ski resorts to enjoy the slopes on this winter. These videos and links below can give you some ideas on:
Savings
Which ski resorts best cater to families needs
How to prepare
Choosing Family Ski vacation Location
Check the resort matches your abilities to a large degree.
Ensure that the resort has the right attractions for on and off the slopes. The things you do after your day skiing are as important as the conditions themselves.
Consider training it or taking advantage of budget flights to help make an interesting location possible.
Check out accommodation options in small towns near the desired ski location
Best Family Ski Vacation Spots
Basically anywhere there is snow and your family can easily get to and enjoy
---
Becoming a great ski resorts for families has many aspects. Great ski schools and kid-friendly things to do, and family friendly accommodation all help. Here are 10 things Whistler does right for families.
This insiders guide shows you more of the great family attractions of Whistler ski resort.
---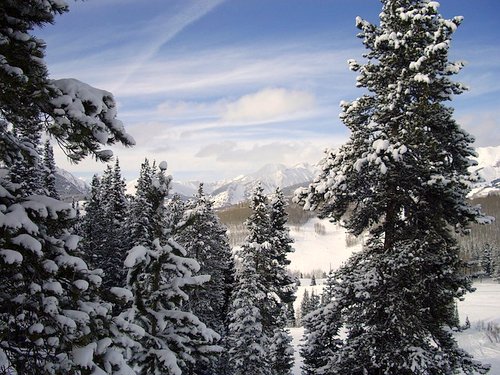 Colorado Family Ski Vacations
Colorado, in our reckoning, is one of the first places you need to consider for a family ski vacation. My Family Vacation Ideas (sister site) has a great review of all the top Family Friendly Ski Resorts in Colorado.
---
Snowmass at Aspen prides itself on it's attention to kids activities and claims itself as "one of the most family friendly ski areas" anywhere. You make up your own mind.
---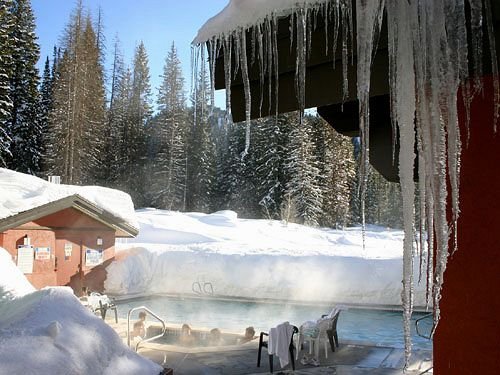 Inn at Solitude
A family ski vacation at Solitude Mountain Resort in Utah is proud of it's ability to provide a quality experience for families. You will also find some great family accommodation options like the Inn at Solitude.
Watch the video below to find out why Solitude, Utah ski resort is great for families.
---
Lake Louise is more than a pretty face. For families, kids will adore the scenery and perfect skiing. This is a resort which is not all about the bells and whistles and fancy attractions and more about the magnificent natural environment.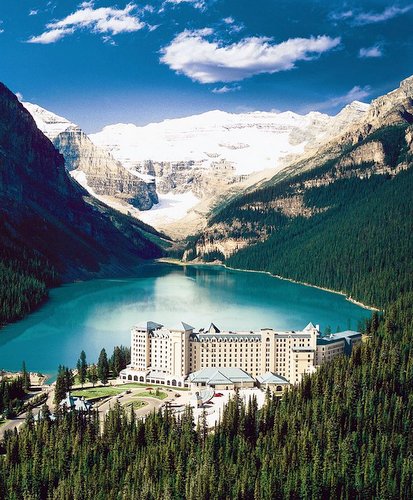 This is a winter wonderland that is sure to excite kids and mums and dads alike.
---
---
Stowe Mountain Vermont does a lot more to bring out the adventurous spirit than almost any other ski resort. From the Children's Adventure Center where a lot of the ski instruction takes place which allows kids to ski and ride safely. Then the structured instruction continues through different levels of expertise.
Stowe also has the claim to fame of having the famous Von Trapp family call this place home after fleeing Europe. Sound of Music aficionados will find it interesting to know the family runs Trapp Family Lodge today.
Another good choice for kids in Vermont is the Hermitage Club. This Deerfield Valley, Vermont family ski resort is a private ski club and four-season mountain resort.
See more New England Ski Resorts with our Maine Ski Resorts, New Hampshire Ski Resorts and Shawnee Ski Resort reviews.

Smugglers' Notch Resort
One of the kid-friendly resorts there is for a family to enjoy their holidays. The staffs and the surrounding of the resort are well-groomed and polished. It makes it one of the preferred places for skiing with the family. On your stay, you can try slot car racing, skiing, skating, etc. There is an adaptive lesson available from disabled visitors. In the childcare center, you can keep children for care who is only 6 weeks old. There are many families packages offers for the site. However, the offer may vary seasonally.

As you know, there are plenty of activities you can enjoy together with the family. Skiing and skating together allow you to create memories. Those memories help you bond better with your family. You can visit one of the places listed above for your vacation. A new place for skiing together with your family. Each place has something different to offer you and your family. Choose wisely to make sure your holiday turns out to be great.
---
What happens in Squaw Valley stays in Squaw Valley. And for kids this means a huge party that takes place in February. With big trucks, skating and children's concerts and more families will love Kid-O-Rama.
See more on the great California ski resorts.
Apart from the outstanding skiing and snowboarding, sleigh rides, ice skating, and family friendly ski accommodation Tahoe has lots more to offer.

How reassuring to know you can set out on a ski vacation knowing kids have been thought about by your hosts. Kids are included in all the skiing and snowboarding but there is also tubing and more winter wonderland adventures.

---
Northstar Ski Resort has a great tubing hill for the kids, a big bungee trampoline, nightly fire pits and a ski pass that give access to top Lake Tahoe ski resorts like Heavenly, make this a great family friendly ski resort.
The Northstar's Kid's Ski + Board School is perfect for from 3 to 12 years. 

---
---
---
The Italian Alps are definitely worth a check out if you'll be in Europe.
---
Tirol is home to those amazing looking villages and has great nursery slopes. One of the big attractions for the hoards of families who visit from Great Britain is the safety factor and the fact you can ski right by the nursery.

---
Whitefish mountain

The mountain has excellent skiing conditions for those who like to visit there. Children below the age of 7 are free to enter the place. Anyone above that age will be charged $82 for their first visit. At first, you need to graduate from their skiing lessons. If you have done that then you get 50 percent off from the next time you visit. There are daily breakfast facilities, with ski in and ski out rooms for you. There are hot tub facilities for the guests to overcome the cold weather. However, the hot tub is not available in the holidays. If you want to enjoy the tub, you will need to stay in the weeknight to avail these offers.

What better place to see what it is like for a family to take a trip to the snow. This family visits Thredbo and complete a three day program.
Nearly all the ski resorts in Australia have outstanding beginner terrain. Find out more about ski resorts in Australia.
And yes, there's snow in Australia and definitely some of the best family ski resorts in the Southern Hemisphere.
---
Ski Package Deals
World's Top 50 Most Popular Ski Destinations on TripAdvisor
Top 25 Most Popular Canada and United States Ski Destinations

Think Snow! Great Ski Deals. Book now on Expedia!
VIDEO: Top 10 Ski Resorts In North America
More Ski Resorts: 

| | |
| --- | --- |
| Popular USA Ski Resorts | International Ski Resorts |