All-Inclusive Family Resorts in Canada
All-Inclusive Family Resorts in Canada
As I packed my bags and bid farewell to Whistler, the last rays of the setting sun bathed the snow-clad mountains in a warm, orange glow. My heart fluttered with anticipation.
Great Wolf Lodge In Niagara Falls
Great Wolf Lodge in Niagara Falls provides the quintessential all-inclusive family vacation experience that infuses every moment with a sense of magic and adventure. As soon as you step into the resort, it feels as though you've entered a whimsical forest, rich with thrilling activities and joyful laughter echoing around. This resort has a massive indoor water park that guarantees endless fun, with slides to suit all ages and a wave pool that replicates the thrill of ocean surfing. After an exciting day of water splashing, families can retreat to comfortable and spacious suites, many of which are themed to enhance the immersive experience. The all-inclusive package means meals are taken care of at a variety of on-site restaurants serving dishes to satisfy every palate. From engaging activities like mini-golf and magic quests to the tranquility of a world-class spa, Great Wolf Lodge in Niagara Falls leaves every family member with cherished memories of a vacation well spent.
See the review for All-inclusive Resorts in Niagara Falls Canada
American Plan (AP),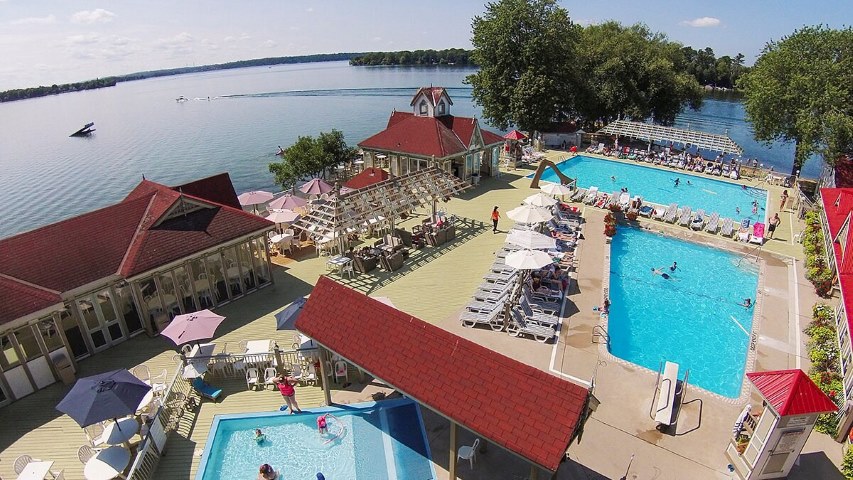 Fern All Inclusive Resort In Ontario
The next chapter of my Canadian adventure was about to begin, not in the frosty embrace of a ski resort, but in the warm, welcoming arms of the Fern Resort in Ontario.
My first impression of Fern was a landscape awash with colors. The vivid blue of Lake Couchiching, its surface twinkling under the summer sun, the lush green of the surrounding woodland, and the vibrant hues of the resort, a kaleidoscope of colors that had been a part of family memories since 1895. The first thing I noticed was the sound of laughter. The kind that comes from belly-aching fun, echoing from the sandy beach to the terrace bar, a testament to the resort's commitment to bringing families closer together.

My days at Fern were an adventurous tango of activities. One moment, I was putting my strength and balance to the test at the high ropes, the next, I was challenging myself to a friendly game of beach volleyball. But the real jewel in Fern's crown was its Playvillage program, a treasure trove of activities for children that ranged from arts and crafts to the adrenaline-pumping excitement of extreme sports.

The resort was a haven for couples too. Under the crimson hues of the setting sun, I watched as couples strolled along the shoreline, hand in hand, their laughter mingling with the gentle lapping of the lake waters. In these moments, Fern morphed into a romantic idyll, a place where love was nurtured, and memories were etched into the sands of time.
Evenings at Fern were a culinary journey through Ontario's finest cuisine. The dining experience was a perfect blend of comfort and sophistication, every meal an adventure for the palate. The taste of the succulent steak still lingers on my tongue, a delicate dance of flavors that I savored under the starlit sky.
Fern Resort was not just another stop on my travel itinerary. It was an experience, a place where I found joy in the simple pleasures of life. Here, I saw families laughing together, children exploring with wide-eyed wonder, couples rekindling their love, and I too became a part of that happy tapestry.
However, if you seek the serenity of solitude, the charming Summer House Park in Miller Lake, with its scenic beauty and private campsites, may be your alternative. But for me, the beauty of Fern lies in its bustling energy, in the shared laughter and the collective memories. It's a place that reminded me that at the heart of every journey, it's the people and the experiences that truly matter. And that was my Fern story, a chapter of my Canadian adventure that I'll forever cherish.
Find the best deal, compare prices, and read what other travelers have to say at Tripadvisor
The American Plan (AP), also known as Full Board or Full Pension, is a term often used in the hospitality industry to denote a lodging rate that includes three meals a day, i.e., breakfast, lunch, and dinner. Under this plan, the cost of the meals is included in the room rate quoted.
Here's how it works:
Breakfast: This can range from a continental breakfast to a full breakfast with multiple options, depending on the hotel or resort.
Lunch: This typically includes a full meal at lunchtime, although the specific food choices will vary by location.
Dinner: A full meal is typically served in the evening. Again, the menu can vary widely, and some locations may offer a buffet, while others may offer a menu with several choices.
The American Plan is different from the European Plan (EP), which includes only the cost of the room and no meals.
It's important for guests to confirm exactly what's included in their room rate and meal plan when they book their stay, as different resorts and hotels may define these plans somewhat differently.
More all-inclusive Resorts in Ontario
Club Med Charlevoix: Top All Inclusive Winter Resort in Canada for Families
Club Med's Quebec Charlevoix resort
Picture this: your family, gleefully stepping into the picturesque landscapes of Club Med Charlevoix, an all-inclusive resort nestled in the breathtaking region of Quebec. This is not merely a vacation; it's an immersive experience designed for both adventure and relaxation. The resort, surrounded by natural beauty, sits majestically between mountains and maritime landscapes, offering a unique panorama of the St. Lawrence River.
While the children embark on their own adventures in the Mini Club, where seasoned professionals craft engaging, age-appropriate activities, you relish in a skiing expedition or a revitalizing session at the spa. Each day is full of choices from a variety of land and water sports, to the indoor climbing wall, or creative workshops.
Evenings transform into culinary journeys at the resort's restaurants, with menus curated by international chefs that reflect the richness of local cuisine. As the night blankets the region, the family gathers around a cozy fire pit, sharing stories and laughter under the starry Quebec sky.
More all-inclusive Ski Resorts in Canada
Vlog: All-Inclusive Reviewed
In the vlog titled "Our Best Family Trip Yet! Snowboarding At Club Med Massif Du Charlevoix" by Backyard & Beyond, the family embarks on an adventure-packed journey to Quebec. They document their road trip, showcasing the vibrant excitement and anticipation that fills their car. Arriving at the Club Med Resort, they marvel at its stunning location on the slope sides of Le Massif, boasting panoramic views of St Lawrence Bay.
The resort's amenities impress them, from the rooms that instantly feel like home to the lively evenings filled with music and entertainment. Dining becomes an experience in itself, thanks to the mouthwatering cuisine and surreal views that make them feel as if they're dining on a boat.
Top Family Resorts in Canada
Fairmont Banff Springs: Located in the heart of Banff National Park, this luxury resort offers an incredible mountain setting, making it ideal for families who love outdoor activities such as hiking and skiing. It also provides comprehensive kids' programs and multiple dining options.
White Oaks Resort & Spa: Situated in Niagara-on-the-Lake, this resort offers a luxurious retreat with a renowned spa and wellness center. It's perfect for families seeking a balance of relaxation and adventure, as it's near the Niagara Falls.
Victoria Regent Waterfront Hotel & Suites: Located in Victoria, BC, this waterfront hotel provides spacious suites with kitchen facilities, making it ideal for families. Its central location allows easy access to local attractions, including the Inner Harbour and the Royal BC Museum.
Blackstone Mountain Lodge by CLIQUE: Nestled in Canmore, Alberta, this resort provides a tranquil mountain setting with spacious rooms and an outdoor pool. It's great for families interested in outdoor adventures like hiking and skiing.
Hyatt Regency Vancouver: Situated in downtown Vancouver, this hotel offers convenient access to urban attractions like Stanley Park, making it suitable for families preferring city vacations.
Granville Island Hotel: Located on Granville Island in Vancouver, this hotel offers unique cultural experiences with local shops, artisans, and a vibrant food market nearby. It suits families who love cultural and food exploration.
Pacific Sands Beach Resort: Based in Tofino, BC, this beachfront resort is perfect for families seeking a beach vacation with activities like surfing and paddleboarding.
Long Beach Lodge Resort: Also located in Tofino, this resort offers direct beach access and a cozy lodge atmosphere, ideal for families seeking relaxation and beach adventures.
Four Seasons Resort and Residences Whistler: A luxury resort at the base of the largest ski resort in North America. It's perfect for families seeking a luxury ski vacation with top-notch service and amenities.
Rimrock Resort Hotel: Situated in the heart of the Canadian Rockies in Banff, this resort offers stunning views and a range of outdoor activities. It's ideal for families seeking a mountain retreat with a variety of adventures available.
Top Family Resorts In Canada: Find the best deal, compare prices, and read what other travelers have to say at Tripadvisor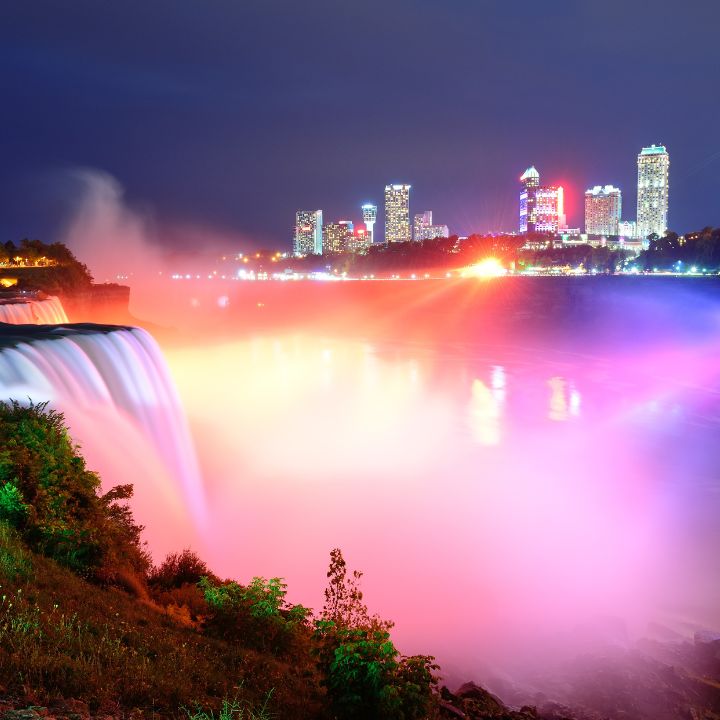 All-Inclusive Resorts In Niagara Falls Canada
Typically, an all-inclusive resort package in Canada includes accommodations, meals, snacks, drinks, and a variety of recreational activities. Some resorts also include equipment rentals and supervised kids' activities in their packages. But the concept varies widely in scope then always check. 
Yes, several all-inclusive resorts in Canada offer family-friendly amenities such as kids' clubs, family activities, babysitting services, and child-friendly dining options. Examples include Great Wolf Lodge in Niagara Falls and Fern Resort in Ontario.
It depends on the resort and its location. Most resorts offer a range of seasonal activities. For example, in the summer months, you can enjoy water sports, hiking, and biking, while in the winter, skiing, snowboarding, and ice-skating might be on offer.
Most all-inclusive resorts will accommodate dietary restrictions with advance notice. It's recommended to contact the resort prior to your arrival to discuss any special dietary needs.
In some cases, alcohol is included in the all-inclusive package, but it varies by resort. It's important to check with the individual resort for their specific inclusions.
This varies by resort. Some all-inclusive resorts include taxes and gratuities in their rates, while others do not. It's always a good idea to check the fine print or call the resort directly for clarification.
While Canada has many family-friendly all-inclusive resorts, there are also options that cater to adults only. It's best to check directly with the resort to confirm their policy.
Policies vary by resort. Some resorts may allow pets, while others do not. Always check with the resort prior to booking if you plan to bring a pet.
💼 We cherish our independence! ✈️ Our travel recommendations are carefully researched, bias-free, and powered by human expertise by April and Ricky of LRB (we have personally researched and travelled to many of these destinations and researched others thoroughly through first-hand accounts). 🌍✨
We try to keep everything up to date, but please always do your own research and contact us if you know any issues for us to help others as best we can as a small but professionally focused team! 🧐📚⚠️