All-Inclusive Resorts in Ontario
All-Inclusive Resorts in Ontario
Ontario offers an array of all-inclusive resorts to match its diverse attractions. Three prominent ones include Fern Resort, Couples Resort, and the Great Wolf Lodge. Each caters to different demographics and offers unique features, ensuring there's a perfect fit for every traveler.
The Great Wolf Lodge Niagara Falls & Waterpark: Has packages with lots of inclusions
All-inclusive resorts in Ontario
There are many all-inclusive resorts in Ontario, Canada, that offer a range of amenities and services. Here are some recommended by Sarah:
Severn Lodge - Located in Port Severn, this all-inclusive resort provides accommodation, meals, use of resort facilities, waterfront activities like canoeing, kayaking, and paddleboarding, and nightly entertainment during the summer.
Fern Resort - Situated on Lake Couchiching in Orillia, Fern Resort offers an all-inclusive experience which includes comfortable accommodations, meals, organized activities, and entertainment. It's family-friendly and offers a variety of indoor and outdoor activities.
Elmhirst's Resort - Located on Rice Lake in Keene, this resort offers all-inclusive packages that include accommodations in cottages, dining options, and a variety of outdoor activities such as boating, horseback riding, and bird watching.
Bayview Wildwood Resort - This resort is located in Severn Bridge and offers all-inclusive packages that include accommodations, meals, and a wide array of recreational activities. It's particularly popular in the winter, offering activities like snowshoeing, ice-skating, and cross-country skiing.
Pine Vista Resort - Located in Douro-Dummer, Pine Vista Resort offers all-inclusive packages that provide accommodations, use of resort facilities, and a variety of outdoor activities.
Couples Resort- A luxury romantic getaway located in Whitney, Ontario, near Algonquin Provincial Park. All-inclusive packages at this adults-only resort include gourmet dining, luxury accommodations, and a range of outdoor activities.
All Inclusive Resorts and Hotels in Ontario Canada: the best deal, compare prices, and read what other travelers have to say at Tripadvisor
Remember that what is included can vary greatly from one resort to another, and "all-inclusive" may not always mean everything is included. Always verify what is included in your package before booking.
Couples Resort: Best Adult Only All-Inclusive Resort in Ontario

Situated near Algonquin Provincial Park, Couples Resort offers a romantic escape for couples. This adults-only resort allows couples to reconnect in luxury with gourmet dining and plush accommodations. Outdoor enthusiasts will appreciate the resort's proximity to nature trails, while those seeking relaxation will enjoy the on-site spa. However, it's worth noting that this resort is geared exclusively towards couples, making it less suited to families or solo travelers.
Location: 4.5/5 Accommodation: 5/5 Amenities: 4.5/5 Service: 4.5/5 Value for Money: 4/5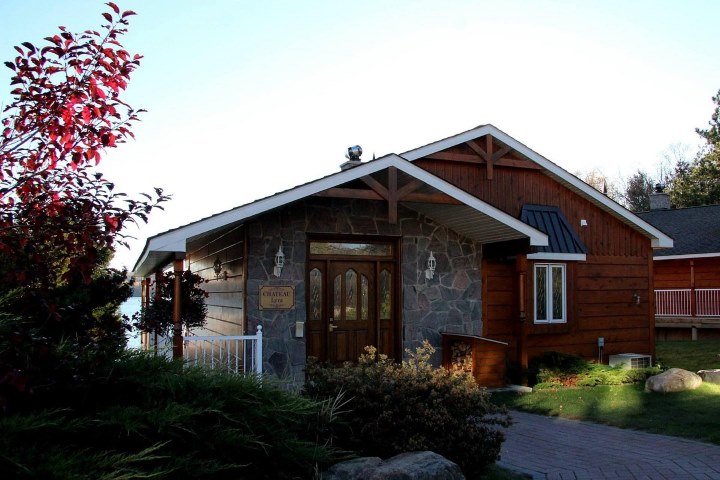 As I rolled down the undulating driveway towards Couples Resort, nestled in the verdant embrace of Whitney, Ontario, an overwhelming sense of calmness washed over me. The perfect retreat for couples seeking an intimate romantic getaway. Located on the edge of Algonquin Provincial Park, it was as though nature herself had crafted this sanctuary for lovers.
My first impression was of its exclusivity. Being an adults-only resort, there was a distinct sense of serenity that hung in the air, unmarred by the boisterous energy of children. It felt like an exclusive club, designed just for couples to rediscover each other in this serene setting.
Our suite was an oasis of luxury, the private deck offering unobstructed views of Galeairy Lake, the sun's warm, golden rays dancing on its surface in the morning. The Jacuzzi in our room became our personal sanctuary, making the evenings extra romantic.
And oh, the dining! This was gourmet luxury at its finest, a tantalizing medley of flavors that melted on our tongues and made every meal an event to look forward to. Whether it was breakfast in bed or a candle-lit dinner by the lake, the culinary experience at Couples Resort was nothing short of exquisite.
The range of outdoor activities was a delightful surprise. We found ourselves exploring hiking trails, canoeing in the tranquil lake, and even indulging in a bit of horseback riding. It was the perfect balance of adventure and relaxation that added an extra spark to our romantic getaway.
A point of caution, though, for those used to the bustling energy of city life, the tranquility of Couples Resort might feel too slow-paced. Moreover, given its intimate setting and adults-only policy, it's a place meant for couples seeking to unwind and reconnect rather than for those seeking an adrenaline-fueled vacation.
In the heart of the wilderness, with the promise of luxury and romance, the Couples Resort presented an unmatched all-inclusive experience. It was not merely a resort; it was a memory etched in time, a love letter from nature itself. As we drove away, our hearts were filled with the echoes of chirping birds and rustling leaves, the taste of gourmet food, and a newfound appreciation for each other.
Fern Resort: Located in the picturesque region of Lake Couchiching, Fern Resort is ideal for families seeking a blend of relaxation and outdoor adventure. With a generous offering of activities such as water skiing, stand-up paddleboarding, and kayaking, the resort ensures fun-filled days for all. The PlayVillage is a highlight for families, providing supervised activities for younger children. Dining is a pleasure at Fern, with rotating menus that cater to varied tastes.
Location: 4.5/5 Accommodation: 4/5 Amenities: 4.5/5 Service: 4.5/5 Value for Money: 4/5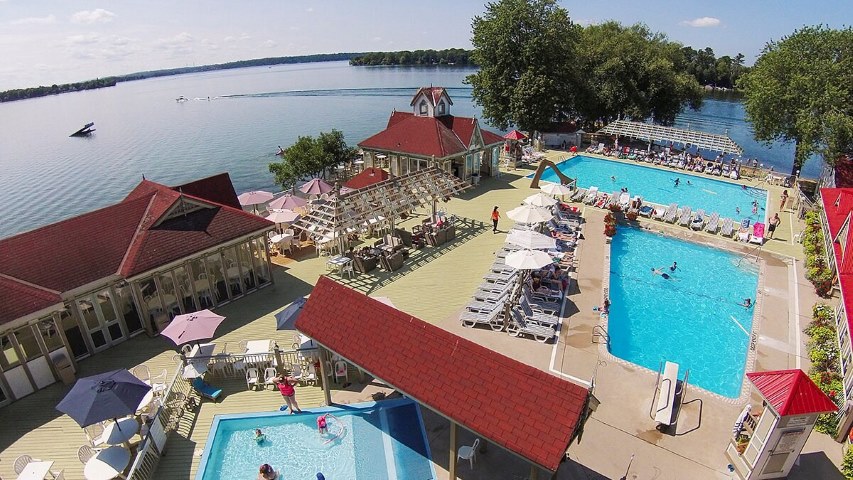 As the gravel crunched beneath my tires, I felt a bubbling sense of anticipation. "Welcome to Fern Resort," the wooden sign read, its rustic charm echoing the resort's promise of an authentic Ontario experience. As I swung open the car door, the freshness of Lake Couchiching's breeze playfully tousled my hair, a testament to the Resort's prime location cradled by unspoiled nature.
My first impression was its splendid waterfront location. A mile and a half of pristine lake shore that begged to be explored, be it via a languid kayak ride or an adventurous round of water skiing. And while the adults relaxed in one of the two outdoor hot tubs, the kids had a whale of a time zorbing and fishing off the dock. It was a perfect blend of relaxation and activity.
Yet, Fern Resort is more than just its water escapades. A simple glance at their activity program told me that boredom is a foreign concept here. From archery to axe throwing, yoga to zumba, and everything in between, there was always something going on.
Perhaps one of the most memorable aspects was the food. Dining at Fern was a decadent affair. The rotating menu offered a veritable cornucopia of delectable dishes, accommodating everyone's palate. The sensation of dining with a sweeping view of the lake outside, it almost felt like dining on a boat, a lovely touch that elevated the entire dining experience.
If I had to nitpick, the only drawback I found was the weather-dependent nature of many activities. An unexpected drizzle could mean a reshuffling of plans. Yet, the dedicated team was always ready with a backup - a testimony to their excellent service.
For families seeking an all-inclusive, activity-packed retreat in Ontario, Fern Resort is an excellent choice. From its beautiful location to the myriad of activities and excellent food, the resort offers an experience that brings everyone closer together. However, for those seeking a quieter, less activity-centric vacation, you might want to consider an alternative.
As I left Fern, I couldn't help but look back at the resort, a smile playing on my lips. Fern had been more than just a resort; it was a slice of Ontario's rich wilderness presented with a dash of fun, food, and familial warmth.
Great Wolf Lodge:
The Great Wolf Lodge in Niagara Falls is a dream come true for families. The resort's indoor water park and live-action adventure game, MagiQuest, provide endless entertainment. The suites are well-designed to accommodate families, and the dining options cater to all tastes. However, due to its family-centric focus, it may not appeal to couples seeking a tranquil getaway or solo travelers.
Location: 5/5
Accommodation: 4/5
Amenities: 5/5
Service: 4/5
Value for Money: 4/5
The glistening sheen of the Great Wolf Lodge in Niagara Falls caught my eye as I pulled into the driveway. Its grand timbered exterior stood tall and inviting, almost echoing the sounds of laughter and excitement that spilled from its doors. An all-inclusive family resort, it promised a whirlwind of adventure and unforgettable memories.
From the moment we entered, it was clear that this was a haven designed for families. The sounds of children's laughter rang through the air, the palpable excitement a far cry from the tranquil quietude of a couples-only resort. It was heartwarming, this effervescent joy, reminding me of my own childhood vacations.
Our suite was spacious and comfortable, designed with families in mind. Bunk beds for the kids, a queen bed for the parents, and enough room for all of us to move around without stepping on each other's toes. The decor, too, was warm and welcoming, capturing the charm of a rustic woodland lodge.
Dining at the Great Wolf Lodge was a delight. A wide variety of options meant there was something to tickle everyone's taste buds, from gourmet meals for adults to kid-friendly options that even the pickiest eater couldn't resist. I was particularly taken by the resort's commitment to accommodating dietary restrictions and allergies, ensuring a stress-free dining experience for all guests.

The true magic of the Great Wolf Lodge, though, lay in its activities. The indoor water park was a massive hit with my kids, offering endless hours of water-based fun. Mini-golf, arcades, and the MagiQuest live-action adventure kept us busy and entertained throughout our stay. And yet, there were quiet corners too, for when we needed a breather from the non-stop action.
However, it's worth noting that the resort is bustling and can get crowded, especially during peak seasons. If you're seeking a quiet, laid-back vacation, this might not be the best fit. Also, for those without kids, the child-centric amenities might feel overwhelming.
But as we packed up to leave, I couldn't help but look back at the Great Wolf Lodge with a sense of fondness. It had delivered its promise of a memorable family vacation, filled with laughter, excitement, and bonding. This wasn't just an all-inclusive resort; it was a place where childhood memories were made, and that was priceless.
Great Wolf Lodge Slides
A1: Yes, Ontario offers several all-inclusive resort options that cater to a variety of preferences, such as family vacations, couples retreats, and outdoor adventure getaways.
A2: Most all-inclusive resorts in Ontario typically cover accommodation, meals, and a range of activities in the booking price. This can include outdoor sports, wellness programs, entertainment, and sometimes even guided tours or excursions.
A3: One of the top-rated all-inclusive resorts for couples in Ontario is the Couples Resort in Algonquin Park. It offers a romantic setting with private hot tubs, real wood fireplaces, gourmet dining, and a host of outdoor activities.
A4: Family-friendly resorts like Fern Resort in Orillia or the Rocky Crest Golf Resort in MacTier offer a range of activities suitable for all ages. They also often provide kids' clubs and special entertainment programs for children.
A5: Absolutely! Places like Bark Lake Leadership and Conference Centre or Wilderness Tours Adventure Resort offer a multitude of outdoor activities including hiking, canoeing, white-water rafting, and more.
A6: The best time to book depends on the type of vacation you're seeking. For summer activities like boating, fishing, and hiking, consider booking between June and September. For winter activities like skiing or snowshoeing, December through February is best.
A7: Yes, many all-inclusive resorts in Ontario feature wellness amenities including spas. A few examples include the Couples Resort, which offers spa treatments, and Ste. Anne's Spa, a renowned wellness retreat.
A8: Most all-inclusive resorts in Ontario are accustomed to handling various dietary restrictions and preferences. However, it's always a good idea to notify the resort of your dietary needs in advance.
A9: Each resort has its own policies regarding gratuities. Some include tips in the all-inclusive price, while others do not. It's always best to check with the resort before your stay.
A10: Yes, several resorts in Ontario offer golfing facilities as part of their all-inclusive packages. Rocky Crest Golf Resort and Deerhurst Resort are a couple of examples.
💼 We cherish our independence! ✈️ Our travel recommendations are carefully researched, bias-free, and powered by human expertise by April and Ricky of LRB (we have personally researched and travelled to many of these destinations and researched others thoroughly through first-hand accounts). 🌍✨
We try to keep everything up to date, but please always do your own research and contact us if you know any issues for us to help others as best we can as a small but professionally focused team! 🧐📚⚠️