All-inclusive-resorts-in-british-columbia-canada
All-Inclusive Resorts in British Columbia, Canada
British Columbia, Canada, offers a number of all-inclusive resorts that provide accommodation, meals, and various activities as part of the package. Here are a few that are popular: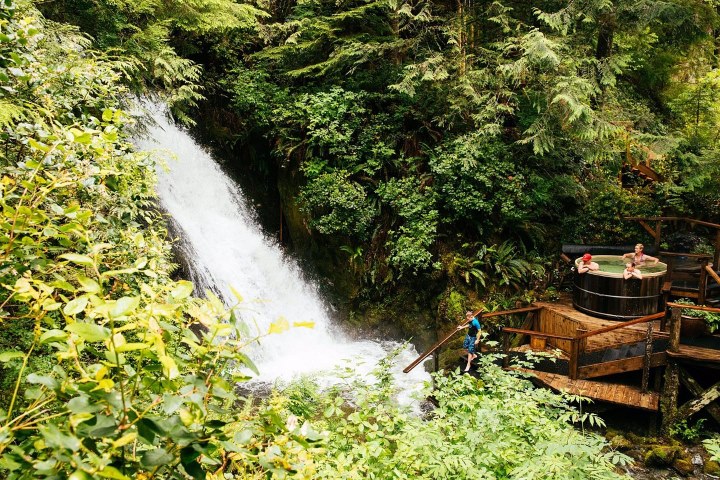 Nimmo Bay Wilderness Resort
Clayoquot Wilderness Lodge: Top Canadian All-Inclusive Eco Resort
This eco-safari-style resort in Tofino offers all-inclusive packages which include luxury accommodation, gourmet dining, and a wide array of outdoor activities such as guided hiking, horseback riding, and fishing. This resort is ideal for those seeking a unique blend of wilderness adventure and luxury comforts.
Clayoquot Wilderness Lodge
All-Inclusive Packages
Clayoquot Wilderness Lodge offers a selection of all-inclusive packages, each expertly tailored to suit the unique desires and needs of guests visiting between May and September. The lodge blends luxury with the raw beauty of nature, providing canvas-walled 'glamping' tents as accommodations nestled within Mother Nature's grandeur.
The stay at the lodge includes a trove of standard inclusions regardless of the chosen package. Each package boasts indulgent features such as all gourmet dining and snacks created using locally sourced, sustainable produce, a selection of premium wines, beers, and spirits alongside non-alcoholic beverages, signature guided experiences that span horse-riding, hiking, and marine adventures, and a soothing 60-minute relaxation massage. Additionally, guests can enjoy full access to the lodge's facilities, which include a sauna, hot tubs, and guided e-bikes and watercraft.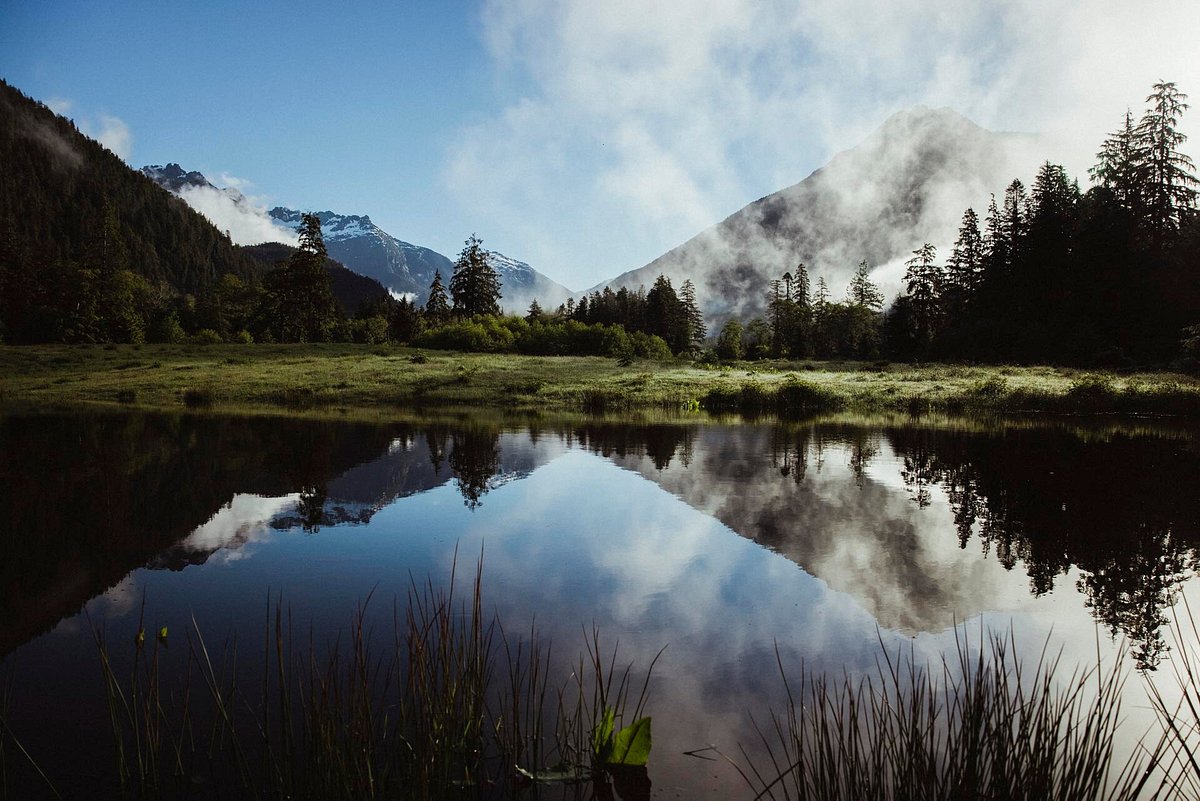 Clayoquot Wilderness Lodge All-Inclusive
For guests yearning for an extended escapade into the wilderness, the "Stay 7 Pay 6 + Bonus Extras" package offers a complimentary night's stay for a seven or more night booking, in addition to the standard inclusions and an extra relaxation massage.

Alternatively, for those with a limited schedule, the "Baillie Escape" package allows guests to immerse themselves in the captivating beauty of Vancouver Island and Clayoquot Sound over a three or four-night stay. This package includes all standard inclusions, ensuring a memorable all-inclusive getaway.
With these meticulously curated packages, Clayoquot Wilderness Lodge seamlessly combines all-inclusive vacations in BC with the thrill of adventure, the tranquility of relaxation, and the joy of indulgent luxury, all within the heart of Canada's stunning wilderness.
Find the best deal, compare prices, and read what other travelers have to say at Tripadvisor
Sonora Resort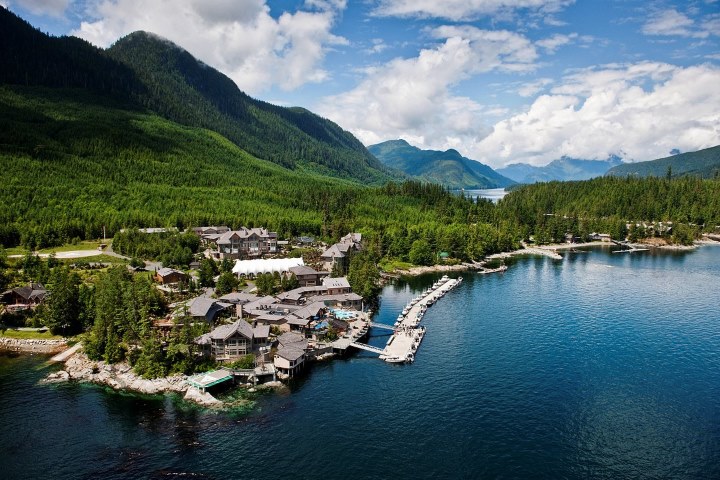 Situated in the Discovery Islands, the Sonora Resort offers an all-inclusive experience complete with luxurious rooms, world-class dining, and numerous outdoor activities such as guided fishing, wildlife tours, and eco-adventure tours. The resort also boasts a wellness spa for relaxation after a day of adventure.
Find the best deal, compare prices, and read what other travelers have to say at Tripadvisor
In the serene Pacific Archipelago off British Columbia's coast, Sonora Resort is  set amidst the pristine, untouched beauty of one of Canada's most captivating environments. Only accessible by air or sea, Sonora masterfully combines secluded wilderness with lavish comfort in an extraordinary alchemical blend.
Sonora Resort, a proud member of the Relais & Châteaux family—an association renowned for its global collection of exquisite hoteliers, chefs, and restaurateurs—effortlessly encapsulates the spirit of the Pacific Northwest. The relentless passion of its staff, the breathtaking natural surroundings, and the top-tier service are all encapsulated within five-star luxury.
Guests are greeted by eagles perched high on towering trees, while sea lions surf the tidal currents and lounge in the kelp beds. Each day ushers in a plethora of outdoor adventures, from heart-pumping eco-adventure tours and world-class fishing to observing Grizzly bears and Orcas in their natural habitat.
For those seeking tranquility, serene moments can be found in the soothing mineral pools of the Island Currents Spa or within the luxurious confines of the resort's spacious private villas, multi-room suites, and lodge rooms. Sink into plush linens and cozy goose-down duvets, or draw a deep, relaxing bath, all while taking in the spectacular ocean views.
Recall the day's adventures over a meal in the Tyee Dining Room, where accomplished chefs prepare locally sourced ingredients, perfectly paired with world-class wines. Savor freshly caught seafood, organically grown produce, and desserts that would tantalize even the most discerning palate.
Sonora Resort, while remote, is conveniently a mere 50-minute flight from Vancouver.
Echo Valley Ranch & Spa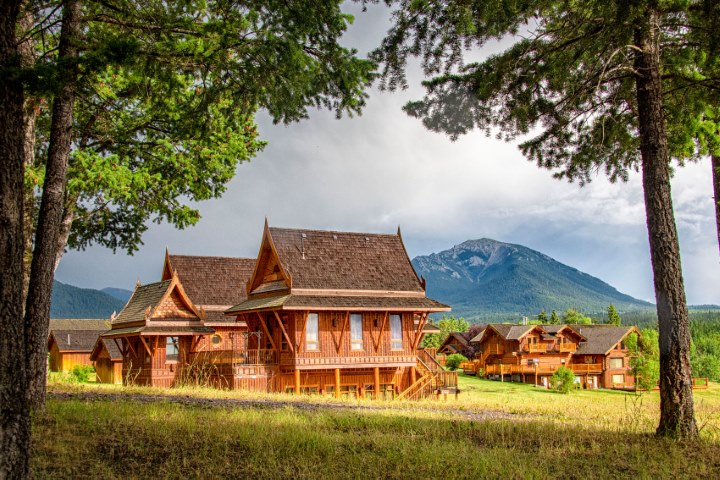 Echo Valley Ranch & Spa is an intimate, boutique-style ranch located in the Cariboo region of BC. They offer all-inclusive packages that comprise cozy accommodation, farm-to-table cuisine, horseback riding, guided hiking, and spa services. The resort provides a mix of western adventure and eastern wellness therapies
Visiting Echo Valley Ranch & Spa transcends the traditional vacation - it's a journey of self-discovery and reconnection. Amidst the pristine surroundings, guests encounter a profound sense of home, drawing from the age-old bond between humankind and the natural world. This intimate connection kindles fresh perspectives and instills a revitalized commitment to oneself.

Echo Valley Ranch & Spa curates 'Peak Experiences', tailored itineraries that incorporate soft adventures and wellness programs, allowing guests to immerse themselves in a multitude of rejuvenating activities. The experience is magnified by the rich diversity of the surroundings. Situated at the confluence of four unique geographic locations - the Fraser Canyon, the Marble Mountains, the Cariboo Plateau, and the Grasslands - the ranch provides an unparalleled setting for absorbing nature, seeking thrilling adventures, and attaining true relaxation.
At Echo Valley Ranch & Spa, guests are privy to a meaningful, authentic experience. The ranch's captivating landscapes, from the deep gorges of the Fraser Canyon to the nourishing springs of the Marble Mountains, encapsulate a spirit that leaves visitors awe-inspired. 
Find the best deal, compare prices, and read what other travelers have to say at Tripadvisor
All Inclusive Packages
Echo Valley Ranch & Spa offers all-inclusive packages that cater to a variety of interests and desires, ensuring an unforgettable stay for every guest. The ranch maintains an intimate atmosphere with a limited capacity of 15 guests per night, apart from group stays.
The "Signature Experience" package combines the adventure of up-close nature encounters and wellness activities with the pleasure of farm-to-table cuisine. This immersive experience is available from May to October, making it ideal for those who wish to dive headfirst into the splendor of BC's wilderness while enjoying comfort and luxury.
For those seeking a completely private and personalized experience, the "Exclusive Use" package allows groups of up to 30 guests to book the entire ranch. It's a perfect option for intimate family celebrations, retreats, girlfriend getaways, or simply spending quality time in nature with loved ones.
Echo Valley Ranch & Spa also offers a bespoke "Elopements" package for couples dreaming of a small, intimate wedding. The ranch sets a stunning backdrop for a micro-wedding, making your special day even more memorable.
The "Spring Experience" package offers an early spring escape that allows guests to connect with nature after a long winter, while the "Winter Experience" package is tailored for guests seeking a tranquil retreat to rest, relax, and reset in the snowy beauty of the Cariboo winter.
Each package at Echo Valley Ranch & Spa promises a unique combination of adventure, relaxation, and connection, tailored to provide guests with an unparalleled all-inclusive experience in the heart of BC's Cariboo Region.
Tweedsmuir Park Lodge
Located in Bella Coola Valley, this lodge is famous for its guided grizzly bear viewing tours. All-inclusive packages include comfortable accommodation, meals, wildlife viewing tours, and various seasonal activities.
Immersed within the untamed beauty of the Great Bear Rainforest, the historic Tweedsmuir Park Lodge rests on a private 60-acre land, in the midst of British Columbia's grandest provincial park. Initially built in 1929 as a hunting and fishing retreat, today the lodge caters to environmentally aware adventurers, offering both a sanctuary from modern stressors and an unparalleled Canadian wilderness experience.
The lodge is surrounded by the awe-inspiring panorama of the towering Coast Mountains, the expansive fjord system to the west, and the Chilcotin Plateau highlands to the east. This prime location not only guarantees magnificent views but also places guests in one of the world's most unspoiled grizzly bear habitats.
Despite its remote wilderness location, the lodge is merely a 70-minute flight from downtown Vancouver, making it an easily accessible wilderness sanctuary. It features a main lodge building and 10 chalets, snuggled at the edge of the forest.
From late June to late August, the lodge offers a plethora of eco-aware soft adventure activities, from scenic river drifts and assisted climbing adventures to interpretive walks & hikes, and river fishing. For thrill-seekers, heli-hiking and heli-sightseeing opportunities are available.
Between September 1 and October 16, guests can marvel at the majesty of grizzly bears fishing on the nearby Atnarko River, just a stone's throw from the lodge. Guests can choose from Private or Small Group packages, both inclusive of return transfers, lodging, all food and beverages, and guided activities, offering seamless all-inclusive experiences.
Private packages provide the exclusivity of a private guide and the ability to tailor the itinerary, offering flexibility and exclusivity. Small Group packages, on the other hand, offer a social setting and excellent value with experienced guides and a maximum of 6 participants per guide.
Certified as Climate Positive and hailed as one of "BC's Best Luxury Lodges" by CNN Travel, Tweedsmuir Park Lodge provides an unforgettable experience within the heart of Canada's breathtaking wilderness.
Find the best deal, compare prices, and read what other travelers have to say at Tripadvisor
Nimmo Bay Wilderness Resort
Nimmo Bay Wilderness Resort - Located in the Great Bear Rainforest, Nimmo Bay offers an all-inclusive experience that focuses on bespoke adventure and personal discovery. The packages include cabin accommodations, meals, and numerous wilderness activities.
Find the best deal, compare prices, and read what other travelers have to say at Tripadvisor
Vlog Review: Nimmo Bay Wilderness Resort: A Testament to Resilience and the Enchantment of Nature
The vlog "Beneath Our Feet | Nimmo Bay Luxury Wilderness Resort" presents a compelling narrative of the Nimmo Bay Wilderness Resort, beginning with its establishment in 1981 as a fishing destination. Despite initial success, the resort faced significant challenges including a major shift in clientele post 9/11 and the resultant financial instability.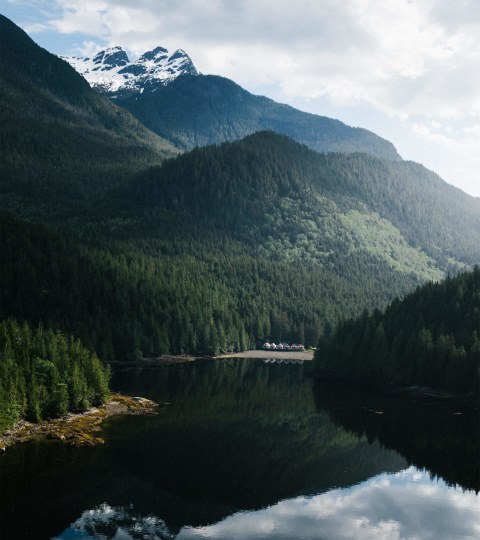 However, the dedication of Fraser, the current operator, and his then-friend and now-wife Becky, ensured the survival and transformation of the resort. They embarked on a road trip to personally promote Nimmo Bay to travel agents across the west coast, resulting in a resurgence of bookings.

The resort gradually evolved to cater to families and groups of friends rather than corporate clients, with a focus on promoting local activities including hiking, kayaking, and paddleboarding, in addition to its renowned helicopter fishing.
What sets Nimmo Bay apart is the emphasis on personal transformation and connection - with oneself, the environment, and the past, present, and future. The resort fosters an environment of co-creation, connecting guests to nature, and inspiring respect and care for the environment.
Fraser and Becky dream of offering a completely carbon-free experience at Nimmo Bay, reflecting their deep-rooted commitment to nurturing and preserving nature.
The vlog underlines the heartfelt dedication of Fraser and Becky, their resilience through challenging times, and their unwavering focus on creating an unforgettable, meaningful experience for their guests. Their journey paints a picture of triumph, transformation, and a deep love for nature - the very essence of Nimmo Bay Wilderness Resort.
The All-Inclusive Packages
Nimmo Bay Wilderness Resort takes luxury to a whole new level with their all-inclusive packages that aim to rejuvenate, inspire, and captivate guests in an array of memorable ways. These carefully curated experiences offer personalized service, where the concierge team collaborates with guests to create their dream wilderness adventure.
The "Wilderness Adventure" package adds a thrilling edge to the Nimmo Bay experience, with guided Helicopter Adventures or Coastal Safaris. It takes guests into the heart of the Great Bear Rainforest, exploring its myriad secrets by sea and sky.
For those seeking inner peace, the "Wellness Experiences" option offers a sublime journey into tranquility. Forest meditations can be woven into your itinerary for a day or the entire trip, allowing guests to immerse in the healing power of nature.
Romance is not overlooked at Nimmo Bay. The "Romance in the Wild" package can be tailored to accommodate romantic getaways or elopements. This experience seeks to mirror the magic of your love story, fostering deeper connections in an enchanting wilderness backdrop.
Lastly, Nimmo Bay's "Taste the Wild" package introduces guests to an epicurean journey that speaks volumes of the local cuisine. This gastronomic adventure brings the flavors of the land and sea alive, promising a culinary experience that resonates with the unique essence of Nimmo Bay.
Nimmo Bay offers an unparalleled blend of adventure, relaxation, romance, and gastronomy. With these comprehensive packages, guests can savor a fully personalized experience, shaped by their preferences and dreams.
See also all-inclusive Ski Resorts at Whistler
FAQ on All-Inclusive BC Resorts
An all-inclusive package usually covers your lodging, meals, and a selection of activities. This can include guided hikes, wildlife viewing, fishing, canoeing, and other wilderness experiences. Some packages may also include wellness amenities, like yoga sessions or spa treatments.
Most all-inclusive wilderness retreats include return transfers from the nearest airport or ferry terminal. It's best to confirm this with the retreat before booking your flights.
Both are commonly offered. Some packages provide the exclusivity of a private guide and the ability to tailor the itinerary, while others offer a social setting with experienced guides leading small groups.
Yes, many retreats offer customizable itineraries that can be adjusted based on your interests, activity levels, and the length of your stay. Some lodges allow you to select the activities you want to include in your package.
This varies by retreat. Some include a selection of local beers and wines in their package, while others offer alcohol for an additional charge.
Many wilderness retreats cater to families and offer activities suitable for all ages. However, some cater to adults only or have age restrictions on certain activities, especially those involving wildlife interactions. It's best to check with the retreat if you're planning to travel with children.
The operating season varies depending on the location and the type of activities offered. Some wilderness retreats, especially those in the far North, are seasonal due to weather conditions. However, others, especially those offering winter activities like snowshoeing or Northern Lights viewing, operate year-round.
Packing depends on the season and the activities you plan to do. Comfortable, weather-appropriate clothing is essential. You should also consider packing hiking boots, a swimsuit, sunscreen, insect repellent, and a camera. Most retreats provide any specialized gear required for the activities they offer.
Many retreats do offer Wi-Fi, but it may not be as fast or reliable as you're used to due to the remote locations. As for cell service, it's likely to be limited or non-existent. Check with your retreat to know what to expect.
Many wilderness retreats in Canada prioritize sustainability and operate in an eco-friendly manner, but the level of commitment to green practices can vary. Some retreats use renewable energy sources, implement recycling and composting programs, and aim to minimize their impact on the local environment and wildlife. If this is important to you, look for retreats with eco-certifications or ask about their sustainability practices.
Remember, always check what's included in the all-inclusive package, as offerings can vary from one resort to another. Also, consider the time of year and location of each resort as it can significantly impact the types of activities available.
💼 We cherish our independence! ✈️ Our travel recommendations are carefully researched, bias-free, and powered by human expertise by April and Ricky of LRB (we have personally researched and travelled to many of these destinations and researched others thoroughly through first-hand accounts). 🌍✨
We try to keep everything up to date, but please always do your own research and contact us if you know any issues for us to help others as best we can as a small but professionally focused team! 🧐📚⚠️