5 Star Hawaii Resort Options
Best All-Inclusive 5-Star Hawaii Resorts
Looking for a great all-inclusive 5-star Hawaii resort or beach resort? There are a number to choose from in Hawaii that are fantastic. We've found and listed below the resorts that get consistently excellent reviews, are great quality and have much to offer you. 
5-Star All-Inclusive Resorts In Hawaii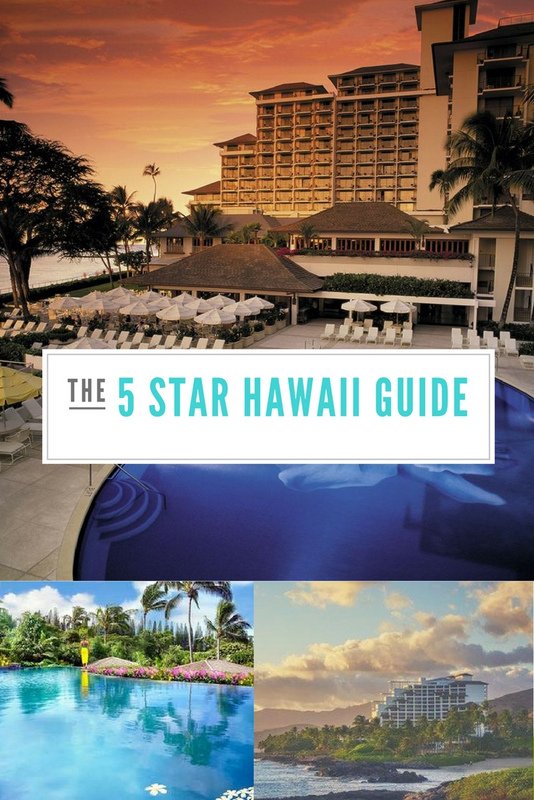 5 star Hawaiian Resorts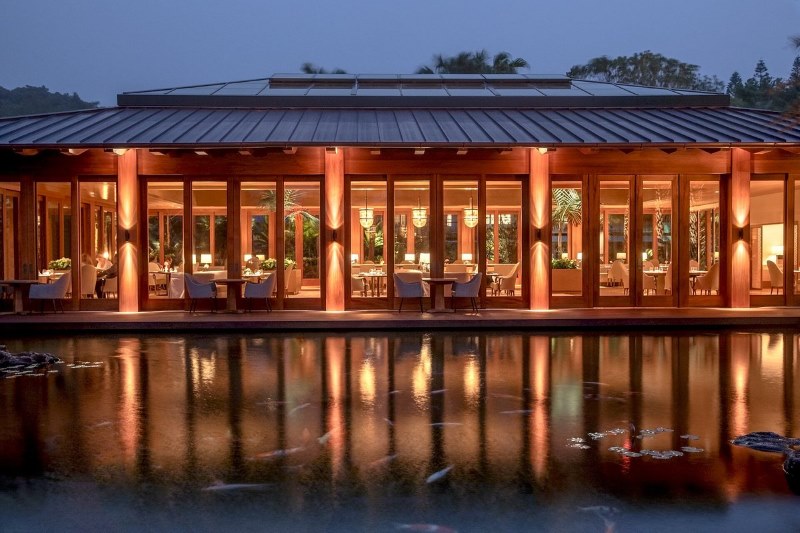 Sensei Lanai 5 star Hawaiian Resort
Halekulani Hotel: Located in Honolulu on Oahu, this hotel offers an elegant retreat for couples and business travelers. Its features include luxurious rooms, fine dining, and a full-service spa.
Grand Hyatt Kauai Resort & Spa: Situated in Poipu on Kauai, this resort caters to families and honeymooners. It offers a variety of outdoor activities, a lavish spa, and multiple dining options.
The Kahala Hotel & Resort: Based in Honolulu on Oahu, it suits families and couples with its private beach, dolphin lagoon, and luxurious rooms.
Mauna Lani, Auberge Resorts Collection: Located in Puako on the Big Island, it is ideal for nature lovers and luxury seekers. It features private beaches, golf courses, and cultural experiences.
Four Seasons Resort Maui at Wailea: Based in Wailea on Maui, this resort is perfect for honeymooners and luxury-seeking families with its beachfront location, luxury amenities, and high-end dining options.
Aston Waikiki Beach Tower: Located in Honolulu on Oahu, this resort is ideal for families seeking self-contained accommodations near Waikiki Beach.
Andaz Maui At Wailea Resort: Situated in Wailea on Maui, it suits young, hip travelers seeking a luxury beachfront resort with a modern twist.
Fairmont Orchid: Based on the Big Island, it is ideal for couples and families, featuring a full-service spa, a variety of dining options, and a golf course.
1 Hotel Hanalei Bay: Located in Hanalei on Kauai , it caters to eco-conscious luxury travelers with its commitment to sustainability and luxury amenities.
The Ritz-Carlton Maui Kapalua: Situated in Kapalua on Maui, this resort is perfect for golf enthusiasts and luxury-seeking travelers with its golf courses and beachfront location.
Four Seasons Resort Hualalai: Located in Kailua-Kona on the Big Island, it appeals to luxury-seeking families and couples with its top-tier dining, golf course, and beachfront location.
The Royal Hawaiian, a Luxury Collection Resort, Waikiki: Located in Honolulu on Oahu, this historic hotel caters to luxury-seeking travelers with its private beach, fine dining, and cultural experiences.
The Ritz-Carlton Residences, Waikiki Beach Hotel: Located in Honolulu on Oahu, this hotel appeals to luxury-seeking families and business travelers with its high-end residences and close proximity to Waikiki Beach.
Fairmont Kea Lani, Maui: Based in Wailea on Maui, it caters to luxury-seeking families with its beachfront location, spacious suites, and wellness-focused amenities.
5 Star Hawaiian Resorts: Find the best deal, compare prices, and read what other travelers have to say at Tripadvisor
---
When to Go to Hawaii
If you are like most of Hawaii's visitors you are escaping winter from december to April.  March is packed with families enjoying spring break. Obviously when prices are higher and competition for services are at their peak. You will need to book early at this time to secure anything at all. 
If luxury allows travel in the spring and fall outside the peak season but when the weather is good.  Summer brings mildly higher prices again.
About four inches of rain falls in December and January while June, July and August are the driest with about half an inch falling. 
---
Four Seasons Resort Hualalai at Historic Ka'upulehu
Four Seasons Resort Hualalai: Has All Inclusive Packages according to TripAdvisor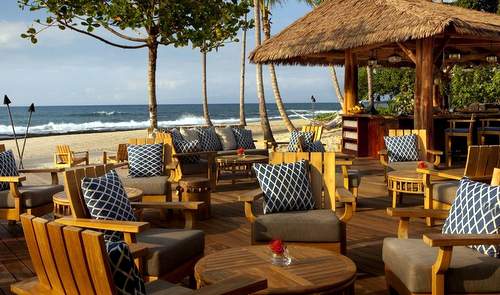 Four Seasons Resort Hualalai at Historic Ka'upulehu
This resort has made a solid stance as the top 5 star Hawaii resort and was recently the only Hawaii Luxury Resort to make TripAdvisors Travelers choice awards for the best resorts in the United States.
Located in Ka'upulehu and 10 minutes from the airport. The resort sits in a prime location along the Kona-Kohala Coast on its own beach.

Rooms and suites are large, decorated in a Polynesian style and have furnished lanais.

Part of the experience are the stylish beachfront restaurants and lounges. With a magnificent Jack Nicklaus pro golf course which hugs the shore, a full service spa, tennis courts and great children's and adult only pools, you will find more than enough to keep you occupied.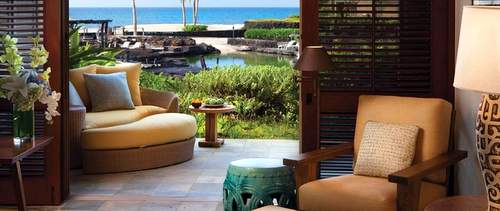 5 Star Hawaii Resort Rooms
You'll find a black lava pool, a white-sand beach and many activities like rock climbing. Perhaps the best reason to consider this particular four seasons is the enthusiasm expressed by previous guests. 
We found the guests really appreciated the quality of the experience putting it in the top percentiles of resorts worldwide in terms of satisfaction ratings.

While the beach doesn't receive quite the same levels of excitement, all in all the resort is the standout 5 star resort in Hawaii. Here, things like picking up bar tabs on special occasions and careful attention to detail are more the norm than the exception.

More information, special offers on the Four Seasons Resort Hualalai at Historic Ka'upulehu
Vlogger Review
See the best Oahu luxury resorts and Oahu resorts for families.
The video "4 of the Best Luxury Hotels on Oahu, Hawaii | Where to Stay in Honolulu" by The Hawaii Vacation Guide discusses four top-rated luxury resorts on Oahu Island, highlighting their amenities, services, and location.

Each resort offers unique experiences for guests, so travelers are advised to choose based on their desired location and budget
Video: Honolulu, Hawaii Travel Guide - Must-See Attractions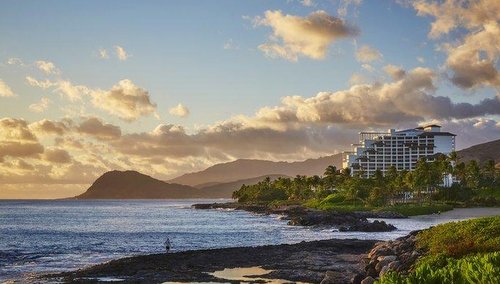 Four Seasons Resort Oahu at Ko Olina
Also by four seasons is the, 300+ room Four Seasons Resort Oahu at Ko Olina which opened in 2016. The quality of the facilities is totally to the high standard you would expect with a new Four Seasons resort. The pools, shuttle, courts, huge spa, nearby golf course, and restaurants are all among the best in Hawaii.  
More information and offers on the Four Seasons Resort Oahu at Ko Olina.
---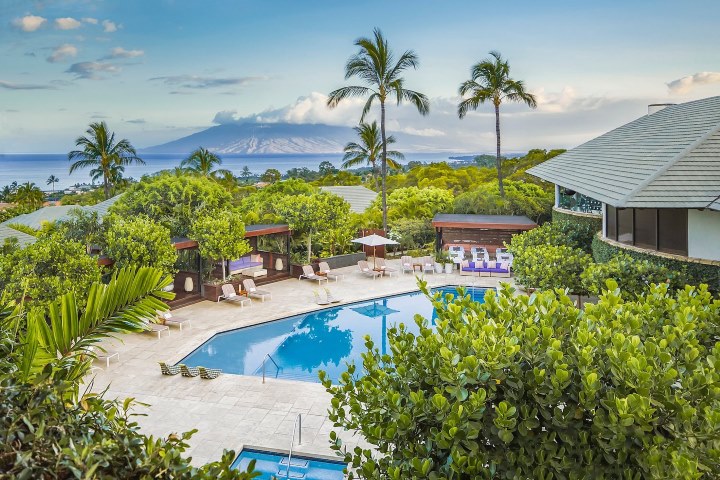 Hotel Wailea
For all these resorts, costs can vary significantly throughout the year, and the rates can differ by as much as 40 percent from time to time. Also, please note that some of the beachfront locations might have rough shore breaks, which could impact swimming activities.

Maui Vlogger Review of 5 star resorts on Maui
Ritz-Carlton Kapalua Bay, Maui: This sprawling luxury resort covers 22,000 acres and is located in northwest Maui, near Kapalua Bay. It has rooms as well as residences, making it great for larger groups. It offers a beautiful pool, six on-site restaurants, and proximity to various attractions like DT Fleming Beach, Kapalua Bay, and the Dragon's Teeth Labyrinth.
Montage Kapalua, Maui: Located just south of the Ritz-Carlton in northwest Maui, the Montage offers one to three-bedroom residences with gourmet kitchens, laundry facilities, private lanais, and hardwood flooring. The resort also boasts a large multi-level pool with ocean views, fine dining establishments, and proximity to a variety of activities, including zip-lining and golf.
Wailea Beach Resort, Maui: This luxury hotel is located on 22 acres in between Wailea Beach and Ulua Beach on Maui's south shore. With over 500 rooms, the resort feels spread out and serene. It offers a family pool, adult pool, and an adventure pool, as well as a variety of activities, from hula lessons to Hawaiian bowling.
Grand Wailea, Maui: A Waldorf Astoria property, Grand Wailea is the largest luxury resort on this list. It offers a sprawling 2,000-foot-long, 25,000 square-foot pool that consists of nine individual pools on six different levels. Its rooms are large, with the standard rooms starting at 715 square feet.
Four Seasons Maui at Wailea: Located on Wailea Beach, the Four Seasons provides luxury island living with its open-air design and beachfront location. Its rooms start from 600 square feet, and it offers an adult-only infinity pool and a kids club. A highlight of the resort is that there is no resort fee.
Fairmont Kea Lani, Maui: This unique hotel offers all one-bedroom suites or larger, ensuring guests have plenty of space. It's located deep into Wailea and overlooks Polo Beach, offering beautiful grounds, lovely pools, and a beachside lounge.
Lahaina Maui Hawaii Five Star Resorts
The much smaller, 50 room Montage at Kapalua Bay is currently the outstanding 5 star Hawaii resort at Lahaina and apart from the Four Seasons Resort Maui at Wailea is the best on the island. See Maui Luxury Resorts in that area. 

Montage Kapalua Bay
Montage is both family friendly with a sizable children pool and club services and good for a romantic retreat complete with full service spa, poolside bars.

This is not your typical  5-star resort and rooms come condominium style complete with kitchens with stoves, refrigerators, microwaves, dishwashers, washers and coffee machines.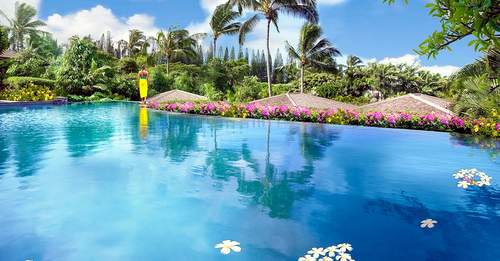 The resort has improved further since reopening in 2014 following extensive remodeling which completely shut it down for a period. Today it is receiving some of the most outstanding reviews in Hawaiii.
More information, special offers on Montage Kapalua Bay
---
Mauna Lani Bay Hotel and Bungalows
Located on a beautiful Big Island beachfront property on the Kohola Coast complete with hammocks and private cabanas.
While not an official 5 star Hawaii resort, the quality of service and facilities could easily make up the difference. This is a 4.5 star resort but we found was better than many five star resorts worldwide where guests also report almost Kapalua Bay exclusively excellent reviews.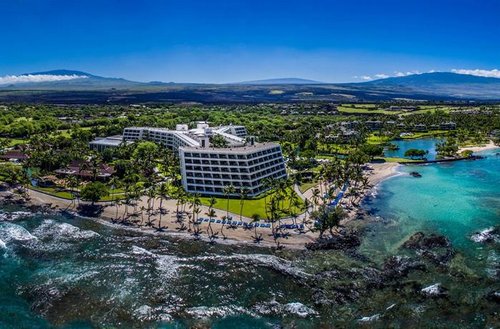 Mauna Lani Bay
Highlights include white sand beaches, tropical fish and small shark ponds, championship golf, the Mauna Lani Spa, water sports, a children's day camp and an oceanview pool. You may also like to take in the Kalahuiupua'a fishponds or golf.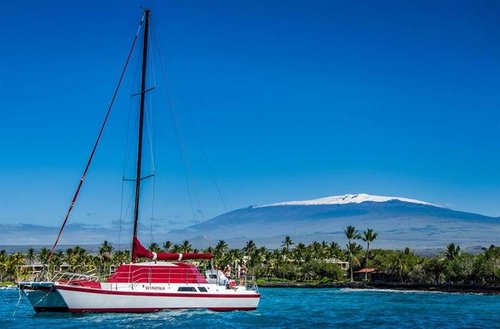 Mauna Lani Bay Hotel and Bungalows
The guestrooms each have furnished lanais and teakwood furniture. There are also the Villages at Mauna Lani. A gated community as part of the Mauna Lani Resort.
Latest review, more information, and special offers  on Mauna Lani Bay Hotel and Bungalows.
---
---
Halekulani 5 Star Hawaii Resort
This famous resort is set on a site of historical significance on even more famous Waikiki Beach. The area is of great importance in Hawaiian culture and it's name means "house befitting heaven"
To give you a little idea of the vibe, the restaurant staff seem to have developed the ability to infuse a delightful ambiance and meals are done in the Neoclassical French tradition at La Mer.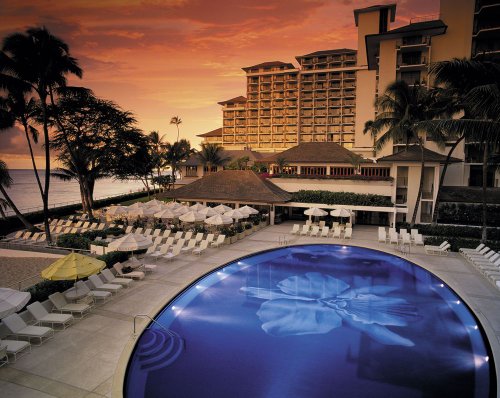 The five star resort does well to maintain its high standard given that there are over 450 classy yet earthy style rooms with natural fabrics.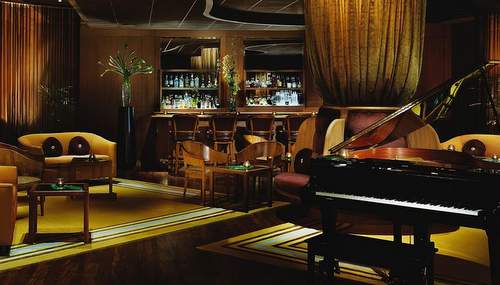 Much is said about the legacy of the resort and its former home of Hawaiian royalty. There is even a Legacy Tour taken weekly to learn more about the history involved.  We personally find that this legacy has continued and Halekulani certainly deserves a spot as one of the best five star resorts in Hawaii, but perhaps not the best.
In any case the experience remains more than exceptional and the fine tradition of impeccable service and attention to detail will without doubt continue into the future.
More information, special offers on Halekulani 5 Star Hawaii Resort

---
St. Regis Princeville Kauai 5 Star Hawaii Resort
The Princeville Resort is the first St. Regis Hawaii 5 star resort. The brand known for it's excellent resorts in exotic locations around the world.  
Guests marvel at enjoying their luxury Hawaiian vacation on a tropical bluff overlooking mountains and bays with little other visible structures in sight. 
More information and special offers on the St. Regis Princeville.
Website for St. Regis Princeville.
---
Four Seasons Lanai Manele Bay
Located on the privately owned island of Lanai, this is a remote beach resort.

Rooms include private lanais, quilted comforters and marble bathrooms.

Reviewers love this resort and generally have only good things to say about it.

Highlights include world-ranked golf course designed by Jack Nicklaus, snorkeling among dolphins, whale watching (winter), deep sea-fishing, spa and an ocean-view pool. There is also a complimentary shuttle to the Four Seasons Lodge

See the latest reviews more information and special offers on the Four Seasons Lanai Manele Bay
Four Seasons Lodge at Koele
Located 1 mile from Lanai city in the Highlands - not oceanfront but cooler in temperature. This is a country lodge and features horseback rides, croquet and has been awarded the best lodge in America by a prestigious academy. 
Rooms in this plantation style building have French county upholstery and original art by Hawaiian artists.
More information and offers on the Four Seasons Lodge at Koele
Website for the Four Seasons Lodge at Koele

---
The Fairmont Orchid, Hawaii 
Fairmont Orchid: Best family friendly Hawaii All inclusive 5-star
Kona on the big Island
Vlogger Review
In this vlog, Dana Berez takes her audience on a journey through her first-ever visit to Hawaii. She and her companion stay at the Fairmont Orchid on Big Island, a five-star hotel with tranquil open lobbies, beautiful gardens, an award-winning spa, a large pool, oceanfront bay with various activities, and a golf course. Their room is comfortable, boasting a beautiful ocean view and upscale amenities, including Le Labo products.
Throughout their stay, Dana and her companion participate in a variety of activities, including swimming and snorkeling in the resort's bay, where they also enjoy delicious rum cocktails. Dana praises the resort's array of water activities and the relaxing atmosphere.
Another highlight of their trip includes a helicopter tour with Blue Hawaiian Helicopters. The duo marvels at the variety of ecosystems present on the island, labeling the experience as epic and highly recommended.
Dana and her companion also attend the opening of the Selva Ray rum bar, a pop-up bar on the Fairmont Orchid property. The bar, featuring Bruno Mars's brand, offers a selection of creatively named cocktails.
Finally, their visit includes a group breakfast followed by a hula lesson. The vlog provides a well-rounded look at the luxurious offerings and natural beauty of Hawaii, all experienced from the serene setting of the Fairmont Orchid.
Located on the Kohola Coast and next to Mauna Lani this is a 4.5 star resort we were compelled to include.
Highlights include championship golf, the Spa Without Walls, white sand lagoon, secluded snorkeling bay, lava-rock whirlpools, a free form and a children's pool, a year-round children's program and Hawaiian entertainment.
There are 540 guestrooms, each with furnished lanais and marble bathrooms. Decorated with a tropical Hawaiian feel and teakwood furniture.

Prices, pictures and more information on the The Fairmont Orchid, Hawaii

Website for The Fairmont Orchid, Hawaii
See the best  Kona All Inclusive Resorts
---
---
Here are some frequently asked questions about 5-star resorts in Hawaii:
Typically, you can expect world-class service, luxurious rooms or suites, multiple dining options including fine dining, spas, fitness centers, concierge services, recreational activities, and often beachfront access or stunning ocean views.
Not all resorts in Hawaii offer all-inclusive packages. In fact, they're quite rare in Hawaii compared to other popular vacation destinations like the Caribbean or Mexico. However, some resorts do offer packages that include meals, drinks, or certain activities. Always check with the specific resort.
Many 5-star resorts in Hawaii are family-friendly and offer kid's clubs, babysitting services, and family-friendly activities. Some even have designated family or children's pools.
Yes, many 5-star resorts in Hawaii offer event spaces and services for weddings, conferences, or other events. These usually include catering, planning assistance, and beautiful venues.
Resorts often offer a range of activities like fitness classes, cultural activities (lei making, hula lessons), water sports, golf, and more. Many resorts also have tour desks that can arrange excursions around the island.
All beaches in Hawaii are public by law, but many resorts have direct access to less crowded stretches of beach.
Most resorts in Hawaii maintain a fairly casual dress code, especially during the day. Swimwear (with cover-ups) and casual clothes are acceptable most of the time. For fine dining restaurants, a more formal dress code (e.g., smart casual) may be expected in the evening.
There are few adults-only resorts in Hawaii, but many resorts have adult-only areas, such as specific pools or restaurants.
Remember that the offerings can vary significantly from one resort to another, so it's a good idea to check the resort's official website or contact them directly for the most accurate and up-to-date information.
Hawaii has 3 great islands that each have 5-star resorts. We have pages on these resorts in more detail.

Maui 5-star resorts - more great golf and spa luxury resorts.
Oahu 5-star resorts - home of the famous Halekulani.
Kauai 5-star resorts - 3 excellent resorts on this island with great opportunities for sightseeing.

---
💼 We cherish our independence! ✈️ Our travel recommendations are carefully researched, bias-free, and powered by human expertise by April and Ricky of LRB (we have personally researched and travelled to many of these destinations and researched others thoroughly through first-hand accounts). 🌍✨
We try to keep everything up to date, but please always do your own research and contact us if you know any issues for us to help others as best we can as a small but professionally focused team! 🧐📚⚠️