Punta Cana All Inclusive Resorts With Teenagers
punta cana all-inclusive resorts for Families with teenagers

Looking for Punta Cana All-Inclusive Resorts For Families With Teenagers? Navigating the waters of family vacations can be a bit tricky when you've got teenagers in the mix. Too often, resorts cater solely to the kiddie or adult crowd, leaving teens caught in a vacation limbo.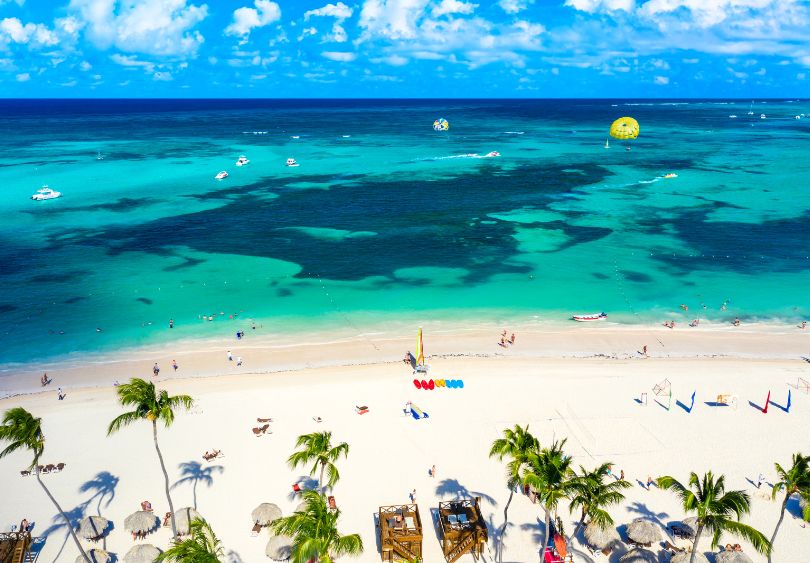 Fear not—Punta Cana is the place where the all-ages appeal truly shines, especially with gems like the Hard Rock Hotel & Casino. Our guide dives into all-inclusive resorts that have cracked the code on entertaining teenagers, offering a unique blend of autonomy and family activities that cater to this transitional age group.
Punta Cana All-Inclusive Resorts For Families With Teenagers - find the best deal, compare prices, and read what other travelers have to say at Tripadvisor
For The Adventure-Seeking Teenager
Hard Rock Hotel Punta Cana - With multiple pools and a casino, this could be an exciting option. 

The Circus School—ever heard of flying trapeze? Your teens will love it!


An exclusive teens-only area, decked out with ping pong tables and mocktail bars.


Sailing lessons because nothing says "cool" like riding the waves.

Also try Paradisus Palma Real Golf & Spa Resort - Known for a variety of outdoor activities and a spa for relaxation.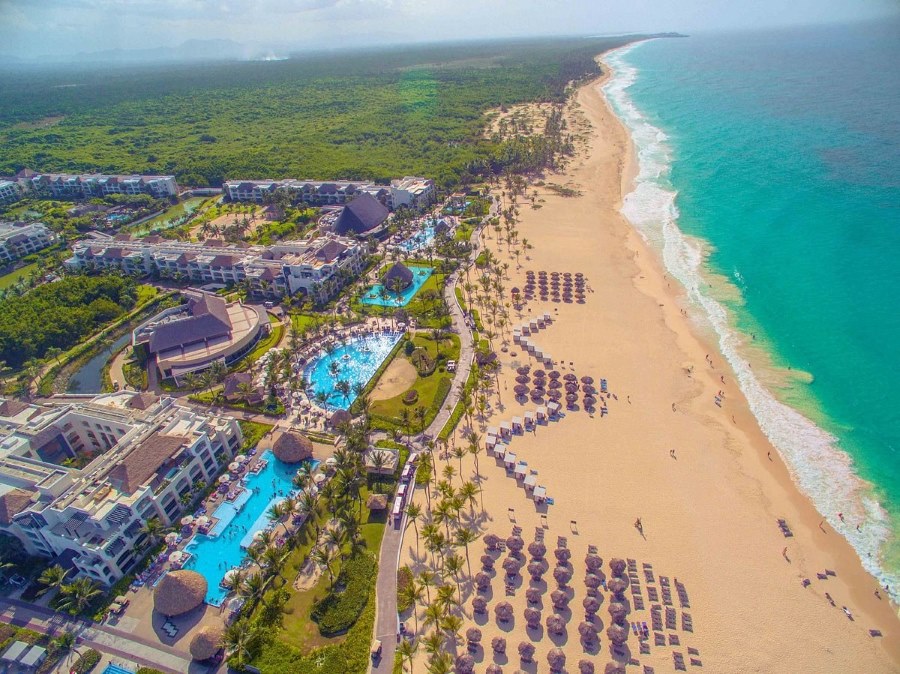 Hard Rock Punta Cana All Inclsuve Resort for Families with Teenagers
Parents, step aside. This one's for the teens. If you're over the idea of "kiddie" vacations and want to rock out this summer, look no further. Hard Rock Punta Cana's got you covered, and we're not just talking any regular vacay. This is your backstage pass to an all-access, all-ages show where you're the star. Let's dive in.Rockin' From Morning to Night 🎶
First off, these folks aren't skimping on the action. The Roxity Kids Club is more than just a "babysitter" spot. They've got legit zones for different vibes. Mini kitchen for cooking? Check. Mini theater? Double check. They've even got a trampoline zone and an indoor basketball court. So yeah, forget the "childish" stuff; this is more like a mini-resort within a resort.Game On! 🎮

Now let's talk Teen Spirit. It's a club just for the 13 to 17 set, nestled within the Hard Rock Roxity Kids Club. Eight PS5 stations with 43" LCD TVs? It's not just gaming; it's an experience. Feel like busting a move? They've got an interactive dance platform. All this is open from noon until 10 p.m., so yeah, you can pretty much live there.The Band: Your Personal Soundtrack 🎤
And about "The Band" – it's not just any playlist on loop. We're talking a multi-talented group that brings the house down. Whether you're into the powerful vocals of Skiddley or the rhythmic beats of Buddy Jr., they've got your mood set. It's like having a live show tailored to your vacation.Activities: No Boredom Allowed 🏖️
Think you might get bored? Nah. Not gonna happen. They've got New Wave Water Adventures, Battle of the Bands, and all sorts of water games. They even have rainy day activities because let's face it, even paradise has its gloomy days. But who cares when you've got a pool party with floats lined up?Need to Know 📋
Hours: Roxity Kids Club: 10 a.m. to 10:45 p.m.
Teen Spirit: 12 p.m. to 10 p.m.
Food: There's a dining room in the kids' area, but don't worry, it's not kiddie food.
Safety: The whole space is designed to be safe and engaging. They've even got adult supervision for the younger ones during certain hours.
So, you getting the vibe? Hard Rock Punta Cana isn't just a vacation. It's like the VIP experience of teenage dreams. Let your parents know, it's time to level up the family vacation game. 🤘🎉
For The Social Butterfly
Club Med Punta Cana - This resort is often buzzing with activities and social events.

The Circus School—ever heard of flying trapeze? Your teens will love it! An exclusive teens-only area, decked out with ping pong tables and mocktail bars. Sailing lessons because nothing says "cool" like riding the waves.

Majestic Mirage Punta Cana - With a high number of reviews, it's likely a popular destination with plenty of people to meet.
Punta Cana All-Inclusive Resorts For Families With Teenagers - find the best deal, compare prices, and read what other travelers have to say at Tripadvisor
Club Med Punta Cana: The Real-Deal Spot for Teens 🌴🌊
Hey teens and parents, if you're scrolling through your phone looking for a vacation spot that isn't lame, you might want to read up on Club Med Punta Cana. Yeah, you've probably seen a zillion all-inclusive resorts, but this one? It actually delivers on its promises. Let me break it down.
What's with the Beach? 🏝️

OK, first things first. You're going to Punta Cana for the beach, right? Here's the scoop: the resort is nestled along a panoramic stretch of turquoise heaven. Trust me, it's the kind of place where the beach alone can keep you busy—or utterly relaxed—for days. And yes, it's as Instagrammable as it sounds.
Circus School: No Clowns, Just Skills 🎪
I know what you're thinking: Circus School? Seriously? But trust me on this, it's cool. Like, you'll learn stuff you'd never even imagined—trapeze, juggling, the works. So if you ever wanted to run away and join the circus, now's your chance to get a taste without annoying your parents.
Tiara: Because Who Doesn't Like Upgrades? 🍹
Now let's get into the Tiara Exclusive Collection area. This isn't just a no-kids lounge where your parents sip martinis. It's also where you can experience some legit perks—like faster Wi-Fi and food that'll actually impress you. Plus, you get to feel kinda fancy for a while, which is always a plus.
Activities or Zen? 🎾🧘‍♀️
If you're the active type, this place won't disappoint. Beyond the beach, they've got a sports area with climbing walls, tennis courts, and a multi-sports court that lights up for nighttime games. But if you just want to chill, they've got this Zen Oasis spot—it's adult-only, but hey, it's nice to know your parents have a place to go so they won't cramp your style.
A Little More Info 📋
Wi-Fi: Complimentary throughout the resort
Pools & Jacuzzi: 2 pools and an outdoor Jacuzzi, so plenty of options
Food & Drinks: 7 themed restaurants, 2 buffet restaurants, and 11 bars
Nightlife: Theatre, live music, and even a Wave Disco and Ocean Tower Casino
Additional Costs: Some stuff like motorized water sports and diving do cost extra, but there's plenty included to keep you busy.
So, yeah, Club Med Punta Cana doesn't feel like your average "family" vacation spot. It's a place where you'll actually want to hang out, and where your parents won't be on your case because they're having a good time too. So go ahead, make the suggestion. Trust me, everyone's going to thank you for it. 🌞👌
Find the best deal, compare prices, and read what other travelers have to say at Tripadvisor
For The Laid-Back Teenager
Dreams Royal Beach Punta Cana - A more relaxed atmosphere but still offers plenty of activities.
Royalton Bavaro Resort and Spa - Reviews suggest a relaxed and luxurious atmosphere.
For The Luxury-Loving Teenager
Grand Palladium Palace Resort Spa & Casino - Offers a more luxurious experience with a spa and casino.
Four Points by Sheraton Puntacana Village - Offers a luxurious stay but is less intensely "all-inclusive."
For The Younger Teen (13-15)
Nickelodeon Hotels & Resorts Punta Cana - Tailored more towards families and younger audiences.
Ocean Blue and Sand Beach Resort - A family-friendly option with various activities.
For The Older Teen (16-19)
Iberostar Selection Bávaro Suites - Known for a variety of activities that can be enjoyed without parental supervision.
Royalton Punta Cana, An Autograph Collection Resort & Casino - Offers a blend of relaxation and activities suitable for older teens
Remember, the best resort for your family will depend on individual preferences, so it may be helpful to discuss these options with your teenager.
Frequently Asked Questions about Punta Cana All-Inclusive Resorts with Teenagers

1. Hard Rock Hotel & Casino Punta Cana

Why It's the Total Rockstar Package:


Teens can try out guitars or DJ sets with the "Sound of Your Stay" program.
Mini-golf and an arcade because classics never die.
A legit teen nightclub for late-night (but not too late) fun.

2. Club Med Punta Cana

Why It's Unbelievably Cool:

The Circus School—ever heard of flying trapeze? Your teens will love it!
An exclusive teens-only area, decked out with ping pong tables and mocktail bars.
Sailing lessons because nothing says "cool" like riding the waves.

3. Nickelodeon Hotels & Resorts Punta Cana

Why It's Nickelodeon But Make It Luxe:

The Lounge—a stylish, teens-only hangout with a mocktail bar.
Teen-friendly excursions like snorkeling and kayaking.
Oh, and yes, there are slime ceremonies. It's Nickelodeon, after all.

4. Barceló Bávaro Palace

Why It's Basically A Teen Paradise:

A 24-hour sports bar with teen-friendly non-alcoholic options.
A water park that boasts rad wave pools and tube slides.
Laser tag, escape rooms, and bowling alleys for squad goals.

5. Dreams Palm Beach Punta Cana

Why It's Like A Dream But Better:

Core Zone Teens Club featuring nightly movies and Disco Mixers.
Beach activities like volleyball and ocean trampolining.
An onsite casino for parents, while teens enjoy a movie night at the open-air theater.

6. Iberostar Dominicana

Why It's A Tropical Bliss:

Teens-only Star Camp, with activities like DJ workshops and beach Olympics.
Archery and rifle shooting lessons for adventurous teens.
Parents can chill at the spa while teens hit the nearby surf school.

So there you have it—Punta Cana resorts that'll make your family vacay as chill as the ocean breeze. Book one of these and get ready for some quality fam time that's teenager-approved. Trust us, your teen's Instagram followers are going to be super jelly. 🌊🌞🤳
A: Indeed, teens have the freedom to dine at most eateries within the resort without adult supervision, which gives them a sense of independence they often crave.
A: You bet. Resorts often serve a variety of mocktails and smoothies that can be enjoyed poolside or at specific bars dedicated to younger guests.
A: Fear not, Wi-Fi warriors! Resorts like Hard Rock have you covered with complimentary Wi-Fi so your teens won't miss an Instagrammable moment.
A: Safety is a top priority. Activities are closely monitored by trained staff, ensuring that your teen can enjoy everything from parasailing to snorkeling without a hitch.
A: Most certainly. Parental peace of mind is part of the package, and the compact resort layouts make it simple to stay connected with your teens throughout the day.
A: Think bonfires, movie nights, and themed parties that are supervised yet offer a genuinely entertaining environment for your teens to socialize.
A: Yes, many resorts have spa menus designed for younger skin, and some even offer parent-child spa days for some much-needed relaxation.
A: Family suites with separate bedrooms or connecting rooms provide the perfect balance between togetherness and privacy.
A: Absolutely. From ziplining through the jungle to cultural day trips, there are ample opportunities for teens to explore beyond the resort, always under safe supervision.
Hey family vacation planners, gather 'round! If you've got teenagers and you're scrolling through resorts that will give them the freedom to be cool, but also offer family-friendly vibes, let me tell you about Ocean Blue & Sand in Bavaro. 🌴🌞🎉No Boredom Zone Here!
First things first, this place is an all-inclusive dream—no more handing out cash to your teens every time they want a soda or a snack. We're talking 24-hour meals, drinks, and yes, endless cocktails and snacks for you.WiFi, Because Duh!
Before we get into the nitty-gritty, let's tackle the elephant in the room: WiFi. Yes, they have complimentary Wi-Fi all over the resort. So, your teens can Snap, TikTok, and whatever else they do, without any complaints.

What's Cooking for Teens?
Alright, so your kids are past the stage of kiddie pools and treasure hunts. So what's there for them? First off, Teen Club is where they'll want to be. This place is packed: think 6 Nintendo Wii stations, table games, table football, and even a non-alcoholic bar. It's practically a teen paradise within a paradise.
Game On!
For the more active teens, there's a sports area complete with a climbing wall, tennis court, and even a bowling alley. Oh, and they offer motorized water sports. Say hello to jet skiing and the DiveIt! diving center for that little extra adventure kick.
Foodie Fam?
You don't have to say goodbye to fine dining just because you've got young adults in tow. Ocean Blue & Sand offers 7 themed restaurants. Plus, there's a buffet right on the beach. Yeah, you read that right—on the beach!
Party at Night
Who said family resorts have to be lame after sunset? There are nightly theatre shows, live music, and for the teens—Wave Disco! You can also try your luck at the Ocean Tower Casino if you're feeling adventurous.
Go All Out with Privilege
Now if you're looking to up your game and go grand luxe, they've got a Privilege section. We're talking private check-ins, a personalized concierge, and a ton of other goodies. Your teens even get a special Daisy kit upon arrival. How cool is that?
The Final Scoop
The Ocean Blue & Sand Beach Resort takes all-inclusive to another level. It's not just you who's going to have a good time; your teens are going to have a blast too. So say goodbye to eye rolls and hello to an actually happy family vacation.
Book your stay and let the unforgettable memories begin! 🌴🎉🍹
💼 We cherish our independence! ✈️ Our travel recommendations are carefully researched, bias-free, and powered by human expertise by April and Ricky of LRB (we have personally researched and travelled to many of these destinations and researched others thoroughly through first-hand accounts). 🌍✨
We try to keep everything up to date, but please always do your own research and contact us if you know any issues for us to help others as best we can as a small but professionally focused team! 🧐📚⚠️