Cheap Family Vacation Packages
Here we keep you updated on the latest package, all inclusive, and most importantly, family vacation offers including cruises, accommodation and flight discounts. By booking through these links you help us to do our independent research. Thanks!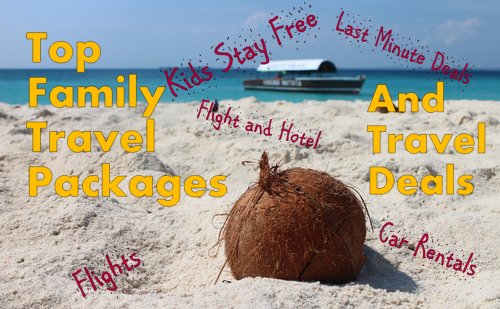 Family travel deals
Top Sites Family Vacation Package Ideas
Accorhotels.com Family Deals
Accor is a huge group and has  3,700 hotels in 92 countries. Some of the family friendly groups you will recognise easily.  Sofitel and Pullman are a little more upscale with excellence.  MGallery are 65 unique hotels. Novotel has 400 hotels & resorts.  Mercure Has established guaranteed quality standards. Adagio specialized in 4 nights or more in Europe. Then there is the more budget orientated Ibis,  HotelF1.
From children staying free to Best offers: up to 40% off worldwide. BOOK NOW! 
Return to All Vacation Deals
From children staying free to 50% off your second room, get the special family discounts now!
Accorhotels -  50% off the second room for kids.
Accorhotels.com US & Canada.  See Latest Deals   Including kids offers.
Video:W e Visited the Just-Reopened Atlantis Bahamas!
Family All Inclusive Package Deals
All Inclusive-  The top family all-inclusive discounts

Atlantis Family Vacation Sales
Atlantis, Paradise Island, Bahamas is an amazing family friendly destination. Some say the best family friendly destination in the Caribbean. One of the features is a huge t open-air marine habitat, and a 141-acre Aquaventure Water park. But for kids, there are 11 unique pools and lots, lots more. 

Save up to 40% at Atlantis Resort in Bahamas!
Atlantis, Paradise Island, Bahamas -  Save up to 40%
Beaches RESORTS All Inclusive Family Vacation Packages
For the best family vacations at an affordable price with everything included including land and water sports, dining and attractions like Pirates Island and other amazing kids camps, nannies and facilities we had to include this top family all inclusive package deal provider in our review.Beaches Resorts are especially suited for families looking for a quality family vacation experience in the Caribbean.

 Beaches take a lot of care to ensure family members of every age group are carefully catered for with lots of attractions like big cuddly characters for the toddlers, lots of slides, activities and water parks, through to interactive activities for teens. When you consider what is included your vacation starts to look like great value with these recent family vacation deals: Up to 65% off.
Beaches Luxury Family Resorts-  65% off, free scuba and more.

CheapAir.com -  Cheap Airfares 
Lots of Roundtrip Flights under $199
Cheap Caribbean - Great family packaged deals by this network are available all over the Caribbean. Including up to 65% off.
Cruisedirect - Up to 80% OFF. 
 Kids stay and eat free at Holiday Inn hotels.
Expedia - Discounted Family Vacation packages and last minute deals.
Free Kids Holidays - All Inclusive Deals
First Choice - Amazing all inclusive family holiday specialist in Europe.
FlipKey - Family Vacation Rentals in  1200 locations
Intrepid Family Adventure - Find Family adventures with 1600 itineraries.
G Family Adventures -Big clearance on last minute family itineraries worldwide. G Adventures
  - Kids Stay and Eat for Free
HomeExchange - We are into the sharing economy in a big way and this site makes it easy.
HomeForExchange - Another great family home exchange with 13,000 listings in 80+ countries
Motel 6 - Pet-Friendly and budget offers. With kids stay free and rooms from $39 road trips are now affordable.
Priceline - Save with bidding and Package Offers of up to $500 off Priceline
TripAdvisor - Allows you to search by family friendly option. Go to place to read reviews. Also one of the best places to find vacation rentals. TripAdvisor
Top Websites for Travel Deals
Where packaged items like all inclusive cruises or vacation packages don't already exist you can put together your own packages and save hundreds of dollars. Simply choose your hotel then the many top online travel sites out there will allow you match up a flight and gain instant savings. Many review sites will also allow you to search for hotels and resorts that have been recommended by families in reviews past as well.

Top Travel Deals



Up to 40% off worldwide

Last-minute all-inclusive deals

Free Atlantis Activities


Save 50% on Vacation Packages

60% off Hotels

75% off Cruise Deals

Car rentals From $4.95

Caribbean & Mexico Beach Getaways 50% off

Riviera Maya Vacations from $499

Jamaica Vacations - Up to 60% Off

"when to buy flights tool" to see when fare's will be the lowest.

Lots of Roundtrip Flights under $199

Save Up To 25% Off Contiki Trips 

Last-Minute Hotel Deals

Top Travel Package Deals - Save up to $500.

Daily Deals! Score up to 40% Off Hotels and Flight + Hotel Packages

Save Up to 50% on Hotels and Get Special Insider #TravelHacks on Expedia!

Free Kids Holidays - All Inclusive Deals

 Kids stay and eat free at Holiday Inn hotels.

Save up to 40% Off Domestic (U.S.) Hotel Destinations

Orlando Hotels starting at $39 per night

Find the Best Deals on Flights with KAYAK

Up to 25% Off Adventure Travel Deals

Roundtrip Flights to Hawaii from $317

Save 50% on the Hotel Deal of the Day!


Quarantine Free Travel Destinations


New York for as low as $90

Save up to 40% Off Hotel Bookings

IHG InterContinental Hotels and Resorts

Book Early and Save up to 20%

Comparison price engine

40% off Savings at Palace Resorts


Save up to $500 with a Vacation Package at priceline.com

Last-Minute Deals Up to 60% off: Flights, Hotels, Cars, Packages!

Round-Trip Flights Under $150! Hotel Bids from $28 per night!

Priceline Last-Minute Cruises from $60/ night!

Spa Credit of up to $175

Free Catamaran Cruise when you book 5 nights

Save up to 65% plus 1 night Free and your Companion Flies Free

Receive An Instant Savings of $350 Towards Your Beaches Resorts Vacation!

Top Europe Deal Provider
Last Minute Deals
Save 50% on Vacation Packages
60% off Hotels
75% off Cruise Deals
Car rentals From $4.95
Up to 65 % off
Free Wedding Offers
From way less than $100 a night. 
Always the best for reviews.
Expedia Cheap Family Vacation Packages
Expedia has deals on air, hotel, vacation packages, cruise, car rentals, and includes 140,000 properties. Some of the key features for finding  discounts is to save to  $500 by booking flight and accommodation together. Expedia is the world's biggest and are likely to save you money in almost any location. Some of their current promotions (at recent writing) include:

Cheap airfare, hotels, car rentals, vacations and cruises at Expedia.com! 

Expedia helps you to save when you book a flight and hotel together. Then you can save your cash for bling,
Don't throw money away! Book Flight + Hotel at the same time & Save up to $500!
Last minute flight deals at Expedia.com
Expedia.ca Deal of the Day! Save up to 30%!
Last Minute Hotel Deals from $47!
Expedia.ca: Save up to 30% with last minute travel deals
Expedia.com 24 Hour Hotel sale! Wednesday OnlyBook Early and Save up to $500 on Vacation Packages with Expedia! Find Great Deals in Hot Destinations only at Expedia.com!
See Expedia deals.
First Choice Family All Inclusive

The UK's biggest and most amazing family focused holiday company. With all inclusive, resort, and holiday units all over the world.
Intrepid Family Adventures
These are an excellent choice if your kids are adventure ready, or you are looking to give them a taste of adventure for life. This is not the kind of vacation where they will find themselves bound up in a kids club, but instead, explore wonderful cultures and destinations with equally fun-loving families.
The Intrepid Group of family adventure companies has 1,600 itineraries on every continent and cater for all ages, budgets, and appetites for adventure. Intrepid Group is the world's largest provider of adventure travel experiences. 
Family Travel Adventure Package Deals
Up to 25% Off Last Minute Deals!
CheapAir - Discount Flight Search Engine
CheapAir.com helps a million people buy plane tickets easily and at the best prices I have found. This is the first place we go when we want to find a great air deal for our family. The patented algorithm scours the web for the best deals and there are not the usual jumps in prices you find in a lot of search platforms. 
dog 
FlipKey Vacation Rentals
FlipKey is a TripAdvisor and the benefits for families are obvious. Families love their space and the option of  a vacation rental on a platform that "makes it easy, safe, and fun to find and book" is great. 
Search for family friendly vacation rentals in over 12,000 destinations
Sarah loves to check out all-inclusive resorts and find great packages and report about what real travelers are saying, Sarah is an indicative character created for the purpose of providing insights uncovered during our research.  These reviews are indicative of others first-hand experiences using our research methodology designed to uncover the best  (as opposed to those that are simply marketed as the best).

While our reviews are founded on real accounts and stories and thoroughly researched do your own research and exercise your best judgment when making travel decisions. And keep in mind all-inclusive packages are always changing.