Cheapest Caribbean Island From UK
Cheapest Caribbean Island from UK
Cheapest Caribbean Island From UK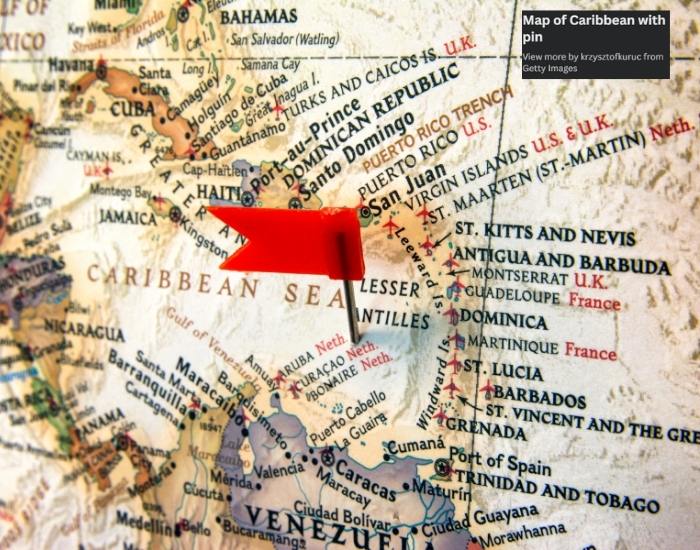 Direct Flights to the Caribbean from the UK
As there are a handful of countries where flights are scheduled directly without the seed for any transfers which load on a lot of additional travel time (which adds to overall costs) we will explore some of these first. These islands include Barbados, St Lucia, Antigua and Jamaica and flights come in under 10 hours in duration. Non-stop direct flights are also scheduled to and from Cuba, Mexico (Cancún), and Tobago from British Airways and Virgin Atlantic.
Here are the results. The Airfare cost is a randomized flight in the spring (September 2022) where flight coasts are high because of the fuel situation. I conducted the review in Australia then prices as shown on Google Flights are in AUD dollars rather than pounds. Average hotel costs are from A Business Insider study mentioned below. 
Average Hotel Cost 343 USD

British Airways 8 hrs 50 min A$1,158




Average Hotel Cost  210 USD

Bridgetown Virgin Atlantic 9 hrs A$1,477

Average Hotel Cost 237 USD

Kingston British Airways 9 hrs 45 min A$1,749

Average Hotel Cost 284 USD

British Airways 8 hrs 35 min A$1,401

Mexico (Cancun)

Variable but very affordable options. 

Direct flights

Average Hotel Cost 182 USD. Some of the most affordable amazing accommodation. 

Cheap for longer stays

Punta Cana Air Europa 1 stop 14 hrs 20 min A$1,129

Average Hotel Cost 124 USD

Cheapest for longer stays.
* Business Insider conducted a study (pre-pandemic) and found how affordable the islands in the Caribbean are which we will refer to on this review. Here are those findings on the average coast of a hotel on Each of the Caribbean Islands.
The cost of your vacation/holiday is made up of a combination of your flight and hotel costs. Then for shorter holidays it is a bit of an obvious choice to choose these destinations with direct flights. Rationality would have it for the shortest of stays choose the destinations with the lowest priced airfares. But for longer stays consider shifting your preferences to those destinations with cheaper accommodation options to keep your vacation affordable.  
Cancun is a good option
The holiday playground of Cancun on of the Caribbean side of Mexico is also a destination you might like to consider (while not a Caribbean Island). The advantage of Cancun is that it provides a lot of affordable options and is well serviced from the UK. As well as Heathrow flights have been scheduled to Cancun from Edinburgh, Glasgow, London Gatwick, Manchester, Birmingham, Bristol, Newcastle, and Doncaster Sheffield. 

Flights From the UK to the Caribbean
This is a random search I did for flights from the UK to the Caribbean I did in July for a week in September using the Kayak tool conducted after costs had risen to take in the fuel rate hikes at the time.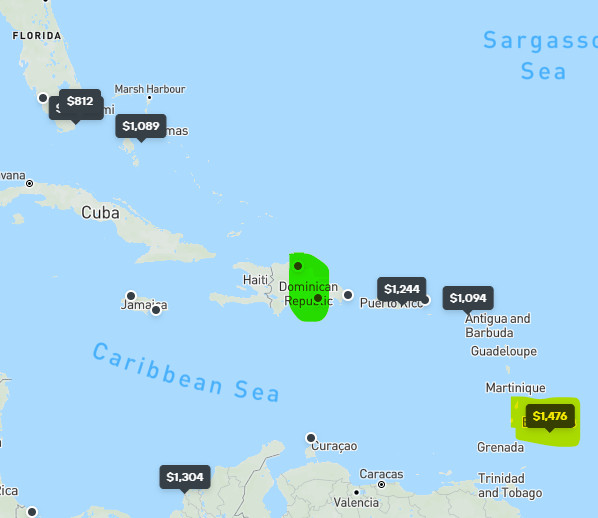 Google flights map
Less than 10 hours

10 to 15 hours

15 to 20 hours

More than 20 hours - red
Saint Lucia British Airways Non-stop 8 hrs 50 min A$1,159
Aruba Air France and KLM 2 stops 26 hrs 45 min A$1,049
Grenada JetBlue and Aer Lingus 3 stops 43 hrs 59 min A$1,602
Dominica Curaçao KLM 1 stop 12 hrs 15 min A$1,581
Punta Cana Air Europa 1 stop 14 hrs 20 min A$1,129
Antigua British Airways Non-stop 8 hrs 35 min A$1,403
San Juan JetBlue 1 stop 15 hrs 4 min A$1,030 
Sint Maarten Air France 1 stop 12 hrs 15 min A$1,136
Saint Barthélemy British Airways and Winair 2 stops 28 hrs A$1,899
Santo Domingo Delta and Virgin Atlantic 2 stops 22 hrs 14 min A$1,182
Bonaire Air France and KLM 3 stops 39 hrs 45 min A$1,030
Saint Thomas Silver Airways, Cape Air and JetBlue 2 stops 27 hrs 10 min A$1,594
Puerto Plata SWISS and Edelweiss Air 2 stops 18 hrs 25 min A$1,094
Saint Croix Silver Airways and JetBlue 2 stops 25 hrs A$1,455
Bridgetown Virgin Atlantic Non-stop 9 hrs A$1,479
Saint Kitts American and British Airways 2 stops 27 hrs 45 min A$1,703
Vieques Silver Airways and JetBlue 2 stops 29 hrs 15 min A$1,540
Tortola Silver Airways, Cape Air and JetBlue 2 stops 51 hrs 36 min A$2,197
Tobago Caribbean Airlines and KLM 3 stops 28 hrs 10 min A$1,281
Saba British Airways and Winair 2 stops 26 hrs 25 min A$1,809
Culebra Silver Airways and JetBlue 2 stops 29 hrs 15 min A$1,450
Fort-de-France Air France 1 stop 28 hrs 15 min A$969
Port-au-Prince JetBlue and Aer Lingus 3 stops 29 hrs 34 min A$2,737
Ponce JetBlue and Aer Lingus 3 stops 29 hrs 29 min A$1,411
Santiago De Los Caballeros Lufthansa, SWISS and United 3 stops 31 hrs 49 min A$1,385
Aguadilla Pueblo JetBlue and Aer Lingus 3 stops 30 hrs 29 min A$1,420
Sint Eustatius British Airways and Winair 2 stops 26 hrs 25 min A$1,809
Pointe-à-Pitre Air France 1 stop 24 hrs 5 min A$913 
Mayagüez Cape Air and JetBlue 2 stops 25 hrs 49 min A$1,332
Riohacha Avianca 1 stop 17 hrs 53 min A$2,129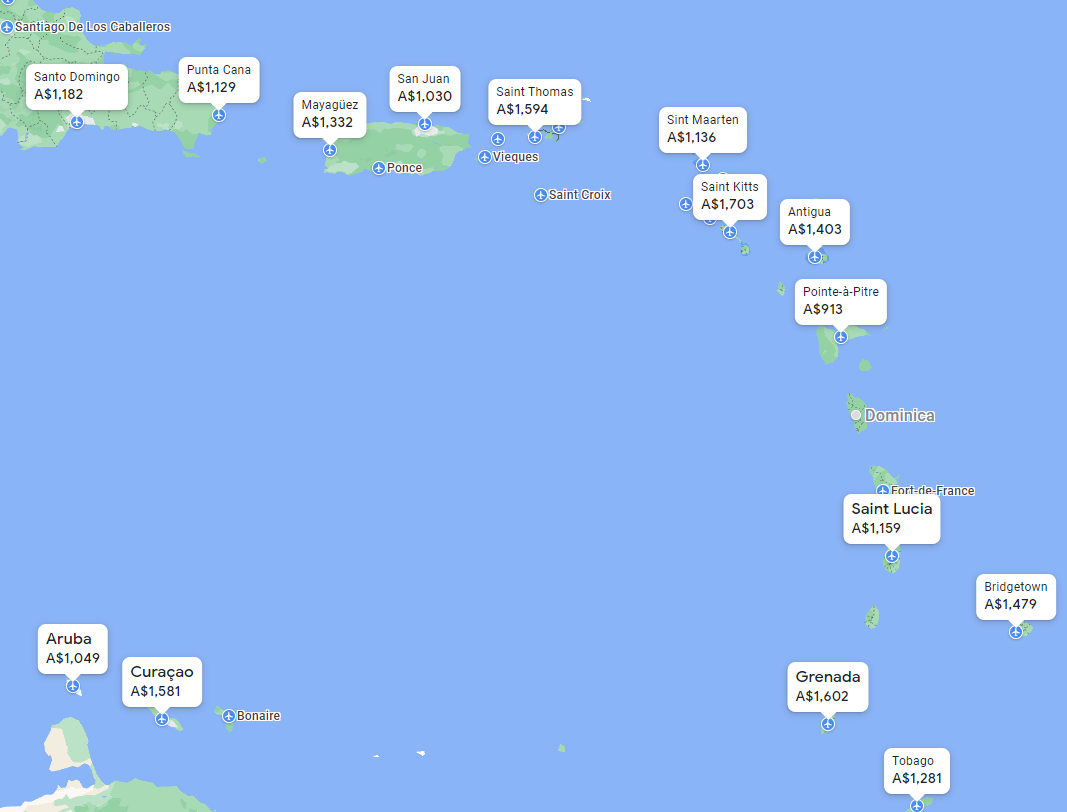 💼 We cherish our independence! ✈️ Our travel recommendations are carefully researched, bias-free, and powered by human expertise by April and Ricky of LRB (we have personally researched and travelled to many of these destinations and researched others thoroughly through first-hand accounts). 🌍✨
We try to keep everything up to date, but please always do your own research and contact us if you know any issues for us to help others as best we can as a small but professionally focused team! 🧐📚⚠️