Little Palm Island Resort & Spa Bespoke All Inclusive
Little Palm Island Resort & Spa Bespoke All Inclusive
As I veer off Mile Marker 28.5 on the Florida Keys Overseas Highway, a whimsical anticipation envelops me.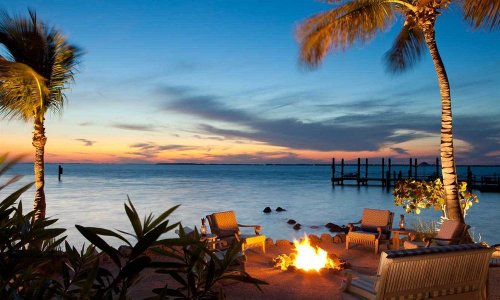 Little Palm Island Resort & Spa
The destination: Little Palm Island Resort & Spa, an isle reverberating with tales of timeless elegance and hushed luxury. As the Shore Station welcomes me with a quaint tropical bar, the first sip of the "Gumby Slumber" cocktail sets a melodious tune to the escapade awaiting ahead.
Pros and Cons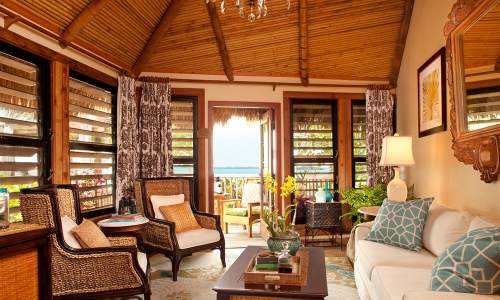 Little Palm Island Resort & Spa
Pros:
Exclusivity: With only thirty thatched-roof oceanfront bungalow suites, Little Palm Island Resort & Spa offers a level of exclusivity that's unparalleled, catering to those who value privacy and tranquility.
Authentic Design: The British West Indies-inspired design melded with modern luxury presents a charming, authentic ambiance that transports guests to a serene, tropical haven.
Culinary Excellence: The Dining Room offers a gourmet experience with seafood-centric menus that celebrate the local bounty, allowing for a gastronomic journey in every meal.
SpaTerre: A sanctuary of rejuvenation, SpaTerre, with its array of indulgent treatments, provides a holistic retreat for the senses.
Eco-Conscious Practices: The resort's reef restoration and seagrass protection programs, alongside initiatives like minimizing single-use plastic, reflect a commendable commitment to environmental stewardship.
Cons:
Digital Detachment: The absence of televisions and telephones might deter those who prefer to stay connected, although it encourages a deeper connection with the serene surroundings.
Accessibility: The exclusive location requires a boat or seaplane transfer, which might pose an accessibility concern for some.
Adult-Only Policy: While it contributes to the tranquil ambiance, the adults-only policy might deter families with children from choosing this resort.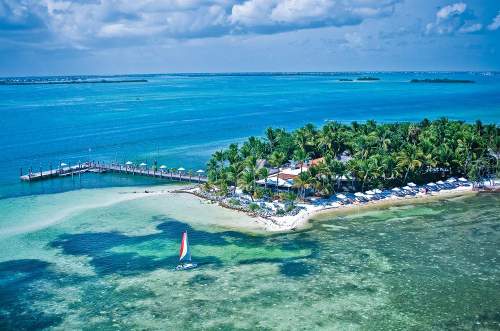 Little Palm Island Resort
Features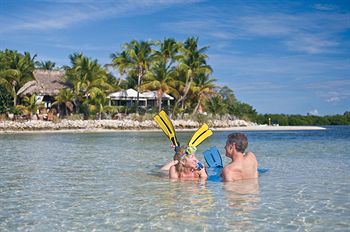 Little Palm Island
The journey to the island, whether by seaplane or the resort's private boat, Truman, sets a tone of adventure and exclusivity right from the onset. The initial welcome at the Shore Station with refreshing cocktails, followed by a scenic ride to the island, elevates the arrival experience into a memorable prelude to the luxurious stay awaiting guests.
Thatched-Roof Bungalow Suites: Spread across the four-acre island, the 30 bungalow suites are a manifestation of luxury intertwined with nature. These accommodations offer private furnished decks, outdoor showers, and mesmerizing water views, with the second-story Island Premier Suites boasting a spacious layout and top views.
Gourmet Dining: The Dining Room, although the sole restaurant, offers a myriad of dining experiences, from in-room dining and poolside meals to beachfront dining. The culinary offerings, under the aegis of Executive Chef Brendan Mica, are a tribute to the rich marine life surrounding the Florida Keys.
SpaTerre Complex: The spa complex is a haven of tranquility with a range of treatments, including Biologique Recherche facials and the dreamy four-hands Ocean Wave massage, set in a breezy, two-story atrium that exudes serenity.
Non-Motorized Water Sports: Guests have the liberty to explore the tranquil waters surrounding the island through complimentary non-motorized water sports. Kayaking through mangrove channels or paddleboarding around the island offers a serene encounter with the local fauna and flora.
Historical Legacy: The island's historical narrative as a retreat for President Harry Truman, and its transformation into an ultra-luxe private island resort, adds a layer of intrigue and elegance to the guest experience.
Sustainable Initiatives: Beyond the immediate luxuries, the resort's reef restoration, seagrass protection programs, and the use of Vero Water dispensers reflect a deeper commitment to eco-conscious luxury.
Adults-Only Tranquility: The no children policy ensures a peaceful ambiance, making it a perfect choice for couples or individuals seeking a quiet retreat amidst nature's bounty.
Private Beaches and Pools: The Zen Pool & Jacuzzi, Sunset Pool & Jacuzzi, Coconut Beach, and Tranquility Beach offer various settings for relaxation, each with its own unique charm and vista.
Customized Experiences: From Dinner on the Sandbar—a private five-course dinner in the shallows surrounding the island—to personalized spa treatments, the resort offers a plethora of customized experiences to make each stay unique and memorable.
Little Palm Island Resort & Spa crafts a narrative of timeless elegance and authentic luxury, where every aspect from arrival to departure is meticulously curated to offer a genuinely exclusive and tranquil retreat.
Find the best deal, compare prices, and read what other travelers have to say at Tripadvisor
All Inclusive Packages
The Little Palm Island Resort & Spa offers a variety of packages. The specifics of the packages and offers available are as follows:
General Packages:Inclusive offerings cover parking, yacht shuttle transfers, fitness center access, watersports gear, non-alcoholic minibar beverages, nightly turndown service, and staff gratuities. However, meals are not included in these general packages​​.
Specialized Spa Packages:Romance Package: Focused on couples, including an 80-minute couple's massage, a couple's Sundarya Love bath, and a couple's Sundarya (Love) body polish.Beauty Spa Package: Includes an 80-minute massage, a 50-minute Dead Sea Salt Polish, an 80-minute Ageless Rose Quartz Facial, an express manicure/pedicure, and a scalp and nourishing hair treatment.Bridal Package: Offers a 110-minute Ayurvedic Royal Treatment, a Key Lime Margarita Manicure/Pedicure, bridal hairstyle and makeup, and false eyelash application.Groom or Gentlemen's Package: Provides a 50-minute massage, a 50-minute Gentlemen's Facial, and a Gentlemen's Manicure/Pedicure​​.
Resort Deals:One More Night: Encourages a fourth-night stay with a complimentary fourth night when three nights are booked.Escape the Expected: Offers a one-time $500 resort credit and daily breakfast for two, catering to adventure seekers with various activities available​​.
The resort's official website and other sources mention various packages and offers. For the most accurate and updated information, it's advisable to contact the resort directly. The contact information for room reservations is 888-413-0560, and for other inquiries, it's 305-684-8341 as provided on the resort's official website​​.
Review
The journey to the isle is nothing short of poetic. Aboard the wooden motor yacht, Truman, the gentle lull of the waves whispers tales of the bygone era when President Harry Truman sought refuge in the serene embrace of what was then known as Little Munson Island. The narrative has transcended through time, enveloping the resort with an aura of understated grandeur.
As the yacht moors, a serene spectacle unfolds. The isle, a picturesque blend of verdant foliage and crushed seashell paths, is reminiscent of a South Pacific haven. The thatched-roof bungalow suites exude a charming blend of British West Indies design with modern flair. The authenticity of experience extends to the nooks and corners of my bungalow, where the absence of televisions and telephones is a gentle reminder of the immersive escapism awaiting.
The culinary voyage at Little Palm is akin to a sonnet, with each meal orchestrated to perfection. The Dining Room, though the sole restaurant, is a gateway to a myriad of flavors. Whether it's the fresh Key West pink shrimp cocktail at lunch or the Asian-inspired coconut curry yellowtail snapper at dinner, every morsel is a homage to the local bounty.
A visit to SpaTerre unveils a sanctuary where the soul meets serenity. The Ocean Wave massage, a harmonious choreography of four hands, transcends the mundane, leading to a realm of absolute tranquility.
As I meander through the isle, the sun casting a golden hue on the tranquil waters, the word "paradise" resonates with every rustle of the palms. The resort, a mindful blend of luxury and nature's splendor, crafts an experience steeped in authenticity and timeless elegance.
The reverence for the environment is palpable, with reef restoration and seagrass protection programs echoing the resort's commitment to sustainable luxury.
As the sun bids adieu, the silhouette of the Truman against the crimson sky is a gentle reminder of the timeless elegance and authentic luxury that is the essence of Little Palm Island Resort & Spa. The narrative of this island retreat is not just a tale told, but an experience lived, a memory etched in the sands of time, awaiting the discerning wanderer in search of genuine luxury ensconced in nature's embrace.
Share Your All-Inclusive Adventures and Questions! 🌴 Have a memorable experience from a luxury all-inclusive vacation? We'd love to hear it at Luxury Resort Bliss. We're on the lookout for top-quality, insightful tales that'll inspire our community. Dive in and be a part of our sun-soaked stories! 🌊🍹✨
The story is a fictionalized account founded on travel expertise, research, and experience. Always refer to recent guest reviews and perform due diligence before booking.
💼 We cherish our independence! ✈️ Our travel recommendations are carefully researched, bias-free, and powered by human expertise by April and Ricky of LRB (we have personally researched and travelled to many of these destinations and researched others thoroughly through first-hand accounts). We also have put in the hard miles, and Ricky has worked for decades for resort and hotel chains  Hyatt, Hilton, Shangri-La and Radisson before starting Luxury Resort Bliss in 2007. 🌍✨ Unlike some other resort review websites we are concerned on the guest experience rather than mere corporate interest.