Florida Family Vacation Spots
All Inclusive Florida Family Vacation Spots and Ideas
Looking for Florida family vacation spots and accommodation ideas around the Sunshine State for when things open up? We have uncovered some of the best ideas from all corners. If you are looking for accommodations for your Florida vacation, you can find great ideas here too. 

Florida Keys Family Vacation Ideas
Florida! The Sunshine State has a whole lot more to offer than just its pristine beaches and Disney World. Whether you're a family, a nature enthusiast, or a solo traveler looking for adventure, Florida has an abundance of treasures to explore. Let's take a quick but engaging tour through this diverse peninsula, from the Panhandle's charm to the tropical allure of the Keys.
From there, we swing west to the Crystal River. This quaint place is a haven for manatees and humans alike. If you've ever fancied the idea of swimming alongside these gentle giants, this is your chance. Remember to keep your splashes low and respect their space as you enter their world.
Next up is the wild side of Florida – Everglades National Park. It's a UNESCO World Heritage site and one of the most diverse ecosystems on the planet. Board an airboat and glide through the endless waterways while keeping an eye out for alligators, or better yet, the rare Florida panther.
Places to stop off in the Florida Keys road trip.

We wind down our journey to the Florida Keys, an archipelago stretching into the turquoise waters of the Gulf of Mexico. Embark on a road trip on the iconic Overseas Highway, crossing over 40 bridges including the famed Seven Mile Bridge, with the ocean on both sides. The journey ends at the lively Key West, a place that perfectly embodies the laid-back island life.
Key West Vacation Ideas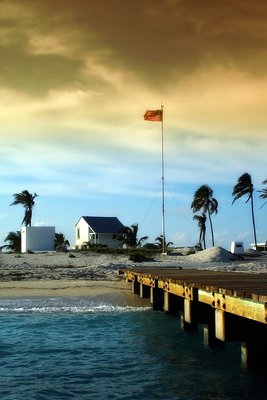 A couple of hours of the coast of Key West is one of the most intriguing experiences kids could have camping  in a setting among  coral reefs. completely removed from the chaos the 19th century fort offers camping for about $3 a night.
Despite the millions of red brinks in place the building of the fort which surrounds the island was not completed, however the lighthouse to protect sailors from the reef was.
The Yankie Freedom III  is the vessel you need to catch from Key West, and they will also provide a bit of a tour of the island and then set up your campsite. There are only 10 campsites where you will need to bring and take everything (including water) . But if you can handle the effort tit takes to get there and set up you will have a unique experience and will have room to explore the the four sandy white beaches. The campground is first in and first served.  

Bahia Honda State Park Beach
Bahia Honda State Park Beach in the Florida Keys and it's shallow calm, clear waters makes for excellent snorkeling and dive opportunities for older kids while also providing sheltered swimming space for younger kids and toddlers.

Florida Keys is home to a number of family friendly Florida vacation spots. Beginning a little more than an hour south of Miami with magnificent Key Largo with its great diving opportunities, the Florida Keys are part of America's own coral barrier reef. Go scuba diving or snorkeling or explore the reef from the comfort of a glass-bottom boat.
Further along at Islamorada, family adventures are happening at the Theater of the Sea where you can swim with sea lions, dolphins and stingrays. or feed the tarpons, large powerful green and silver fish at Robbie's. Check out the video below for more on this exciting Florida Keys family adventure.
Click here for information on Florida Keys family vacation resorts and hotels.
Kennedy Space Center
If your kids have any desire to become an astronaut they better start the journey now because it's a long one. A visit to the Kennedy Space Center is a great place to start the training. Or simply marvel in the achievements of others is fine too.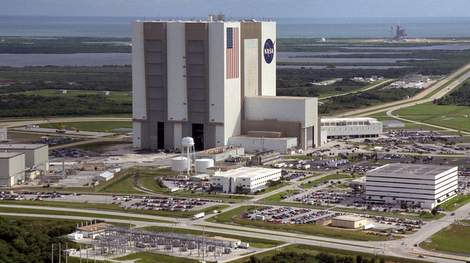 Kennedy Space Centre
Miami Vacation Spots
Welcome to the Magic City, a world of sun-kissed beaches, vibrant neighborhoods, and a culturally rich tapestry that weaves together elements from the Caribbean, Latin America, and beyond. Miami boasts a plethora of attractions, so let's explore the top 20 spots that encapsulate the spirit of this city.
South Beach: Miami's iconic beach district is renowned for its Art Deco architecture, trendy nightlife, and colorful lifeguard stands.
Art Deco Historic District: A visual treat of over 800 beautifully preserved buildings boasting unique pastel-colored facades and retro neon signs.
Ocean Drive: This bustling strip is a nightlife hub brimming with clubs, bars, and al fresco dining options.
Little Havana: A vibrant pocket of Cuban culture, with lively Latin music, tantalizing cuisine, and hand-rolled cigar shops.
Calle Ocho: At the heart of Little Havana, it hosts the annual Calle Ocho Festival, the largest Hispanic street festival in Miami.
Wynwood Walls: A unique outdoor art exhibit featuring giant murals created by talented street artists from around the world.
Design District: An upmarket shopping district boasting luxury boutiques, chic cafes, and avant-garde architecture.
Bayside Marketplace: An open-air shopping center offering a variety of shops, restaurants, and often live music.
Brickell City Centre: An elegant shopping and dining destination, combining high-end luxury with Miami's unique cosmopolitan flair.
Vizcaya Museum and Gardens: A grand villa offering a glimpse into Miami's early 20th century history, surrounded by lush, immaculately landscaped gardens.
Perez Art Museum Miami (PAMM): A contemporary and modern art museum that focuses on 20th and 21st century art from the Atlantic Rim.
Phillip and Patricia Frost Museum of Science: A state-of-the-art facility featuring a planetarium, aquarium, and a plethora of interactive exhibits.
Everglades National Park: Just a short drive from the city, it offers airboat tours to explore the diverse wildlife and the mangrove forests.
Fairchild Tropical Botanic Garden: An 83-acre botanic garden with an extensive collection of rare tropical plants.
Key Biscayne and Bill Baggs Cape Florida State Park: Pristine beaches, a historic lighthouse, and gorgeous sunsets make it a perfect leisure spot.
Coral Castle: An extraordinary rock structure, created by a single man over the span of 28 years, shrouded in mystery and intrigue.
Jungle Island: A contemporary theme park, housing exotic animals and offering unique experiences like parrot encounters.
Bayfront Park: A downtown park featuring a beach, electronic fountain, light tower, and several monuments.
Miami Children's Museum: An ideal spot for families, it provides interactive exhibits that allow children to explore and learn in a fun way.
Lincoln Road Mall: A pedestrian road filled with shops, restaurants, and galleries. Perfect for shopping, dining, or just people-watching.
Remember, Miami isn't just a destination, but an experience full of rhythm, color, and flavor. Each location presents a new side of the city, proving that Miami truly has something for everyone.
The artsy will find themselves drawn to the colorful city of Miami. In the heart of the city is Wynwood, a neighborhood transformed into an open-air street art museum. Large walls of warehouses are now giant canvases exhibiting murals from artists worldwide. By night, salsa your way through Calle Ocho in Little Havana, savoring the flavors of Cuba while you're still in Florida.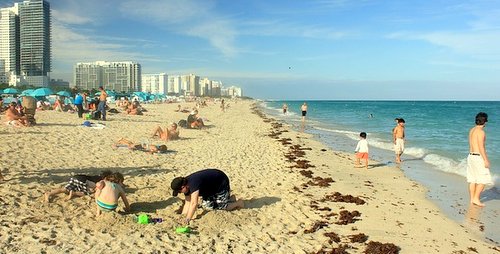 Natural and man-made attractions make up a diverse range of activities available for families in Miami area in a multicultural backdrop which includes a strong Cuban influence. Miami is packed with kid friendly eateries and museum. The white beaches should also act as a magnet to attract family holidaymakers.

Where is Miami?
Miami is in the south of Florida on the ocean side. If you are planning to go swimming in the ocean, you will find that generally the ocean will have more wave action than if you've gone to the Gulf side. The waves can be a lot of fun, diving under them, body surfing or kite surfing; but large waves can be a little intimidating for small children; if you have small children, you may want to choose a destination on the calmer Gulf side of Florida.

A bit of Miami trivia
An interesting bit of trivia – but you may wish to know this – if you choose to wander down to South Beach, just know that although topless sunbathing is officially illegal, it is also officially tolerated
When should we go to Miami?
Well, how hot would you like your Miami vacation spot? Florida has a "tropical monsoon" climate with hot humid summers and warm winters. You're more likely to have rain from May to October with temperatures averaging between 82 and 87 degrees F, (or 28 – 31 degrees C). From November to April, it's a little cooler and drier – "cooler" meaning between 75 and 80 F (23 to 26 C).
The ocean is cooler during the winter as well; of course, a Canadian such as me finds the ocean wonderful at the winter temperatures of 71 to 76 degrees F (21 to 24 C), but the Floridians prefer to wait until it's at the summer temperatures of 79 to 86 F (26 to 30 C).
The Best Miami Beach
The beaches around Miami are superb and there are many places available to stay. They range from luxurious to budget, and your choice will depend on what kind of holiday you want and how much you want to spend.
Fontainebleau Miami Beach
If you want to settle in for the week and have everything in one place, a terrific place to stay is the Fontainebleau Miami Beach resort. I have friends who stayed at a place like this, and everyone was happy. You can be as busy or not busy as you like with many choices of how you want to spend your time.
Miami is probably a top choice for families because of its family beaches, scuba diving off Jupiter Beach, visiting alligators in the Everglades, Miami Sequarium.

You have access to the beach, or you can stay at the pool. You can find many other choices of accommodations' here:  Miami Beach Resorts

Miami Fishing
Miami also has some of the best fishing in the world. Try your hand at fishing for sharks, sailfish, marlin and barracuda. Golf courses and tennis courts are available, or take an Eco Tour - exciting outdoor excursions ranging from biking to canoeing to snorkeling and kayaking. Parks, museums and performing arts centers are liberally sprinkled through the Miami as well. Or go on your choice of Eco Tours - exciting outdoor excursions ranging from biking to canoeing to snorkeling and kayaking. Parks, museums and performing arts centers are liberally sprinkled through the Miami as well.
Miami vacation spots make a great choice for a family holiday – you will not be disappointed.
Orlando is a haven of adventure and discovery. This bustling city - often dubbed the "Theme Park Capital of the World" - promises an unforgettable family vacation filled with magic, imagination, and, above all, fun. From the enchantment of Disney's fairy tales to the thrill of Universal's cinematic rides, Orlando paints a vibrant canvas where each day unveils a new story.
Let's embark on a virtual journey to explore the highlights of an Orlando family vacation:
Our first stop is Walt Disney World, an iconic symbol of childhood wonder and joy. The moment you step foot inside the Magic Kingdom, a sense of awe washes over you. There's Cinderella's castle rising majestically into the sky, parades of beloved Disney characters, and timeless rides like "It's a Small World." At Epcot, you can jet around the world and into the future within mere hours. The Animal Kingdom, with its exotic inhabitants and high-adrenaline rides, and Hollywood Studios, where you get a behind-the-scenes look at movie magic, round out this magical Disney experience.
Next, we venture to Universal Orlando Resort. The cinematic excitement here is palpable, with the worlds of Harry Potter, Jurassic Park, and Marvel Superheroes brought to life. Be it a high-speed chase with Spider-Man or a soaring journey over Hogwarts, Universal offers experiences that make you feel like you've stepped inside the silver screen.
Away from the rollercoasters and Mickey Mouse ears, Orlando has plenty more to offer. At the Orlando Science Center, kids can explore the mysteries of the universe and the wonders of the human body. They can uncover dinosaur fossils, gaze at distant galaxies, and learn about Florida's unique ecosystems.
Our next stop, LEGOLAND Florida, is an interactive world where creativity takes center stage. Here, LEGO-themed rides and building workshops inspire young minds, and a tour of the life-sized LEGO models is sure to leave the whole family in awe.
For those seeking aquatic escapades, SeaWorld and Discovery Cove offer up-close encounters with marine life. Feel the splash of dolphins, marvel at the acrobatics of orcas, or even take the plunge and swim with a friendly school of stingrays.
Finally, wind down at Lake Eola Park. Rent a swan-shaped paddle boat, enjoy a leisurely walk along the scenic trail, and perhaps catch one of the free outdoor concerts at the Walt Disney Amphitheater.
Orlando's tale is a tapestry of captivating attractions and moments of shared joy. It's a place where families can soar on the wings of adventure by day and gaze at fireworks painting the night sky, their hearts filled with stories that will be cherished for a lifetime.
Orlando Family Vacation Ideas
Thrilling roller coasters, amusement parks, dinosaurs, the aquatic life of Sea World, the Disney and Universal theme parks, and there is still lots more to do for families to do for families in Orlando.
See Orlando's five top offbeat attractions - Lonely Planet travel video gives their top pics of the endless variety.
Sanibel is in the Gulf of Mexico and loved by many families for its natural attractions and quirky holiday flair. Rent a bicycle and explore the island and its wildlife refuges. Also, 400 different types of sea shells are found along its miles of pristine shores and it is a great idea to go shelling with your family.

Clearwater Family Vacation Ideas
Sun-soaked Clearwater, located on Florida's stunning Gulf Coast, is a gem of a destination that's perfect for a family vacation. With its gleaming beaches, wildlife-rich natural parks, and an array of fun-filled activities, it offers a memorable mix of relaxation and adventure for people of all ages. Here are some ideas for your family's Clearwater vacation:
Clearwater Beach: Spend a day building sandcastles and soaking up the sun on this beautiful white-sand beach, often hailed as one of the best in the United States. With its gentle waves and crystal-clear water, it's ideal for kids.
Pier 60: Visit this iconic pier for fishing, shopping, or simply taking in the breathtaking views of the Gulf of Mexico. Don't miss the daily sunset festival with street performers, craft vendors, and live music.
Clearwater Marine Aquarium: This is an absolute must for animal-loving families. Home to Winter, the dolphin of "Dolphin Tale" fame, the aquarium focuses on rescue, rehab, and release of marine animals. It's a great place for kids to learn about marine conservation.
Captain Memo's Pirate Cruise: Set sail on an exciting pirate-themed adventure. The kids will love the treasure hunts, face painting, and pirate stories.
Moccasin Lake Nature Park: Explore this ecological and wildlife reserve for a day of nature walks, bird watching, and learning about Florida's local flora and fauna.
Congo River Golf: Take on the challenge of this African-themed miniature golf course, complete with waterfalls, caves, and live alligators.
Splash Harbour Water Park: Cool off in this family-friendly water park, featuring water slides, a lazy river, and a splash zone for little ones.
Celebration Station: This amusement park has bumper boats, go-karts, mini-golf, arcade games, and more – a perfect spot for an action-packed day.
Sand Key Park: Just a short drive from Clearwater Beach, this park offers a quieter beach experience with a park, picnic areas, and a nature trail. It's also a great spot for bird watching.
Clearwater Threshers Baseball Game: Catch a game at Spectrum Field for a fun-filled family outing. The Threshers are a minor league team, and the games often feature kid-friendly entertainment.
Ream Wilson Clearwater Trail: Rent bikes and traverse this scenic trail that takes you through several parks and picnic spots.
Sunsets at Pier 60 Daily Festival: An evening ritual that celebrates the setting sun with artisans, crafters, and street performers.
Regularly featuring at number 1 on the best beaches in America lists, the calm waters of this area are tailor made for family vacations.
High action Clearwater beach with magnificent sunsets and resorts, gorgeous white-sand and dolphin-watching boat rides, and Clearwater Marine Aquarium and Busch Gardens amusement park is nearby.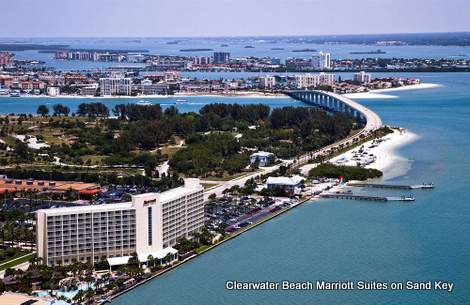 Saint Petersburg not only has some of the best family beaches, a children's museum, aquarium but also a few interesting family cultural adventures.

There are plenty more family adventures in Florida ahead but for now you may like to check out the best Florida all inclusive family vacations.

FAQ about Florida Vacation Spots 
Q: What are some of the best Florida vacations for families?
A: Florida is filled with family-friendly destinations. Orlando is one, with its array of theme parks including Disney World and Universal Studios. The Florida Keys offer a unique tropical experience with great opportunities for snorkeling and boat tours. Destin, on Florida's Gulf Coast, is famous for its white sandy beaches and fishing opportunities. Finally, Clearwater provides an excellent balance of peaceful beach time and engaging marine exhibits like the Clearwater Marine Aquarium.
Q: Where are the best vacation cities for families in Florida?
A: Cities like Orlando, Tampa, and Miami are great for families. Orlando offers theme parks and kid-friendly museums, while Tampa has Busch Gardens and the fantastic Florida Aquarium. Miami is filled with vibrant culture, beautiful beaches, and the Miami Children's Museum.
Q: What options are available for cheap family vacations in Florida?
A: Camping in Florida's state parks, like Fort DeSoto in the Gulf Coast, or staying in smaller towns such as Dunedin or Tarpon Springs can be budget-friendly options. Consider also visiting during off-peak times, and taking advantage of free or low-cost attractions such as public beaches, nature reserves, and historic sites.
Q: What makes the Gulf Coast of Florida a good choice for a family vacation?
A: The Gulf Coast is often quieter and less crowded than other Florida destinations. It offers stunning sunsets, warm calm waters, and is home to many family-friendly beach towns like Destin, Clearwater, and Sarasota. You'll find ample opportunities for outdoor activities such as boating, fishing, and wildlife viewing.
Q: Can you recommend any quiet family beach vacations in Florida?
A: Absolutely, there are several quieter beach destinations perfect for a family getaway in Florida. Anna Maria Island and Longboat Key, both on the Gulf Coast, are less developed and tend to be more peaceful. Similarly, Sanibel Island is known for its laid-back atmosphere and excellent shelling opportunities.
Q: Are there any family vacation packages available in Florida?
A: Yes, many resorts and travel companies offer family vacation packages in Florida. These packages often include accommodation, some meals, and access to various attractions or activities. For example, Orlando is famous for its vacation packages involving theme park tickets. Always compare packages to ensure you're getting the best deal for your family's needs.
Q: Which are the best places for family vacations in Florida in December?
A: December is a wonderful time to visit Florida. The weather is comfortable and many destinations are decked out for the holidays. Orlando is a favorite for its theme park holiday festivities. Meanwhile, St. Augustine's Night of Lights, where the entire town is illuminated with festive lights, is a must-see. South Florida and the Keys offer a warm getaway with plenty of holiday cheer.
Q: What are the best family beach vacation spots in Florida?
A: The best beach vacations in Florida can be found all along its coasts. Destin and Clearwater on the Gulf Coast offer beautiful sandy beaches and family-friendly activities. On the Atlantic Coast, Daytona Beach and Cocoa Beach are popular for their wide beaches and surf culture. For a unique experience, consider the tranquil beaches of the Florida Keys.
Q: How can we plan a good family vacation to the Florida Keys?
A: When planning a family vacation to the Florida Keys, consider the interests of all family members. Key West is rich in history and has attractions like the Ernest Hemingway Home. Marathon is great for families, with the Turtle Hospital and Dolphin Research Center. Be sure to plan some snorkeling or beach days as well. Remember, the keys are laid-back, so don't over-schedule.
Q: What are the best Florida vacation spots for families with grown children? 
A: Families with grown children might enjoy Miami's vibrant nightlife, the historical sites and museums in St. Augustine, or exploring the natural beauty of Everglades National Park. The Kennedy Space Center in Cape Canaveral is also a great destination, offering an engaging look at space exploration history and future. Additionally, the Florida Keys are fantastic for watersports like snorkeling, diving, and deep-sea fishing. Finally, Orlando's theme parks, while often associated with younger kids, have plenty to offer adults as well, from thrilling rides to high-end dining and shopping.
Q: What are the best all-inclusive resorts in Florida for families?
A: There are several all-inclusive resorts in Florida perfect for families. These include Club Med Sandpiper Bay in Port St. Lucie, known for its extensive sports programs and academy; TradeWinds Island Grand Resort in St. Pete Beach, famous for its inflatable water park, and Hammock Beach Resort in Palm Coast, offering a water park, golf courses, and beach access.
Q: Are there all-inclusive resorts in the Florida Keys?
A: Yes, the Florida Keys have several all-inclusive options. Notable among them are the Bungalows Key Largo, a luxury adults-only resort, and Hawks Cay Resort, which is family-friendly and features a saltwater lagoon, five swimming pools, and a variety of water sports.
Q: Are meals and drinks included in Florida's all-inclusive vacation packages?
A: Typically, yes. The majority of all-inclusive resorts offer meals and drinks, including alcoholic beverages, as part of their packages. However, the specifics vary from resort to resort, so it's always a good idea to check what's included in the package before you book.
Q: Do Florida's all-inclusive resorts offer activities for kids?
A: Many all-inclusive resorts in Florida offer kids' clubs or other supervised activities for children. For example, the Club Med Sandpiper Bay offers a kids' club with dedicated activities for different age groups, and TradeWinds Island Grand Resort provides a variety of family-friendly activities such as paddleboarding, mini-golf, and a floating water park.
Q: Are there all-inclusive resorts in Florida that are suitable for couples?
A: Absolutely. Several resorts in Florida cater specifically to couples, offering romantic amenities like private beach dinners, couples' massages, and adults-only pools. Bungalows Key Largo is an adults-only all-inclusive resort that is perfect for couples looking for a romantic getaway.
Q: Is it cheaper to book an all-inclusive vacation in Florida?
A: This depends on your vacation habits. If you plan on enjoying a lot of meals, drinks, and activities at the resort, then an all-inclusive package can offer excellent value. However, if you're the type to explore local restaurants and attractions, a traditional hotel might be more cost-effective. It's always best to compare options and decide what suits your travel style and budget.
💼 We cherish our independence! ✈️ Our travel recommendations are carefully researched, bias-free, and powered by human expertise by April and Ricky of LRB (we have personally researched and travelled to many of these destinations and researched others thoroughly through first-hand accounts). 🌍✨
We try to keep everything up to date, but please always do your own research and contact us if you know any issues for us to help others as best we can as a small but professionally focused team! 🧐📚⚠️