Adults-Only All-Inclusive Resorts in the Maldives
Adults-Only All-Inclusive Resorts in the Maldives
Serenity Unleashed: A Dive into the Maldives' Adults-Only, All-Inclusive Resort Scene
There's an intoxicating allure to the Maldives that makes it synonymous with luxury, relaxation, and unparalleled beauty. But when you add 'adults-only' and 'all-inclusive' into the mix, it's a different ballgame entirely. One where the rules are written by you, and the world outside fades into insignificance. The Maldives, with its crystal-clear waters, white sandy beaches, and lush greenery, is home to some of the world's most luxurious adults-only resorts. In this article, we compare five such resorts, each offering a unique and unforgettable experience for couples in search of romance and tranquility.
Mercure Maldives Kooddoo All-Inclusive Resort is a boutique-style tropical oasis nestled within the Gaafu Alifu Atoll. This four-star resort is known for its generous all-inclusive concept, allowing guests to enjoy a variety of international dining and beverage options, including 40 types of international wines, with no additional charges.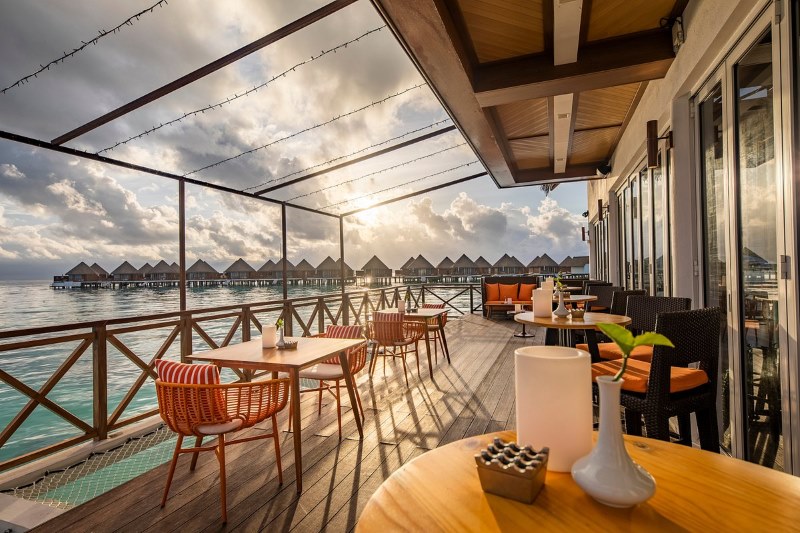 The resort is designed to blend seamlessly with the Maldivian natural environment, with its 70-villa property offering unobstructed views of the lagoon and sunset vistas. Guests can enjoy a range of complimentary non-motorized water sports, personalized minibars, and daily beer buckets. Moreover, the longer the stay, the more benefits accrue, including discounted spa treatments and free excursions. The resort is easily accessible, being just a 50-minute domestic flight from Male International Airport. This resort, managed by the prestigious Accor group, provides an unforgettable experience of the Maldivian tropical paradise.
---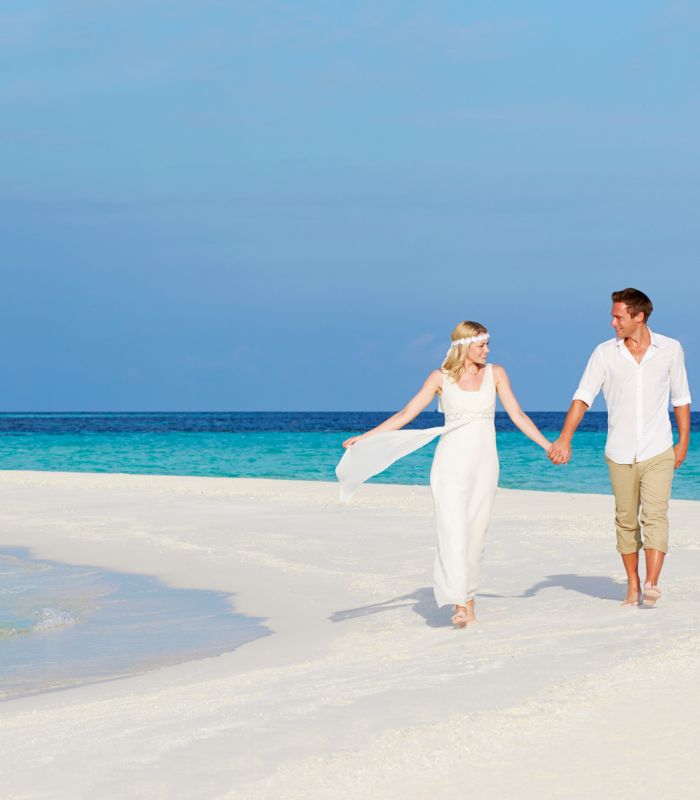 Couple enjoying an All-Inclusive Getaway to the Maldives
Hurawalhi Island Resort
Hurawalhi Island Resort: A Scenic Getaway with the World's Largest All-Glass Undersea Restaurant
Enter the realm of Hurawalhi Island Resort, renowned for its adults-only policy and an all-inclusive experience that is as immersive as it is indulgent. With its world-class underwater restaurant and a champagne pavilion that overlooks the sunset, Hurawalhi is a haven for couples seeking romance and solitude.
Hurawalhi Island Resort, nestled in the beautiful Lhaviyani Atoll, boasts a picturesque lagoon, stunning house reef, and pristine sandy beaches. The resort, accessible by a 40-minute seaplane transfer, is the only one on Hurawalhi Island, offering an exclusive experience for guests. The resort is also home to 5.8, the world's largest all-glass undersea restaurant, making it an unforgettable destination for luxury seekers.
Find the best deal, compare prices, and read what other travelers have to say at Tripadvisor
You & Me Maldives
You & Me Maldives: A Lovers' Retreat with a Natural-Chic Ambience You & Me by Cocoon is an adults-only island dedicated to providing couples with the utmost privacy and romantic atmosphere. With four à la carte dining options, guests can indulge in a variety of cuisines, from Italian to Asian fare. The resort also offers partnerships with Veuve Clicquot and Elisabeth Arden Pro to enhance your luxurious experience.
Find the best deal, compare prices, and read what other travelers have to say at Tripadvisor
Komandoo Island Resort & Spa:
Komandoo Island Resort & Spa: An Intimate Island Escape for Adults 18+
Meanwhile, Komandoo Maldives Island Resort, another adults-only paradise, keeps things delightfully intimate with just 65 villines, all of which promise spectacular sea views. Komandoo's all-inclusive package is lauded for its comprehensive offering, including premium spirits and excursions.
 Surrounded by a breathtaking lagoon and sandy beaches, Komandoo Island Resort & Spa is the only resort on Komandoo Island, located in the Lhaviyani Atoll. The resort welcomes guests aged 18 and older, ensuring a serene, adults-only environment. A 40-minute seaplane transfer will bring you to this intimate island escape.
While Hurawalhi takes the cake for its unique dining experiences and larger-than-life luxury, Komandoo steals the show with its warm, personal touch and smaller scale that fosters a sense of exclusivity. Both resorts offer a range of activities, from snorkeling in vibrant reefs to sunset dolphin cruises and spa treatments that are nothing short of divine.
However, Hurawalhi's all-inclusive package is somewhat limited in comparison to Komandoo's extensive offerings. And while Komandoo's villas are cozy and inviting, they may lack the opulent touch that Hurawalhi's accommodations boast.
Find the best deal, compare prices, and read what other travelers have to say at Tripadvisor
Centara Ras Fushi Resort & Spa Maldives
Centara Ras Fushi Resort & Spa Maldives: A Speedboat Ride to Adult-Only Bliss Just a 20-minute speedboat ride from Velana International Airport, Centara Ras Fushi Resort & Spa Maldives is an adults-only haven in North Male Atoll. The resort offers a variety of tastefully designed villas, both ocean-side and overwater, as well as a wide selection of dining options and meal plans. Guests can enjoy an array of water sports and explore the Maldives' top dive sites, as well as take advantage of the resort's swimming pool, fitness center, spa, and PADI dive center.
Find the best deal, compare prices, and read what other travelers have to say at Tripadvisor
Cinnamon Hakuraa Huraa Maldives
Cinnamon Hakuraa Huraa Maldives: Romance Elevated in a Shallow Lagoon Paradise Cinnamon Hakuraa Huraa Maldives, one of the largest shallow lagoons in the Maldives, takes romance to a whole new level. Honeymooners are invited to the Platinum Island, an adults-only sanctuary featuring a private pool, exclusive dining, and luxurious beach bungalows. Enjoy the ultimate privacy and indulge in the beauty of the Maldives at this romantic retreat.
Find the best deal, compare prices, and read what other travelers have to say at Tripadvisor
Each of these adults-only resorts in the Maldives offers a unique and luxurious experience, catering to couples seeking romance, relaxation, and unforgettable memories. Whether you're celebrating a honeymoon, anniversary, or simply searching for an idyllic getaway, these resorts promise to exceed your expectations.
Scorecard
scorecard for adults-only, all-inclusive resorts in the Maldives, with 1 being "poor" and 10 being "excellent":
Luxury: 9 The resorts in the Maldives are known for their opulence and high-end amenities. Whether it's overwater villas with glass-bottom floors or private infinity pools, the luxury factor is typically high.
All-Inclusive Experience: 8 While most resorts offer comprehensive all-inclusive packages, there can be some limitations, particularly when it comes to premium alcohol or certain activities. Always check what's included and what's not before booking.
Adults-Only Atmosphere: 10 Adults-only resorts in the Maldives typically excel at creating a serene, peaceful environment. These resorts are often smaller and more intimate, ensuring a tranquil ambiance.
Activities & Entertainment: 8 From snorkeling and diving to spa treatments and yoga classes, there's typically plenty to do. However, options can be more limited compared to larger, family-friendly resorts.
Food & Beverage: 9 With a wide range of international and local cuisine on offer, dining in these resorts is usually a highlight. However, some resorts may have a limited number of restaurants.
Value for Money: 7 While the experiences are incredible, prices for adults-only, all-inclusive resorts in the Maldives are quite high. It's a premium destination, and the cost reflects that.
Location/Scenery: 10 The Maldives is renowned for its stunning scenery, from turquoise lagoons and white sandy beaches to vibrant coral reefs. Resorts take full advantage of these surroundings.
Service: 9 Service in Maldivian resorts is generally excellent, with staff going out of their way to make guests feel special. However, some resorts can occasionally fall short in this area.
Accessibility: 6 Getting to some resorts can be a bit of a challenge, often requiring a domestic flight and speedboat transfer from Male. Ensure you're aware of travel times before booking.
Privacy: 10 Given their adults-only nature and the layout of the islands, these resorts usually offer a high level of privacy, making them perfect for couples and honeymooners.
Overall:
The Maldives: A Top-Tier All-Inclusive Adults-Only Destination
Overall Score: 59/70
The Maldives excels as an all-inclusive adults-only destination, providing an idyllic setting for couples seeking a truly romantic and unforgettable escape. With its remarkable natural beauty, luxurious resorts, and plethora of activities, the Maldives is a top-tier choice for an adults-only vacation.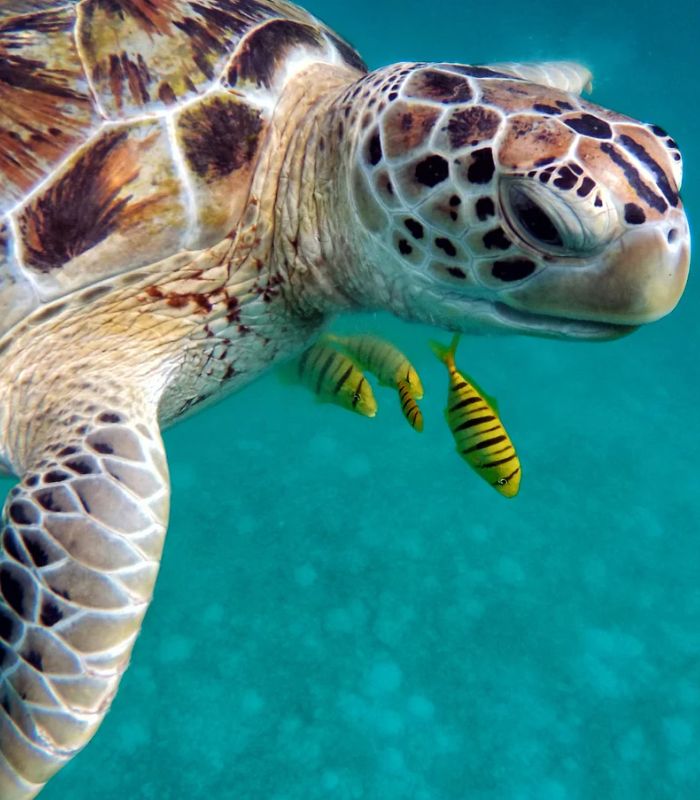 The Maldives certainly ranks in the top third globally. This tropical paradise boasts a unique combination of stunning natural beauty, world-class resorts, and an atmosphere that exudes romance and relaxation.
Natural Beauty: 9.5/10 With its picturesque atolls, crystal-clear waters, and pristine sandy beaches, the Maldives offers an unparalleled backdrop for an adults-only vacation.
Luxury Resorts: 9/10 The Maldives is home to an array of exquisite adults-only resorts, each providing exceptional accommodations, personalized services, and top-notch amenities.
Dining Options: 8.5/10 All-inclusive resorts in the Maldives offer a wide variety of dining options, including local and international cuisines, to cater to every discerning palate.
Privacy and Seclusion: 9/10 The Maldives' remote location and exclusive resort islands ensure a peaceful, serene atmosphere, allowing couples to enjoy an uninterrupted romantic getaway.
Activities and Excursions: 8/10 The Maldives offers a range of activities to suit all interests, from water sports and diving to spa treatments and island-hopping excursions.
Ease of Access: 7/10 While getting to the Maldives may require a longer journey for some, the seaplane or speedboat transfers to the resorts are an unforgettable experience in themselves.
Value for Money: 8/10 While the Maldives is undoubtedly a luxury destination, the all-inclusive packages at adults-only resorts offer great value for the unparalleled experiences and memories created.
Remember, these scores are averages and can vary from resort to resort. Always do thorough research to find the best fit for your specific needs and preferences.
If you're exploring adults-only, all-inclusive resort destinations beyond the Maldives, there are several enchanting places around the world that specialize in providing unforgettable experiences. Here are a few to consider:
Fiji is an excellent alternative. This South Pacific archipelago is home to some of the world's most beautiful landscapes, and it's an increasingly popular destination for couples and honeymooners. Resorts like Likuliku Lagoon Resort and Tokoriki Island Resort offer adults-only accommodations and all-inclusive packages.
Mexico: Particularly in regions like Cancun and Riviera Maya, there are several adults-only, all-inclusive resorts. Excellence Playa Mujeres and Secrets Maroma Beach Riviera Cancun are two examples that offer luxury accommodations and a variety of dining options.
Jamaica: Known for its vibrant culture and breathtaking beaches, Jamaica has a good selection of adults-only, all-inclusive resorts. Couples Swept Away and Sandals Royal Plantation are two resorts that offer excellent all-inclusive packages and privacy.
St. Lucia: This Caribbean island is known for its stunning natural beauty, including the iconic Pitons. Resorts like Serenity at Coconut Bay and Jade Mountain offer adults-only accommodations and all-inclusive options.
Greece: While not traditionally known for all-inclusive resorts, there are a few adults-only options available in the Greek islands. Domes Miramare in Corfu is a luxury adults-only resort that offers an all-inclusive package.
Each of these destinations has its own unique charm and advantages, so it's worth exploring what each has to offer before making a decision. Always consider factors like travel time, cost, activities, and cultural experiences when choosing your perfect getaway.
Share Your All-Inclusive Adventures and Questions! 🌴 Have a memorable experience from a luxury all-inclusive vacation? We'd love to hear it at Luxury Resort Bliss. We're on the lookout for top-quality, insightful tales that'll inspire our community. Dive in and be a part of our sun-soaked stories! 🌊🍹✨
The story is a fictionalized account founded on travel expertise, research, and experience. Always refer to recent guest reviews and perform due diligence before booking.
💼 We cherish our independence! ✈️ Our travel recommendations are carefully researched, bias-free, and powered by human expertise by April and Ricky of LRB (we have personally researched and travelled to many of these destinations and researched others thoroughly through first-hand accounts). We also have put in the hard miles, and Ricky has worked for decades for resort and hotel chains  Hyatt, Hilton, Shangri-La and Radisson before starting Luxury Resort Bliss in 2007. 🌍✨ Unlike some other resort review websites we are concerned on the guest experience rather than mere corporate interest.