Algarve-adult-only-all-inclusive
Algarve Adult Only All Inclusive resorts
Looking for an Algarve all-inclusive adult only resort in Portugal and wondering about TUI BLUE Falesia and alternatives?
Picture this: you're nestled in the stunning Algarve region of Portugal, feeling like a glamorous movie star, sipping a drink by the pool, with your significant other by your side.
No, this isn't a Hollywood fantasy – it's the TUI BLUE Falesia resort, and it's even better than the movies. With everything from romantic spa treatments to challenging fitness programs (because, let's face it, looking good is half the battle), from exquisite dining options to scenic excursions (think gorgeous beaches and breathtaking cliffs), this adults-only resort is a dream come true. And trust me, I've had a lot of dreams.
TUI BLUE Falesia Adult Only All-Inclusive resort
As a travel writer, I've had the opportunity to visit many romantic destinations around the world. But the TUI BLUE Falesia resort in Portugal's Algarve region stands out as one of the most enchanting and luxurious. This resort is perfect for couples looking to spark up their romance, with a range of amenities and activities to suit every mood and desire.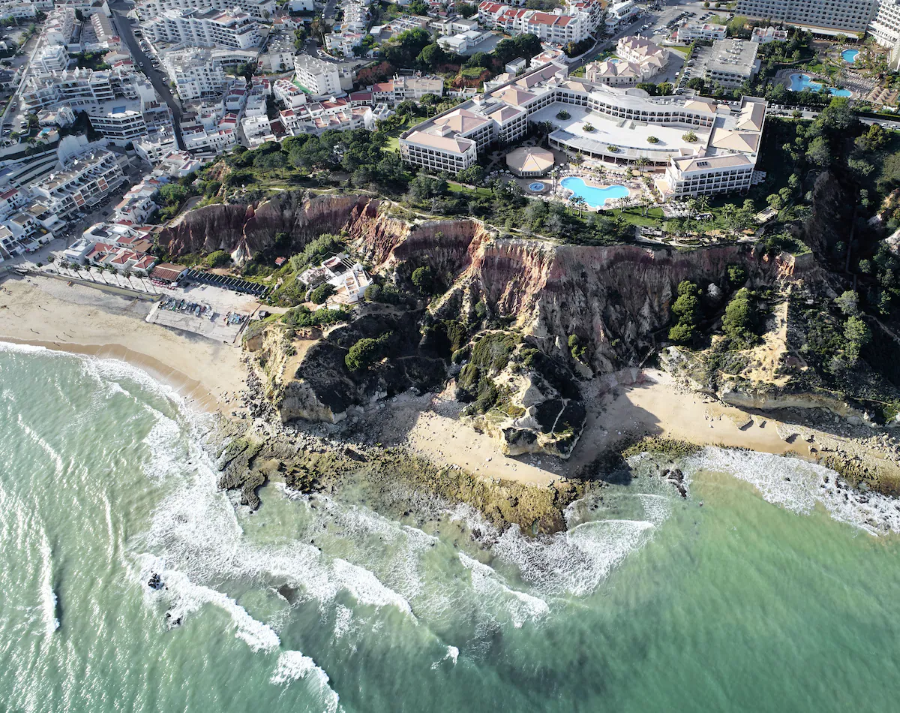 TUI BLUE Falesia Adult Only All-Inclusive resort
From the moment I arrived, I knew this was going to be a special experience. The TUI BLUE Falesia resort is exclusively for adults, which made it the perfect place for me and my husband to relax and recharge. The resort itself is breathtaking, perched on a cliff overlooking the gorgeous Falesia Beach, and the stylish design and modern amenities left us feeling pampered and indulged from the start.
| Feature | Description |
| --- | --- |
| Location | Algarve, Portugal |
| Type | Adults-only, all-inclusive resort |
| Accommodation | Luxurious rooms and suites with private balconies or terraces, air conditioning, and free WiFi |
| Dining Options | Buffet-style breakfast, lunch, and dinner; late riser breakfast; à la carte restaurant; poolside bar |
| Amenities | Indoor and outdoor pools, spa and wellness center, fitness center, golf course, local area shuttle service |
| Excursions | Available for exploring the southern coast of Portugal |
| Nearby Attractions | Pine Cliffs Golf Course, Belharucas Beach |
| Guest Reviews | Highly rated for helpful staff, size of rooms, and quality of food and amenities |
One of the things I loved most about this resort was the food and drink options available. As a guest on the all-inclusive package, we had access to a variety of dining options, including buffet-style breakfast, lunch, and dinner, and even an à la carte restaurant once a week. I have to say, the local cuisine was a highlight, and the staff were more than happy to make recommendations and provide insights into the different dishes and flavors.
Video: Portugal Algarve - Tui Blue Falesia 4K
But the TUI BLUE Falesia resort is much more than just a place to eat and sleep. There are plenty of activities and excursions to keep you busy, from tennis and beach volleyball to organized hikes along the coastline. My husband and I opted for a more laid-back approach, spending our days lounging by the pool, enjoying the sun and stunning views, and taking leisurely walks along the beach. We even indulged in a few spa treatments, which left us feeling completely rejuvenated and relaxed.
Activities
For couples looking to stay active and discover new things together, the resort's BLUEf!t fitness and sports program is a great place to start. With holistic strength, endurance, and agility training, you can challenge yourself and your partner to reach new heights of physical fitness and health. And for those looking to unwind and relax, the BLUE Spa is a must-visit, offering a range of massage and wellness treatments that will leave you feeling refreshed and rejuvenated.
Golf enthusiasts will also be pleased to know that the TUI BLUE Falesia resort is located just a few kilometers from many top golf courses, offering fantastic landscapes and Portuguese hospitality. And for those looking for a more hands-on approach to entertainment and edutainment, the resort even offers cooking courses, where you can learn to prepare delicious local dishes alongside other hotel guests.
Of course, the Algarve region itself is full of romantic and breathtaking landscapes, and the TUI BLUE Falesia resort is the perfect base from which to explore it all. Take a scenic drive to the Cabo de Sao Vicente, the southwesternmost point of Europe, and marvel at the stunning cliffs and ocean views. Or simply take a leisurely stroll along the beach and enjoy the warm sun and crystal-clear waters.
Guest Reviews
In this travel vlog, Dan Alderson takes us to Portugal in 2021 and shares his experience at TUI BLUE Falesia resort. The video begins with Dan exploring a nearby town and then taking us to a cliff top where he shows us the breathtaking view of the hotel and one of the best beaches in Portugal. The scenery is amazing, and Dan can't help but express how unreal the place is.
Food and all Inclusive
As a lover of all things food and drink, I was thrilled to discover the amazing options available at the TUI BLUE Falesia resort in Portugal's Algarve region. With a range of dining options, from buffet-style meals to à la carte restaurants, there's something to suit every taste and appetite.
For those on the half-board package, the buffet-style breakfast and dinner are a great way to start and end the day. With a wide range of sweet and savory dishes, as well as freshly squeezed juices and coffee specialties, you'll be sure to find something to please your palate. And for those looking for something extra special, the à la carte restaurant and barbecue offer a chance to indulge in even more delicious food and drink, with a surcharge for the former and an extra charge for the latter.
But for those on the all-inclusive package, the dining options are even more impressive. With buffet-style breakfast, lunch, and dinner, as well as a late riser breakfast and one à la carte restaurant and barbecue per week included with a minimum booking of 5 nights, you'll have plenty of opportunities to sample a wide range of local and international cuisine. And for those looking for a quick snack or refreshing drink, the Grab & Go snacks and beverages at the pool bar are a perfect option.
Of course, no all-inclusive vacation is complete without a selection of local alcoholic drinks and cocktails. And the TUI BLUE Falesia resort doesn't disappoint in this regard, with a range of options available to quench your thirst and satisfy your taste buds.
TUI BLUE Falesia - Adults Only more information, reviews, and prices.

Algarve Adult Only All-Inclusive Resorts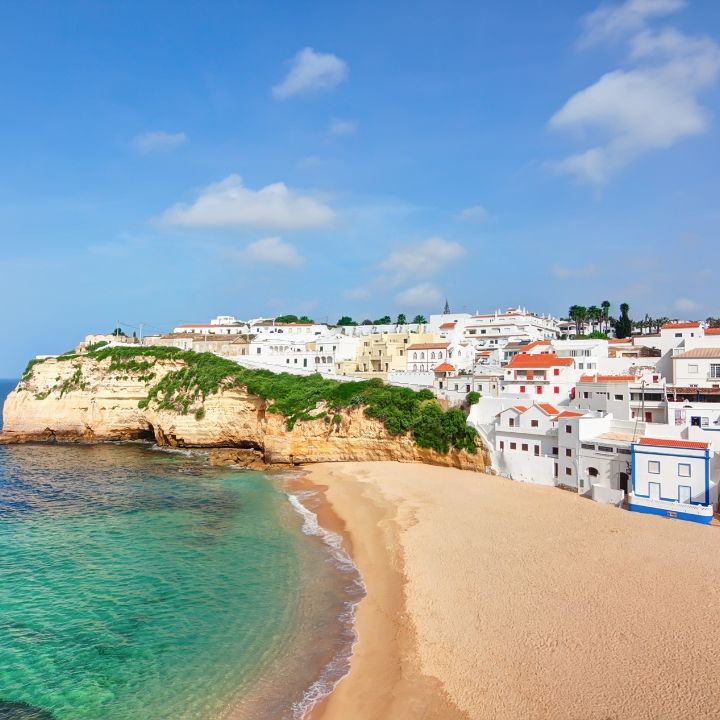 All In all there are about 65 adult only all-inclusive resorts in Portugal and many are all-inclusive.
Algarve Adult Only _ Find the best deal, compare prices, and read what other travelers have to say at Tripadvisor
Falésia Hotel - Adults Only
If you're looking for an alternative resort, I would highly recommend the Falésia Hotel - Adults Only, located just a short distance from the TUI BLUE Falesia resort. This 4-star hotel offers a free breakfast buffet, an adjacent golf course, and a poolside bar, making it perfect for active travelers looking for some adventure. The on-site Garden Spa offers a range of body treatments and massages, and the on-site restaurant, O Lago, features garden views and delicious regional cuisine. All of the rooms are spacious and comfortable, with thoughtful touches like furnished balconies and free WiFi.
More Adult Only Resorts
As a freelance writer (human/machine colaboration) and travel enthusiast from the Midwest, I've been fortunate enough to travel to some of the world's most beautiful destinations. But it wasn't until I stumbled upon the TUI BLUE Falesia resort in Portugal's Algarve region that I truly felt like I had found my home away from home. It all started with a random Google search – I was in desperate need of a vacation, and Portugal had always been on my bucket list. So, I took a chance and booked a flight to Lisbon, not knowing what to expect. But as soon as I arrived, I knew I had made the right decision. The warm hospitality of the locals, the stunning architecture, and the delicious food all made me fall in love with Portugal. And that love only grew stronger when I arrived at the TUI BLUE Falesia resort – it was like stepping into a postcard. The sparkling blue waters, the soft sand, and the luxurious amenities all made me feel like I was living in a dream. And with a range of options available for dining, golf, spa treatments, and scenic excursions, there was never a dull moment. So, if you're looking for the perfect destination to kindle your romance and discover the beauty of the Algarve, look no further than the TUI BLUE Falesia resort.
Here's a list of some other adult-only resort destinations in Europe for you to consider:
Ikos Olivia, Halkidiki, Greece
The Royal Blue, Crete, Greece
Meliá Calviá Beach, Majorca, Spain
Secrets Lanzarote Resort & Spa, Lanzarote, Spain
Roca Nivaria Gran Hotel, Tenerife, Spain
Ikos Dassia, Corfu, Greece
Pure Salt Port Adriano, Majorca, Spain
Secrets Mallorca Villamil Resort & Spa, Majorca, Spain
Hotel Riu Palace Jandia, Fuerteventura, Spain
Iberostar Selection Andalucía Playa, Cadiz, Spain
All of these resorts offer a range of amenities and activities, as well as luxurious accommodations and excellent dining options. From Greece to Spain, these adult-only resorts provide a unique and indulgent experience for couples looking for a romantic getaway.
Sarah loves to check out all-inclusive resorts and find great packages and report about what real travelers are saying, Sarah is an indicative character created for the purpose of providing insights uncovered during our research.  These reviews are indicative of others first-hand experiences using our research methodology designed to uncover the best  (as opposed to those that are simply marketed as the best).

While our reviews are founded on real accounts and stories and thoroughly researched do your own research and exercise your best judgment when making travel decisions. And keep in mind all-inclusive packages are always changing.