Best All-Inclusive Resorts for Young Adults
Best All-Inclusive Resorts for Young Adults
Looking for the Best All-Inclusive Resorts For Young Adults. Here is our A to Z Review. 
With the sand between their toes and the scent of the sea in their nostrils, young adults across the globe are increasingly craving the allure of all-inclusive resort vacations. This desire, however, isn't merely a quest for unlimited tropical drinks and sun-soaked pool decks. Instead, it delves deeper, seeking unique experiences, unparalleled convenience, and value for money.
See also the all-inclusive singles resorts.
Best All-Inclusive Resorts For Young Adults
A to Z Caribbean and Mexico
A is for Azulik, Tulum, Mexico. Weaving through lush rainforests, I found myself in an eco-paradise that is Azulik. With no electricity or Wi-Fi, it was a place where time stood still. The Maya-style treehouses held a raw, primal energy that made my spirit sing. The night's black mantle was only broken by candlelight, an ethereal glow whispering tales of ancient civilizations. If you're looking for high-tech amenities, however, head to the Hard Rock Hotel in Cancun instead. See more on Azulik and other couples only resorts for young adults:
B is for Breezes Resort, Bahamas
B is for Breezes Resort, Bahamas. I found this adult-only oasis nestled in the sparkling sands of Cable Beach. Laughter bounced off the clear turquoise waves as a lively group of friends frolicked in the water. This was a place for thrill-seekers, beach volleyball games and windsurfing, with DJs spinning tunes into the warm Caribbean night. Yet, for those seeking tranquility, Sandals Royal Bahamian nearby offers a serene experience. See more on our Nassau All-Inclusive Resorts Review
C is for Club Med Turkoise, Turks and Caicos. This was a paradise for the sporty and the adventurous. Between windsurfing lessons and trapeze swings, my heart barely had a chance to rest. For a quieter, more romantic destination, consider the luxurious Gansevoort Turks + Caicos.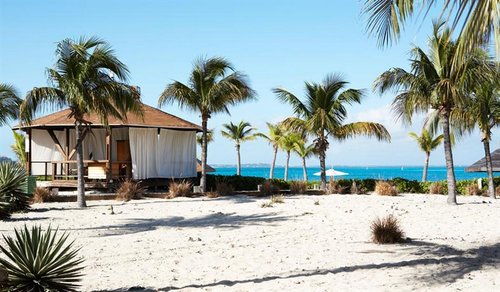 Club Med Turkoise
Turks And Caicos Adult-Only All-Inclusive Resorts Featuring Club Med

D is for Dreams Punta Cana, Dominican Republic. Their bottomless piña coladas and jovial hospitality brought a smile to my face. The resort was brimming with young couples in love, strolling along the idyllic palm-fringed beach. If a lively party scene is your calling, head to Breathless Punta Cana for its energetic nightlife.
See also the best Singles All Inclusive Resorts in Punta Cana for young adults
E is for Excellence Playa Mujeres
E is for Excellence Playa Mujeres, Mexico. Here, luxury was not an option, it was a standard. The service was impeccable, as was the tequila in the Martini Bar. The resort was an elegant mosaic of romantic cabanas, tranquil spa pools, and fine dining experiences. For the party-goers among you, the Paradisus Playa del Carmen provides a livelier vibe.
F is for Finest Playa Mujeres by Excellence Group, Mexico. The dreamy infinity pool was a haven for relaxation. This place offered a mix of fun and leisure with their beach parties and soothing spa. For those seeking a more adult-only scene, Secrets The Vine Cancun is an excellent alternative.
G is for Grand Palladium, Jamaica
G is for Grand Palladium, Jamaica. Dance classes and laughter-filled pool parties set the tone for my Jamaican adventure. If an intimate, quieter experience is what you're after, the Iberostar Grand Hotel Rose Hall is a perfect choice.
H is for Hyatt Ziva, Puerto Vallarta, Mexico. Nestled between mountains and ocean, the Hyatt Ziva was a tribute to natural beauty. The aroma of fresh seafood from the beachside Blaze Restaurant still lingers in my memory. For those seeking an adult-only haven, try the Hyatt Zilara.
I is for Iberostar Selection Bavaro
I is for Iberostar Selection Bavaro, Punta Cana, Dominican Republic. With its golf courses and casino, it brought out the competitive spirit in me. For a more laid-back atmosphere, the Tortuga Bay Hotel at Puntacana Resort & Club provides a more tranquil setting.
J is for Jewel Dunn's River Beach Resort & Spa
Jewel Grande Montego Bay Resort & Spa
J is for Jewel Dunn's River Beach Resort & Spa, Ocho Rios, Jamaica. The hearty laughter at the weekly dive-in movies still echoes in my ears. For a more family-friendly experience, Moon Palace Jamaica is a fantastic alternative.
Kurumba, Maldives
K is for Kurumba, Maldives. Swimming among the rainbow-colored coral reefs and enjoying sunset dinners on the beach, it was like living inside a postcard. Those seeking a party scene, however, might find the atmosphere a tad too serene. In that case, consider the lively W Maldives instead.
L is for Lux Belle Mare, Mauritius
L is for Lux Belle Mare, Mauritius. Lux was true to its name, offering luxury in its highest form. Yet, the earthy colors and warm smiles reminded me that I was in the heart of exotic Mauritius. For a  music-filled experience, try the Tamassa Resort.
M is for Marquis Los Cabos, Mexico. The tranquil infinity pool stretching out into the endless blue sea still makes my heart flutter. However, for a more adventurous, action-packed vacation, the Breathless Cabo San Lucas Resort & Spa is an excellent alternative.

N is for Now Larimar, Punta Cana, Dominican Republic. The free-flowing tropical cocktails, lively pool scene, and dazzling nightlife at Now Larimar made every day feel like a fiesta. For those seeking a quieter, more exclusive ambiance, the Eden Roc at Cap Cana offers a more sophisticated vibe.
O is for Ocean Maya Royale, Playa del Carmen, Mexico. This adult-only resort was where I discovered my love for tequila volleyball. A quieter, more refined option would be the nearby Rosewood Mayakoba.
P is for Paradisus Palma Real, Punta Cana, Dominican Republic. This was a place of balmy days spent on pristine beaches and party nights filled with Latin music. However, if you're looking for a less lively atmosphere, the peaceful Zoëtry Agua Punta Cana makes a perfect alternative.
Q is for Quintana Roo, the home of the Secrets Akumal Riviera Maya, Mexico. Here, I swam with friendly sea turtles by day and enjoyed gourmet dining by night. If you're seeking a more laid-back vibe, head to the nearby El Dorado Royale.
R is for Royalton CHIC Punta Cana, Dominican Republic. Day parties by the beach, dance-offs at the merengue classes, and fiery Caribbean nights marked my stay at the Royalton CHIC. For a quieter setting, the Sanctuary Cap Cana, with its stunning architecture, is a wonderful alternative.
S is for Sandals Montego Bay, Jamaica. The beach bonfires, reggae pulse, and stylish cocktails lent a lively atmosphere to this adult-only resort. If you prefer a more tranquil setting, the Half Moon resort offers a more relaxed ambiance.
T is for Tamassa, Bel Ombre, Mauritius. A blissful fusion of entertainment and tranquility, this all-inclusive haven was perfect for meeting new people and making unforgettable memories. For those seeking a more refined and quiet experience, the Four Seasons Resort Mauritius at Anahita is a great alternative.
U is for UNICO 20°87°, Riviera Maya, Mexico. A tribute to the rich Mexican culture, it provided me with an authentic and immersive experience. However, for those seeking a more universal appeal, the Hard Rock Hotel Riviera Maya may suit you better.
V is for Valentin Imperial, Riviera Maya, Mexico. The romantic aura was palpable here, with its gorgeous landscaping and private beach perfect for moonlit walks. For a more family-oriented resort, the Fairmont Mayakoba is an excellent option.
W is for Warwick Paradise Island
W is for Warwick Paradise Island, Bahamas. A paradise for sports enthusiasts, with tennis matches and volleyball games aplenty. If you're seeking a more relaxed, sophisticated environment. More Bahamas All Inclusive Resorts
Hotel Xcaret Arte - Playa Del Carmen
X is for Xcaret, Mexico. Although not typically listed as budget-friendly, my little secret is their off-peak deals. It was here, amid the eco-archaeological park and vivid coral reefs, that I learned the real essence of a bargain – value for every dollar. If you're searching for consistent budget options, consider the nearby Hotel Riu Lupita. See Playa del Carmen adult all-inclusive Resorts.
Y is for Yellow Bird Hotel, Barbados
Y is for Yellow Bird Hotel, Barbados. Set in the lively St. Lawrence Gap, this affordable resort boasted a mix of beach fun and colorful nightlife. For a budget-friendly, yet more tranquil setting, the nearby Butterfly Beach Hotel is an excellent alternative.
Z is for Zoetry Agua Punta Cana
Z is for Zoetry Agua Punta Cana, Dominican Republic. It's worth noting that while Zoetry offers a luxury experience, they do provide off-season deals which are fantastic value for money. Here, I experienced wellness, tranquility, and romance amidst the stunning tropical views. However, if your budget is tighter, you might consider the nearby whala!bavaro hotel, which consistently offers great value.
Best All Inclusive Party Resorts for Young Adults
Luxscape's vlog, "THE 5 Best All Inclusive PARTY Resorts In The World 2022 | (Adults Only)", ranks the top party resorts that offer an adults-only, all-inclusive experience.
Commando Maldives Island Resort, Maldives: A serene and cozy resort with sand-floored lobbies, restaurants, and bars. The resort provides low-key entertainment, and its clientele mainly consists of middle-aged European couples.
Sandals Grenada, Grenada: Exclusively caters to couples. It's known for its scuba diving and snorkeling activities near the underwater sculpture park. The resort features pools, a spa, delicious dining options, and romantic spots for couples to enjoy.
Pueblo Bonita Pacifica Resort and Spa, Cabo San Lucas: Situated a minute's walk from the beach, this resort offers beachside swimming pools, a full-service spa, beach yoga, and dance lessons. It also has five restaurants and five bars, one with a seating area around a fire pit.
Temptation Cancun Resort, Cancun: One of Cancun's best party hotels, this resort offers live entertainment, themed events, exercise classes, and nightclubs. It features six bars, 24-hour room service, a full-service spa with three themed outdoor pools and seven hot tubs.
Sanctuary Kapkana, Dominican Republic: Located in Kapkana, a gated neighborhood within Punta Cana. This resort offers water sports, outdoor activities, and high-quality restaurants. The revamped property includes new restaurants, bars, an enhanced spa, and a state-of-the-art fitness center.
A significant draw for young adults is the ease that comes with an all-inclusive package. There's an undeniable charm in not worrying about the specifics of every meal, every activity, and every potential outing. Whether it's a spontaneous sushi craving at midnight or an impromptu desire to try windsurfing, it's all included, it's all available, and it's all worry-free. But the allure extends beyond mere convenience—it's the assurance that their hard-earned money is well-spent, providing a holistic experience rather than merely a room and a flight.
However, not just any all-inclusive will do. This tech-savvy, experience-craving generation seeks more than just cookie-cutter resorts with lackluster buffet lines and generic activity schedules. They hunt for authenticity—resorts that offer a taste of the local culture, from food that goes beyond the standard international fare to art and music that reflect the spirit of the destination.
Moreover, they value customization and choices. Gone are the days when vacationers were content with the same, monotonous list of activities. Whether they're thrill-seekers yearning for adrenaline-fueled adventures like surfing or cliff-jumping, or wellness enthusiasts searching for yoga classes on the beach and locally sourced, organic meals, young adults crave a resort that can cater to their individual preferences.
Environmental consciousness is another crucial factor for many young adults. Eco-friendly initiatives, from banning single-use plastics to organizing beach clean-ups, can greatly enhance the appeal of a resort. They're more likely to choose places that align with their values, contributing positively to the environment while providing a top-notch holiday experience.
Lastly, young adults seek spaces for both socializing and solitude. Opportunities to meet like-minded travelers from around the globe can turn a great vacation into an unforgettable one. Yet, they also appreciate the availability of quiet, idyllic spots for relaxation and introspection.
While no two young adults are the same, understanding these common preferences can go a long way in selecting the perfect all-inclusive resort. The quest isn't merely for a vacation, but for an experience—one that combines convenience and value with authenticity, personalization, environmental responsibility, and the perfect balance of camaraderie and calm. As they say, it's not just about the destination, but the journey – and in this case, the journey includes every cocktail, every beachfront yoga session, and every magical sunset that comes with an all-inclusive resort stay.
In Greece, the lively island of Mykonos hosts the Myconian Avaton Resort. This architectural marvel combines modern design with traditional Mykonian style. Known for its exceptional dining experiences, the resort serves a mix of international cuisine and local delicacies. The resort also arranges for exciting water sports activities and offers a thumping nightlife scene, ensuring a variety of experiences for its young guests.

Over in Turkey, the Liberty Hotels Lykia is set amidst the stunning natural beauty of Ölüdeniz. With a vast array of outdoor activities, from paragliding off Babadag Mountain to snorkeling in the turquoise waters of the Blue Lagoon, it caters well to adventurous young adults. The resort also offers a wide range of dining options, with several bars and restaurants serving everything from Turkish to Italian cuisine.
A Southeast Asia escape sounds like an adventure waiting to unfold for young adults, especially when it's an all-inclusive resort that adds a taste of luxury to their once in a lifetime journey. Let's dive into a couple of my top picks:
Club Med Bintan Island, Indonesia – For young adults in pursuit of wellness, this resort should top their list. Nestled on the beautiful shores of Bintan Island, the resort draws you in with its all-inclusive packages that seamlessly blend in thrilling sports, wellness routines, and exotic cuisines. While it's a haven for fitness enthusiasts with its variety of sports facilities, it also doesn't disappoint the party animals with its lively evening parties and entertainment. However, bear in mind that it can sometimes become too crowded during the peak season, slightly dampening the exclusivity of the experience. Rating: 8.5/10
Phuket Orchid Resort and Spa, Thailand - This resort hits the sweet spot for young adults with its perfect blend of serene landscapes and an active nightlife. The resort is a stone's throw away from Karon beach, giving guests ample opportunity to soak in the sun and surf. Its all-inclusive package, that covers three meals a day and local alcoholic beverages, lets guests indulge without worry. However, its location is a double-edged sword, while the beach and local markets are a boon, the noise from the nearby streets can sometimes intrude the calm resort environment. Rating: 8/10
An alternate suggestion is Vinpearl Luxury Nha Trang, Vietnam, a private island resort for those seeking a quieter and more exclusive experience, away from the usual hustle-bustle.
In a nutshell, Southeast Asia is brimming with a plethora of all-inclusive resorts that cater to the diverse tastes of young adults, be it the quest for adventure, wellness, or a tranquil getaway. The trick lies in identifying the one that resonates with their idea of a perfect vacation.
💼 We cherish our independence! ✈️ Our travel recommendations are carefully researched, bias-free, and powered by human expertise by April and Ricky of LRB (we have personally researched and travelled to many of these destinations and researched others thoroughly through first-hand accounts). 🌍✨
We try to keep everything up to date, but please always do your own research and contact us if you know any issues for us to help others as best we can as a small but professionally focused team! 🧐📚⚠️