All-Inclusive Pensacola Beach Resorts
All-Inclusive Pensacola Beach Resorts
Looking for All-Inclusive Pensacola Beach Resorts?
Before we review the best beach resorts let's compare Pensacola with some other popular destinations in Florida using various factors, including the quality of the beach, all-inclusive resort offerings, local attractions, and accessibility.
Beach Quality: Pensacola Beach is renowned for its soft, white quartz sand and clear emerald waters. It consistently ranks among the best beaches in the country for its natural beauty, cleanliness, and family-friendly amenities. Pensacola: 9/10, Miami: 8/10, Destin: 8.5/10, Key West: 7/10
All-Inclusive Resort Offerings: Pensacola's resorts, while highly rated for comfort and amenities, fall short in the all-inclusive category, offering limited options compared to other popular destinations. Pensacola: 6/10, Miami: 8/10, Destin: 7/10, Key West: 8/10
Local Attractions: Pensacola is rich in history and culture, offering a mix of historic sites, museums, and natural parks. Its Naval Aviation Museum is particularly noteworthy: Pensacola: 8/10Miami: 9/10Destin: 7/10Key West: 9/10
Accessibility: Pensacola is relatively easy to access with its regional airport offering numerous direct and connecting flights. However, it may not be as well connected as some larger cities like Miami. Pensacola: 7/10, Miami: 10/10, Destin: 7/10, Key West: 8/10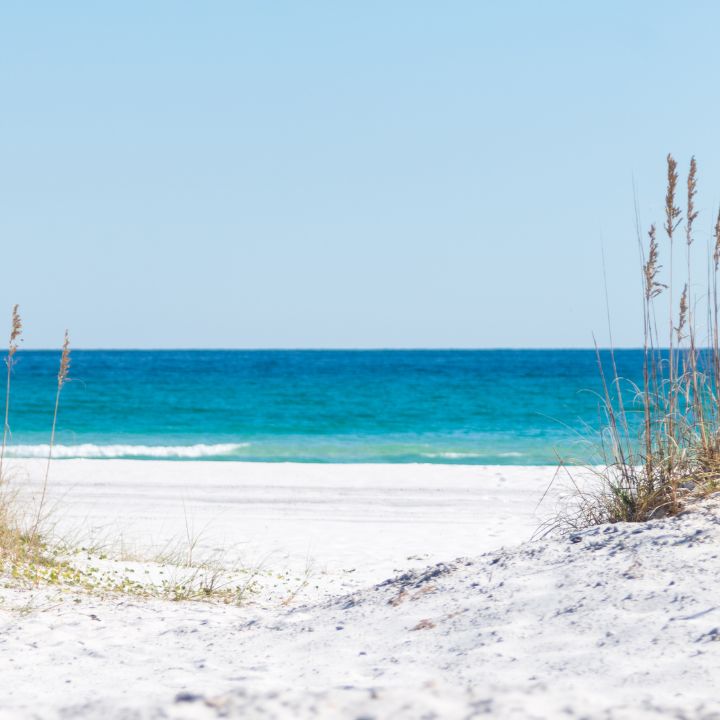 Pensacola Beach
Best Pensacola

beach Resorts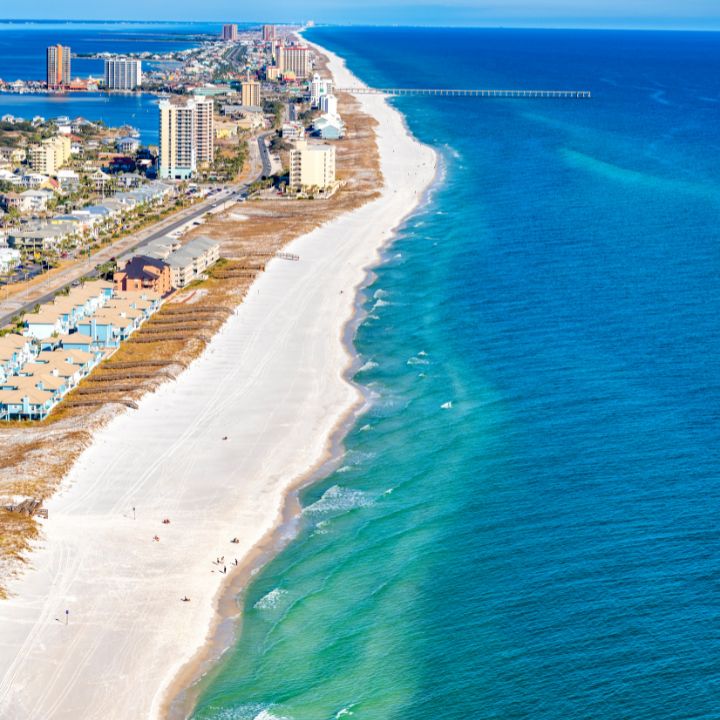 All-Inclusive Pensacola Beach Resorts
Overall, Pensacola holds its own as a great vacation destination. Its standout feature is undoubtedly its beautiful beach, and while its all-inclusive options may not be as extensive, the quality of its accommodations and range of local attractions make it a worthy choice. Let's take a closer look at the best Pensacola Beach Resorts.
1. Pensacola Beach Resort

Peviously known as Margaritaville Pensacola Beach Resort is now Pensacola Beach Resort.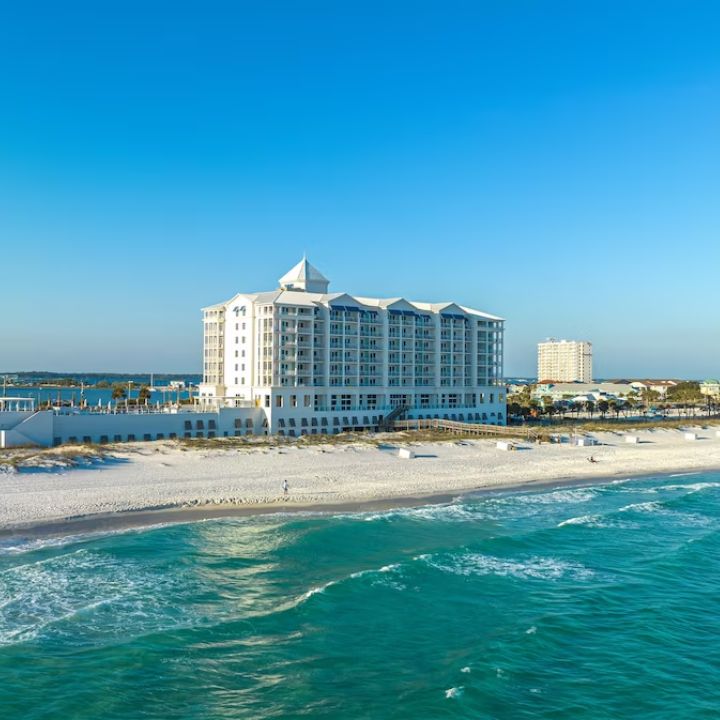 Pensacola Beach Resort
1. Pensacola Beach Resort: Best Family Friendly Beach Resort
The first place my footprints marked was Pensacola Beach Resort, the pearl amidst the ocean. Its pricier stay may not be for all, but for those yearning for the refined elegance of luxurious settings, this place was a treasure.
The Pensacola Beach Resort, nestled along Florida's Emerald Coast, is a paradise offering sun, sand, and memorable experiences. The resort's idyllic location on 800 feet of gulf-front property with additional views of the bay, makes it a perfect getaway for relaxation, family gatherings, and thrilling adventures. Its proximity to Pensacola's vibrant life and attractions adds to its charm. Amenities such as the on-site restaurant, Windrose, with its delightful American cuisine and alfresco dining, beachfront cabanas, and free in-room WiFi ensure a comfortable stay. I especially appreciated the beachside Tiki Bar and the Salty Rose eatery that catered to my casual dining needs, and the outdoor pool with sun loungers provided the perfect setting for sun-soaked relaxation. The staff was warm and accommodating, and the rooms were well-equipped with air conditioning, premium bedding, and laptop-compatible safes. Overall, I found my stay at Pensacola Beach Resort to be an enriching and enjoyable experience, and would highly recommend it for anyone seeking a blend of comfort, adventure, and coastal charm.
As a fervent lover of luxury, the opulence, the comfort, and the extraordinary service all cast a bewitching spell on me. I could still recall the serene sunrise from the balcony of my suite, reflecting its golden light onto the blue sea, a spectacle that forever etched into my memory.
However, for travelers seeking a more budget-friendly yet beautiful stay, the Surf & Sand Hotel would be my suggestion. It's a place where charm and affordability blend seamlessly.
Find the best deal, compare prices, and read what other travelers have to say at Tripadvisor
2. Holiday Inn Express Pensacola Beach
2. Holiday Inn Express Pensacola Beach
My journey took me next to the Holiday Inn Express, where warmth and homeliness captivated me.
Perfect for families, this place gave off an aura of comfort and togetherness. The staff, always with a friendly smile, catered to every need and made my stay memorable. I remember spending countless hours by the poolside, the laughter of children creating a symphony with the gentle lapping of waves.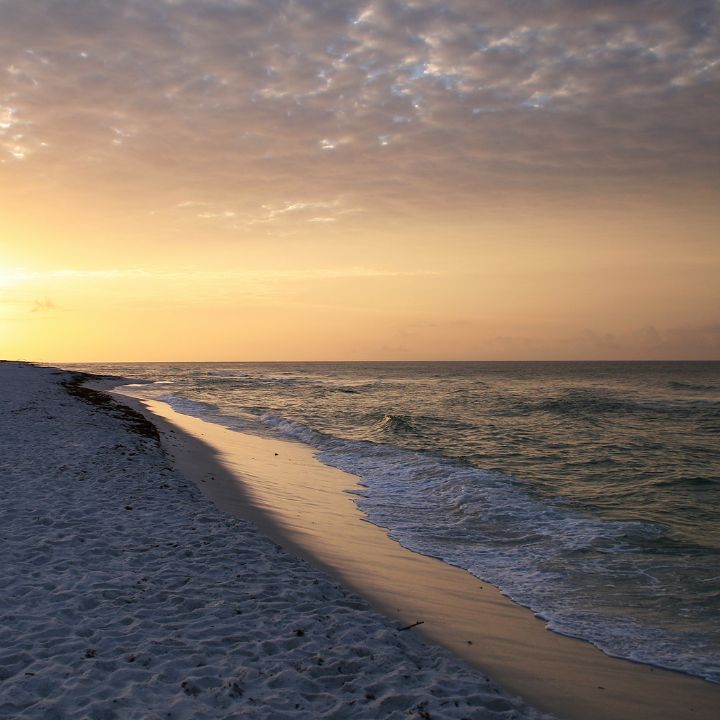 Pensacola Beach
3. Holiday Inn Resort Pensacola Beach Gulf Front
3. Holiday Inn Resort Pensacola Beach Gulf Front: Best All_inclusve Family Resort alternative
My next sojourn was at the Holiday Inn Resort Gulf Front, a haven for those looking for an immersive beach experience.
Holiday Inn Resort Pensacola Beach Gulf Front is a delightful destination for both leisure and business travelers. From the moment you step foot into the bright, modern lobby, the cheerful and welcoming atmosphere envelops you. The resort offers everything you need for an ideal vacation, including a stunning view of Pensacola Beach from private balconies and the terrace of a generous 10,000 sq ft event space. The beach, recently ranked fifth among U.S. beaches by TripAdvisor, perfectly complements the stylish and comfortable guest rooms, which include fun, vibrant Kids' Suites.
The resort ensures fun and relaxation with their outstanding beachfront pool, complete with cascading waterfalls and a 250-foot seasonally heated Lazy River. Dining needs are fully taken care of with Riptides Sports Grill and Beachfront Tiki Bar providing delectable meals and cocktails daily. I particularly enjoyed the live music on the pool deck and the Dive Inn movies after sunset.
Though the resort's amenities are plentiful, the opportunity to explore is equally enticing. The resort's proximity to top restaurants, nightlife, and activities such as charter fishing, paddleboarding, sailing, kayaking, and biking in Pensacola Beach is unbeatable. The Holiday Inn Resort Pensacola Beach offers a blend of fun, relaxation, and adventure, making it an excellent choice for a memorable beach vacation.
For the adventurers and explorers, this resort had the ability to stir the spirit of adventure with water sports and beach activities galore. I discovered a new side of me, as I dived into the cool, aqua waters, the playful sea life my companions.
Find the best deal, compare prices, and read what other travelers have to say at Tripadvisor
4. Hilton Pensacola Beach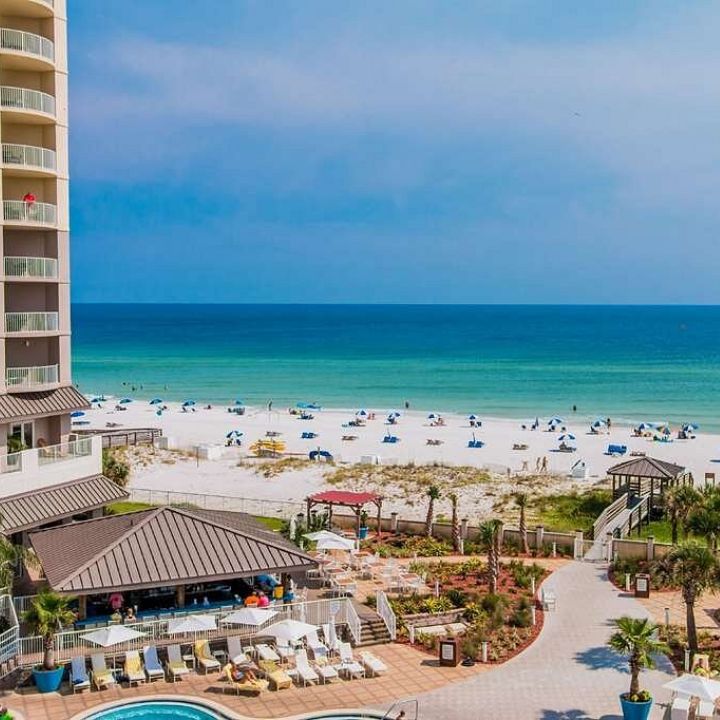 4. Hilton Pensacola Beach: Best Pensacola Luxury Beach Resort
Hilton Pensacola Beach was a testament to style, a symphony of sophistication that reverberated through its grand halls and plush rooms.
The Hilton Pensacola Beach hotel offers a serene beachfront experience, with stunning views overlooking the Gulf of Mexico and a host of watersports to immerse yourself in. Notably, two waterfront outdoor pools, a hot tub, and a sushi bar add to the allure of this appealing destination. The hotel is strategically located a short 20-minute drive from historic downtown Pensacola and a 35-minute drive from the Naval Aviation Museum, making it an excellent base for exploration.
Every guest room at Hilton Pensacola Beach is designed for comfort and convenience, equipped with a microwave, refrigerator, and cable TV with on-demand movies and video games. Dining options are abundant, with three on-site restaurants offering a range of culinary delights. H20 A Cajun-Asian Grill serves breakfast, lunch, and dinner with a fantastic beach view, while Bonsai Sushi and Lounge offers authentic sushi, and Latitudes Beach Bar provides the perfect setting for a relaxing drink.
The hotel is also conveniently close to the Pensacola Beach Gulf Pier, a popular spot for fishing and dining, and the Pensacola Regional Airport is easily accessible within a 30-minute drive. Hilton Pensacola Beach is an excellent choice for both leisure and business travelers with its well-equipped rooms and 30,000 sq ft of meeting space. Its high rating for location by couples makes it a great pick for a romantic getaway as well. Hilton Pensacola Beach is a charming beachfront resort that beautifully combines relaxation and adventure.
Tailor-made for the modern, discerning traveler, this resort offered a sophisticated beach experience. The in-house fine dining restaurant, where I relished world-class cuisine while overlooking the vast, infinite ocean, remains a cherished memory.
Find the best deal, compare prices, and read what other travelers have to say at Tripadvisor
5. SpringHill Suites by Marriott Pensacola Beach
 Following the path less trodden, I found myself at SpringHill Suites by Marriott, an idyllic retreat for solo travelers. As a writer, the tranquillity and peace it offered were my muses, as I spent countless hours penning my experiences, the soft hum of the sea my only companion.
Find the best deal, compare prices, and read what other travelers have to say at Tripadvisor
7. Hampton Inn Pensacola Beach
Hampton Inn was a sanctuary for all. With the family-friendly environment, it also nurtured the romance for couples with its private beach dinners under the moonlight. I remember the joy of togetherness, as families played around, their laughter echoing the happy ambiance.
Find the best deal, compare prices, and read what other travelers have to say at Tripadvisor
8. Fairfield Inn & Suites Pensacola Beach
My journey ended at the Fairfield Inn & Suites, a destination for all ages. With varied activities and amenities, it was a hotspot for groups of friends, families, and couples. I recall the joy of meeting diverse individuals, their stories adding color to my Pensacola adventure.
Find the best deal, compare prices, and read what other travelers have to say at Tripadvisor
Portofino Island Resort
Portofino Island Resort: Best Waterpark Resort
Portofino Island Resort is an opulent 4-star beachfront property in Pensacola Beach. Located 12 km from Woodland Park and 18.2 km from Veterans Memorial Park, the resort's unique allure combines stunning views and a comprehensive array of amenities.
Each apartment is individually decorated and equipped with modern amenities such as a full kitchen, a washer/dryer, free WiFi, and a balcony. Guests can enjoy a soothing soak in the jetted tubs available in every apartment.
Featuring 8 outdoor swimming pools, 3 on-site restaurants, and a full-service spa, Portofino Island Resort is a paradise for those seeking both relaxation and leisure. Guests can enjoy the array of body treatments and massages offered at Spa Portofino, from deep-tissue massages to aromatherapy and reflexology. For the more active traveler, outdoor tennis courts and a gym provide ample opportunity for a holiday workout.
The resort features three on-site restaurants, Coastal, Al Fresco, and Gulfside Grille, serving a range of American cuisine and pizzas respectively. Guests can enjoy the delectable meals while overlooking the pool or beach.
Located within a 30-minute drive from Pensacola Bay Center and Pensacola Children's Museum, this resort offers a great base for local exploration. For guests seeking a family-friendly stay with luxury amenities in Pensacola Beach, Portofino Island Resort is the perfect choice.
Overall Score: 8.2/10
Location: 8/10
Room Comfort: 8.5/10
Amenities: 8.5/10
Family Friendly: 8/10
Value for Money: 8/10
Find the best deal, compare prices, and read what other travelers have to say at Tripadvisor
Exploring 
Pensacola Beach
The song of the sea continued to echo in my ears as I set foot outside the resorts, ready to explore the vibrant life of Pensacola. The coastal city opened its arms to me, the salty breeze my companion, and the city's infectious spirit the fuel to my adventurous soul.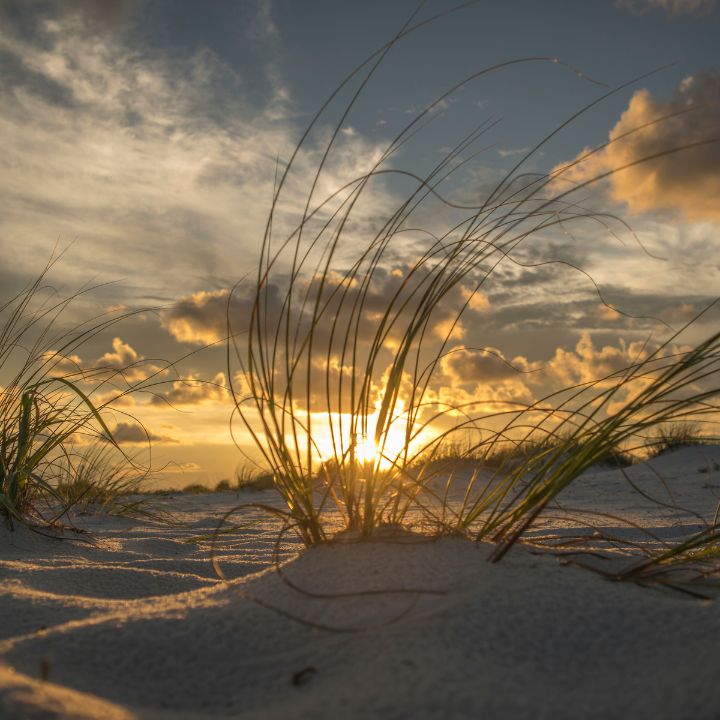 The Historic Village of Pensacola

My journey began in the heart of Pensacola - the historic village. It was like stepping into a time machine, with quaint Victorian houses and aged bricks that told tales of the bygone era. I took a stroll through the charming alleys, savoring the antiquity that clung to every nook and cranny. It was a playground for history buffs, and as a lover of tales past, it drew me in with its rich, vibrant past.
Pensacola Lighthouse and Museum
Next, I ventured to the Pensacola Lighthouse and Museum. The towering structure was a beacon of history and tales. Climbing the spiraling staircase, I felt the thrill of anticipation. The view from the top was worth every step – an uninterrupted panorama of the sparkling Gulf and historic Navy Yard. I took a moment to relish the sight, my breath syncing with the rhythm of the sea.
Fort Pickens
Pensacola's coastline was a haven for history and adventure. At Fort Pickens, I explored the crumbling remnants of a stronghold that stood against time and tide. As I traced the weathered bricks, I could almost hear the echoes of historical battles, the fort standing as a silent sentinel to a bygone era.
Pensacola Pedal Trolley
For a change of pace, I hopped on the Pensacola Pedal Trolley. With the city passing by in a colorful blur, I felt the rhythm of Pensacola under the open skies. Laughter rang out as we pedaled our way around the city, making friends with fellow riders, their stories adding another thread to the rich tapestry of my Pensacola experience.
Exploring Pensacola's Culinary Scene
No journey would be complete without savoring local flavors. From the sophisticated V Paul's Italian Ristorante, where I savored the rich notes of authentic Italian cuisine, to the lively Fish House, where fresh seafood stole the show, every bite was a story, every dish a masterpiece.
Flora-Bama Lounge
The crown jewel of my culinary and cultural exploration was the iconic Flora-Bama Lounge. Nestled on the state line of Florida and Alabama, it was a melting pot of people, music, and flavors. I spent an enchanting evening there, the sweet notes of local musicians filling the air, the laughter and camaraderie around the famous Bushwacker cocktails weaving a magical night to remember.
Pensacola's Beaches
But, Pensacola's heart lay in its stunning beaches. From the lively Casino Beach, buzzing with families and lively beachgoers, to the tranquil shores of Quietwater Beach, perfect for a serene retreat, each beach was a chapter in my Pensacola story.
As my Pensacola chapter closed, I carried more than just a suitcase of souvenirs. I bore the taste of local cuisine on my tongue, the melody of local music in my ears, and the spirit of Pensacola imprinted on my heart. Every street corner I explored, every wave I rode, every laughter I shared, were whispers of a city that welcomed me, a place that felt like a home away from home. Pensacola was not just a destination; it was an experience, an adventure, and a story worth telling.
Pensacola Beach Resorts 
A1: Yes, what was previously known as Margaritaville Pensacola Beach Resort is now Pensacola Beach Resort.
A2: Determining the best resort depends on personal preference, as different resorts cater to different needs. Portofino Island Resort is highly rated for its comprehensive amenities and beachfront location. Other popular resorts include Hilton Pensacola Beach and Pensacola Beach Resort.
A3: The best time to visit Pensacola is between April and October, when the weather is warm and there are numerous outdoor activities to enjoy.
A4: Notable attractions in Pensacola include the Historic Pensacola Village, the National Naval Aviation Museum, Pensacola Lighthouse and Museum, and the beautiful beaches such as Casino Beach.
A5: Yes, Pensacola's beaches are safe for swimming. Lifeguards are on duty at many of the public beaches during peak season. However, as with any beach, it's important to pay attention to any posted warning signs and flags indicating current water conditions.
A6: Absolutely! Pensacola offers a range of family-friendly activities and attractions, from beautiful beaches to fascinating museums and parks. Several resorts also cater specifically to families, offering amenities such as children's programs and family-friendly rooms.
A7: Pensacola is known for its beautiful white-sand beaches, historic downtown area, the National Naval Aviation Museum, and Blue Angels, the US Navy's flight demonstration squadron. It is also known for its annual seafood festival and vibrant arts scene.
A8: Pensacola offers a variety of nightlife options, from relaxed beach bars to lively dance clubs. The downtown area, especially along Palafox Street, is known for its vibrant nightlife scene with a number of bars, pubs, and live music venues.
A9: While Pensacola Beach offers a wide range of accommodations, the area does not have traditional all-inclusive resorts like you might find in other destinations. However, many of the resorts and hotels offer amenities like restaurants, bars, pools, beach access, and recreational activities that can make your stay feel inclusive.
A10: Several resorts in Pensacola Beach cater to families. The Portofino Island Resort and Pensacola Beach Resort are favorites due to their family-friendly amenities such as kids' clubs, outdoor pools, and recreational activities. The Holiday Inn Resort Pensacola Beach is another popular choice with its lazy river and family-friendly dining.
A11: While Pensacola Beach offers many upscale accommodations with excellent services and amenities, as of now, there are no officially rated five-star resorts in Pensacola Beach. For luxury stays, visitors often choose resorts like Portofino Island Resort or Hilton Pensacola Beach.
A12: Many resorts in Pensacola Beach offer activities such as swimming, fitness centers, spa services, and direct beach access. Some resorts may also provide water sports rentals, kids' clubs, and organized activities or excursions. It's always a good idea to check with the individual resort for a full list of included amenities and activities.
A13: Yes, several resorts in Pensacola Beach offer on-site spa services. For example, Portofino Island Resort has a full-service spa offering a range of treatments including massages, facials, and body treatments. Always check with your chosen resort for specific services offered.
A14: Most resorts in Pensacola Beach offer on-site dining options ranging from casual fare to fine dining. Some also offer room service and poolside or beachside dining. For example, Pensacola Beach Resort offers three on-site restaurants, while Portofino Island Resort has multiple dining venues offering various cuisines.
💼 We cherish our independence! ✈️ Our travel recommendations are carefully researched, bias-free, and powered by human expertise by April and Ricky of LRB (we have personally researched and travelled to many of these destinations and researched others thoroughly through first-hand accounts). 🌍✨
We try to keep everything up to date, but please always do your own research and contact us if you know any issues for us to help others as best we can as a small but professionally focused team! 🧐📚⚠️