9 Texas All Inclusive Resorts
These are the top Texas All Inclusive Resorts & Vacation Spots as prescribed by the experts and the travelling public.
What are the best family vacation ideas in Texas? Yes, it's big, but we are here to show your family around the lone star state. Apart from a few diverse cities, Texas also offers a number of distinct vacation types which can work well for families with children of all ages.  
Lake Austin Spa Resort
This wellness resort in the Texas Hill Country offers is an all-inclusive retreat that offers customized experiences. There are 40 rooms in a remarkable resort, which has been named by Condé Nast Traveler's Readers' Choice Awards as one of the best spa resorts worldwide. 
All-inclusive encompasses things like  paddleboard yoga, water meditation,  kayaking and organic, farm-to-table meals.
Lake Austin Spa Resort on TripAdvisor

---
Texas All Inclusive Vacations
TripAdvisor lists nine All Inclusive Resorts in Texas that range from award-winning Spa Resorts, Beach Resorts and more basic vacation options: TripAdvisor All Inclusive vacation options in Texas. 
This video provides top Vacation ideas in Texas remain the same. 
Gulf Coast All Inclusive Resorts
There are seven all-inclusive resorts and hotels listed in the Texas Golf Coast on TripAdvisor. Not all of these are place you would want to have an extended vacation in, but there are some great resorts on the list: TripAdvisor All Inclusive vacation options on the Texas Golf Coast. 
Isla Grand Beach Resort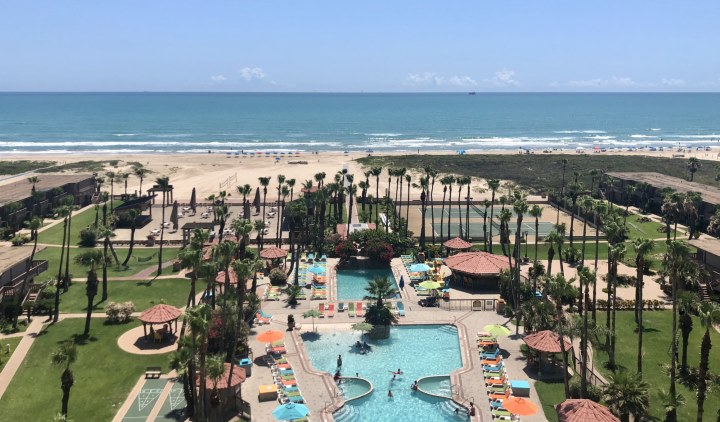 Texas All Inclusive Resorts
There has been a bit of a consensus with travel writers that The Isla Grand Beach Resort one of the top resorts on the Texas Gulf Coast. This is hard to argue with given the facilities and the prime location on the beach at South Padre Island
From the oceanfront swimming pools, hot tubs, tennis and sand volleyball courts there is some activity to while the days away in the golden sunshine. Food wise there are, restaurants, a nightclub and of special interest to us: package deals.
Some of these deals include things like $30 value-in our Restaurant (Each Day). This equates to a score of 6/10 on the all-inclusive scale of things, but it is better than nothing. 

Right on the beach with pools and 10 acres of quality resort features to explore.

Isla Grand Beach Resort South Padre Island, TX

Near Galveston, Crystal Beach further up north near Houston but on the Gulf Coast is another standout vacation destination in Texas in our findings. This is a great natural setting to take out a vacation rental.
Some more of the best resorts in the Lone Star State are:
Hilton Garden Inn South Padre Island
The Westin Riverwalk
Holiday Inn Express Hotel & Suites- South Padre Island
Great Wolf Lodge
Westin La Cantera Resort

Golf Coast Resorts
The Gulf Coast is haven for beach activities, fishing and birdwatching and has a decent music and art culture as well.

Top 25 Golf Coast Resort Deals with Reviews on TripAdvisor

Including:   
Staybridge Suites Corpus Christi
Hilton Garden Inn South Padre Island
Hotel Galvez & Spa, A Wyndham Grand Hotel
Holiday Inn Express Hotel & Suites- South Padre Island
The San Luis Resort
The Galvestonian
Travelodge South Padre Island
Lighthouse Inn at Aransas Bay
---
Rockport Vacations
Rockport is only about half an hour from Corpus Christi which is down near the Mexico border. This artistic and naturally beautiful location is worth consideration as one of the top Texas vacation spots.

---
San Antonio Vacations
With more than 25 million visitors each year San Antonia has a well established family vacation infrastructure. While the  lots of other adventures to explore. San Antonio Zoo and the  Tower of the Americas with it's stunning city views are also popular and appropriate for family vacations.

San Antonio is the home of the Alamo, Davy Crockett and the hillside vacation spots.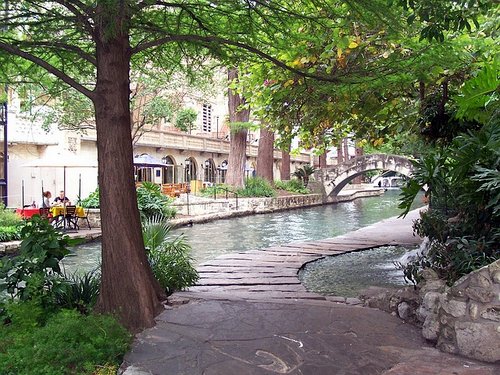 Top 25 San Antonio Resort Deals with Reviews

JW Marriott San Antonio Hill Country Resort & Spa
Riverwalk Vista
Drury Plaza Hotel Riverwalk
Mokara Hotel and Spa
Westin La Cantera Resort
Embassy Suites Riverwalk
Hyatt Regency Hill Country Resort and Spa

---
San Antonio include Six Flags Fiesta
Here is a bit of an inside view of what is happening at the Six Flags Fiesta Texas and the rides, roller coasters, live shows at the time of writing. 
Austin Texas Family Vacation Ideas
Austin is also close to the Hill Country and also has country music. As well as many other types of music in a rich and interesting mix.
Top 25 Austin Resort Deals with Reviews on TripAdvisor

Austin itself while well known as a crafty, musical university city also has an affinity with families who find comfort in the many good BBQ restaurants and quality family accommodation offerings and makes for an ideal combination vacation with nearby San Antonio.

The Thinkery in Austin, is a big new children's museum where science interacts with hands on family good times. Ideal for kids younger than 11 but also suitable for older kids the exhibits allow children to experience the why and how of  things.  A place where people connect with ideas by doing according to their website.
A place where kids get to build and make things which allow their imagination and cognition to develop in a supportive environment. While the exhibits are changing through the seasons the good times keep rolling on.
The Thinkery while one of the newest attractions for families in Texas is not the only. Also in Austin you can enjoy the Austin Nature and Science Centre the Austin Children's Museum and of course the Zoo.
The Spa at Travaasa Austin

One of our top finds in 
Austin with near perfect reviews all around the web and with great views of Lake Travis (pictured)

---
Big Bend National Park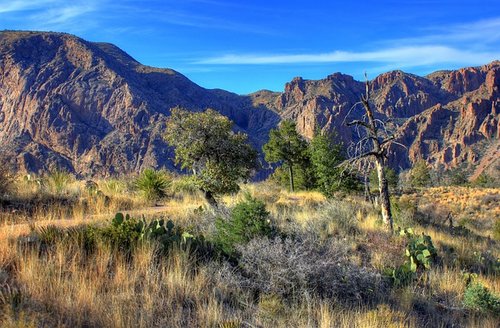 Big Bend National Park
Big Bend National Park
Bigger than Rhode Island and with a variety of microclimates Big Bend National Park. Deep in the South West near the border with Mexico this is a location off the beaten track yet offers lots of space for families to explore and escape the everyday grind.  
While for older kids this may mean hiking down by the Rio Grande, but also there are saddle horse tours that offer trips around old mining towns that are suitable for a wider age groups. In the park you van find rangers to help you make sense of the history, geography and natural landscape. For accommodation at Big Bend National Park try Chinos Mountains Lodge or one of the many campgrounds. Click here for more information and offers.
Find out more about Big Bend on our Texas family vacation ideas review.
---
Texas Christmas Capital
Grapevine Texas has prided itself on becoming a Christmas capital. The event has grown over time to the point now where there are now thousands of events which cover more than forty days. Apart from decorations you can find cartoon characters. Some top attractions include light show spectaculars, Christmas movies, tractor wagon rides and a North Pole Neighbourhood and lots more.

Texas Hill Country is popular for vacation rentals in Central Texas and borders into San Antonio and Austin.
Fredericksburg Holiday Rentals

---
Texas Cruise Vacation
Ever considered a cruise from Texas as part of your Texas vacation? Here only a few of a whole lot of cool options. Click one of the links to see more or call our cruise agent for more information.

Fort Worth and Dallas Family Vacation Ideas
While not an obvious choice for a family vacation in Texas Dallas and Fort Worth do offer enough for a family to spend a good couple of days lingering.  Including Museum of the American Railroad and a recreated western village at the Dallas heritage village. There are also the Six Flags parks, Zoos, a world aquarium.