Garza Blanca Resort Cancun
Garza Blanca Resort & Spa Cancun is an epitome of luxury, offering everything from gourmet dining to water adventures. Ideal for families, couples, and groups, this is the place where Mexican charm meets world-class hospitality.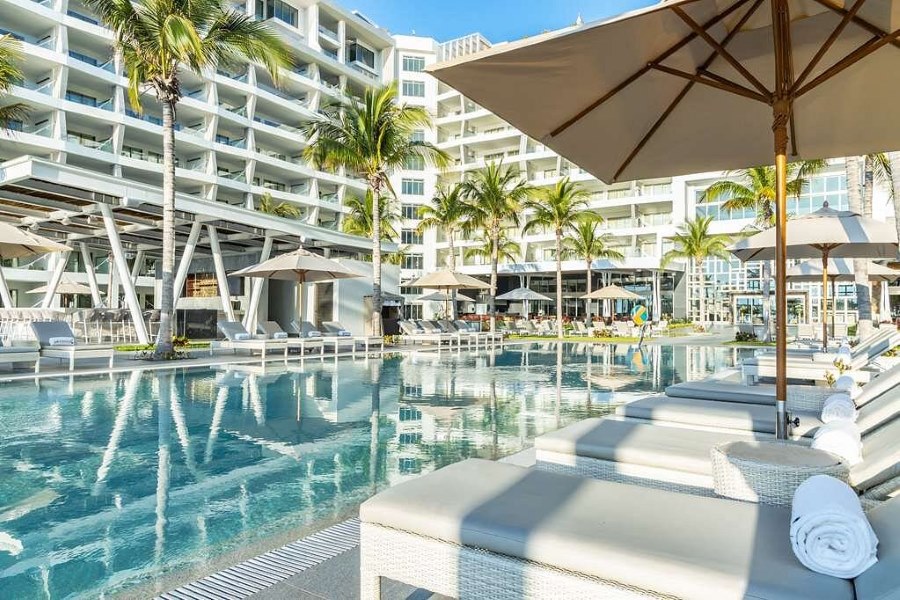 Garza Blanca Resort & Spa Cancun
Review: Garza Blanca Resort & Spa Cancun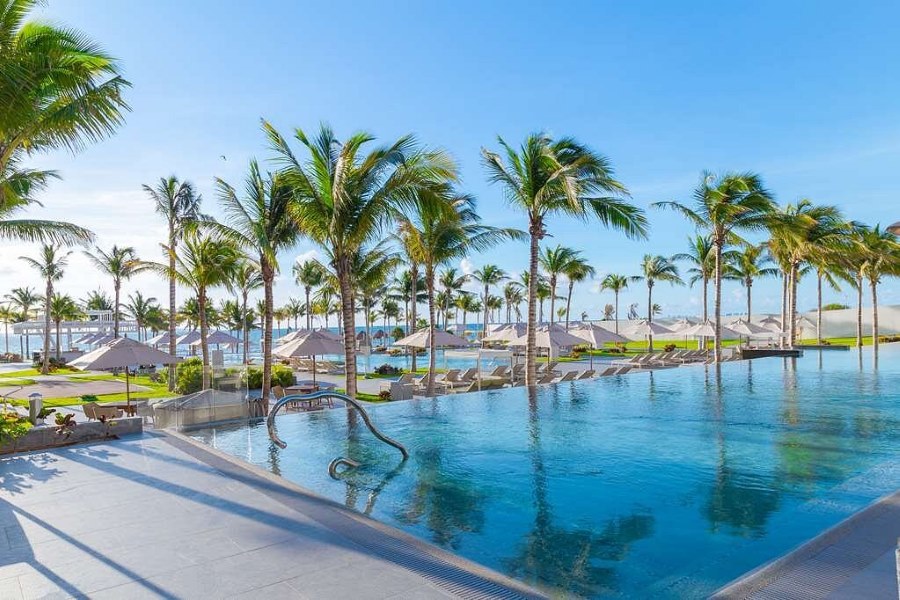 Garza Blanca Resort & Spa Cancun Pool
1. Location: 4.5/5
Garza Blanca Resort is strategically located on the Strip of Punta Sam, right on the sandy beaches of Costa Mujeres. This offers guests immediate access to the azure waters of the Caribbean Sea. Nearby attractions such as El Meco Archaeological Site and Isla Mujeres Cemetery add to its charm. The resort's proximity to Cancún International Airport (26km) and other attractions like La Isla Shopping Mall and Mercado 23 offers convenience. However, the distance from the main Cancún city center might be slightly inconvenient for those looking to explore urban Cancún frequently.
2. Accommodation: 4.7/5
The resort boasts 452 air-conditioned rooms equipped with modern amenities like a flat-screen TV, safety deposit box, and private bathrooms with bidets and rainfall showers. Some rooms even offer kitchenettes. Guests have commended the spaciousness and cleanliness of the rooms. The presence of a balcony in each room provides an added luxury of enjoying picturesque views.
3. Amenities: 4.8/5
Garza Blanca impresses with its wide array of amenities. Seven outdoor pools, a fully-equipped Imagine Spa, four on-site restaurants featuring diverse cuisines, especially Mediterranean, and unique facilities like beach yoga and beach volleyball courts stand out. The resort's water park access and beach massages are cherries on top. A minor suggestion would be to expand their dining options to include more local and international cuisines.
4. Service: 4.6/5
From the 24-hour front desk to room service, guests are offered impeccable service. The resort's provision of airport transfers adds to the convenience. Feedback from guests particularly praises the dining staff for their attentive service. However, as with many large resorts, there might occasionally be slight delays during peak times.
5. Value for Money: 4.5/5
Considering the sheer luxury, plethora of amenities, and exclusive beach access, the resort offers commendable value for money. The all-inclusive package, coupled with unique experiences and impeccable service, justifies the price point.
Recommendation:
Garza Blanca Resort & Spa Cancun is best suited for travelers seeking a luxurious and relaxed getaway, be it families, couples, or groups. The resort beautifully marries the charm of the Mexican Caribbean with modern luxuries. However, those looking to frequently explore the urban side of Cancún might find the location a bit off-centered. For those seeking a nature-focused experience, a visit to the nearby Garrafon Natural Reef Park is recommended.
A Week in Paradise: Garza Blanca Resort & Spa Cancun
Day 1: Arrival
Fresh off the plane and with Cancún International Airport 26km behind me, the sheer opulence of Garza Blanca Resort & Spa immediately captured my essence. Nestled in Punta Sam, the white sands of Costa Mujeres caressed my feet as the Caribbean Sea whispered its secrets. This wasn't just a resort; it was an experience waiting to unfold.
Day 2: Settling In
Waking up in my air-conditioned room, I felt royalty as the sun streamed through the balcony. The room boasted not just a pristine view but a kitchenette complete with a fridge, dishwasher, and microwave. The highlight? A luxurious bathroom featuring a rainfall shower. Breakfast? An American treat, a delightful blend of familiarity in a foreign land.
Day 3: Exploring The Resort
Glistening under the Cancún sun were seven outdoor pools, each surrounded by plush sun loungers protected by pool umbrellas. At the Imagine Spa, the promise of hydrotherapy and hot stone massages beckoned. The day was dedicated to rejuvenation, and the spa did not disappoint. The evening saw me at one of the four on-site restaurants, indulging in tantalizing Mediterranean cuisine.
Day 4: Sun, Sand & Water Sports
Garza Blanca was on the Strip and directly on the beach, which meant easy access to jet skiing, snorkeling, and motor boating. A day immersed in water adventures was accompanied by periodic rests under free beach cabanas, with beach massages providing the perfect midday relief.
Day 5: Yoga & Fitness
The resort's emphasis on holistic health was evident. The day began with a beach yoga session, followed by rigorous gym training. After the workout, the rooftop pool with its mesmerizing views became my sanctuary.
Day 6: Historical Explorations
Stepping out, I explored the El Meco Archaeological Site and Isla Mujeres Cemetery. Both served as gentle reminders of the rich history and culture that surrounded the luxury of the resort. Shopping enthusiasts would find solace in La Isla Shopping Mall and Mercado 23.
Day 7: The Resort's Finer Details
With 452 rooms, each uniquely luxurious, the resort was a testament to the TAFER Hotels & Resorts' commitment to sophistication. Guests raved about the dining options and the expansive bar, and breakfast always had something new to offer. On this day, I took it upon myself to explore every nook and cranny, including the kids' club, the gift shop, and the convenience store.
Day 8: Reluctant Goodbyes
As I prepared for departure, the feeling was bittersweet. The Garza Blanca Resort & Spa had provided more than just accommodation. It was an immersive dive into the best of what the Mexican Caribbean had to offer: luxury, adventure, gastronomy, and relaxation. A final American breakfast, a stroll along the white sandy beach, and I was off, with memories that would last a lifetime.
Lost and Found in Cancún: A City Beyond Its Resorts
The sun had just started to set, casting a golden hue on the pristine white sands of Costa Mujeres, Cancún, as I gingerly stepped onto the balcony of my room at the Garza Blanca Resort. The Caribbean Sea shimmered in various shades of blue, from aquamarine to deep cobalt. I was a long way from the bustling streets of New York City.

On my first evening, as I ventured out to the El Meco Archaeological Site, I crossed paths with Rosa, a local artist. She chuckled at my wide-eyed amazement and told me, "You've just scratched the surface, Sarah."
Over the next few days, Rosa became my unofficial guide. From her, I learned the stories that the ruins held, the legacy of the Mayan civilization, and the whispers of ancient rituals. We wandered through Mercado 23, where I tasted the most delectable tamales, and I got a lesson in bargaining with street vendors.
One afternoon, Rosa took me to a hidden eatery. I bit into a spicy taco al pastor, the flavors bursting in my mouth. "Real Mexican food, right?" she winked. That evening, I scribbled in my journal, 'Cancún isn't just about the resorts; it's about the stories that weave through its streets.'
At the resort, I reveled in the luxury. From the seven glistening pools to the tranquil Imagine Spa, it was a stark contrast to the city's hustle and bustle. One evening, lulled by a beachside massage, I thought, "Could life get any better?"
But not everything was a rosy adventure. The resort's location, a bit off from the city's core, made frequent urban excursions tiring. And though the on-site restaurants were a gourmet's delight, I found myself craving the chaotic charm of the street food stalls.
On my last day, Rosa and I sat on the beach, the waves playfully nipping at our feet. She handed me a small pendant, a turquoise-colored Mayan emblem. "For luck and to remember us by," she whispered.
As I boarded my flight back, Cancún wasn't just another tick on my travel list. It was a city of contrasts, where luxury met tradition, where stories from the past intertwined with the present.
Who would it suit?
For those who seek luxury with a touch of authenticity, Garza Blanca Resort & Spa in Cancún is perfect. Dive into opulence but step out to explore the raw, vibrant city life.
Looking for something different?
If you're looking for a purely urban experience, closer to the heart of Cancún, consider staying downtown. It'll give you instant access to the city's nightlife, markets, and historical sites.
Share Your All-Inclusive Adventures and Questions! 🌴 Have a memorable experience from a luxury all-inclusive vacation? We'd love to hear it at Luxury Resort Bliss. We're on the lookout for top-quality, insightful tales that'll inspire our community. Dive in and be a part of our sun-soaked stories! 🌊🍹✨
The story is a fictionalized account founded on travel expertise, research, and experience. Always refer to recent guest reviews and perform due diligence before booking.
💼 We cherish our independence! ✈️ Our travel recommendations are carefully researched, bias-free, and powered by human expertise by April and Ricky of LRB (we have personally researched and travelled to many of these destinations and researched others thoroughly through first-hand accounts). We also have put in the hard miles, and Ricky has worked for decades for resort and hotel chains  Hyatt, Hilton, Shangri-La and Radisson before starting Luxury Resort Bliss in 2007. 🌍✨ Unlike some other resort review websites we are concerned on the guest experience rather than mere corporate interest.