Beach Resorts in Japan
Looking for Sun, Sand, and Sophistication at Japan's Top Luxury Beach Resorts?
Japan, an archipelago of 6,852 islands, boasts countless beautiful beaches that serve as fantastic destinations for beach resort vacations. While many travelers come to Japan for the bustling cities, the country's seaside retreats offer a different charm altogether. From tropical islands in the south to rugged coastal landscapes in the north, Japan's beach resorts are a treat to explore.
Okinawa: Hawaii of Japan
While Japan is often celebrated for its snow-capped mountains and cities, the country's coastline also boasts some remarkable beach resorts. As I gazed out of the airplane window, the Land of the Rising Sun appeared to be an archipelago strewn like precious gems over the Pacific Ocean. Here are Japan's premier luxury beach resorts that I found to offer a blend of sophistication, relaxation, and scenic beauty.
Top 100 Beachfront Resorts in Japan - Find the best deal, compare prices, and read what other travelers have to say at Tripadvisor
Okinawa Beach Resorts: The Hawaii Japan
My adventure started in Okinawa, often known as the 'Hawaii of Japan'. The subtropical climate, azure sea, and white sandy beaches of the Yaeyama Islands cast a magic spell. I stayed in a beach resort in Ishigaki, an island famous for its coral reefs and marine life. Days were spent snorkeling among vibrant fishes, kayaking through the mangroves, and delighting in the local cuisine with flavors of the sea in every bite. A glass-bottom boat tour at Kabira Bay revealed a mesmerizing underwater world that was impossible to forget.
Club Med Kabira - Ishigaki - Top All-inclusive Beach resort in Japan
Ah, the Club Med Kabira - Ishigaki. Set on the shimmering coast of Ishigaki Island, it's a haven where modern luxury meets age-old Japanese traditions. Let's delve deeper into the allure of this resort to see if it's your dream destination or if another spot might be better suited for you.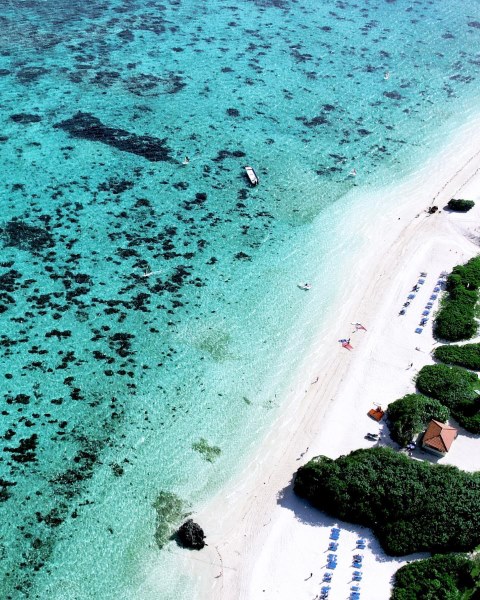 Credit - Club Med Kabira - Ishigaki All-Inclusive Beach Resort via Insta
1. Location: 4.5/5 Enveloped by the protected marine park, Club Med Kabira is a gem hidden in the North-Western reaches of the Island of Ishigaki. Its location affords its guests the privilege of access to some of Japan's most beautiful diving spots in the bay of Kabira, and the magnificent surrounding fauna and flora. However, the remoteness might pose a hurdle for those looking for a quick city escape or fast-paced nightlife.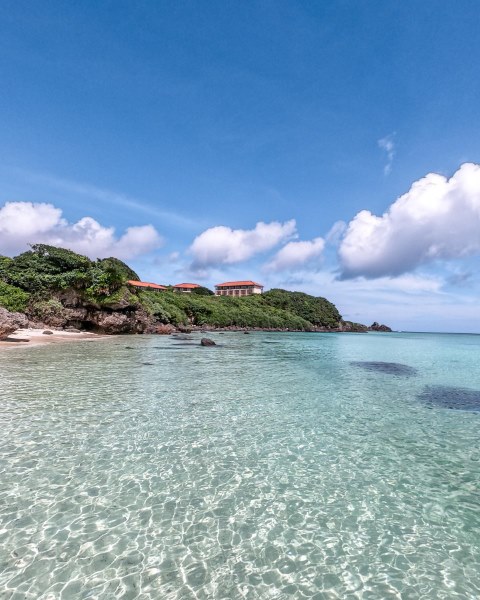 Club Med Kabira - Ishigaki All-Inclusive Beach Resort Accommodation
2. Accommodation: 4.7/5 Accommodation at Club Med Kabira is a blend of contemporary comfort and a nod to Okinawan aesthetics. Suites are spacious and well-equipped, balancing functional luxury with a touch of simplicity. The potential drawback here could be the lack of variety in room styles compared to some competitors.

3. Amenities: 5/5 The resort is brimming with amenities designed to make one's stay an experience. Its expansive selection of water sports, including windsurfing, kayaking, and scuba diving with manta rays, is a dream for adventure seekers. The resort's emphasis on wellness, embodied in its curated active lifestyle offerings, caters to the health-conscious. A standout is the pop-up beach lounge, a spot where guests can unwind to the sounds of traditional sanshin music at sunset.
4. Service: 4.8/5 Club Med Kabira is reputed for its attention to service, with staff that not only meet but exceed guests' expectations. However, some visitors have noted occasional delays in service during peak hours - a small hiccup in an otherwise exemplary record.

5. Value for Money: 4.3/5 Given its luxury offering and range of unique experiences, Club Med Kabira provides good value for money. Yet, it may seem pricey for those seeking less elaborate amenities.
Dining at Club Med Kabira is an adventure on its own. The main restaurant offers a culinary journey spanning Okinawan, Japanese, Korean, Chinese, French, and Italian cuisine. The panoramic sea views offered by its three themed rooms add a special flavor to the dining experience. The two bars, Tingara and the upcoming White Pearl, promise more casual yet delightful gastronomic experiences.
Who is it for? This resort is a perfect match for the luxury-seeking traveler interested in a mix of adventure, wellness, and cultural immersion. It's a place for those who appreciate the subtleties of Japanese traditions, and wouldn't mind swapping a bustling cityscape for pristine natural beauty.
Alternative For those seeking more city-centric luxury and variety in room styles, the Ritz-Carlton in bustling Tokyo might be a more suitable choice. You'll still find a generous blend of Japanese tradition and modern luxury, but with the added benefit of immediate access to Tokyo's urban offerings.
In conclusion, the Club Med Kabira - Ishigaki offers an immersive luxury experience. Its charm lies not only in its lush natural surroundings but also in the carefully curated cultural experiences that promise a taste of the unique Ishigaki lifestyle. Although its seclusion and price might not be for everyone, those in search of tranquility, adventure, and wellness in a setting steeped in tradition will undoubtedly find it to be a slice of paradise.
Find the best deal, compare prices, and read what other travelers have to say at Tripadvisor
Okinawa Beach Resorts
Okinawa Prefecture: The first destination on any list of Japan's best beach resorts has to be Okinawa. It's Japan's southernmost prefecture, composed of more than 150 islands in the East China Sea. Okinawa is often referred to as the "Hawaii of Japan" because of its tropical climate, crystal-clear waters, and pristine sandy beaches. Okinawa's main island and the smaller islands such as Ishigaki, Miyako, and Iriomote are well-loved for their unique culture, vibrant coral reefs, and abundant marine life. They offer a laid-back, tropical ambiance that's quite different from Japan's mainland.
Best Western Okinawa Onna Beach (9-10)
Best Western Okinawa Onna Beach - Top Affordable Beach Resort in Japan
Set in the picturesque Onna village in the Okinawa Prefecture, Best Western Okinawa Onna Beach is like a well-kept secret of serenity nestled between the cobalt waters and the vibrant Okinawan mainland. This 3.5-star resort captures the very essence of a tranquil beach retreat, perfect for those seeking solace and relaxation amidst the ethereal beauty of nature.
The moment I set foot in the resort, I was greeted by a soft symphony of lapping waves and whispering palm trees. The beach, with its carpet of immaculate white sand, seemed to stretch out into infinity, merging with the glistening azure bay. The resort itself was a low-rise structure, its understated elegance blending harmoniously with the natural surroundings.
The rooms were a pleasant surprise, complete with private balconies that offered uninterrupted views of the enchanting bay. I found myself spending countless hours just gazing out at the sea, the sky's ever-changing hues painting breathtaking portraits on the canvas of the ocean. The room's free Wi-Fi was a bonus, allowing me to share this slice of paradise with the world.
And then there was the dining experience. Large, luminous windows lined the restaurant, ensuring the stunning seascape remained the star of the show. Whether it was a romantic dinner under the star-studded sky or a hearty breakfast as the sun rose, every meal felt like a celebration of the sea and its bountiful wonders.
The real highlight of the Best Western Okinawa Onna Beach, however, was its ideal location. Just a stone's throw away from the famous Naha Airport, the resort offered easy access to some of Okinawa's most intriguing attractions and dining options, making it a convenient base for exploration.
For solo travelers, couples, and families seeking a relaxed beach vacation, or for those who crave the comfort of familiar Western-style accommodation, Best Western Okinawa Onna Beach is a haven of tranquility and comfort. It's the tropical island getaway you've been dreaming of, made even better by the unmistakable touch of Okinawan charm.
Amanemu, Shima Peninsula (9.5/10)
Amanemu, Shima Peninsula: Top Luxury Beach Resort in Japan
Amanemu, perched on the serene shores of the Ago Bay in the Shima Peninsula, is the epitome of luxury. The resort's suites and villas, inspired by traditional Japanese ryokans, offer private onsens and mesmerizing bay views.

The Michelin-starred restaurant, the exquisite spa with its onsen bathing experience, and the proximity to the sacred Ise Grand Shrine enhance the resort's appeal. However, the remoteness of the location might be less appealing to those seeking a bustling nightlife or extensive sightseeing opportunities.
Find the best deal, compare prices, and read what other travelers have to say at Tripadvisor
Fukuoka Prefecture:  Kyushu Island's Fukuoka Prefecture is also an attractive beach resort destination in Japan. The prefecture's coastal city of Fukuoka is well-regarded for its beaches, particularly around the Itoshima area. These beaches offer idyllic settings for swimming, sunbathing, and enjoying the sea breeze.
Hoshinoya Okinawa, Taketomi Island (9/10)
Located on the tranquil Taketomi Island, Hoshinoya Okinawa offers a unique blend of traditional Ryukyu architecture and contemporary luxury. The beachfront villas come with private gardens, while the resort's infinity pool offers panoramic views of the East China Sea.
The island's preserved village atmosphere and cultural experiences, like water buffalo cart rides, make for a truly immersive stay. However, the relative isolation of Taketomi Island means additional travel planning is needed to access the resort.
The Ritz-Carlton, Okinawa (8.5/10)
Nestled within the Kise Country Club and surrounded by the Yanbaru forest, The Ritz-Carlton, Okinawa offers a luxurious retreat with a focus on golf and spa relaxation. The resort's rooms and suites overlook the verdant landscape and the East China Sea.

While not directly on the beach, the resort offers easy access to some of Okinawa's best beaches. Its location in the heart of Okinawa also allows for convenient exploration of the island's attractions. However, the resort's focus on golf might be less appealing to non-golfing guests.
The Ritz-Carlton, Okinawa at Kayak
The Terrace Club at Busena, Okinawa (8/10)
The Terrace Club at Busena in Okinawa is a wellness-focused luxury beach resort. Besides its beautiful suites overlooking the East China Sea, the resort is renowned for its Thalasso spa, which utilizes seawater in its treatments.

The resort's private beach, the excellent dining options, and the marine activities add to its allure. However, guests seeking a lively nightlife or bustling local scene may find the resort's tranquil and relaxed atmosphere a bit too quiet.
Sublime Shores Await
Whether you prefer the secluded luxury of Amanemu, the cultural immersion at Hoshinoya Okinawa, or the wellness emphasis at The Terrace Club at Busena, Japan's luxury beach resorts offer unforgettable experiences. Amid the sun-kissed beaches and azure waters, these resorts provide a haven of relaxation and opulence that transport you to a world of coastal elegance and charm.
Find the best deal, compare prices, and read what other travelers have to say at Tripadvisor
Best Japanese Beach Resorts on TA
Club Med Kabira - Ishigaki: Located on Ishigaki Island in the Okinawa Prefecture, Club Med Kabira is an all-inclusive resort that's perfect for families. With various activities for both children and adults, it's a great destination for family vacations. Those interested in watersports like snorkeling and scuba diving would also enjoy this resort due to its location near some of the most beautiful coral reefs in Japan.
Best Western Okinawa Onna Beach: Situated in Onna village, in the Okinawa Prefecture, Best Western Okinawa Onna Beach offers stunning sea views. With easy access to the beach, it's perfect for solo travelers, couples, or families seeking a relaxed beach vacation. It's also suited for travelers who prefer familiar Western-style accommodation.
Renaissance Okinawa Resort: This resort, also located in the Okinawa Prefecture, offers a luxurious beachfront experience. With various dining options, a fitness center, and a spa, it's ideal for couples looking for a romantic getaway or individuals seeking a tranquil retreat.
Sheraton Okinawa Sunmarina Resort: Part of the renowned Sheraton brand, this resort in Okinawa offers top-tier services and facilities, making it perfect for luxury travelers. It's also a great choice for business travelers, given Sheraton's reputation for excellent business facilities.
Villabu Resort: Villabu Resort offers villa-style accommodation, making it an excellent choice for groups of friends, families, or couples who prefer a more private, home-like setting for their beach vacation. As a smaller resort with fewer reviews, it may also appeal to those who prefer a quieter, less crowded setting.
Find the best deal, compare prices, and read what other travelers have to say at Tripadvisor about the top beach resorts in Japan
Other Beach Resort Destinations in Japan
There are beach resorts all over Japan and a few areas we did not dig into too much are: 
Shikoku Region: Shikoku, the smallest of Japan's four main islands, is another excellent beach resort destination. The region is known for its slower pace of life and stunning natural beauty. Shikoku's coastal area, especially the southern coastline, boasts a number of beautiful beaches with panoramic views. The region's mild climate, scenic beauty, and relatively uncrowded beaches make it a perfect spot for a relaxing seaside vacation.
Niigata Prefecture: For those seeking a beach retreat in the colder months, Niigata, located on Honshu's western coast, offers a distinct appeal. The prefecture faces the Sea of Japan, and its sandy beaches are ideal for summer swimming and sunbathing, while winter brings opportunities for snow sports and onsens.
Shizuoka Prefecture: Famous for its views of Mount Fuji, Shizuoka is also home to some of Japan's most beautiful beaches. The Izu Peninsula, with its stunningly clear waters and white sandy beaches, is a popular summer destination for both Tokyoites and international travelers.
Each of these regions in Japan provides unique experiences for beach resort vacations. Whether you seek the tropical vibes of Okinawa, the tranquil beauty of Shikoku, the winter appeal of Niigata, the scenic charm of Shizuoka, or the diverse experiences in Fukuoka, Japan's beach resort destinations cater to all kinds of travelers. So, pack your bags and prepare for an unforgettable seaside adventure in the Land of the Rising Sun.
Top 100 Beachfront Resorts in Japan - Find the best deal, compare prices, and read what other travelers have to say at Tripadvisor
Comparing Japanese Beach Resorts
Comparing beach resorts in Japan to other Asian countries involves various aspects such as beach quality, accommodation options, amenities, activities, service quality, and overall luxury experience. Here's a scoring-based comparison to help luxury travel resort-goers make informed choices:
Beach Quality: 
Japan: 8/10 - Japan's beaches are known for their cleanliness and natural beauty, with some offering stunning coastal landscapes. However, the water temperature may not be as warm as in other Asian countries.
Bali, Indonesia: 9/10 - Bali's beaches are renowned for their white sands, crystal-clear waters, and tropical ambiance. The beaches in Bali are often considered among the best in Asia.
Accommodation Options: Japan: 7/10 - Japan offers a range of luxury beach resorts, often combining traditional Japanese hospitality with modern amenities. However, the number of beachfront resorts may be limited compared to other destinations.Thailand: 9/10 - Thailand boasts a wide selection of luxury beach resorts with world-class facilities and exceptional service. Popular destinations like Phuket and Krabi offer numerous beachfront options.
Amenities and Activities: 
Japan: 7/10 - Japanese beach resorts often feature onsen (hot spring) facilities, traditional Japanese baths, and cultural experiences. Water sports and outdoor activities may vary depending on the location.
Maldives: 9/10 - The Maldives is known for its luxurious overwater villas, pristine white beaches, and an abundance of water activities such as snorkeling, diving, and sunset cruises.
Service Quality:
Japan: 8/10 - Japanese hospitality, known as omotenashi, emphasizes exceptional service, attention to detail, and personalized care. Staff at luxury beach resorts in Japan are renowned for their professionalism and attentiveness.
Vietnam: 7/10 - Vietnam offers warm and friendly service, though the level of luxury service may vary between resorts.
Overall Luxury Experience:
Japan: 8/10 - Luxury beach resorts in Japan offer a unique blend of traditional Japanese culture, refined elegance, and attention to detail. The emphasis on relaxation, wellness, and authentic experiences contributes to a luxurious overall experience.
Maldives: 9/10 - The Maldives provides the epitome of luxury beach resort experiences with unparalleled privacy, exquisite accommodation, world-class dining, and exceptional natural beauty.
Please note that these scores are subjective and based on general observations. Each individual's preferences may vary, so it's important to research specific resorts and their offerings to find the best fit for your luxury travel needs.
Beach Resorts in Japan FAQ 
Yes, Japan does offer all-inclusive resorts, especially in popular beach destinations like Okinawa. Club Med Kabira Ishigaki is an excellent example of an all-inclusive resort in Japan, known for its marine sports, gourmet cuisine, and child-friendly facilities.
Yes, it is generally safe to swim in the ocean in Japan, especially in designated swimming areas at the beach resorts. However, like with any beach, it's important to pay attention to safety guidelines and weather forecasts. Beware of strong currents, high waves, and certain marine life like jellyfish.
Japanese beach resorts offer a wide range of water activities, including swimming, snorkeling, diving, surfing, paddleboarding, and jet-skiing, among others. Some resorts also offer marine sports packages.
he level of crowdedness can vary depending on the time of year and the location. Beaches near major cities like Tokyo can get quite busy during the summer weekends. However, more remote beaches, such as those in Okinawa or Shikoku, are often less crowded.
Many of the larger beach resorts in Japan, especially those in popular tourist areas like Okinawa, do have English-speaking staff. However, it can be beneficial to know some basic Japanese phrases, particularly if you're visiting a less touristy area.
Exploring More Beach Resorts in Japan
Shikoku Beach Resorts
Next, I headed to Shikoku, the smallest of Japan's four main islands. It is home to the Shimanto River, often referred to as "Japan's last clear stream", and the coastline is dotted with quaint beach resorts. The highlight was definitely the Shimanto River Mouth Beach Resort where a river met the sea, giving me a unique chance to enjoy both freshwater and seawater activities.
Find the best deal, compare prices, and read what other travelers have to say at Tripadvisor
Izu Peninsula
Moving north, the Izu Peninsula was my next stop. Just a few hours from Tokyo, this place is loved for its coastal scenery, hot springs, and fresh seafood. My resort was perched on a cliff overlooking the ocean, the ideal spot to bask in the beautiful sunrises. A trip to the Jogasaki Coast offered breathtaking views of cliffs and suspension bridges, an exciting contrast to the tranquility of beach life.
Hopping across the Sea of Japan, the Noto Peninsula in Ishikawa Prefecture was a revelation. Known for its rugged coastlines and picturesque beaches, this region offered a glimpse into the traditional rural life of Japan. The beach resort here, with its rustic charm and warm hospitality, made for a soothing retreat. A bike ride along the scenic coastal routes, and witnessing the age-old tradition of ama (female free divers) were memorable experiences.

Finally, my journey concluded in Hokkaido, the northernmost island of Japan. Known for its cool summers, it was a welcome change from the tropical heat of Okinawa. Staying in a beach resort at Lake Toya, I got to witness the fascinating blend of beach and volcanic landscape. The lake, a volcanic caldera, was the epitome of tranquillity. The local hot springs and delicious seafood, particularly the crab dishes, added to the rich tapestry of experiences.
My expedition through Japan's beach resorts was an exhilarating one, showcasing a lesser-known aspect of this fascinating country. It was not just about the sparkling waters and sandy beaches; it was about the unique blend of nature, culture, cuisine, and warmth of the Japanese people that made it truly magical. It was indeed a journey of discovery, relaxation, and connection, a journey that etched a beautiful seascape on the canvas of my heart.
💼 We cherish our independence! ✈️ Our travel recommendations are carefully researched, bias-free, and powered by human expertise by April and Ricky of LRB (we have personally researched and travelled to many of these destinations and researched others thoroughly through first-hand accounts). 🌍✨
We try to keep everything up to date, but please always do your own research and contact us if you know any issues for us to help others as best we can as a small but professionally focused team! 🧐📚⚠️