Luxury at Lizard Island Resort, Best All-Inclusive Queensland Island
Luxury At Lizard Island Resort, our Best All-Inclusive Queensland Island and one of the best all-inclusive resorts in Australia.
Welcome to paradise! If you're looking for an exclusive and luxurious island experience, then look no further than Lizard Island Resort. Located on the northernmost inhabited island of the Great Barrier Reef, Lizard Island is a secluded oasis surrounded by powdery white beaches and crystal clear waters. With all-inclusive packages tailored to your desires, indulge in world-class dining, breathtaking activities, and personalized service. Whether you're here for a romantic getaway, a babymoon, or a family vacation, Lizard Island Resort is truly like nowhere else.
Lizard Island Resort is a truly remarkable destination, nestled in a preserved National Park in tropical North Queensland and located directly on the Great Barrier Reef. As I stepped off the private air charter from Cairns Airport, I was struck by the breathtaking natural beauty that surrounded me.
Lizard Island Resort - Reef
Award: Best Luxury All Inclusive Queensland Island Resort
Award for Best North Queensland All inclusive resort: Lizard Island Resort All Inclusive.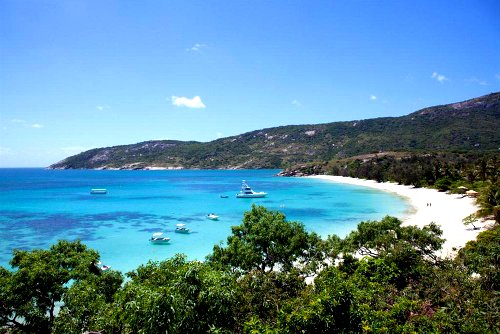 Lizard Island Resort
Often a worlds top 10 resort and likely Australia's best resort, Lizard Island All Inclusive resort is beautifully remote and private with great diving and snorkeling. 
It's Australia's northernmost all inclusive resort and right on the Great Barrier Reef. The great diving includes the famous Cod Hole. Snorkelers can see coral gardens, tropical fish and giant clams. They are moments away from the secluded beaches.
Review
Hey there, travel enthusiasts! Today, we're excited to bring you the latest episode of Travel with Drew. In this episode, Drew takes us on a journey to Lizard Island, the jewel of the Great Barrier Reef.
Drew starts by taking a small flight from Cairns Airport and landing on the beautiful island. He then goes on to explore the island, visiting stunning white powdery beaches, snorkeling and diving, and even fishing. He tells us that the island is perfect for a secluded getaway, and he particularly enjoyed the personalized service he received from the staff at the resort.
Throughout the video, we see Drew having a blast, from relaxing on the beach with a glass of wine to exploring the island on a dinghy. He even takes us on a boat trip to check out the beautiful Great Barrier Reef.
Overall, this video perfectly captures the unique beauty and charm of Lizard Island. Drew's sense of humor and enthusiasm make for a fun and engaging watch, and we're sure you'll be itching to plan your own trip to this paradise after watching. So sit back, relax, and enjoy Travel with Drew - Lizard Island edition!
Rooms
The resort boasts 40 luxurious suites, each offering spectacular ocean views and top-notch amenities. From my suite, I could see the crystal clear waters of the Great Barrier Reef, inviting me to explore its depths. And explore I did - I took part in several guided snorkeling and diving tours, where I saw an abundance of marine life, including colorful fish and vibrant coral reefs.
You'll stay in one of 40 villas. They are elegant and spacious and have either ocean or beach views. Note that children 12 years and under are not catered for.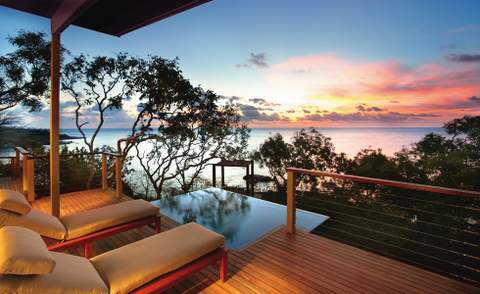 Lizard Island - Top Australian All Inclusive Resort
Dining is at Osprey's Restaurant. The menu changes everyday and showcases fresh seafood and local produce. 

Highlights
One of the highlights of my stay was the opportunity to have a secluded picnic on one of the many pristine beaches on the island. I took my private dinghy and sailed to a remote beach, where I enjoyed a delicious meal surrounded by the sound of the waves and the scent of the salty sea breeze.
For those who love fishing, Lizard Island Resort is also renowned for its game fishing and light tackle sport fishing. I was lucky enough to join a private fishing excursion and caught some impressive fish, which were prepared and served by the resort's skilled chefs.
When it was time to unwind, I visited the Essentia Day Spa for a rejuvenating treatment, or simply relaxed in the beautiful Salt Water restaurant and bar, where the sunset views were nothing short of spectacular.
Activities include game fishing, gourmet picnics, bushwalking, sailing, glass bottom boat trip and the luxurious Azure Sp
Reviewers almost always give this resort a perfect rating. They say it's "a must" for snorkelers and divers. Some can't say enough good things about it (unusual for any resort!).
More on information, special all-inclusive offers and reviews for Lizard Island.
See also the best Cairns Resorts
Lizard Island Resort offers a one-of-a-kind island experience, with an abundance of activities and amenities to choose from. Whether you want to explore the Great Barrier Reef, learn about the island's wildlife and history, or simply relax and soak in the natural beauty of the surroundings, Lizard Island Resort has it all.
In terms of value, Lizard Island Resort is certainly a luxurious destination, but the unparalleled experience and breathtaking location make it worth every penny. For those looking for a different type of island getaway, I suggest looking into Hayman Island Resort on our all-inclusive Whitsunday Island Reviews, which offers a larger range of activities and amenities, as well as exceptional dining options.
Packages
Lizard Island Resort offers a luxurious island escape on the Great Barrier Reef, and their Romance Package promises an unforgettable romantic getaway. As I observed couples strolling hand in hand and enjoying intimate dinners on the beach, it was clear that this package delivers on its promise.

The Romance Package offers an array of activities that cater to couples seeking quality time together, such as secluded picnics on a remote beach and private guided tours of the island's natural wonders. The personalized touches, such as champagne and chocolates in the suite upon arrival, and a candlelit dinner on the beach, add to the romantic atmosphere and elevate the experience to the next level.
The luxurious accommodations and outstanding service only add to the allure of the Romance Package. The staff are attentive to the guests' every need and ensure a stress-free and enjoyable stay. The island's natural beauty and serene atmosphere offer the perfect backdrop for a romantic getaway.
The Babymoon Package, which is specifically designed to pamper parents-to-be and ensure a relaxing and intimate holiday before their new arrival.
Pros Cons and alternatives
Pros:
Lizard Island is secluded from the rest of the world, offering a true sense of escape and serenity.
The island is surrounded by the natural beauty of the Great Barrier Reef and the lush National Park, providing a unique and diverse experience.
The villas and suites are designed to blend in with the natural surroundings and offer luxury accommodation with personalised service.
There are a range of activities available, from fishing and snorkelling to guided tours and spa treatments.
Lizard Island is also a popular destination for weddings and special events, offering unbridled natural luxury for a truly memorable experience.
Cons:
Lizard Island can be quite expensive compared to other resorts in the area.
The island is quite remote and may not be suitable for those who prefer a more lively or urban environment.
Alternatives:
Bedarra Island is another secluded island resort in tropical North Queensland that offers a similar experience of barefoot luxury and personalised service.
Orpheus Island Lodge is another all-inclusive resort located on the Great Barrier Reef, offering a range of activities such as snorkelling, fishing, and spa treatments.
---
A: Lizard Island is a secluded luxury resort located directly on the Great Barrier Reef in tropical North Queensland, Australia. The island is known for its natural beauty, diverse wildlife, and world-class fishing and diving opportunities.
A: Lizard Island can be accessed by a short 60-minute scenic flight from Cairns Airport. Private charters can also be arranged.
A: Lizard Island offers a range of activities such as fishing, snorkelling, scuba diving, guided tours, and spa treatments. The island is also surrounded by the natural beauty of the Great Barrier Reef and the lush National Park, providing a unique and diverse experience.
AA: Lizard Island offers luxury villas and suites designed to blend in with the natural surroundings and offer personalised service. The accommodation options range from Gardenview Rooms to Beachfront Suites and the Pavilion.
A: While Lizard Island welcomes families with children, it is primarily an adult-oriented resort. Children must be over the age of 10 to stay on the island.
A: Lizard Island offers a range of dining options, including the Salt Water Restaurant and Bar, the Driftwood Bar and Wine Cellar, and private beach picnics. The cuisine features locally sourced ingredients and the menus are changed daily.
A: Lizard Island can be visited year-round, but the best time to visit is during the dry season (May-October) when temperatures are cooler and there is less chance of rain.
A: Lizard Island is committed to sustainability and environmental conservation. The resort is powered by solar panels, and efforts are made to reduce waste and preserve the natural environment.
💼 We cherish our independence! ✈️ Our travel recommendations are carefully researched, bias-free, and powered by human expertise by April and Ricky of LRB (we have personally researched and travelled to many of these destinations and researched others thoroughly through first-hand accounts). 🌍✨
We try to keep everything up to date, but please always do your own research and contact us if you know any issues for us to help others as best we can as a small but professionally focused team! 🧐📚⚠️