Banyan Tree Resort Vietnam
Banyan Tree Resort Vietnam | 5-Star Beachfront Villas
Looking for Luxury Beachfront Bliss at the Banyan Tree Resort Vietnam (Banyan Tree Lang Co, Vietnam)
Banyan Tree Lăng Cô is a breathtakingly beautiful all-pool villa resort in Central Vietnam, nestled between the stunning East Sea and the Truong Son mountain range. As soon as you arrive, you're transported to a sanctuary for the senses, where you can escape the hustle and bustle of everyday life and immerse yourself in unspoiled natural beauty and luxurious comfort. banyan-tree-resort-vietanm-at-lang-co
Banyan Tree Lăng Cô is a breathtakingly beautiful all-pool villa resort in Central Vietnam, nestled between the stunning East Sea and the Truong Son mountain range. As soon as you arrive, you're transported to a sanctuary for the senses, where you can escape the hustle and bustle of everyday life and immerse yourself in unspoiled natural beauty and luxurious comfort.
But the beauty of Banyan Tree Lăng Cô isn't just limited to the resort itself - it's also the perfect base from which to explore the surrounding area, which includes the three UNESCO World Heritage Sites of Hoi An Ancient Town, the Imperial Citadel of Hue and My Son Sanctuary. Whether you're seeking adventure, culture, or simply a relaxing getaway, Banyan Tree Lăng Cô has something to offer.

Banyan Tree Resort Vietnam
Pros Cons Features
Guests can enjoy the beautiful beach views from their private balconies or patios. The rooms are also equipped with free WiFi, flat-screen TVs, and DVD players. The spacious villas come with separate living areas, and some even have their own private gardens.
Pros:
Beautiful beachfront location with stunning views
Excellent onsite amenities, including a spa, gym, and multiple dining options
Free roundtrip airport shuttle and other complimentary services, such as bicycle rentals and water park access
Spacious villas with private plunge pools and balconies or patios with beach views
Excellent guest reviews for the pool, helpful staff, and location
Cons:
Some guests may find the resort to be on the expensive side compared to other options in the area

Overall, Banyan Tree Lang Co is an excellent choice for those seeking a luxurious beachfront getaway in Vietnam. The resort offers a wide range of amenities and activities for guests to enjoy, and the villas with private plunge pools are especially attractive. While it may be more expensive than some other options, the excellent guest reviews and high-quality services make it a great choice for those willing to splurge on a luxurious vacation.
Guest Review Walkthrough
Welcome to Banyan Tree Lang Co in Danang, Vietnam! This video takes you on a tour of the resort, starting with the complimentary shuttle service from Danang International Airport to the lobby. The host then takes you to their Lagoon View Villa, showcasing its private pool, day beds, and stunning views. The Villa's interior features a king-sized bed, TV, and personalized Banyan Tree amenities. The video also covers the other facilities available at the resort, such as the spa, gym, yoga studio, and Italian restaurant. Join the Wandering Chirish as they explore the paradise that is Banyan Tree Lang Co.
Spa
But the real star of the show at Banyan Tree Lăng Cô is the spa. The Banyan Tree Spa is world-renowned for its luxurious treatments and serene atmosphere, and it's easy to see why. The spa is located in a peaceful and secluded area of the resort, surrounded by lush greenery and the sound of trickling water. The treatments themselves are truly heavenly, with skilled therapists using traditional techniques and natural ingredients to help you relax and rejuvenate.
Activities
In addition to the spa, Banyan Tree Lăng Cô also offers a range of other activities and experiences, including cooking classes, watersports, and guided tours of the surrounding area. And of course, the resort's restaurants are second to none, offering a range of delicious Vietnamese and international cuisine.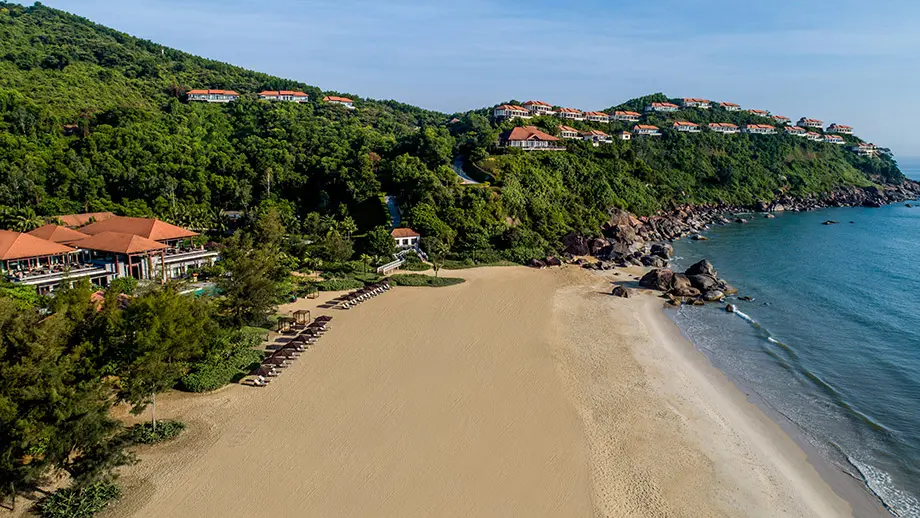 Food
At Banyan Tree Lăng Cô, food lovers will be delighted with the variety of dining options available. From authentic Vietnamese cuisine at The Water Court to delicious Thai cuisine with stunning sea views at Saffron, guests can indulge in local and world cuisines. For a more casual dining experience, Thu Quan offers drinks and snacks, while Azura serves up beachfront seafood and Mediterranean dishes. And for those seeking a touch of surprise, romance, and adventure, the signature Destination Dining provides a private dining experience tailored to guests' preferences.
One unique dining experience at Banyan Tree Lăng Cô is the Floating Breakfast, where a vibrant breakfast spread is served on a floating tray while guests relax in their private pool. This is the perfect way to start the day while taking in the breathtaking views of the East Sea and the Truong Son mountain range.
Overall, Banyan Tree Lăng Cô is a truly special place, offering the perfect combination of luxury, natural beauty, and cultural experiences. Whether you're seeking adventure, relaxation, or simply a break from the hustle and bustle of everyday life, this stunning all-pool villa resort is the perfect choice.
See prices deals and more information. 
💼 We cherish our independence! ✈️ Our travel recommendations are carefully researched, bias-free, and powered by human expertise by April and Ricky of LRB (we have personally researched and travelled to many of these destinations and researched others thoroughly through first-hand accounts). 🌍✨
We try to keep everything up to date, but please always do your own research and contact us if you know any issues for us to help others as best we can as a small but professionally focused team! 🧐📚⚠️