Cradle Mountain Resorts Tasmainia Australia
Cradle Mountain Resorts Tasmainia Australia
A journey to Tasmania is not complete without a foray into its wild heart, Cradle Mountain. As an adventurous travel writer from New York City, I was ready to step into this rugged wilderness, an area that seems hewn from a time when the earth was raw and untamed.
The first day of my trip was marked with a chill that nipped at my cheeks, and a quiet that pressed against my city-tuned ears. Pulling my beanie over my head, I set out early, guided by the faint first blush of dawn. Cradle Mountain, craggy and undaunted, stretched towards the iron-grey sky, a stunning sight that still burns in my memory.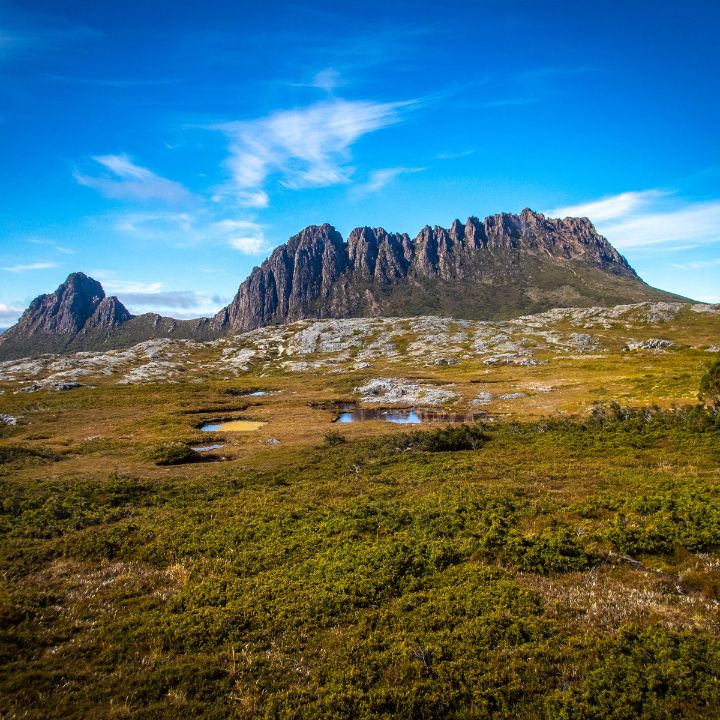 Cradle Mountain
The day was spent hiking the Dove Lake Circuit, one of Tasmania's premier walks. Under the dappled shade of twisted myrtles and towering King Billy pines, I navigated the well-trodden path.
Walking Cradle Mountain
 The scent of the cool, clear air mingled with the earthy aroma of damp foliage and filled me with a renewed sense of energy. At every turn, the vista opened up to ever more majestic views. The mirrored surface of Dove Lake captured the might of Cradle Mountain and the sky's changing moods, presenting a landscape painting no artist could truly replicate.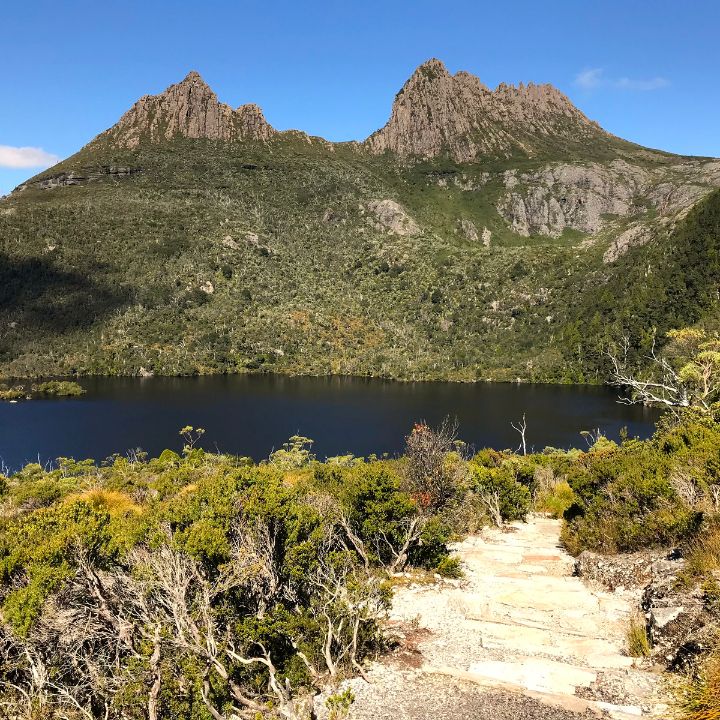 Lake on Cradle Mountain
Peppers Cradle Mountain Lodge
The day came to an end at Peppers Cradle Mountain Lodge. This rustic yet cosy log cabin retreat was a welcome sight after a day in the wilderness. The warmth from the stone fireplace seeped into my bones as I relaxed into an armchair, watching as the final rays of sunlight disappeared behind the imposing silhouette of the mountain.  

Peppers Cradle Mountain Lodge
Imagine waking up to the melodious hum of nature, the air around you fresh with the scent of lush wilderness, the stunning vistas of Tasmania's renowned Cradle Mountain forming the perfect backdrop for your wellness retreat. 
Cradle Mountain Lodge Rooms
Rooms
As you step into one of their 86 cosy rooms, you are welcomed by the warmth of a crackling fireplace, the comfort of premium bedding, and a sitting area that invites you to unwind. The minibar is a treasure trove of treats, all chosen to enhance your experience.
The lodge features cabins and suites designed to blend seamlessly into the surrounding wilderness. Choose from spa cabins with deep tubs to soothe tired muscles after a day of hiking, or opt for a more opulent King Billy Suite, with its separate sleeping and living areas, double-sided wood fire, and outdoor hot tub.
Dining

After an exhilarating day exploring, you can indulge in the gastronomic delights offered by the lodge's two onsite restaurants. Here, the bounties of Tasmania are transformed into culinary masterpieces, accompanied by the finest local wines, adding yet another dimension to your sensory journey.
Tasmanian cuisine takes center stage at the lodge's Highland Restaurant, where you'll feast on a menu crafted from the finest local produce, matched with superb Tasmanian wines. For a more casual meal, visit the Tavern Bar & Bistro for hearty fare served fireside or al fresco.
Amenities & Activities
Yet, the call of the outdoors is impossible to ignore. The lodge's surroundings beckon you to explore. From invigorating horseback rides that offer a unique perspective of the landscape, to hiking and biking trails that meander through the heart of the wilderness, the call of adventure is ever-present.
Peppers Cradle Mountain Lodge offers a variety of activities that cater to various interests. Take a leisurely stroll on the Enchanted Walk, embark on a wildlife spotting adventure, or cast a line in the trout-filled waters of a nearby lake.
At the end of the day, indulge in the Waldheim Alpine Spa's therapeutic treatments, designed to rejuvenate and restore. The spa overlooks the national park, providing serene views as you enjoy your treatment.
Location & Accessibility
Peppers Cradle Mountain Lodge is approximately a 2-hour drive from Launceston and 1.5 hours from Devonport. The lodge is nestled in a woodland setting, providing privacy and seclusion, while remaining close to walking trails and outdoor attractions.
Spa
However, the true soul of Peppers Cradle Mountain Lodge lies in its Waldheim Alpine Spa. With treatments inspired by the natural purity of the Tasmanian wilderness, the spa offers a sanctuary for relaxation and rejuvenation. Whether it's a Swedish massage, a revitalizing body wrap, or a simple manicure/pedicure, the expert touch of their therapists works wonders.
Who does it suit?
Peppers Cradle Mountain Lodge is perfect for nature lovers, outdoor enthusiasts, couples looking for a romantic getaway, and anyone looking for a peaceful retreat in a stunning wilderness setting. It's also a great choice for foodies, with its emphasis on local Tasmanian produce and wines.
Alternatives
If you're after a more urban experience with a strong historical and cultural focus, consider The Henry Jones Art Hotel in Hobart. It offers a fusion of history, art, and luxury accommodation, and is located near the bustling Salamanca Market, renowned restaurants, and local arts scene.
Find the best deal, compare prices, and read what other travelers have to say at Tripadvisor
Exploring Cradle Mountain
The following day, a ranger-guided tour led me through the Ballroom Forest, an aptly named place. It was as if I had walked into nature's ballroom, the tall moss-draped trees serving as ornate pillars, and the soft hum of unseen creatures the orchestra.

Despite the initial chill, I decided to brave the waters of Dove Lake for a dip. While my teeth chattered and skin tingled from the icy plunge, the invigorating shock to the senses made me feel more alive than ever.
Later, in the enveloping silence of the evening, I found myself standing under the vast Tasmanian sky. There, beneath the confetti of a thousand stars, I felt a profound connection to this rugged wilderness.
My time in Cradle Mountain was a testament to Tasmania's raw, unspoiled beauty. As I packed my bags and cast one last lingering look at the mist-shrouded peak, I felt a twinge of longing. Cradle Mountain had revealed itself to be more than a breathtaking marvel of nature—it was a haven of peace, a window into Australia's heart, and a memory I would carry with me, nestled somewhere deep within the city-dweller's heart.
For the adventurous at heart, the hikers, the wildlife enthusiasts, or even those just seeking tranquility and a chance to reconnect with nature, Cradle Mountain is an experience not to be missed. But for those who prefer the comfort of the city, Hobart's bustling Salamanca Market, historical sites, and thriving food and art scene are just a drive away. Tasmania, it seems, holds something for everyone.
Cradle Mountain offers a variety of accommodations to suit different needs and preferences. Here are a few alternatives to Peppers Cradle Mountain Lodge:
Find the best deal, compare prices, and read what other travelers have to say at Tripadvisor
Cradle Mountain Wilderness Village: This property provides self-contained cottages and chalets ideal for families and groups. The accommodations are designed to have minimal impact on the surrounding wilderness and provide privacy, comfort, and easy access to walking tracks.
Discovery Parks - Cradle Mountain: Great for budget and outdoor-conscious travelers, this park provides cabins, glamping tents, and camping sites. It's a stone's throw away from the park entrance, making it a convenient base for exploring Cradle Mountain.
Cradle Mountain Hotel: This is a more upmarket choice that offers comfortable hotel rooms and split-level King Spa rooms. The property also features an onsite restaurant, a bar, and a guest lounge. Art lovers will appreciate the Cradle Mountain Wilderness Gallery on the premises.
Cradle Mountain Highlanders Cottages: These rustic, self-contained timber cabins offer a private and cozy accommodation option, with each cabin featuring a wood fire and some offering a spa. They're located just a short drive from the Cradle Mountain visitor center.
Cradle Chalet Boutique Luxury Lodge: This four-star lodge offers a range of suites and chalets, set within woodland for a secluded, tranquil experience. It has an onsite restaurant that specializes in local cuisine.
(FAQs) about Cradle Mountain:
Cradle Mountain is located in the Cradle Mountain-Lake St Clair National Park, in the Central Highlands area of Tasmania, Australia.
The most common way to reach Cradle Mountain is by road. It's about a 2-hour drive from Launceston and a 1.5-hour drive from Devonport. Shuttles, tours, and public transportation options are available from various Tasmanian cities.
Cradle Mountain offers various outdoor activities including hiking, wildlife spotting, canoeing on Dove Lake, horseback riding, and exploring the surrounding wilderness. You can also visit the Waldheim Alpine Spa at the Peppers Cradle Mountain Lodge for a unique wellness experience.
Cradle Mountain can be visited all year round. However, each season offers a unique experience. Summers (December - February) are great for hiking as the days are longer and warmer. Winters (June - August) offer a chance to see the stunning landscape covered in snow.
As the weather can change quickly, it's recommended to dress in layers. Always bring rain gear, warm clothing, sturdy footwear, sun protection, a map of the area, enough food and water for your trip, and a first aid kit.
Yes, there are dining options at the Cradle Mountain Lodge which includes two on-site restaurants. The lodge is also home to a Tavern Bar & Bistro, providing a casual dining environment.
Yes, accommodation options are available at Cradle Mountain, including the Peppers Cradle Mountain Lodge, which offers luxury cabins and suites, along with dining and spa facilities.
💼 We cherish our independence! ✈️ Our travel recommendations are carefully researched, bias-free, and powered by human expertise by April and Ricky of LRB (we have personally researched and travelled to many of these destinations and researched others thoroughly through first-hand accounts). 🌍✨
We try to keep everything up to date, but please always do your own research and contact us if you know any issues for us to help others as best we can as a small but professionally focused team! 🧐📚⚠️