A Journey Through Abaco's All-Inclusive Resorts
Abaco All-Inclusive Resorts
As the gentle, warm breeze playfully tousles your hair and the mesmerizing shades of azure and cerulean dance across the horizon, you'll find yourself captivated by the enchanting allure of the Abaco Islands. Nestled within the Bahamas' archipelago, the Abacos offer a refreshing escape from the bustling tourist hubs and the conventional all-inclusive resorts that often define Caribbean vacations. In this personal journey, we'll traverse the Abaco Islands, exploring their boutique resorts, breathtaking scenery, and rich cultural experiences. Whether you're a luxury seeker, an eco-conscious traveler, a hopeless romantic, or a budget-conscious wanderer, the Abacos promise an unforgettable Bahamian adventure tailored to your desires. So, come along as we set sail through the sparkling turquoise waters, and uncover the hidden gems that make the Abaco Islands a true paradise.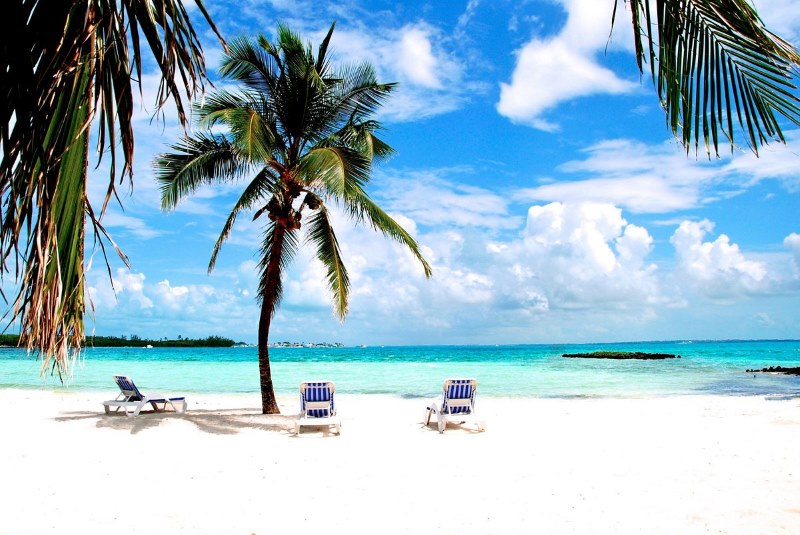 The Bluff House – Another great resort on Abico
Review
As my sun-drenched, salt-kissed skin glistened with the remnants of a day spent exploring the crystalline waters of the Abaco Islands, I found myself transported back to the moment I arrived at the Abaco Beach Resort and Boat Harbour Marina. The warmth of the Bahamian sun, the soft swaying of palm trees, and the gentle whispers of the turquoise sea instantly enveloped me in a tropical embrace. - Sarah
Bahama Beach Club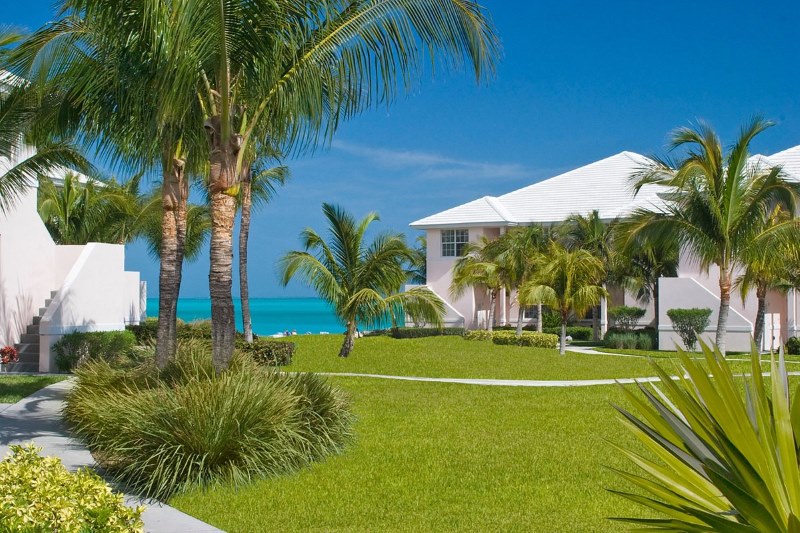 Nestled in the picturesque Treasure Cay, the Bahama Beach Club offers a luxurious and intimate retreat for travelers seeking a true Bahamian experience. The resort's logo, featuring a happy couple enjoying the stunning tropical beach, perfectly captures the essence of the Bahama Beach Club – a serene sanctuary where guests can unwind and reconnect with their loved ones.
The Bahama Beach Club distinguishes itself from other Caribbean beach resorts with its warm and relaxed atmosphere, providing flawless service and an unforgettable island hospitality. However, it's important to note that the resort may not suit every traveler's preferences, particularly those seeking a larger, all-inclusive resort experience with extensive dining and activity options.
With only four condo units per building, the Bahama Beach Club delivers the perfect balance between the attentive service of a lavish Bahamas condo rental and the privacy of a vacation home. The fully furnished, oceanfront accommodations cater to both romantic getaways and gatherings of family and friends, although the resort may not be ideal for those seeking an extensive range of on-site amenities and entertainment.
The resort's offerings include a freshwater pool, an oceanfront jacuzzi, a beach bar, and the Pavilion Restaurant, which serves fresh ocean delicacies. While these facilities are undoubtedly enjoyable, potential guests should be aware that the dining options and activities may be somewhat limited compared to larger, all-inclusive resorts.
In summary, the Bahama Beach Club offers a charming, intimate experience for those seeking a relaxing escape in the Abaco Islands. While the resort may not cater to all tastes and preferences, it is a great choice for travelers seeking a serene, boutique-style retreat in a stunning tropical setting.
Score: 8.2/10
All Inclusive 1
Find the best deal, compare prices, and read what other travelers have to say at Tripadvisor
The Abaco Beach Resort
The Abaco Beach Resort, the crown jewel of Abaco, truly embodies the essence of island luxury. The resort boasts a fusion of world and island-inspired cuisine, tantalizing the senses with fresh, local seafood. Gourmands will rejoice as they savor the delectable, innovative dishes prepared by the talented culinary team. For those seeking adventure, the resort's marina provides ample opportunity to explore the surrounding islands and discover hidden gems.
Find the best deal, compare prices, and read what other travelers have to say at Tripadvisor
Score: 8.2/10
All Inclusive 1
Green Turtle Club & Marina
For the environmentally conscious traveler, the Green Turtle Club & Marina offers an idyllic beachfront sanctuary. Here, you can indulge in the simple pleasures of island living while being serenaded by the melody of lapping waves. The rooms, decorated in soothing earth tones, evoke a sense of calm and relaxation. Moreover, the resort prides itself on its eco-friendly initiatives, ensuring that your stay is both comfortable and environmentally responsible.
Find the best deal, compare prices, and read what other travelers have to say at Tripadvisor
Score: 7.5/10
Spanish Cay
Next on my island-hopping itinerary was Spanish Cay, a quaint resort with the most intimate and personalized experience. This secluded paradise is perfect for couples seeking a romantic getaway. Days can be spent strolling along the pristine white-sand beach, hand in hand, while nights are filled with the soft glow of a breathtaking sunset, casting a warm, golden hue over the glistening ocean. The on-site pool and beachfront access provide ample opportunities for relaxation and rejuvenation.
Find the best deal, compare prices, and read what other travelers have to say at Tripadvisor
Score: 7.0/10
Sunset Point Resort
For the budget-conscious traveler seeking a laid-back island experience, Sunset Point Resort offers simple accommodations that won't break the bank. Though the resort lacks the opulence of its counterparts, it more than makes up for it with its welcoming atmosphere, friendly staff, and stunning views of the surrounding seascape. Watching the sun dip below the horizon, casting an orange-pink glow across the sky, is a memory that will surely last a lifetime.
Find the best deal, compare prices, and read what other travelers have to say at Tripadvisor
Score: 6.0/10
Comparing Abaco to Other Bahamian Destinations
Natural Beauty: Abaco Islands: 9/10 Nassau & Paradise Island: 7/10 Exuma: 9/10
Beaches: Abaco Islands: 9/10 Nassau & Paradise Island: 8/10 Exuma: 10/10
Authentic Island Experience: Abaco Islands: 9/10 Nassau & Paradise Island: 6/10 Exuma: 8/10
Variety of Amenities and Activities: Abaco Islands: 7/10 Nassau & Paradise Island: 10/10 Exuma: 8/10
Dining Options: Abaco Islands: 7/10 Nassau & Paradise Island: 10/10 Exuma: 8/10
Family-Friendly: Abaco Islands: 8/10 Nassau & Paradise Island: 9/10 Exuma: 8/10
Romantic Getaway: Abaco Islands: 9/10 Nassau & Paradise Island: 8/10 Exuma: 10/10
Seclusion and Tranquility: Abaco Islands: 9/10 Nassau & Paradise Island: 5/10 Exuma: 9/10
These scores are meant to provide a general comparison between the Abaco Islands and other popular destinations in the Bahamas. Keep in mind that the ideal destination will ultimately depend on the individual preferences and priorities of each traveler.
While the Abaco Islands' all-inclusive resorts offer a wealth of experiences and stunning scenery, it's important to note that they differ from the traditional all-inclusive resorts found in other areas of the Bahamas. Unlike the mega-resorts in Nassau and Paradise Island, the Abaco Islands take a more boutique and intimate approach to their accommodations. This unique aspect lends itself to a more authentic and personalized experience for travelers seeking to immerse themselves in the Bahamian culture.

Nassau and Paradise Island, home to sprawling resorts like Atlantis and Baha Mar, offer a more conventional all-inclusive experience. These resorts provide a vast array of amenities, dining options, and entertainment – all for one fixed price. However, the size and scale of these resorts can sometimes detract from the intimate, authentic island experience that many travelers seek.
On the other hand, the Abaco Islands focus on providing a more genuine Bahamian experience, where travelers can connect with local communities and discover the rich cultural heritage of the islands. While it's true that the Abaco resorts may not be all-inclusive in the traditional sense, they compensate for it by offering a more tailored, immersive experience, allowing guests to forge lasting connections with the locals and the land.
Exuma, another popular destination in the Bahamas, also offers a more authentic island experience. With its crystal-clear waters and powdery sand beaches, Exuma is a haven for water sports enthusiasts, nature lovers, and those seeking a more laid-back vacation. Although Exuma's accommodations are not typically all-inclusive, visitors can still find an array of charming boutique hotels, eco-lodges, and private villas that emphasize a connection with the natural environment.
While we could not find any genuine all-inclusive resorts, the Abaco Islands resorts offer a unique, boutique experience that sets them apart from the more traditional all-inclusive resorts in the Bahamas. While they may not provide the same level of amenities and dining options as their Nassau and Paradise Island counterparts, they excel in offering a more intimate, authentic island experience. Whether you're seeking the bustling excitement of Nassau or the serene beauty of the Abacos or Exuma, the Bahamas has a destination suited for every traveler's desires.
Share Your All-Inclusive Adventures and Questions! 🌴 Have a memorable experience from a luxury all-inclusive vacation? We'd love to hear it at Luxury Resort Bliss. We're on the lookout for top-quality, insightful tales that'll inspire our community. Dive in and be a part of our sun-soaked stories! 🌊🍹✨
The story is a fictionalized account founded on travel expertise, research, and experience. Always refer to recent guest reviews and perform due diligence before booking.
💼 We cherish our independence! ✈️ Our travel recommendations are carefully researched, bias-free, and powered by human expertise by April and Ricky of LRB (we have personally researched and travelled to many of these destinations and researched others thoroughly through first-hand accounts). We also have put in the hard miles, and Ricky has worked for decades for resort and hotel chains  Hyatt, Hilton, Shangri-La and Radisson before starting Luxury Resort Bliss in 2007. 🌍✨ Unlike some other resort review websites we are concerned on the guest experience rather than mere corporate interest.