Mauritius vs. Maldives
Mauritius vs. Maldives: The Ultimate Paradise Showdown 🏝️.
Let's get this straight: Mauritius and the Maldives are both stunners in the realm of tropical vacations. Yet, they offer distinct experiences that cater to different whims and fancies. Grab your cocktail, and let's delve into the specifics to help you pick your next tropical utopia.
Mauritius
Landscape and Geography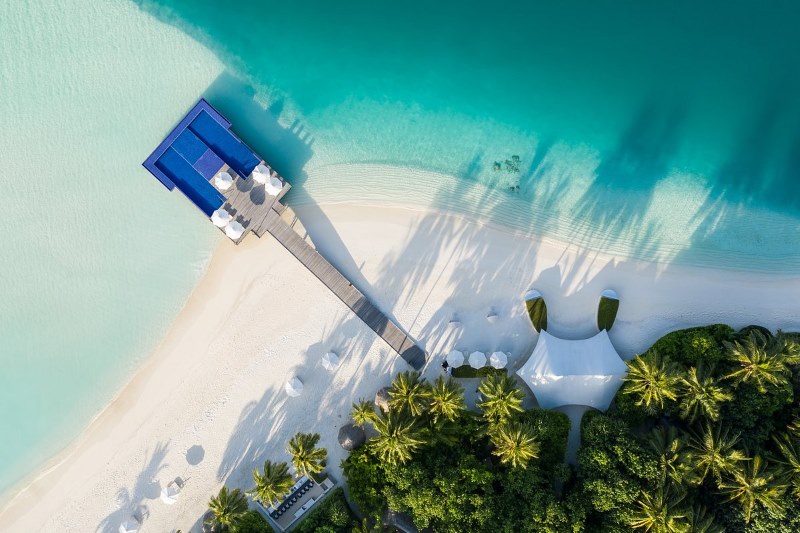 Conrad Maldives
Maldives
Imagine stepping out of your overwater bungalow and plunging straight into the clear blue ocean. The Maldives is a scattering of 26 atolls and over 1,000 coral islands. It's flat—so flat, the highest natural point is less than 8 feet above sea level!
Mauritius
Now envision lush greenery, mountains, and waterfalls cascading down into the ocean. Yes, that's Mauritius for you. It offers diverse landscapes that range from tropical forests to sugarcane fields.
Verdict: Go Maldives for an ocean-centric, "I can touch the fish" type of vacation. Choose Mauritius if you're a "Why not both?" person who loves beaches as much as hiking trails.
Mauritiu
Activities
Maldives
With an abundance of marine life, the Maldives is a diver's dream. Think manta rays, hammerhead sharks, and vibrant coral reefs. Also, it's honeymoon central; many resorts even offer couple's spa treatments underwater!
Mauritius
While Mauritius doesn't skimp on water sports or beaches, it also offers hiking, zip-lining, and parasailing for the adventure-junkies.
Verdict: For the ultimate water paradise and honeymoon vibes, go Maldives. If you're itching for a mix of adventure and relaxation, it's Mauritius for you.
Kurumba Maldives All Inclusive
Cultural Quotient
Maldives
The Maldives is predominantly Islamic, and it's less diverse in terms of culture. Don't expect a bustling local scene here; it's more about the resorts.
Mauritius
A melting pot of cultures—Indian, French, African, and Chinese—it's a mosaic of traditions. The food is a delightful mishmash, and you'll even catch some Sega dance moves if you're lucky.
Verdict: If you're looking for cultural richness, Mauritius takes the cake.
Accommodation and Luxury
Maldives
Private islands and five-star resorts are the norms here. It's luxury on steroids, with seaplanes as taxis.
Mauritius
While luxury resorts abound, Mauritius offers a wider range of accommodation, including budget-friendly options.
Verdict: Maldives for sheer, unadulterated luxury. Mauritius for more varied options.
Accessibility
Maldives
Relatively isolated; often requires a separate seaplane or boat transfer from the airport.
Mauritius
A single island that's easier to navigate, and everything is relatively close by.
Verdict: For ease and convenience, Mauritius wins.
FAQ: Maldives vs. Mauritius Vacations - Finding Your Paradise
A: Generally, Mauritius is considered more budget-friendly with a range of accommodation options, from budget to luxury. The Maldives leans more towards the luxury side, making it generally pricier.
A: Mauritius offers a variety of land-based activities like hiking, zip-lining, and cultural tours in addition to water sports. The Maldives is more focused on water-based activities like snorkeling, diving, and overwater spa experiences.
A: The Maldives has good weather year-round but is best from November to April. Mauritius is ideal from May to December when it's cooler and drier.
A: Maldives beaches are renowned for powdery white sands and turquoise waters. Mauritius offers more diversity with some volcanic black sand beaches and larger lagoons.
A: The Maldives offers visa-on-arrival for tourists, usually for 30 days free of charge. Mauritius also offers visa-free entry to many nationals, but the conditions can vary, so it's best to check in advance.
A: Both! Maldives offers over-the-water bungalows for ultimate privacy. Mauritius provides a blend of beach luxury and adventurous activities for couples looking to mix relaxation with some fun.
: Mauritius offers a mix of Creole, Indian, and Chinese cuisines. Maldives cuisine is more focused on fish and coconut, with fewer options for vegetarians.
A: Mauritius generally has more family-friendly resorts and activities, while the Maldives is more often chosen for romantic getaways.
A: In the Maldives, the native language is Dhivehi, but English is widely spoken in tourist areas. In Mauritius, English and French are the official languages, and Creole is commonly spoken.
This FAQ should give you a head start on deciding your dream destination! 🌏✈️🌴
The Bottom Line

The Bottom Line
Both destinations are drool-worthy, no doubt about that. But knowing what you're after—be it over-the-top luxury, a blend of adventure and relaxation, or a cultural mosaic—can help you decide between the two.
So, which paradise calls to you? 🌴🍹✨
💼 We cherish our independence! ✈️ Our travel recommendations are carefully researched, bias-free, and powered by human expertise by April and Ricky of LRB (we have personally researched and travelled to many of these destinations and researched others thoroughly through first-hand accounts). 🌍✨
We try to keep everything up to date, but please always do your own research and contact us if you know any issues for us to help others as best we can as a small but professionally focused team! 🧐📚⚠️