Le Blanc Spa Resort Los Cabos Review
Discovering the Essence of Baja Luxury: A Deeper Dive into Le Blanc Spa Resort Los Cabos
As the dawn peeks over the tranquil Pacific, the serene ambiance of Le Blanc Spa Resort Los Cabos gently beckons. Nestled less than 12 miles northeast of the vivacious Cabo San Lucas, this sanctuary opened its doors in April 2018, ushering in a realm of adult-only luxury where the desert meets the sea. The narrative of this resort is one of elegance intertwined with a relentless pursuit of personalized indulgence.
Le Blanc Spa Resort Los Cabos
Unveiling Luxury on the Baja Peninsula: A Review of Le Blanc Spa Resort Los Cabos
Review Summary:
Le Blanc Spa Resort Los Cabos exudes a blend of opulence and tranquility nestled along the pristine coastline less than 12 miles northeast of Cabo San Lucas. Offering an adults-only, all-inclusive haven, it beckons with a promise of unrivaled relaxation and indulgence since its doors swung open in April 2018. This review aims to unravel the resort's offerings and ambiance to discern whether it lives up to the hype it has garnered.
Location: 4.5/5: 
The resort enjoys a prime position with a panoramic stretch overlooking the Pacific Ocean. Its proximity to the effervescent Cabo San Lucas and a trove of natural attractions like Chileno Beach and Palmilla Beach affords guests a blend of seclusion and adventure. The relative nearness to San José del Cabo International Airport (a 27-minute drive) adds a layer of convenience, although the seclusion might be a double-edged sword for those craving bustling nightlife.
Accommodation: 5/5
The 369 well-appointed rooms and suites are a sanctuary of comfort. Personal butlers, Smart TVs, daily refreshed minibars, and a "comfort menu" to tailor the room's ambiance to one's taste are just the tip of the iceberg. The bathrooms, a blend of aesthetic and function, come with pedestal tubs, rainforest showers, and high-end BVLGARI bath amenities. The attention to detail extends to the choice of bedding and an array of pillows ensuring a restful slumber.
Amenities: 4.7/5
The gastronomic journey is an adventure with four in-house restaurants offering a tapestry of flavors from French, Italian to a local seafood fare. Seven pools, a top-tier spa with a blue-lit hydrotherapy area, and a well-equipped health club are at guests' disposal. However, while the resort credits system for spa treatments and excursions is a nice touch, its limitations and restrictions could be a tad disappointing.
Service: 4.8/5
The staff's congeniality and professionalism have been a consistent highlight in guest reviews. The 24-hour room service and personal butler service reflect the resort's commitment to personalized attention. Yet, as with any establishment, isolated incidents of service hitches have been reported.
Value for Money: 4.3/5
The resort's all-inclusive offering, coupled with the level of luxury and service, provide a compelling value proposition. The price tag, while on the higher side, is justified by the quality of the experience. However, the resort credit system could benefit from more transparency to enhance perceived value.
Find the best deal, compare prices, and read what other travelers have to say at Tripadvisor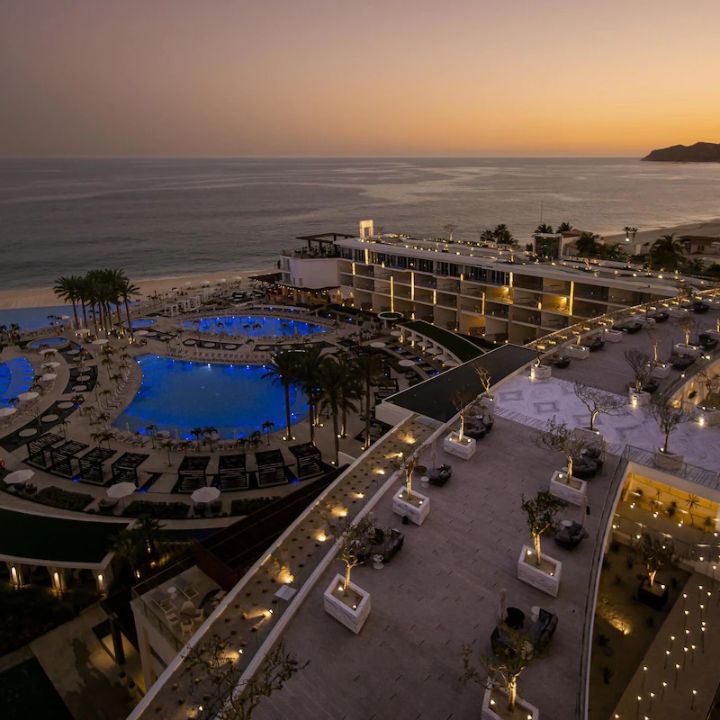 Pros, Cons, Features:

lLst of pros, cons, and features for Le Blanc Spa Resort Los Cabos based on various sources. The resort offers a luxurious experience with a plethora of amenities and service offerings to make your stay comfortable and memorable:
Pros:
Luxurious Accommodation: Almost every room (98%) at the resort has a full or partial ocean view. The rooms are furnished in calming shades of sand and wood, equipped with a well-stocked mini bar, liquor dispenser, snacks, espresso maker, and fine linens on comfy king-sized beds​​.
Exceptional Bathrooms: The spacious bathrooms feature pedestal tubs, separate showers, double sinks, robes, and BVLGARI toiletries. Guests can also request their butler to run an evening bath with rose petals and bath salts or choose from hand-crafted soaps like Moroccan Fig and Himalaya Salt, or Strawberry, Current and Pear​.
Personalized Service: Personal butlers, a Comfort Menu to customize your choice of pillows, and aromatherapy options for your room. Butler service extends to tasks like unpacking and packing your belongings​.
Diverse Dining Options: The resort boasts four gourmet restaurants offering French, Italian, Asian, and international cuisine, with room service available 24 hours a day​​.
Relaxing Spa Experience: The Blanc Spa offers a wide range of treatments and massages, and guests have free access to it​.
Rich Amenities: With four outdoor swimming pools, a fitness center with a gym/workout room, free high-speed internet, free parking, and a pool area, there's a lot to keep guests engaged and relaxed​​.
Beautiful Grounds and Scenery: The grounds are built around one of Cabo's prettiest pool complexes, and rooms feature balconies with gorgeous pool and/or beach views​​.
Proximity to Cabo San Lucas: It's only a 15-minute drive to Cabo San Lucas, allowing guests to easily explore the nightlife and other local attractions​​
Cons:

Resort Credit Limitations: Some guests have found the resort credit system not as attractive as advertised, with limits on spending and types of activities available​.
Lack of Certain Amenities: If guests want a kettle for tea, they will need to request it, or request the Tea Service from the butler​​.
Features:
All-inclusive Offerings: Generous packages include unlimited à la carte and buffet dining, plus top-shelf liquor​.
Adults-only Policy: The resort maintains an adult-only policy, ensuring a serene and mature ambiance​​.
Recreational Activities: Besides the spa and pools, guests can also enjoy aerobics and yoga classes offered at the health club, as well as nearby attractions like the El Dorado Golf Club, Chileno Beach, and Palmilla Beach​​.
High-Rating: The resort has received high ratings on cleanliness, staff & service, amenities, property conditions & facilities, and eco-friendliness from guests on Expedia​​.
Top Ranking: It's ranked as the #1 of 8 all-inclusive resorts in San Jose del Cabo on TripAdvisor​.
The resort's offerings and its commitment to providing a personalized and luxurious experience make it an ideal choice for travelers seeking a tranquil yet opulent getaway. The nearby attractions and the resort's proximity to Cabo San Lucas add to the allure, offering a blend of relaxation and adventure to its guests.
Exploring From Le Blanc Los Cabos: Review
he sun had barely risen when my eyes fluttered open, excited for the day that lay ahead. My partner, Alex, and I had finally arrived at the prestigious Le Blanc Spa Resort Los Cabos, nestled along the transcendent Baja California coast. We were eager to uncover the secrets that lay beyond the opulent confines of this sanctuary of luxury.
We started our day early with a hearty breakfast at the resort's upscale restaurant, Blanca Blue. The aroma of fresh coffee beans intertwined with the invigorating sea breeze, setting a serene yet vibrant tone for the day. As we delved into a delectable spread of freshly baked pastries, tropical fruits, and savory local dishes, we planned our exploration of the surrounding areas.
Our first stop was the charming El Dorado Golf Club, a mere 5-minute drive from the resort. Nestled amidst undulating fairways and azure water bodies, the golf club was a sight to behold. We spent a jovial morning attempting to perfect our swings, the gentle laughter of fellow golf enthusiasts echoing through the crisp morning air.
As the day progressed, we decided to venture further and set our sights on the picturesque Chileno Beach, an 8-minute drive from Le Blanc. The drive itself was a beautiful journey as we meandered through quaint local communities, the authenticity of the region resonating through the cheerful waves of the locals.
Upon reaching Chileno Beach, we were greeted by the tranquil blue waters gently caressing the golden sands. We took a leisurely stroll along the shoreline, the gentle whispers of the waves narrating tales of ancient mariners. The sun cast a warm, golden hue on the landscape, making every moment feel like a beautiful painting come to life.
Having built an appetite, we decided to indulge in some local seafood delicacies at a nearby eatery. The flavors of freshly caught seafood mingled with exotic local herbs was a culinary journey of its own. Every bite seemed to narrate the rich cultural tapestry and the bountiful offerings of the Pacific.
As dusk approached, we returned to the serene embrace of Le Blanc. The resort seemed to come alive in the soft glow of the evening lights, creating a magical ambiance. We decided to book a rejuvenating couple's massage at the spa. The skilled therapists worked their magic, melting away the tiredness from our bones, preparing us for yet another day of exploration.
The night ended with a toast at one of the resort's elegant bars, reflecting on the beautiful day passed and the adventures that still awaited. As we retreated to our plush suite, the comforting sounds of the ocean lullabied us into a peaceful slumber, gearing us up for yet another day of exploration and discovery.
Throughout our stay, the sublime blend of luxury and authenticity that Le Blanc offered, created not just a vacation, but an enriching experience that left a lasting imprint on our souls. The juxtaposition of indulgent luxury and the raw beauty of Los Cabos made every moment an exquisite chapter in our travelogue.
The Palette of Luxury: The journey of opulence begins with a warm welcome from personal butlers, a subtle nod to the resort's attention to tailored service. Each of the 369 suites is a blend of comfort and modern sophistication, with smart TVs, daily-refreshed minibars, and an enticing 'comfort menu'. This menu, a thoughtful touch, allows guests to choose from a selection of pillows, bath salts, handcrafted soaps, and aromatherapy scents, embodying the resort's ethos of personalized luxury.
Gastronomic Odyssey: The resort invites you on a culinary voyage across the globe without leaving the comfort of its premises. Four in-house restaurants, each a realm of its own, offer a tapestry of flavors from refined French-fusion, authentic Italian to locally inspired seafood dishes. The 24-hour room service ensures that your gastronomic desires are met, be it a midnight snack or a bottle of the region's finest wines.
Wellness Embodied: The heart of relaxation beats within the spa, a haven of rejuvenation. The blue-lit hydrotherapy area is not just a feast for the eyes but a promise of serenity to the weary soul. A spectrum of treatments and massages await, each aimed at melting away the stresses, leaving a sense of tranquility in its wake.
Engagement with the Locale: The resort's location is a gateway to the myriad experiences that the Baja Peninsula offers. A short drive will lead you to the heart of Cabo San Lucas, a town vibrating with life, contrasting with the serene atmosphere of the resort. The nearby El Dorado Golf Club and Club Campestre Golf Course beckon to enthusiasts, while the azure waters of Chileno Beach whisper to the souls seeking natural splendor.
A Thoughtful Gesture:The resort credit system is a thoughtful gesture, aimed at enhancing the experiences of its guests. It's an invitation to explore, be it a soothing spa treatment or an adventurous excursion like a dolphin encounter. Though there are limitations, the intent mirrors the resort's endeavor to craft memorable experiences.
In Conclusion:Le Blanc Spa Resort Los Cabos is a narrative of luxury, every element from the rooms to the dining, curated meticulously to enchant the most discerning traveler. The whispers of the Pacific waves, the tender caress of the breeze, and the warm embrace of luxury at every corner, all craft a tale of elegance, tranquility, and personalized indulgence awaiting to be experienced.
Recommendation:
Le Blanc Spa Resort Los Cabos is a haven for those seeking a peaceful retreat in a luxurious setting. It's ideal for couples, wellness enthusiasts, or anyone looking to escape the ordinary and bask in attentive service and serene beauty. The resort, with its sophisticated ambiance and host of indulgent amenities, caters to those for whom quality is paramount, and every moment should be a cherished memory.
For those seeking a serene yet adventurous retreat, Le Blanc Spa Resort Los Cabos is a choice par excellence. However, if the allure of vibrant nightlife and bustling city life is more your speed, perhaps a resort closer to the heart of Cabo San Lucas would better suit your tastes. Every corner of this diverse region holds a unique promise of discovery, waiting to be unveiled by the curious heart.
Share Your All-Inclusive Adventures and Questions! 🌴 Have a memorable experience from a luxury all-inclusive vacation? We'd love to hear it at Luxury Resort Bliss. We're on the lookout for top-quality, insightful tales that'll inspire our community. Dive in and be a part of our sun-soaked stories! 🌊🍹✨
The story is a fictionalized account founded on travel expertise, research, and experience. Always refer to recent guest reviews and perform due diligence before booking.
💼 We cherish our independence! ✈️ Our travel recommendations are carefully researched, bias-free, and powered by human expertise by April and Ricky of LRB (we have personally researched and travelled to many of these destinations and researched others thoroughly through first-hand accounts). We also have put in the hard miles, and Ricky has worked for decades for resort and hotel chains  Hyatt, Hilton, Shangri-La and Radisson before starting Luxury Resort Bliss in 2007. 🌍✨ Unlike some other resort review websites we are concerned on the guest experience rather than mere corporate interest.