Marquis 5-Star Adult Only All-Inclusive Resorts In Cabo San Lucas
Marquis 5-Star Adult Only All-Inclusive Resorts In Los Cabos
Looking for a review on the Marquis 5-Star Adult Only All-Inclusive Resorts In Los Cabos.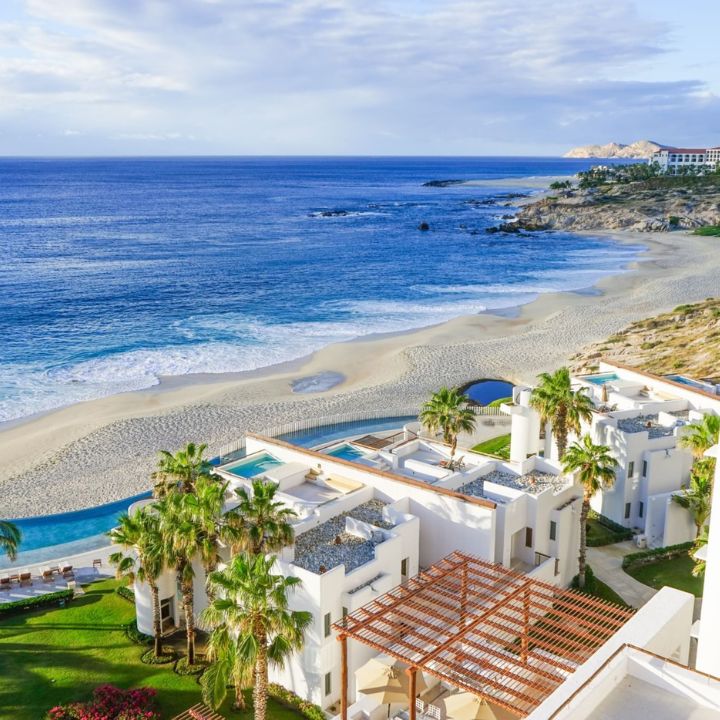 Marquis Los Cabos
Also See the 5-Star Adult Only All-Inclusive Resorts In Los Cabo Review
Marquis Los Cabos Review
LOCATION (4.5/5)
Imagine setting foot on the Baja Peninsula, where the desert meets the sea, and the only horizon you see is the vast azure of the Sea of Cortez. Here lies the Marquis Los Cabos, situated at Carretera Transpeninsular Km 21.5, a tranquil no-timeshare beachfront haven meant exclusively for adults. Its proximity to San José del Cabo and Cabo San Lucas endows it with accessibility yet keeps it far from the madding crowd.
ACCOMMODATION (4.7/5)
Seamlessly merging contemporary aesthetics with a distinct Mexican flair, the suites and casitas are a testament to comfort coupled with luxury. The tasteful interior of the master suite boasts of a private balcony, and a terrace replete with a plunge pool. A refuge for relaxation, where the whiff of fresh sea air rejuvenates your senses. However, some might yearn for more thematic local touches in the room decor, which seems slightly on the minimalist side.
AMENITIES (4.8/5)
The resort unravels itself as a culinary wonderland, presenting five distinct dining establishments, each fostering a unique ambiance and gastronomical delights. Executive Chef Claudio Hotter's panache reflects in the offerings, from the Mediterranean allure of Pergola to the Asian specialties of Sakke. The spa, stretching over 13,000 square feet, is a sanctum of rejuvenation. The only minor shortfall is the limited number of Teppanyaki tables at Sakke, requiring advance reservations.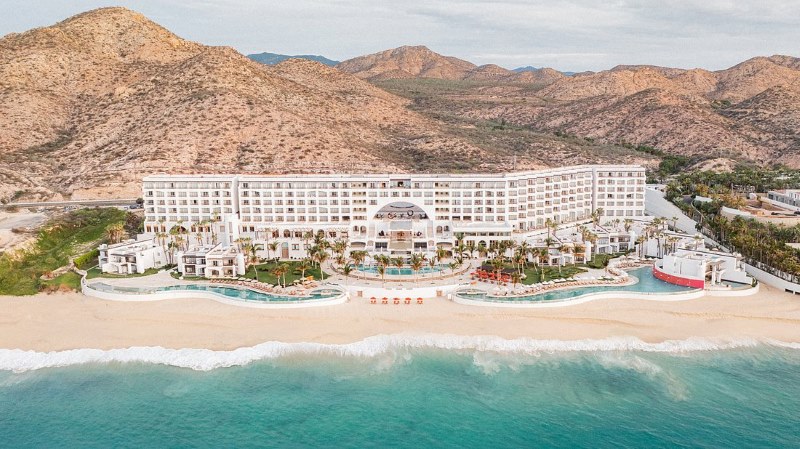 Marquis Los Cabos
Marquis Los Cabos - Pros, Cons, and Features
Pros:
Exceptional Location: Marquis Los Cabos enjoys a prime position in the Corridor between Cabo San Lucas and San Jose del Cabo, boasting breathtaking ocean views and direct beach access.
Adults-Only Policy: As an adults-only resort, it offers a tranquil environment free from the noise and activity associated with family-friendly resorts.
All-Inclusive Luxury: Marquis Los Cabos is renowned for its luxurious all-inclusive packages, which cover a wide variety of high-quality food and beverage options, as well as a range of activities.
Spectacular Pools: The resort features three architecturally stunning pools, each offering panoramic ocean views.
Variety of Dining Options: Six restaurants and two bars ensure a wide range of culinary experiences, from fine-dining to more casual fare.
Spa & Fitness Center: The resort's spa, Marquis Spa, offers a range of treatments, while the fitness center boasts modern equipment and a variety of classes.
Cons:

Limited Nightlife: While the resort itself offers some evening entertainment, guests looking for a vibrant nightlife scene may need to venture into Cabo San Lucas or San Jose del Cabo.
Beach Swimming: While the resort has a beautiful beach, it is not always suitable for swimming due to the Pacific's strong currents.
No Golf Course On-Site: While the resort can arrange golfing at nearby courses, there is no course directly on the property.
Features:
Spacious Suites: Marquis Los Cabos offers a selection of 235 spacious suites, each with a balcony or terrace and an ocean view.
Unique Amenities: The resort offers a range of unique amenities, including a cinema, a shopping boutique, and a hydrotherapy spa.
Activities and Entertainment: Guests have access to a variety of activities including yoga classes, dance lessons, and live evening entertainment.
World-Class Service: The resort prides itself on its personalized, attentive service, with a concierge available to assist guests throughout their stay.
Environmentally Friendly: Marquis Los Cabos has a strong commitment to sustainability and eco-friendly practices. It's recognized with a Rainforest Alliance Certification, indicating their dedication to reducing their environmental impact.
Artistic Ambiance: The resort showcases a considerable collection of original paintings and sculptures from Latin American artists, giving it a unique artistic ambiance.
Review
An Affair with Marquis Los Cabos: A Solo Traveler's Leap into Love
Stepping off the plane in San José del Cabo, the first thing that greeted me was the dry heat of Baja Peninsula, a stark contrast to the stifling humidity of my New York City apartment. As I left the airport, my heart thrummed with anticipation, a sense of adventure prickling at my skin.
The shuttle ride was a blur of pastel-colored buildings and sandy landscapes until we reached the resort's grand entrance. A gasp escaped my lips as I soaked in the majestic vista of Marquis Los Cabos. The resort sprawled before me, kissed by the azure embrace of the Sea of Cortez.
My first night, weary from travel, I retreated to my suite. The room was a symphony of soothing earth tones, punctuated by the occasional vibrant splash of local textiles. There was a private balcony with a plunge pool that hummed an invitation, but sleep claimed me first.

Waking to the gentle rhythm of the waves, I stepped onto the balcony. Sunlight danced on the water's surface, and a salty breeze tousled my hair. I was enveloped in a serenity that my busy city life rarely permitted.
Each day unfolded like a page from an unwritten book. I dined at Vista Ballenas, sampling the sumptuous breakfast spread. The aroma of freshly baked pastries mingled with the salty sea air, creating an intoxicating blend. The standout was Chilaquiles, a traditional Mexican breakfast dish, a playful medley of flavors that danced on my tongue.
One evening, I found myself at Pergola, the Mediterranean restaurant. The Chef's Seafood Paella was a revelation. With each mouthful, I tasted the ocean's bounty - succulent prawns, tender mussels, the delicate sweetness of the fish, all held together by the perfectly seasoned rice.
The staff, warm as the Mexican sun, treated me with a kindness that soon felt like friendship. When I expressed interest in local cuisine, the resort chef arranged a private cooking class. My hands, so accustomed to a keyboard, now clumsily wrapped Tamales under the chef's patient guidance. We shared laughs and stories over our culinary creations, a shared camaraderie that felt as warming as the dishes we made.
But my affair with Marquis Los Cabos wasn't just about gastronomy. It was also about the quiet moments of solitude, feeling the sand beneath my toes, the sun kissing my skin, and the saltwater leaving a trace on my lips.
Leaving was akin to a gentle heartbreak. The resort, which had been a haven for a solo traveler like me, had left its imprint.
So, if you're a solo traveler seeking a blend of adventure and tranquility, yearning for a taste of local culture garnished with luxury, Marquis Los Cabos is your calling. However, if you're more into an energetic nightlife and a younger crowd, ME Cabo in Medano Beach might be your speed.
As my plane soared above the cloud-kissed skies, I left a piece of my heart in that little corner of the Baja Peninsula, vowing to return. Because love, like travel, isn't just about the destination; it's about the journey, the memories you make, and the person you become along the way.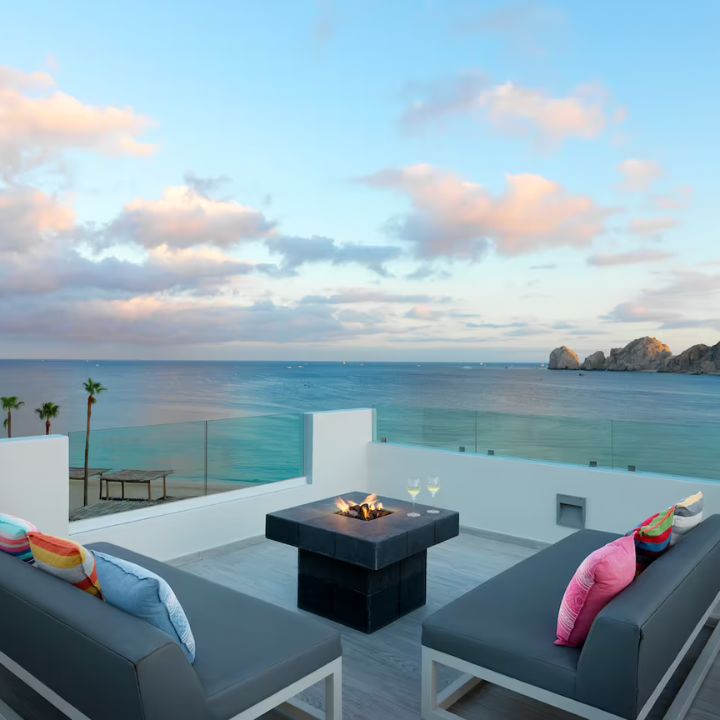 ME Cabo in Medano Beach
Food Review
💼 We cherish our independence! ✈️ Our travel recommendations are carefully researched, bias-free, and powered by human expertise by April and Ricky of LRB (we have personally researched and travelled to many of these destinations and researched others thoroughly through first-hand accounts). 🌍✨
We try to keep everything up to date, but please always do your own research and contact us if you know any issues for us to help others as best we can as a small but professionally focused team! 🧐📚⚠️