Sandals Saint Vincent and the Grenadines
Sandals Resorts International has just thrown open the doors for reservations at their latest gem, Sandals Saint Vincent and the Grenadines, which is set to welcome guests from March 27, 2024. Once conceptualized as a family-centric Beaches resort in 2020, it now proudly stands rebranded as an exclusive adults-only escape under the renowned Sandals banner.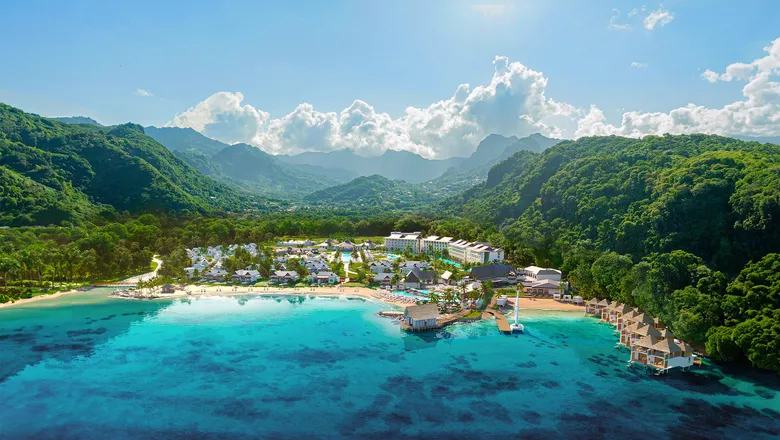 Sandals Saint Vincent And The Grenadines
This luxurious resort is a grand reincarnation of the former Buccament Bay Spa and Resort that had its run until 2016 (video below) in the heart of Kingstown. Sprawled over 50 acres, the property boasts of 301 opulent rooms. What catches the eye are the two-bedroom butler villas, touted by Sandals to be their "most expansive suites so far."
SANDALS SAINT VINCENT AND THE GRENADINES
Gastronomic adventures at Sandals Saint Vincent are unparalleled. The resort houses 16 diverse food and beverage destinations. Buccan, the brand's pioneering communal-style eatery, will tempt guests with seasonal platters perfect for sharing, all freshly prepared in its vibrant open kitchen. Parisol will serve as an open-air haven for beach lovers craving small plates and tantalizing cocktails, while Three Jewels promises a rum-filled rendezvous. Health aficionados need not fret, as Imoro will cater to them with a menu radiating health and freshness.

But it's not just the food that will keep guests enchanted. The island of Saint Vincent itself is a natural marvel. Sheltered in its private alcove, flanked by a verdant forest and a serene river, this resort promises an off-the-beaten-track Caribbean experience. Dive into Saint Vincent's untouched beauty, where the deep blue waters meet lush rainforests, making it a dream destination for those looking for pure and undisturbed nature.
An array of top-tier amenities awaits guests. From PADI-certified SCUBA diving, a plethora of watersports, to state-of-the-art fitness centers and pulsating live shows - there's never a dull moment. Furthermore, the accommodations here are nothing short of extraordinary. Overwater Villas allow guests to marvel at the Caribbean's charm right below their feet through transparent glass floors, while Beachfront Villas offer a unique blend of luxury and nature with oversized patios and private pools.
In a nod to seamless connectivity, guests are treated to in-room and common area WiFi, ensuring that sharing their experiences is just a click away. And with the Red Lane Spa and multiple pools, including a grand 300-foot linear pool, relaxation is guaranteed.
Marking Sandals' ninth Caribbean escapade and the 18th in its chain of resorts, Sandals Saint Vincent and the Grenadines is set to redefine luxury travel in the Caribbean. Your dream Caribbean holiday has a new address!
Sandals Saint Vincent And The Grenadines
Video: St Vincent and the Grenadines making progress woo woo woo! Sandals Resort
Why a Sandals Resort in St. Vincent Might Thrive
Untapped Luxury Market: St. Vincent and the Grenadines, while recognized, isn't as saturated with luxury resorts as some other Caribbean destinations. Sandals, with its well-established brand presence, can cater to a niche luxury segment looking for new experiences.
St. Vincent's Natural Beauty: The island's unspoiled and diverse natural environment — from majestic rainforests to serene beaches — offers a distinctive charm. The promise of a Sandals resort where this untouched beauty meets luxury could be an irresistible draw.
Growing Tourism Infrastructure: St. Vincent's new international airport and improving tourism infrastructure make it an increasingly accessible destination for international travelers.
Brand Recognition and Loyalty: Sandals is a renowned name in the luxury all-inclusive resort market. Their reputation for premium experiences will likely attract their loyal clientele to this new destination.
Diverse Offerings: The detailed amenities planned for the resort, from expansive suites and diverse dining experiences to the Red Lane Spa, present a broad palette of luxuries catering to various tastes.
Exclusivity: The adults-only branding of Sandals offers couples and singles a serene escape without the hustle and bustle that family resorts might present, ensuring a calm and exclusive environment.
Comprehensive Packages: Sandals' all-inclusive packages, covering dining, entertainment, and even water sports, make for a hassle-free holiday experience. This one-price-covers-all approach is enticing for many vacationers.
Cultural Exploration: St. Vincent, with its rich history and vibrant culture, offers a unique blend of experiences outside the resort. The chance to explore the local culture, combined with Sandals' luxury, can be a compelling proposition for travelers.
Economic Growth: A new luxury resort will contribute to local employment and spur economic activities, creating a symbiotic relationship between the resort and the local community.
Expanding Portfolio: As Sandals' 18th resort and ninth Caribbean destination, this new addition might attract those who've already experienced other Sandals locations and are on the lookout for a fresh experience within the brand they trust.
In sum, the combination of St. Vincent's captivating allure and Sandals' expertise in delivering top-notch holiday experiences positions the new resort for potential success in the luxury travel market.
Share Your All-Inclusive Adventures and Questions! 🌴 Have a memorable experience from a luxury all-inclusive vacation? We'd love to hear it at Luxury Resort Bliss. We're on the lookout for top-quality, insightful tales that'll inspire our community. Dive in and be a part of our sun-soaked stories! 🌊🍹✨
The story is a fictionalized account founded on travel expertise, research, and experience. Always refer to recent guest reviews and perform due diligence before booking.
💼 We cherish our independence! ✈️ Our travel recommendations are carefully researched, bias-free, and powered by human expertise by April and Ricky of LRB (we have personally researched and travelled to many of these destinations and researched others thoroughly through first-hand accounts). We also have put in the hard miles, and Ricky has worked for decades for resort and hotel chains  Hyatt, Hilton, Shangri-La and Radisson before starting Luxury Resort Bliss in 2007. 🌍✨ Unlike some other resort review websites we are concerned on the guest experience rather than mere corporate interest.