McCracken Country Club Victor Harbor South Australia
McCracken Country Club Victor, Harbor, South Australia
Perched atop the championship golf course at Victor Harbor, the McCracken Country Club is an exquisite retreat on South Australia's Fleurieu Peninsula. Boasting a 4-star resort rating, this tranquil haven melds comfort, relaxation, and an array of activities in one superior package. Whether you are looking for a peaceful getaway, a food lover's paradise, a golf enthusiast's dream, or a versatile event venue, McCracken Country Club will tick all the boxes.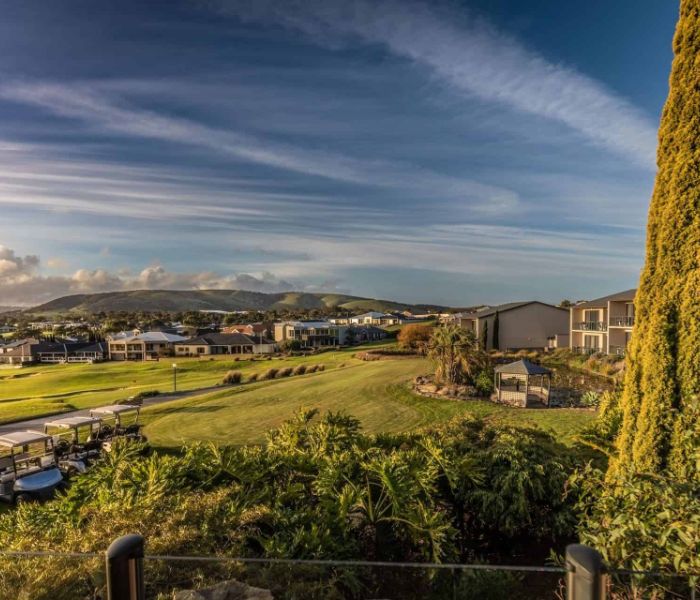 At McCracken Country Club, comfort is the operative word. Every room, except for the villas, is fitted with spa baths in every ensuite, a luxurious amenity that guarantees an indulgent stay. For guests with furry friends, the resort also offers pet-friendly accommodation options, a rare convenience that sets McCracken apart.
Exceptional Dining
The resort is home to McCracken Bar & Grill, a casual and welcoming dining establishment where guests can enjoy a diverse bistro-style menu. Whether you fancy a post-golf drink at a high table or a quick coffee and cake, the Bar & Grill caters to a wide range of dining preferences. Please note, Baudins Restaurant is available exclusively for private functions.
Golf Course
Situated on the Tony Cashmore designed championship McCracken Golf Course, the country club is a paradise for golf aficionados. And the adventures don't stop there. The resort also boasts tennis and basketball courts, an indoor swimming pool, spa, and sauna, a health club and gym, and a convention centre for weddings, functions, and conferences.
McCracken Country Club is nestled in the heart of Victor Harbor, a picturesque coastal town renowned for its stunning beaches, scenic landscapes, and an array of attractions. Explore the local McLaren Vale and Langhorne Creek wineries or embark on a journey to the gateway of Kangaroo Island. Animal lovers will be thrilled by Granite Island Penguins and the Urimbirra Wildlife Park. History buffs can marvel at the historic buildings and towns, while art enthusiasts will enjoy the local art and craft galleries.

Other activities include horse-drawn trams, jet skiing, whale watching, the Victor Harbor Farmers Markets, and Big Duck Boat Tours. Alternatively, take a ride on the SteamRanger Heritage Railway and Cockle Train, or enjoy a Coorong Cruise.
For your convenience, the resort offers free WiFi, complimentary car parking, a bottle shop, gaming facilities, and even a Tesla charging station. There's also the Victor Harbor Convention Centre for all your event needs, big or small.
In summary, McCracken Country Club provides a unique blend of relaxation, adventure, and indulgence. Whether you want to hit the links, enjoy the local food and wine, or simply soak in your private spa bath, this resort is the perfect base for your Victor Harbor exploration.
Find the best deal, compare prices, and read what other travelers have to say at Tripadvisor
Victor Harbour Things to Do
Victor Harbor, a charming seaside town on the Fleurieu Peninsula in South Australia, boasts a combination of spectacular scenery, history, and adventure, making it an ideal spot for travelers. From the stunning coastline to the rich wildlife and fascinating heritage sites, there is something for everyone in Victor Harbor. Here are some of the must-do activities while you're there:
1. Granite Island and the Penguin Colony: A trip to Victor Harbor is incomplete without visiting Granite Island, home to a small colony of Little Penguins. A causeway connects the mainland to the island, and you can either walk or take a ride on the unique Horse Drawn Tram. The island is perfect for a leisurely stroll where you'll enjoy panoramic ocean views and encounter local wildlife.
2. Whale Watching: Victor Harbor offers some of the best whale-watching experiences in South Australia. From June to September, Southern Right Whales come to the nearby waters to calve and mate. Visit the SA Whale Centre to learn more about these magnificent creatures, then head to the coast for a chance to spot them.
3. McLaren Vale and Langhorne Creek Wineries: Victor Harbor is within an easy drive of some of South Australia's best wine regions. Head to the McLaren Vale and Langhorne Creek Wineries for a day of wine tasting and exploring vineyards set against beautiful landscapes.
4. The Bluff: Also known as Rosetta Head, this impressive granite outcrop offers panoramic views of Encounter Bay and the Southern Ocean. The area is steeped in local Kaurna Aboriginal history and is a perfect spot for a picnic.
5. Urimbirra Wildlife Park: Meet some of Australia's iconic wildlife up close at Urimbirra Wildlife Park. You'll encounter kangaroos, koalas, wombats, and an array of bird species in open-range settings.
6. Victor Harbor Heritage Trail: Take a walk along the Victor Harbor Heritage Trail to learn about the town's history. This 3.6km trail covers 27 sites, including the old Customs House and the Railway Station.
7. Water Activities: Make the most of Victor Harbor's stunning coast with activities like swimming, surfing, fishing, or boating. For a thrilling adventure, consider a jet ski tour or a Big Duck Boat Tour to see seals, dolphins, and other marine life.
8. McCracken Golf Course: Enjoy a round at the championship-standard McCracken Golf Course. Designed by renowned golf course architect Tony Cashmore, the course offers a blend of breathtaking views and challenging play for golfers at every level.
9. Victor Harbor Farmers' Market: Held every Saturday, this vibrant market is a food lover's delight. Taste the best of the region's fresh produce and artisanal food, from cheeses and baked goods to seafood and locally made wines.
After a day of exploration and adventure, wind down at a beachside cafe, indulge in fresh local seafood at a fine dining restaurant, or enjoy a quiet sunset over the serene waters. Victor Harbor is a jewel of the Fleurieu Peninsula that captures the heart of every traveler.
Q: How do I get to Victor Harbor?
A: Victor Harbor is about 80 km south of Adelaide. The journey by car takes around 1 hour and 15 minutes via the M2 and A13 route. Regular coach services are also available from Adelaide.
Q: When is the best time to visit Victor Harbor?
A: Victor Harbor can be visited any time of the year. However, for whale watching, the best time is from June to September when Southern Right Whales migrate to the waters nearby.
Q: What wildlife can I see in Victor Harbor?
A: Victor Harbor is rich in wildlife. At Granite Island, you can see Little Penguins. The Encounter Bay is a haven for Southern Right Whales during the winter. Urimbirra Wildlife Park is home to kangaroos, koalas, wallabies, and many bird species.
Q: Are there any good places to eat in Victor Harbor?
A: Yes, there are numerous restaurants, cafes, and pubs in Victor Harbor, many offering fresh seafood and locally produced wines. The McCracken Country Club's Bar & Grill is a popular choice, and Baudins Restaurant is available for private functions.
Q: What activities are available for kids in Victor Harbor?
A: Kids will love the Urimbirra Wildlife Park, the SA Whale Centre, Granite Island, and the beach. They can also enjoy horse-drawn tram rides to Granite Island, and there's a local playground situated on the Esplanade.
Q: Is Victor Harbor a good base for exploring Fleurieu Peninsula?
A: Absolutely. Victor Harbor's location makes it a great base for day trips to other parts of the Fleurieu Peninsula, including the McLaren Vale wine region, Port Elliot, Goolwa, and the Coorong National Park.
Q: What golfing facilities are available in Victor Harbor?
A: The McCracken Golf Course in Victor Harbor is a championship standard 18-hole golf course, designed by Tony Cashmore. It offers a combination of stunning views and challenging fairways.
Q: What are the local markets in Victor Harbor?
A: The Victor Harbor Farmers' Market takes place every Saturday morning. It features local produce including fruits, vegetables, baked goods, and locally made wines.
Q: Can I bring my pet to Victor Harbor?
A: Yes, Victor Harbor offers pet-friendly accommodation options like the McCracken Country Club. However, it's advisable to check with individual accommodations and attractions regarding their pet policies.
Q: What is the temperature in Victor Harbor?
A: The summer months (December to February) in Victor Harbor usually see temperatures in the mid to high 20s Celsius (70s Fahrenheit). Winter (June to August) is cooler with temperatures ranging from 8-16°C (46-60°F).
💼 We cherish our independence! ✈️ Our travel recommendations are carefully researched, bias-free, and powered by human expertise by April and Ricky of LRB (we have personally researched and travelled to many of these destinations and researched others thoroughly through first-hand accounts). 🌍✨
We try to keep everything up to date, but please always do your own research and contact us if you know any issues for us to help others as best we can as a small but professionally focused team! 🧐📚⚠️