Adult Only All-Inclusive Resorts in Australia
Adult Only All-Inclusive Resorts in Australia
Unwind in paradise at adult-only all-inclusive resorts in Australia. Immerse yourself in luxury, enjoy personalized services, and indulge in a serene and unforgettable getaway.
Escape to your own private sanctuary at the Beachfront Pavilions on Hayman Island. These adult-only villas offer a secluded and intimate retreat, perfect for those seeking ultimate relaxation. Wake up to the soothing sound of the ocean and take a refreshing swim just steps away from your king-sized bed. Enjoy lazy afternoons by your private plunge pool or unwind on the covered beachfront terrace, soaking in the stunning views. The contemporary design seamlessly blends indoor and outdoor living, creating a tranquil atmosphere. When you're ready to explore, the resort's main facilities are just a short walk or buggy ride away. With access to all resort amenities, dedicated concierge service, and exclusive access to the adults-only beach, the Beachfront Pavilions provide an unforgettable beachfront retreat. Book your package today and indulge in a truly blissful experience.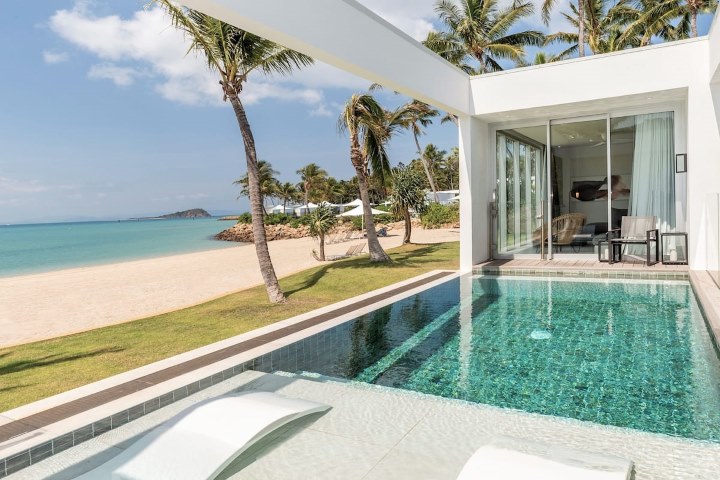 Navigating my way from Airlie Beach to Hayman Island, the journey unfurled as an adventure in itself. I first made my way to the bustling Cruise Whitsundays Port of Airlie Maritime Terminal, a place teeming with anticipation. From there, I stepped onto a luxury boat transfer, a vessel that promised passage to paradise. As we cut through the sapphire swathes of the Whitsundays, the sea air bristling with a salty tang, I saw islands skirt past in a verdant blur. The boat arced its way across the water, and with every nautical mile, the urban hum of Airlie Beach was replaced by the soft whispers of the sea. Upon arrival, Hayman Island emerged as an emerald gem nestled within the Great Barrier Reef, a symbol of the untouched, intimate luxury I was about to explore.
Southern Ocean Lodge, perched on the rugged cliffs of Kangaroo Island, offers an adults-only, all-inclusive retreat that effortlessly merges luxury with the raw beauty of the Australian landscape. This haven, designed for mature visitors seeking tranquility and connection with nature, delivers an extraordinary sensory experience. From the panoramic windows and terrace providing unbroken views of the Southern Ocean to the tailored itineraries exploring the island's natural splendors, guests can immerse themselves in an environment that's as luxurious as it is wild. The all-inclusive experience includes elegant suites with fine linens and artworks, dining on exquisite local cuisine paired with South Australia's best wines, and curated adventures that offer intimate encounters with the island's diverse wildlife. The lodge's attentive staff ensure a seamless experience, making Southern Ocean Lodge the ultimate destination for discerning adults seeking a tranquil, luxurious, and immersive Australian getaway.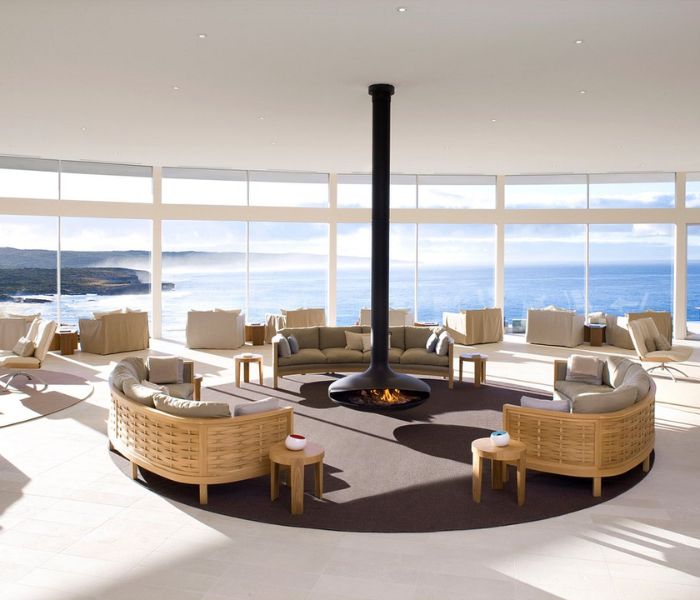 At the time of writing Southern Ocean Lodge offerd a variety of all-inclusive packages tailored to the interests and desires of its guests, ensuring a unique, unforgettable experience.
"Luxury Escape" package offers guests a minimum of two-night stay, where they can enjoy spectacular coastal views from their suite, daily guided excursions, and indulgent meals featuring local produce paired with premium South Australian wines.
The "Flinders Suite Romance" package is designed for couples seeking a luxurious, intimate escape. It includes a private cliff-top dinner, in-suite couples' spa treatments, and romantic room decor, along with all the inclusions of the standard package.
For those seeking an active retreat, the "Wildlife Discovery" package offers guests the chance to embark on private guided tours focusing on Kangaroo Island's unique biodiversity.
Besides, guests can also relax and rejuvenate with nature-inspired spa treatments.
The "Gourmet Getaway" package is a food and wine lover's dream. It provides exclusive wine tastings, a private cooking class, and a special degustation dinner.
All packages include airport transfers, ensuring a seamless experience from arrival to departure. Southern Ocean Lodge's all-inclusive offerings combine luxury, comfort, and personalisation to create the ultimate adults-only escape.
On the northern tip of Hamilton Island in the heart of the Great Barrier Reef, qualia offers a luxurious adult-only all-inclusive haven. This exclusive resort is designed to provide a serene and indulgent escape for discerning travelers. With stunning views of the Whitsundays and a sun-drenched northern aspect, qualia immerses guests in the natural beauty of its surroundings. The resort boasts 60 individual pavilions, each with breathtaking views and unique features like sundecks or private infinity edge plunge pools.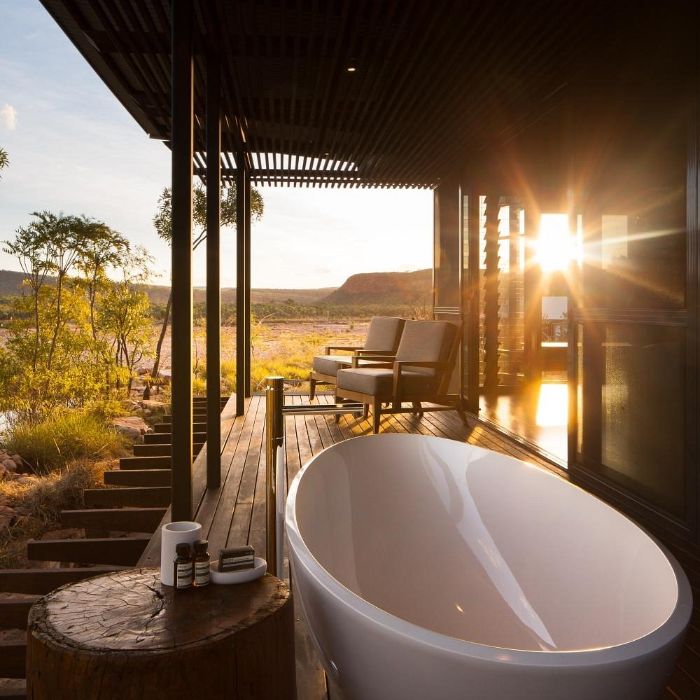 All-Inclusive Luxe At El Questro, Kimberley, Western Australia
In the captivating wilderness of the Kimberley region, lies the hidden jewel of El Questro Homestead. Nestled amidst towering burnt-orange cliffs and lush green lawns, this luxurious retreat offers a secluded paradise for adventurers and tranquility seekers alike. With ten chic suites cantilevered over the serene Chamberlain River, guests wake up to unparalleled views of nature's splendor. Enjoy homemade delicacies on the sweeping veranda, while the communal lunches and dinners forge friendships under shady awnings. The all-inclusive packages provide gourmet meals sourced from local produce, guided tours of the surrounding area, and exclusive experiences tailored by knowledgeable rangers. El Questro Homestead is an unforgettable escape, where every day is filled with awe-inspiring adventures and flavors that tantalize the senses.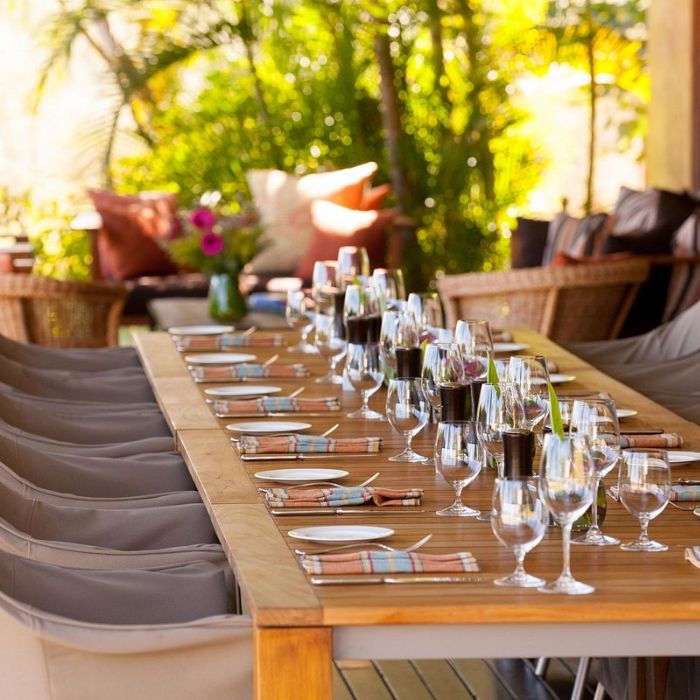 On the East Coast of Tasmania, Saffire Freycinet is a sanctuary of luxury and natural beauty. Surrounded by the majestic Hazards Mountains and overlooking the pristine waters of the Great Oyster Bay, this exclusive resort offers a truly immersive experience. From the moment you arrive, you'll be captivated by the resort's breathtaking location and impeccable service. Each private suite is a haven of comfort, featuring panoramic views, well-appointed amenities, and a seamless blend of contemporary design and Tasmanian charm. Indulge in gourmet dining experiences that showcase the region's finest produce, complemented by an extensive selection of wines. Immerse yourself in a range of included activities, from guided tours of the local area to wildlife spotting and rejuvenating spa treatments. Saffire Freycinet is a haven of relaxation, adventure, and indulgence, promising an unforgettable stay in one of Australia's most picturesque destinations.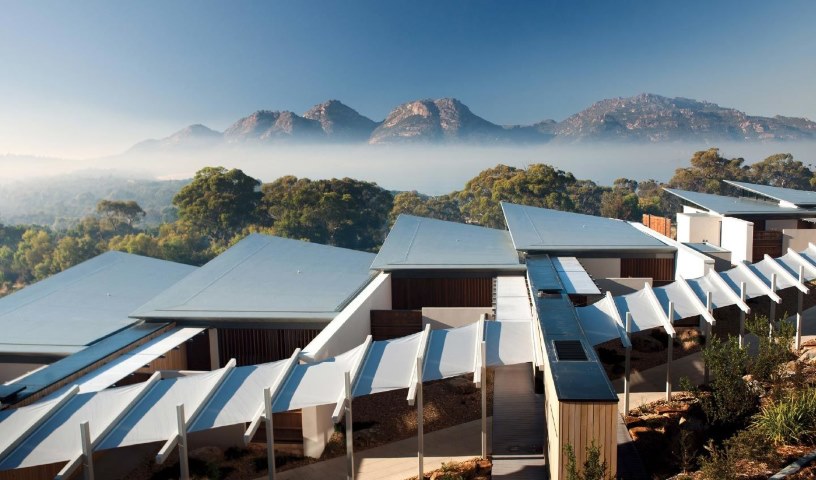 Saffire Freycinet
Idulge in exquisite gourmet meals crafted from locally sourced produce, paired with premium wines. Explore the stunning surroundings with a range of guided tours and activities, from nature walks to kayaking adventures. Unwind and rejuvenate at the award-winning spa, where bespoke treatments and therapies await. With every detail taken care of, Saffire Freycinet offers an all-inclusive experience that will exceed your expectations and create cherished memories.
See more about all-inclusive holidays and resorts in Tasmania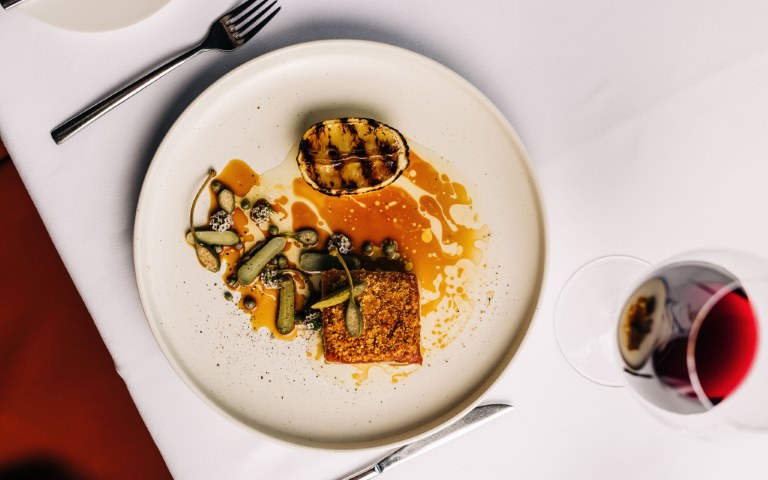 Food at Saffire Freycinet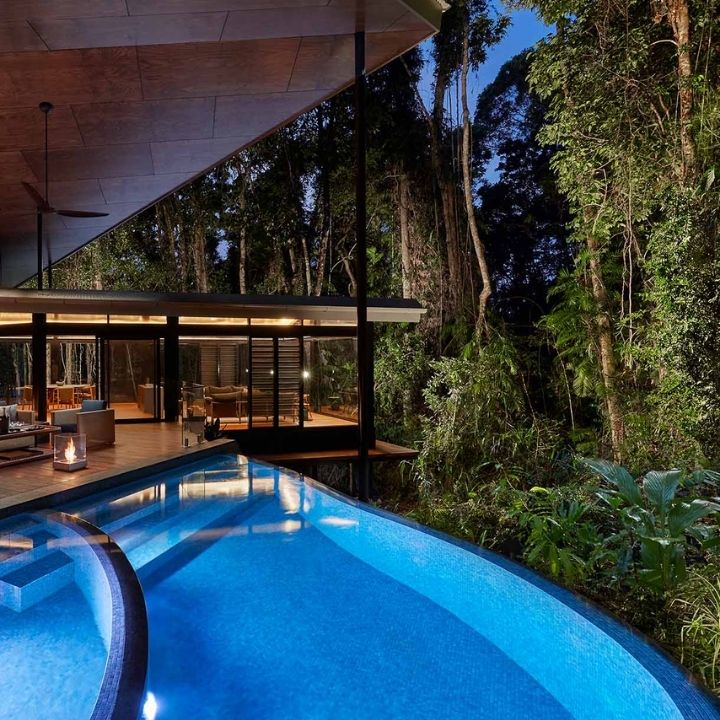 Daintree Rainforest, Silky Oaks Lodge offers a serene and enchanting retreat. Surrounded by lush tropical foliage and overlooking the Mossman River, this eco-luxe resort provides a perfect blend of luxury and natural beauty. Wake up to the soothing sounds of the rainforest in your spacious and elegantly appointed accommodation. Indulge in delectable cuisine featuring locally sourced ingredients at the open-air Treehouse Restaurant. Immerse yourself in nature with activities such as guided walks, river cruises, and swimming in crystal-clear rock pools. Unwind at the Healing Waters Spa, where rejuvenating treatments and ancient healing rituals await. Whether you seek relaxation or adventure, Silky Oaks Lodge promises an unforgettable experience in the heart of Australia's oldest rainforest.
See more all-inclusive wellness retreats and lodges in Australia
Top Adult Only All-Inclusive Resorts and Lodges
Exploring the adult-only, all-inclusive retreats nestled within the varied landscapes of Australia is an intoxicating endeavor - akin to being a wine connoisseur tasting some of the finest vintages in the country's sun-kissed vineyards. From the rust-red vastness of the Outback, to the turquoise wonders of the Great Barrier Reef, these top 20 resorts capture the best of this diverse and breathtaking land.
See more all-inclusive wellness retreats and lodges in Australia
Note: These are not all fully adult only all-inclusive but rather offer features that most closely align with these values out of the Australian resorts we have to date. 
Qualia, Hamilton Island, Whitsundays - A beacon of luxury nestled on Hamilton Island, Qualia is an exclusive haven for adults seeking serenity and world-class service.
InterContinental Hayman Island Resort - This elegant sanctuary offers unprecedented luxury amidst the unspoiled beauty of the Whitsundays, with a bounty of amenities to enjoy.
Saffire Freycinet, Tasmania - An intimate lodge in Tasmania's Freycinet National Park, Saffire offers a beautiful connection to nature and exquisite culinary experiences.
Southern Ocean Lodge, Kangaroo Island - Cliff-top luxury meets wild nature in this remarkable eco-resort, where panoramic views of the rugged coast will take your breath away.
Longitude 131°, Northern Territory - Immersed in the timeless landscape of the Red Centre, Longitude 131° offers a transcendent experience with the mystical Uluru as a backdrop.  Located in Australia's rugged Northern Territory, Longitude 131° offers an extraordinary escape into the ancient wonders of the Outback. With its exclusive tented pavilions that blend seamlessly into the desert landscape, this luxury retreat provides a harmonious balance between opulence and raw natural beauty. Awaken to the awe-inspiring sight of Uluru, bathed in the soft hues of the rising sun. Surrender to the enchanting starlit nights as you savor exquisite dining experiences showcasing Indigenous flavors and native ingredients. Embark on guided adventures that unveil the secrets of the land, immersing yourself in the rich Aboriginal heritage and stories of the Anangu people. At Longitude 131°, the essence of the Outback comes alive, offering an authentic and transformative journey beyond imagination. 
Silky Oaks Lodge, Queensland - Nestled on the edge of the Daintree Rainforest, this tranquil retreat is perfect for nature-loving adults seeking comfort and adventure.
Lake House, Daylesford, Victoria - A gastronomic delight in the heart of Victoria's Spa Country, this boutique hotel offers an all-inclusive package that food and wine lovers will revel in.
Lizard Island Resort, Queensland - This exclusive island resort offers pristine beaches, stunning coral reefs and a level of luxury that's hard to match.
Gaia Retreat & Spa, Byron Bay, New South Wales - Co-owned by Olivia Newton-John, this award-winning retreat offers tailored wellness programs amidst the serenity of the hinterland. 
Cable Beach Club Resort & Spa, Western Australia - This Broome retreat offers adults-only accommodation, with the option to take part in cultural tours, camel rides and pearl farm visits.
Pretty Beach House, New South Wales - This exclusive retreat on the Bouddi Peninsula offers just four pavilions, guaranteeing an intimate and luxurious experience.
The Frames, South Australia - Overlooking the peaceful Murray River, these ultra-luxurious villas offer private pools, spas and an all-inclusive service that's hard to beat.
Thorngrove Manor Hotel, South Australia - A unique, artistic escape, each room in this adults-only hotel is a distinctive architectural work of art.
Cicada Lodge, Northern Territory - An Indigenous-owned luxury lodge that offers a deep cultural experience alongside awe-inspiring views of Nitmiluk Gorge.
Bells at Killcare, New South Wales - A Hamptons-style haven on the Central Coast, Bells offers top-notch dining and rejuvenating wellness experiences.
The Louise, South Australia - An all-inclusive vineyard retreat located in the heart of the Barossa Valley. A must-visit for wine lovers.
Sal Salis, Western Australia - This remote beach-side safari camp nestles in the dunes of the Cape Range National Park, where the reef meets the outback.
Capella Lodge, Lord Howe Island - This luxury lodge offers stunning views of the island's majestic twin mountains and the endless Pacific Ocean.
Pumphouse Point, Tasmania - This converted pumphouse offers a unique experience in the wilderness, set amidst the serene beauty of Lake St Clair National Park.
Bamurru Plains, Northern Territory - This safari lodge provides a wildlife experience like no other in the floodplains and savannah woodland on the edge of Kakadu National Park.
A: Yes, Australia offers a range of adult-only all-inclusive resorts. These resorts cater exclusively to adult guests, creating a tranquil and sophisticated atmosphere for a peaceful getaway.
A: Adult-only all-inclusive resorts in Australia often include luxurious accommodations, gourmet dining options, a selection of alcoholic and non-alcoholic beverages, access to spa and wellness facilities, various recreational activities, and personalized services to enhance your stay. But this can vary wildly than always check with the resort. 
A: Adult-only all-inclusive resorts in Australia often include luxurious accommodations, gourmet dining options, a selection of alcoholic and non-alcoholic beverages, access to spa and wellness facilities, various recreational activities, and personalized services to enhance your stay.
A: Yes, adult-only all-inclusive resorts offer a variety of entertainment options and activities. These may include live music performances, themed parties, fitness classes, water sports, guided excursions, and cultural experiences.
A: Absolutely. Australia's coastal regions and popular beach destinations are home to several adult-only all-inclusive resorts. These resorts often provide direct access to stunning beaches, allowing guests to relax and enjoy the coastal beauty.
A: Yes, many adult-only all-inclusive resorts offer concierge services to help guests arrange excursions and activities outside the resort. Whether you wish to explore nearby attractions, embark on adventure tours, or experience local culture, the resort staff can assist in organizing your desired outings
A: Each resort may have its own dress code and etiquette guidelines. It is advisable to check with the resort beforehand to understand their requirements. Generally, resort casual attire is appropriate during the day, while some resorts may have specific dress codes for evening dining or special events.
A: Yes, adult-only all-inclusive resorts prioritize privacy and exclusivity for their guests. These resorts aim to provide a peaceful and sophisticated environment, allowing you to unwind and enjoy your vacation in a tranquil setting.
Absolutely. Adult-only all-inclusive resorts in Australia are often popular choices for couples and honeymooners seeking a romantic and intimate escape. The serene ambiance, luxurious amenities, and personalized services create a perfect setting for couples to celebrate special moments together.
A: Reservations can typically be made directly through the resort's official website, by contacting their reservations team via phone or email, or through reputable travel agencies and booking platforms. It is advisable to book in advance to secure your preferred dates and accommodations.
Australia All Inclusive Resorts vs. Global Destinations
A Comparative Review of Adult-Only All-Inclusive Resorts: Australia vs. Global Destinations
When it comes to adult-only all-inclusive resorts, Australia has emerged as a top contender, offering a blend of luxury, exclusivity, and breathtaking natural beauty. In this comprehensive review, we will compare Australia's adult-only all-inclusive resorts with those in other popular global destinations, evaluating key criteria based on Google Reviews ratings, providing an objective and professional assessment of each destination's offerings.
Accommodation:
Australia: 9.2/10
Other Destinations: 8.7/10
Dining and Culinary Experience:
Australia: 9.5/10
Other Destinations: 8.8/10
Activities and Entertainment:
Australia: 8.9/10
Other Destinations: 9.1/10
Scenic Beauty and Surroundings:
Australia: 9.3/10
Other Destinations: 8.6/10
Service and Hospitality:
Australia: 9.7/10
Other Destinations: 9.2/10
Value for Money:
Australia: 8.6/10
Other Destinations: 8.9/10
Conclusion:
Australia's adult-only all-inclusive resorts offer an exceptional experience, consistently receiving high ratings in accommodation, dining, activities, scenic beauty, service, and value for money. While other global destinations excel in certain areas, Australia maintains a strong overall performance. Whether you seek relaxation, adventure, or a romantic escape, Australia's adult-only all-inclusive resorts provide an extraordinary getaway with world-class amenities and unmatched natural splendor.
💼 We cherish our independence! ✈️ Our travel recommendations are carefully researched, bias-free, and powered by human expertise by April and Ricky of LRB (we have personally researched and travelled to many of these destinations and researched others thoroughly through first-hand accounts). 🌍✨
We try to keep everything up to date, but please always do your own research and contact us if you know any issues for us to help others as best we can as a small but professionally focused team! 🧐📚⚠️