Floridays Resort Orlando All-Inclusive Review
Nestled in the heart of Orlando's bustling entertainment realm, Floridays Resort Orlando emerges as a sanctuary of luxury and comfort for families and explorers. The resort's prime location is its crowning glory, providing a seamless access to a plethora of Orlando's theme parks. 
Floridays
The convenience of a supermarket within a ten-minute stroll, and the proximity to the prestigious shopping haven of Orlando Premium Outlets, further accentuates its allure. The guests aren't shackled to the necessity of a vehicle, thanks to the I-Ride Trolley route meandering along the International Drive tourist corridor, right at the doorstep of Floridays. A shuttle service, encompassed in the resort fee, ferries the guests to all the major parks, ensuring a hassle-free expedition to the realms of amusement
The Floridays Resort is an emblem of home-away-from-home, bestowing upon its guests a luxurious expanse to unwind. The condominium-style suites embody the quintessence of spacious comfort. Each suite is a realm in itself, with a fully equipped kitchen awaiting the culinary adventures of the guests. The living realm is adorned with a queen-size sleeper sofa, awaiting the tired bodies after a day of exploration. A flat-screen LCD HD television in the living area and each bedroom caters to the entertainment whims of the guests. The 2-bedroom suites sprawl over 1,107 sq. ft., cradling up to 6 people in its comfort, while the 3-bedroom suites stretch over 1,306 sq. ft., comfortably housing up to 8 people. The balconies, furnished to perfection, beckon the guests to soak in the Floridian aura.
Pros Cons Features of Floridays
Pros:
Prime Location: Floridays Resort Orlando boasts a central location with easy access to major theme parks, shopping outlets, and dining venues. The proximity to the I-Ride Trolley route and shuttle service to theme parks adds to the location advantage​​.
Spacious Accommodation: The resort offers spacious 2- and 3-bedroom suites with fully equipped kitchens, making it ideal for families and groups. The suites, with modern furnishings and amenities, provide a comfortable home-away-from-home experience​​.
Family-Friendly Amenities: With two outdoor pools, a children's water playscape, and an arcade, Floridays caters to families looking for both relaxation and entertainment​​.
Free Shuttle Service: The shuttle service to nearby theme parks included in the resort fee is a convenient feature for guests, saving them both time and transportation costs​.
Condominium-Style Suites: The luxury of having a full kitchen, living area, dining room, and private bedrooms in a resort setting provides a unique and convenient lodging experience​.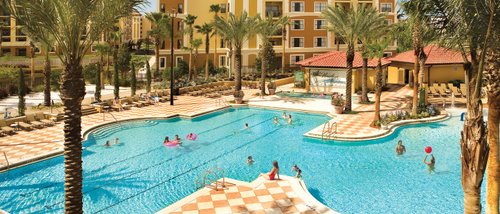 Floridays Resort
Cons:

Resort Fee: Like many Orlando resorts, Floridays has a resort fee that covers certain amenities like WiFi and shuttle service. Some guests might find this fee a bit high.
Lack of Fancy Aesthetics: The resort's design is more focused on comfort and spaciousness rather than high-end, luxurious aesthetics. It may not cater to those looking for an extravagant or highly stylish ambiance​.
Potentially Busy Area: Being in a prime location near major attractions could mean the area around Floridays gets quite busy, especially during peak tourist seasons.
Features:
Suite Amenities: Suites are well-equipped with modern amenities including flat-screen LCD HD televisions, fully equipped kitchen, furnished private balcony, and a living area with a queen-size sleeper sofa​​.
Recreational Facilities: Guests can enjoy the two outdoor pools, an outdoor whirlpool spa, fitness center, and arcade. There's also a business center for those needing to catch up on work​​.
Dining Options: The Palm Café/Marketplace provides dining options, and the proximity to a variety of restaurants on International Drive offers guests a wide range of culinary experiences.
Shuttle Service: Complimentary shuttle service to select nearby theme parks, providing ease of transportation for guests planning to visit the attractions​​.
Convenient Services: With services like self-parking (included in the resort fee), valet laundry service, and WiFi in all common areas and suites, Floridays aims to provide a convenient stay for its guests.
Find the best deal, compare prices, and read what other travelers have to say at Tripadvisor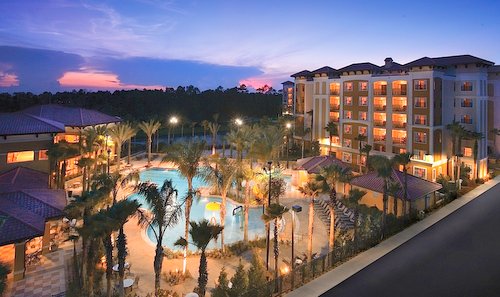 The Floridays Resort Orlando
The Floridays Resort Orlando impeccably melds luxury with convenience, embodying an ideal retreat for families and individuals yearning for a blend of amusement and relaxation amidst the bustling heart of Orlando's entertainment realm. The diverse amenities and the strategic location near the high-spirited avenues of fun and shopping, crowned with a touch of homely luxury, make Floridays Resort Orlando a desirable abode away from home.
All Inclusive Packages
Floridays Resort Orlando offers an enchanting blend of leisure and comfort with its tailored packages to meet varying guest preferences. Although not an all-inclusive resort in the traditional sense, Floridays provides a suite of packages that significantly enhance the vacation experience. From the 'Book Early & Save' package, which caters to the anticipatory planner, to the 'Florida Resident Rate' package, designed for locals seeking a luxurious staycation, each offering is thoughtfully curated. The resort further elevates the stay experience by providing scheduled shuttle services to the nearby theme parks, part of the amenity fee, ensuring guests have a seamless conduit to Orlando's magical adventures. With each package, the emphasis is on creating a stress-free, enjoyable stay, making Floridays a considerate host to a diverse clientele. For those seeking a quintessentially all-inclusive experience, exploring other resorts within the Orlando vicinity that offer such services might be a worthwhile venture.
Sarah's Review
As my cab maneuvered through the picturesque avenues of International Drive, the aura of Floridays started to cast its spell. Tucked beside a serene lake, its visage was a blend of luxury and natural allure, a sight that seemed to have sprang from the pages of a finely illustrated fairy tale. The sun played hide and seek with the lush foliage as I made my way to the lobby, where a warm smile and a seamless check-in awaited me. My heart fluttered with the whisper of adventures that awaited.
The suite was nothing short of a cozy nook that whispered home in every nook and cranny. With elegant drapes dancing softly to the tune of the gentle breeze, and the sun-kissed balcony offering a splendid view of the tranquil lake, the suite exuded a charm that spoke of unadulterated luxury. The sweet scent of citrus filled the air as I stepped onto the balcony, the morning sun casting a golden glow on the serene waters.
My curious feet led me to the resort's heart where laughter resonated across the two enticing outdoor pools. Families basked under the warm Floridian sun, the children's playful shrieks echoing through the vibrant atmosphere as they reveled in the water playscape. The resort was alive with joyous mirth, a playground where every age found its call to joy.
As the day unfolded, the resort revealed its many facets. The Palm Café became my little escapade for a culinary journey. The taste of the local citrus salad still dances on my palate, a zest that mirrored the vibrant spirit of Orlando. And as the night embraced Floridays, the pool bar became the rendezvous for souls seeking the tender night under the Floridian stars.
But it wasn't just the amenities that stole my heart; it was the unwritten tales whispered through the corridors. I chanced upon a family, their eyes twinkling with the joy of discovery, sharing their day's exploits at the nearby Disney World. Their tales were a testament to the resort's prime location, a gateway to the myriad fantasies Orlando held in its heart.
As I delved deeper, I realized Floridays wasn't just a resort; it was a realm where every convenience was thoughtfully curated for families. However, the mellow whispers of romance told me, if solitude amidst elegance was what one sought, perhaps a quaint, adult-only resort nestled in the lap of nature would serve as an alternate haven.
With a heart brimming with tales and eyes that held the vibrant hues of Floridays, I bid adieu to the resort. But as I tread back to the city of skyscrapers, I know a part of me still wanders through the elegant courtyards of Floridays, where every dawn brings forth a day full of promise and every dusk cradles the sweet melody of the night.
And as I pen down my journey, the memories cascade down the lanes of my mind, each one a beautiful reminiscence of a time where luxury met comfort at a quaint, charming resort in the heart of vibrant Orlando.
FAQ section for Floridays Resort Orlando
Here is a comprehensive FAQ section for Floridays Resort Orlando based on the official resources and additional related information:
Smoking Policy:Noise Policy:Pet Policy:Housekeeping Policy:
Smoking is not permitted in hotel rooms/suites, only in designated outdoor areas.
Cannabis use is restricted in accordance with Florida law, which does not allow smoking cannabis in any public area, regardless of medical status.
Fines of up to $250 and eviction from the property may be enforced for violations of this policy​​.
Guests are responsible for abating noise transmission should it create a disturbance.
Noise-generating devices must be at a minimum volume to not disturb other guests between 10:00 p.m. and 8:00 a.m.
Violation of this policy may result in a warning and possible eviction with subsequent fees​​.
Floridays accepts pets with certain limitations including a weight limit of 75 pounds, and only two pets are allowed per room.
Various animals such as reptiles, horses, pigs, cattle, goats, sheep, chickens or other fowl, or birds are prohibited.
Guests are required to provide recent shot records from a veterinarian for their pets, and a Pet Agreement must be completed, signed, and emailed to the hotel before arrival.
Pets must be walked in designated areas only, and are not allowed in certain areas like restaurants, lounges, pool areas, etc.
A $200 fee will be posted to each room a pet occupies, and additional cleaning fees may be charged if necessary.
Arrangements must be made with the Housekeeping Department regarding servicing your guest room if a pet is present​.
Housekeeping services are available upon request and should be arranged either at check-in or by noon the day prior to when the service is required.
Full cleaning service includes sheet change, full cleaning, towel refresh, trash removal, replacement of toiletry products, full dish wash, full vacuum, and full clean of all surfaces.
Charges for a full cleaning are $70 for two-bedroom units and $85 for three-bedroom units​​.
References:
Additional information was sourced from the official website of Floridays Resort Orlando and reputable travel platforms to ensure accuracy and comprehensiveness.
Share Your All-Inclusive Adventures and Questions! 🌴 Have a memorable experience from a luxury all-inclusive vacation? We'd love to hear it at Luxury Resort Bliss. We're on the lookout for top-quality, insightful tales that'll inspire our community. Dive in and be a part of our sun-soaked stories! 🌊🍹✨
The story is a fictionalized account founded on travel expertise, research, and experience. Always refer to recent guest reviews and perform due diligence before booking.
💼 We cherish our independence! ✈️ Our travel recommendations are carefully researched, bias-free, and powered by human expertise by April and Ricky of LRB (we have personally researched and travelled to many of these destinations and researched others thoroughly through first-hand accounts). We also have put in the hard miles, and Ricky has worked for decades for resort and hotel chains  Hyatt, Hilton, Shangri-La and Radisson before starting Luxury Resort Bliss in 2007. 🌍✨ Unlike some other resort review websites we are concerned on the guest experience rather than mere corporate interest.