What Does All Inclusive Mean
What does all-inclusive mean?
Are you trying to get to the bottom of what all-inclusive means in the context of resorts and hotel packages.
All Inclusive resorts definition

All-inclusive resorts are vacation spots where the customer doesn't have to worry about paying for anything.
A dictionary definition of all-inclusive might look something like this:
denoting or relating to a holiday in which all or most meals, drinks, and activities are included in the overall price. Oxford
But all-inclusive can have different connotations depending on the destination as well. In some destinations, all-inclusive is facilitated by ONE fee that covers your entire stay.
The important point is that you get to the bottom of 'what all-inclusive means' and in some senses I am already talking to the converted because you made your way here. But here are a few tips to getting to the bottom of what can seem like a slippery concept, no thanks to sometimes slippery marketers. 
Look for explicit details
In some resort chains like Sandals for example, all-inclusive is foundational where 'world-class food, drinks, and water sports are all part of your all-inclusive vacation package, and always unlimited"
Here is an example from Sandals which makes it really clear what you can expect and what is included.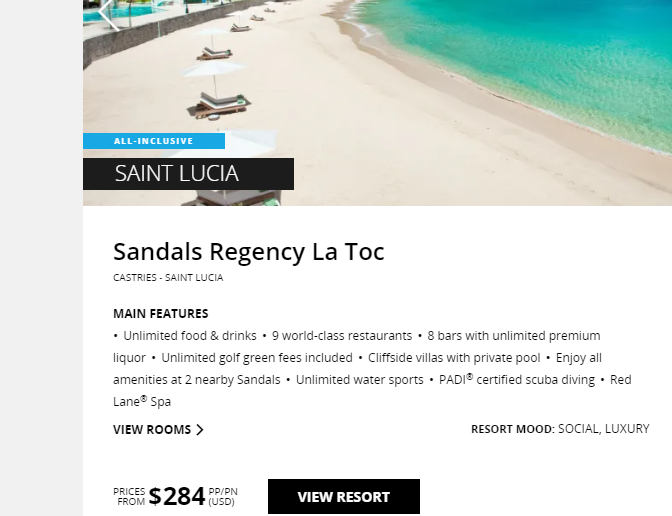 What does all-inclusive mean?
The goals of all-inclusive resorts
Of course, this is a shifting landscape because it's always going to vary what is included in an all-inclusive package as hotels and resorts create various promotions to vie for market share.
The goal of the resorts is to have customers go home raving about the resorts and convince their friends to book a similar vacation, but of course they are also interested in making a return. Sometimes also these competing interests are at war, and sometimes there is harmony.
Problems when All-inclusive is done wrong
When the resort's prerogative for profits excessively dominates, then the all-inclusive experience can deteriorate. The All-inclusive 'experience' then becomes simply a marketing ploy, and guests become the victims of shoddily prepared buffets and go home more stressed than they left. There are many problems with these resorts, including long lines for food, lack of entertainment options, and limited transportation options. Usually these are also the same properties that will disrespect the local cultures and economies.

Done well, all-inclusive resorts are the best thing since sliced bread.

All-inclusive resorts are, by definition, all-encompassing. They offer every type of accommodation from luxury hotels, to villas and apartments, to spa treatments and fitness facilities. All meals are included in the price of a stay and it's easy to see why this is such a popular choice for holidays or honeymoons.
They provide a diverse range of activities and amenities to appeal to everyone's tastes. There are also the many benefits of being able to stay on the property without having to worry about transportation, food or entertainment.
Then, If you're looking for a way to relax and enjoy some quality time with friends and family, then all inclusive resorts are the perfect choice. You'll never be bored at an all-inclusive resort done right.
What Does All Inclusive mean in different destinations and Contexts?
The term can have different meanings depending on the destination or context. For example, an all inclusive resort in Mexico is very different than an all inclusive resort in Jamaica.
What Does All Inclusive Resort Mean In Jamaica
All inclusive resorts in Jamaica are a popular vacation destination for people who want to enjoy the beautiful beaches, tropical climate, and amazing food.
The all inclusive resorts in Jamaica provide all the amenities that you need during your stay. The resorts offer food and drinks at their restaurants and bars. Some of them also have water sports like snorkeling and diving lessons.
In addition to the food and drinks, some of the all inclusive resorts in Jamaica also provide entertainment like live music, dance performances, karaoke nights, etc. The entertainment is available every day at their bars or lounges.
But having said this what a resort offers can change over time then you always need to check at the time of booking. 
What Does All Inclusive Resort Mean In Mexico
Mexico is known for its resorts which offer all-inclusive packages. All-inclusive resorts in Mexico are popular with tourists who want to spend their vacations on the beach without having to worry about spending money on food or drinks. Some resorts do this better than others as these reviews might highlight:
All Inclusive Resorts around the world
All inclusive resorts are a great way to enjoy your vacation without having to worry about the costs. With the rise of travel and tourism, more companies have started providing all inclusive vacations. However, not all countries have the same meaning for this type of resort.
Some countries in Europe provide food and drinks at no extra cost while some do not provide any food at all. The same goes for alcohol - some countries offer unlimited alcohol while other only offer one drink per day.
In other destinations like Fiji all-inclusive resorts are often also adult only all-inclusive resorts. 
All Inclusive or all Exclusive
As we have established the all-inclusive resort is a vacation package that often includes all the food and drinks you could want, as well as many other amenities. All-inclusive resorts are popular with families because children may not be old enough to appreciate or want to pay for the more expensive amenities.
All exclusive resorts, on the other hand, are more expensive because they don't include anything but the room and its amenities. If you want to eat at a restaurant on an all-exclusive resort, for example, you have to pay for it separately.
Some make the point that all-inclusive resorts offer a fishbowl effect where you don't interact with the local environment whereas as all exclusive resorts can.
These debates seem as old as the development of popular tourism itself and say that this type of homogenization of travel can happen in sometimes greater degrees at both all exclusive resorts and even eco resorts on occasion. 
Many guests do return from all-inclusive vacations with an enlightened perspective and enthusiasm for travel. 
From our perspective taking a vacation is almost always a good choice, all-inclusive or all exclusive depends on your personal perspective.
Authors Unleashed: Unveiling the Ultimate Travel Experience through Expert Reviews, Ratings, and Research
💼 We cherish our independence! ✈️ Our travel recommendations are carefully researched, bias-free, and powered by human expertise. We use AI sparingly for editing purposes, ensuring an authentic and reliable experience. Join us on our unbiased journey! 🌍✨
Always do your own research! 🧐📚⚠️