Excellence Oyster Bay: Montego Bay Adults Only
Excellence Oyster Bay: Montego Bay's Luxury Gem On A Private Peninsula. Experience Opulence, Jamaican Warmth, And Top-Tier Amenities For Adults.
I found myself aboard a flight to Montego Bay. Jamaica beckoned, and more specifically, the Excellence Oyster Bay.
"Welcome to Jamaica, Sarah!" greeted Marlon, my cab driver. His smile, wide as the horizon, mirrored the inviting stretch of the beach that soon came into view.
The resort, a Victorian gem, seemed to sprout right out of the turquoise sea. As the car bumped along the rugged road, Marlon shared stories of his childhood in Falmouth, of sneaking into hidden coves and playing Bob Marley tunes until the wee hours.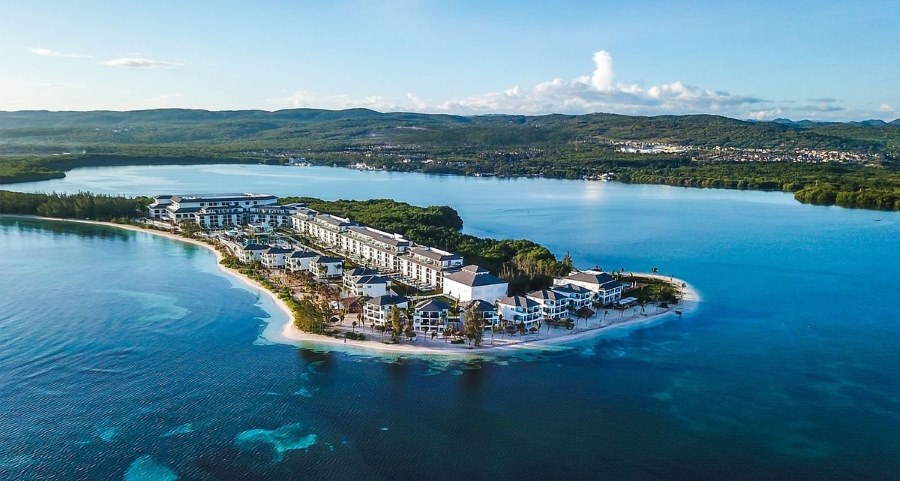 Excellence Oyster Bay: Montego Bay Adults Only
Review of Excellence Oyster Bay, Montego Bay
Location: 4/5

Excellence Oyster Bay is uniquely situated on a private peninsula, surrounded by the arresting turquoise waters of Montego Bay and ensconced within protective mangrove lagoons. Its proximity to the international airport, just 30 minutes away, offers the luxury of quick accessibility. The secluded setting might, however, limit frequent access to central Montego Bay's hustle and bustle, a slight drawback for those craving more urban exploits.
Accommodation: 5/5
The resort boasts an array of upscale suites, encompassing ocean views and modern luxury. Special mention must be made of their two exclusive offerings: the beach houses and villas, which redefine luxury beachfront living. Each accommodation marries the warm essence of Jamaican hospitality with modern amenities, ensuring every guest feels ensconced in opulence.
Amenities: 4.5/5
From a world-class spa, Miilé Spa, that promises holistic wellness, to state-of-the-art fitness centers and a spectrum of international dining options, Excellence Oyster Bay doesn't falter in offering a comprehensive amenity experience. The inclusion of unique experiences like canoeing further enhances its appeal. Some guests might desire a broader range of water sports given the resort's unique waterfront location.
Service: 5/5
Warm Jamaican hospitality, the cornerstone of Excellence Oyster Bay, ensures guests are treated with unparalleled care. Reports suggest a responsive and attentive staff, ever eager to cater to the guests' needs, enhancing the overall experience at this adults-only haven.
Value for Money: 4/5
While the resort aligns with a higher price point, the unparalleled luxury, unique setting, and range of offerings make it an enticing value proposition. However, some might find it on the steeper side when comparing it to other regional offerings.
Recommendation:
Excellence Oyster Bay is the epitome of a romantic getaway. Tailored for adults, it is perfect for couples seeking a blend of seclusion, luxury, and Jamaican charm. Those looking to indulge in gourmet experiences, luxurious spa treatments, and intimate beachfront living will find this resort to be a dream realized.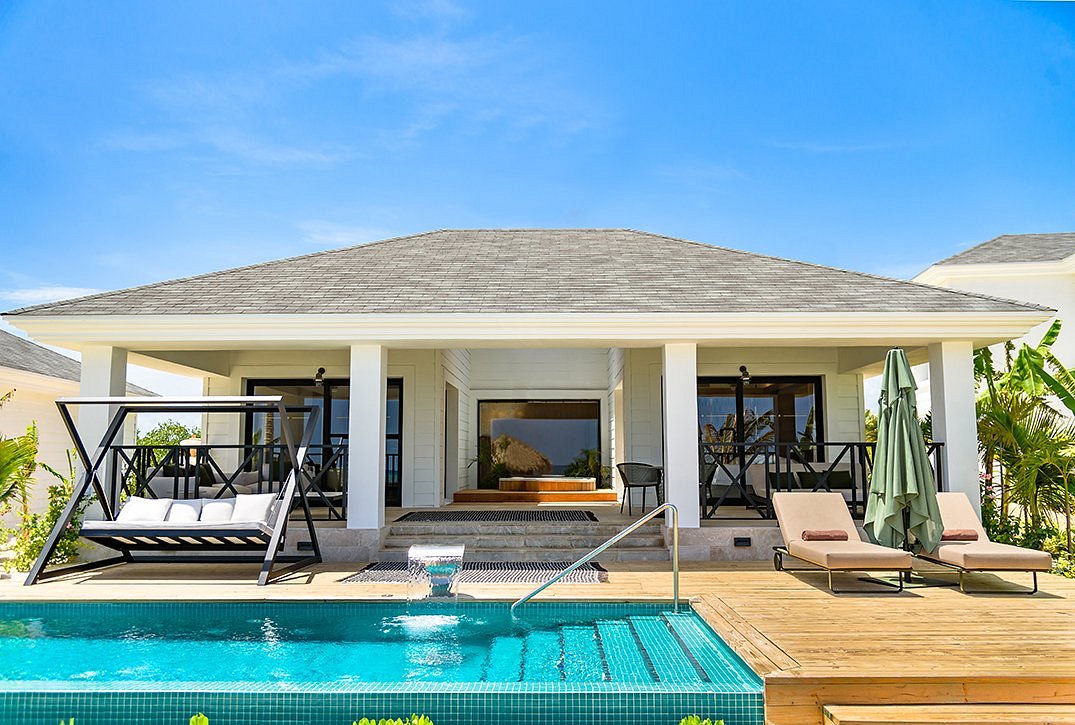 Excellence Oyster Bay: Montego Bay Adults Only
But it was the evening's surprise that had me captivated: the Miilé Spa. Marlon had mentioned it with a mischievous glint, "Sarah, if you want a real connection with the island, ask for Miss Clara at the spa."
Under the caress of Miss Clara's expert hands, the world faded. Through her rhythmic kneading, I traveled back to tales of her ancestors, of emancipation celebrations, and the sweet taste of freshly picked ackee. The spa's fragrant oils mixed with stories of passion, joy, and island life.
By day, I tasted the world on my plate — from Spanish tapas to Jamaican jerk, a dance of flavors on the tongue. I ventured beyond the resort's grandeur, into Montego Bay's embrace, where history whispered from every corner. The Rose Hall Great House, with its haunting tales of Annie Palmer, contrasted sharply with the vibrant beats of the Hip Strip's street parties.
One evening, sipping on a spicy rum cocktail at the beach, I met Elena, a free spirit from Spain. "Sarah," she sighed, "this place is paradise. But if you're looking for wilder adventures, perhaps Hedonism II in Negril? It's... different," she winked.
Yet, Oyster Bay was my muse. Each suite a testament to luxury, each sunset a splash of gold on azure waters. But more than that, it was the stories that ensnared. Of Marlon's childhood, Miss Clara's ancestors, and Elena's passionate pursuit of joy.
On my last day, as the Jamaican sun painted the sky in hues of crimson and amber, I realized that the resort, while catering to lovers of luxury, held a deeper allure for storytellers like me. The tales woven between its walls, waiting to be discovered.
For couples seeking intimate luxury with a side of history, Excellence Oyster Bay is unrivaled. For those in pursuit of untamed adventures, maybe heed Elena's advice.
Back in New York, as I penned down my Jamaican journey, I realized, it wasn't just an escape I had sought. It was stories, told and untold, that now pulsed through my veins, waiting to be shared.
A Week in Montego Bay: Sand, Stories, and Sarah's Sojourn
Day 1: Touchdown in Paradise
The Montego Bay airport's bustle was a sensory overload. Fragrances of jerk spices, reggae music playing softly in the distance, and warm, humid air filled with excitement. As I drove to the Excellence Oyster Bay, the city's hustle transitioned into serene coastlines. My suite? A slice of heaven, with a balcony overlooking turquoise waters.
Day 2: Discovering the Victorian Majesty
The day began with exploring the resort. Its Victorian architecture was a stark contrast to the lush Jamaican landscape. The resort staff spoke of legends — ghost stories of old Jamaican families, pirate treasures, and hidden coves. Breakfast was a decadent affair: ackee and saltfish, fried dumplings, and Blue Mountain coffee.
Day 3: Montego's Hidden Treasures
I ventured to the heart of Montego Bay. At Sam Sharpe Square, I learned about national hero Samuel Sharpe. The bustling local market nearby offered colorful crafts, vibrant textiles, and local fruits I'd never seen before. By evening, I was back at the resort's Spanish tapas bar, recounting the day's adventures.
Day 4: A Dive into History
A local guide, Leo, took me to the Rose Hall Great House. While it exuded colonial grandeur, its tales of Annie Palmer, the "White Witch", sent shivers down my spine. The evening was lighter — a calypso band played at the resort, and I danced barefoot on the sands.
Day 5: Marine Wonders
The resort's private peninsula beckoned. Snorkeling revealed vibrant corals and playful marine life. Later, a kayak expedition took me into the mangrove lagoons. Nature's symphony, with bird calls and gentle water splashes, was enchanting.
Day 6: The Miilé Spa Experience
Remembering the recommendation, I booked a session with Miss Clara. Through massages and herbal treatments, I felt centuries of Jamaican traditions healing me. Clara's anecdotes added a personal touch, making the experience unforgettable.
Day 7: Farewell, But Not Goodbye
My last day was about reflection. A walk along the resort's pristine beaches, remembering snippets of conversations, flavors of authentic Jamaican dishes, and the island's vibrant spirit. At night, a bonfire gathering at the resort had guests sharing their week's experiences. Stories varied, but the sentiment was unanimous: Montego Bay had touched our souls.
Share Your All-Inclusive Adventures and Questions! 🌴 Have a memorable experience from a luxury all-inclusive vacation? We'd love to hear it at Luxury Resort Bliss. We're on the lookout for top-quality, insightful tales that'll inspire our community. Dive in and be a part of our sun-soaked stories! 🌊🍹✨
The story is a fictionalized account founded on travel expertise, research, and experience. Always refer to recent guest reviews and perform due diligence before booking.
💼 We cherish our independence! ✈️ Our travel recommendations are carefully researched, bias-free, and powered by human expertise by April and Ricky of LRB (we have personally researched and travelled to many of these destinations and researched others thoroughly through first-hand accounts). We also have put in the hard miles, and Ricky has worked for decades for resort and hotel chains  Hyatt, Hilton, Shangri-La and Radisson before starting Luxury Resort Bliss in 2007. 🌍✨ Unlike some other resort review websites we are concerned on the guest experience rather than mere corporate interest.