7 Star Hotel Dubai, Best Hotels in Dubai
Is there such a thing as a 7 star Dubai hotel?  In Dubai, I find I am reminded of one of my favorite childhood destinations, in the Gold Coast, Australia. Surfers Paradise on the Gold Coast in those days was full of glitz, seemed to have the tallest high rises along a magnificent strip of coastline, and everything seemed bigger and better.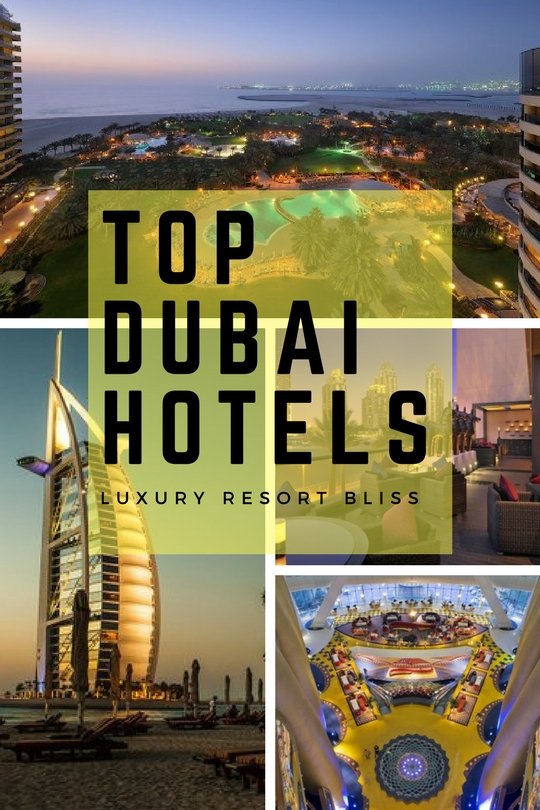 When to Go to Dubai?
Guess what? Dubai is hot. But that doesn't mean there are all sorts of malls and air conditioned resorts. Also there is a good chance you will spend a good deal of your time at the beach. 
The cooler months from November to April are  the best time in any case, and the number of visitors here and hotel prices reflect this.
---
Dubai Travel Guide
TIP: This interactive map of Dubai helps you to find resort prices, ratings, and nearby attractions including restaurants, and things to do.

VIDEO: Dubai Vacation Travel Guide
Ever changing, Dubai now features heavily in the Guiness Book of Records for malls, big fish tanks, man-made islands but there is one claim I would like to challenge. Does Dubai have the world's first 7 Star Hotel in the Burj Al Arab?

---
Burj Al Arab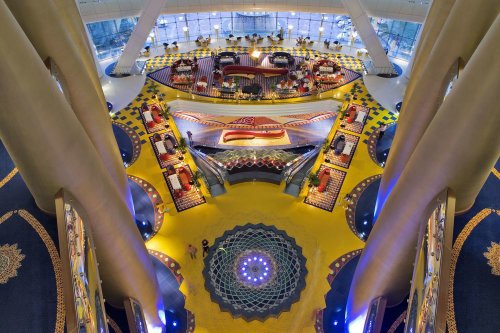 Lobby, 7 Star Hotel Dubai
The marketing claims this is the only 7 star hotel Dubai option. Here we would like to test this claim and put the Burj Al Arab Dubai up against some of the other Dubai hotels.
Having not yet managed to come up with the $8000 (or there about) to stay here, I can only listen to what others are saying. In any case, I always do a lot of research before purchasing room nights. 
Management at the Burj Al Arab is active in the forums and quick to respond to negative remarks. Then has there been much negative feedback on this "7 star resort hotel"?  Well not really, and clearly this is one of the worlds best hotels.
When you dig through the complaints you get the usual unavoidable situations that may turn up at any establishment, but also a bit of tread of of the ordinary experiences also emerges. Small touches not quite done as perhaps other hotels might do them and possible lacking a little in elegance and grace for a seven star claim.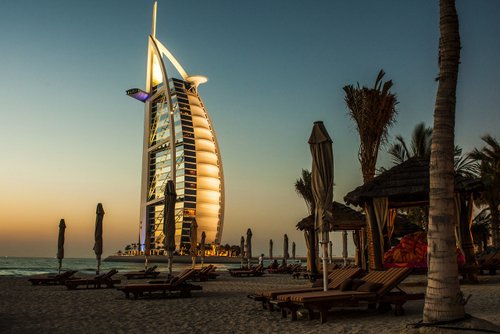 Burj Al Arab, 7 Star Hotel Dubai
Watch the promotional video - Burj Al Arab -World's only seven star hotel

Features of Burj Al Arab:
There's a private beach, 6 restaurants, 5 bars or lounges, a full-service spa, outdoor pool and 2 indoor pools, a free water park, free kid's club, health club, meeting rooms, airport shuttle, and more. 

Get more information for Burj Al Arab - including latest prices.

---
What is the Best Hotel in Dubai?
---
Grosvenor House Dubai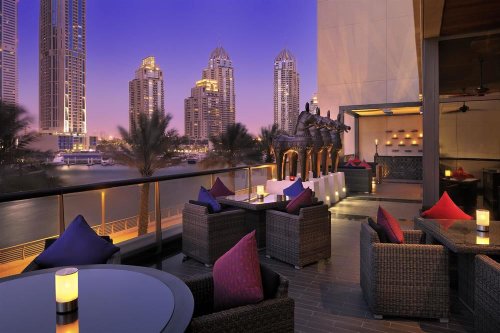 The Terrace
This hotel has often topped Tripadvisor's list for the best hotels in Dubai and has received an overwhelming level of excellent reviews. Seems hard to imagine at this stage that the Burj Al Arab could catch up.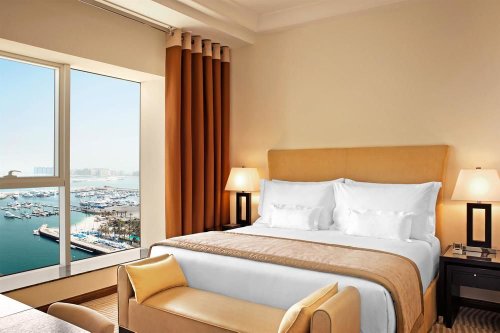 Guestrooms
Located near Dubai Marina and Jumeirah Beach with all the hallmarks of the best Dubai hotels including:

full health and spa
designer boutiques
bars and 3 restaurants
24 hour butler service
marina
free shopping center shuttle
Get more information on Grosvenor House Dubai or see the latest reviews.

Website for Grosvenor House Dubai
---
Jumeirah Al Qasr Madinat
Al Qasr, the Palace Hotel, is designed to reflect a Sheikhs summer residence.

This Dubai hotel has:

a private beach, restaurant,
poolside bar
Room service is
Buffet breakfasts
outdoor pool
indoor pool children's pool
health club
full service health spa
292 guestrooms 
At the time of writing, this hotel has the highest reviews of all and that is because most are perfect scores.

Get more information on Al Qasr Madinat Jumeirah or see the latest reviews
---
Le Royal Meridien Beach Resort & Spa, Dubai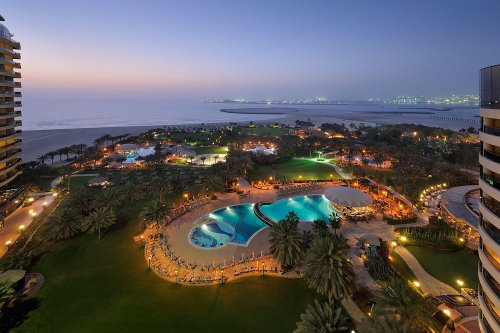 In comparison to some of the other hotels Le Royal practically gives away rooms.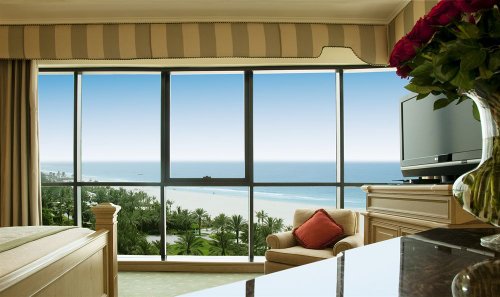 View from the guestroom
Le Royal Meridien Beach Resort, on a private beach this resort features:

8 restaurants
snack bar/deli.
3 bars
beach bar with a swim up
buffet breakfasts
3 outdoor swimming pools
a health club
full service health spa
Complimentary wireless in public areas.
42 inch Plasmas
minibars and CD players. 
More information on Le Royal Meridien Beach Resort & Spa, Dubai

www.leroyalmeridien-dubai.com/

---
More on Dubai:
Dubai Tourism Campaign Film
The Top Dubai Attractions:

Highlights of the best attractions in Dubai:

---
For more: take a look at the Hotel Deals in Dubai.